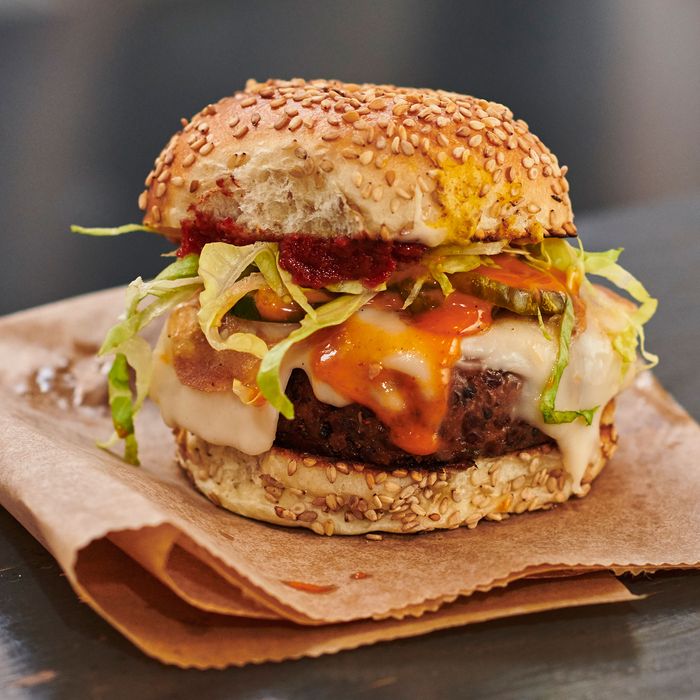 The groundbreaking blue-ribbon un-burger at Superiority Burger.
Photo: Christian Rodriguez
As we wrote in our original list of the absolute best veggie burgers in the city a couple of years back, this formerly taste-challenged (and in some circles reviled) speciality has been undergoing a great renaissance around town, not just among the vegetable faithful but in the greater beef-burger-eating population at large. Our newly updated list takes into account recent innovations in science (hello, "Impossible Burger") and the realm of vegan dining (who knew there was such a thing as "Veganaise"?), which have made the faux burger more accessible (and, yes, delicious) than ever.
1. Superiority Burger
430 E. 9th St., nr. Ave. A; 212-256-1192
The award-winning pastry chef and noted veggie-burger obsessive Brooks Headley took the blue ribbon in our inaugural list a couple of years back, and despite a whole gaggle of new competitors, his famous Superiority Burger takes home the top prize again. The new crop of Impossible Burgers around the city may have a more uncanny "burger" quality to them, but in the venerable, ye olde veggie category, no faux burger in town combines the verisimilitude of the burger-eating experience (the sticky quinoa and carrot patty, the griddled Muenster cheese, the sesame-seeded potato bun with it's pickle and iceberg crunch) with the high-minded pleasures of a non-beef burger (a vegan option is available!), at such a reasonable price. That price is $6, but if you're feeling hungry, try the slightly more bountiful "Megamouth" for an extra three bucks.
2. Champs Diner
197 Meserole St., nr. Bushwick Ave., East Williamsburg; 718-599-2743
There are few more satisfying places to experience the impressive advances in vegan cooking over the last couple of years than at this bustling, impeccably realized little diner in Bushwick. The impressive house burger is made from scratch with a mix of lentils, seitan, and cauliflower, dressed with a satisfying slathering of vegan mayo and pickles, and served the way beef-burger fanatics like, with a great tangle of golden fries and a great steak knife stuck into the top of the soft sesame-speckled non-dairy bun.
3. Blossom
Multiple locations
The great fake-meat invasion takes much of the fun out of the dark, age-old art of veggie-burger experimentation, it's true. The Blossom kitchen uses a Beyond Burger patty for its veggie burger. But by combining a variety of classic, well-chosen burger toppings (griddled onions and mushrooms, seitan bacon, melted vegan cheese made from tapioca) with that uncanny just-grilled actual-beef taste, the chefs of this elegant vegan standby manage to strike an almost perfect balance between old and new.
4 The NoMad Bar
10 W. 28th St., nr. Broadway; 212-796-1500
Daniel Humm was one of the original pioneers of the pricey, studied haute veggie burger, and this elegant counterpart to his beef version has stood the test of time. The patty is still made with an umami-laced mix of lentils, cremini mushrooms, and quinoa; the bun is freshly baked brioche, and for a little added pleasure, call for a cup of those golden, light house fries to go with the garnish of carefully pickled vegetables, which are served on the side.
5. Loring Place
21 W. 8th St., nr. Sixth Ave.; 212-388-1831
The knowledgeable Greenmarket veteran Dan Kluger constructs this decorative lunchtime creation with a large, crunchy, beet-centric patty, layers of pickles and perfectly carved avocado, and a generous dab of herb mayo, all squeezed between what is undoubtedly the finest, just-toasted brioche bun in the entire nouveau veggie-burger pantheon.
6. The Organic Grill
123 First Ave., nr. 7th St.; 212-477-7177 
There are several non-beef burgers to choose from at this East Village vegan institution, but the one to get is the aptly named "Green Machine," which the burger experts in the kitchen make with a mix of mushrooms, onions, and brown rice, among many other healthful ingredients, and serve with a vividly green lettuce leaf on a potato-dill bun. Devour a three-patty monster burger in ten minutes and get a $27 gift certificate toward your next healthy feed.
7. Umami Burger
225 Liberty St., at Brookfield Pl.; 917-728-4400
With its double-stack Impossible patty, thick squeezy bun, and mingling of classic fixings (pickles, lettuce, melted American cheese, and "special" coral-toned sauce), this two-fisted monster is as close as you'll get in the faux-burger game to the messy pleasures of the California-style fast-food experience. But if you're planning on shedding a few pounds, forget it — it has the same number of calories as the real thing.
8. Toad Style
93 Ralph Ave., nr. Putnam Ave., Bedford-Stuyvesant; 347-789-1589
This purist vegan hole-in-the-wall in Bed-Stuy has many fans in the faux-burger community, including Brooks Headley himself. We recommend the Sunshine Burger, which costs a couple of dollars more than the slightly bland-tasting lentil-and-mushroom house-burger option and is enlivened with avocado, arugula, and a fresh-baked pretzel bun.
9. Saxon and Parole
316 Bowery, at Bleecker St.; 212-254-0350
At $24, this Impossible Burger monster costs way more than any traditional, self-respecting veggie burger should, but the combination of a generously sized, seemingly greasy old-school patty and that realistic umami-laced Impossible Burger beef taste and mouthfeel makes it one of the better next-generation un-burgers in town.
10. Modern Love
317 Union Ave., nr. S. 1st St.; Williamsburg; 929-298-0626
The old-school rice-and-bean burger at this Williamsburg vegan destination is served along with strange, vaguely ominous-sounding creations like Tofu Benedict and Fried Tofu and Waffles. The best thing about it is the dense, freshly baked bun, although if you want to add a little flavor, we suggest you call for an order of house mushroom bacon.
11. Five Napkin Burger
Multiple locations
There's an Impossible option on the menu of this popular sit-down burger chain, but for the full-on veggie experience, we recommend the soft, sticky, weirdly satisfying 5N Veggie burger, which is made with a blend of more than a dozen vegetables, they say, including a healthy dose of beets, and served on an old-school multigrain bun.
12. Bareburger
Multiple locations
If you're a fan of the old-school, '70s-era hippie original the Guadalupe, on the menu at this au natural burger chain is the veggie burger for you. The stout black-bean patty is crowned with a generous spoonful of California guacamole, and there are alfalfa sprouts everywhere, including baked into the fat, lightly toasted sprout bun.
13. Hillstone
Multiple locations
On the plus side, this venerable non-burger may actually save you a ton of calories if you sub it for one of the classic beef options at the lower Park Avenue branch of this upscale national restaurant chain. On the slightly minus side, the test kitchen back at headquarters hasn't kept up with the myriad advances in the un-burger field, which means the faintly sweet flavor (and nice softness) comes from a healthy dose of prunes.
14. By Chloe
Multiple locations
The burger at this rabidly popular vegan chain was No. 2 with a bullet on our inaugural list (we described it as something "even a carnivore could love"), but, alas, with original chef Chloe Coscarelli no longer involved, and rapid expansion, those days seem to be over. The "tempeh-lentil-chia-walnut" patty had the chalky, processed taste of something you'd find at the bottom of your freezer the last time we dropped in, although it's still fairly priced, nice to look at (it comes in a Shake Shack-style bag-lette) and good for a quick faux-burger fix.