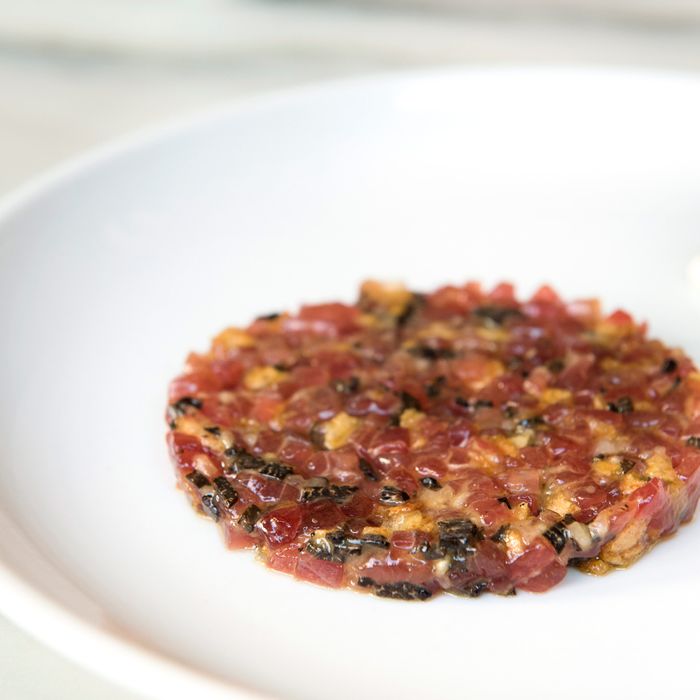 Flora Bar's version is studded with crisp potatoes and black truffle.
Photo: Liz Clayman
Tuna tartare? Really? Hear us out: Any food can have a moment — remember rainbow bagels? — and tuna tartare had the moment to end all moments. The simple seafood prep dates back at least 40 years, and it essentially defined dining in the late '80s and early '90s. Now, however, it's fallen so far out of fashion that chefs who do decide to put it on their menus better have a good reason. Fortunately, a few do, and the throwback dish is in the midst of something like the early stages of a culinary rediscovery. These are the versions that remind you why this dish rose to prominence in the first place — and which could convince you to order it once again.
1. Flora Bar
The Met Breuer, 945 Madison Ave., at 75th St.; 646-558-5383
Chef Ignacio Mattos's uptown tartare is as unassuming as it gets: a small red disc, with a similarly small spoonful of crème fraîche on the side. As with many of the chef's dishes, it only reveals itself once you dig in and focus on the details. The tiny dice on the tuna (a mix of yellowfin and bluefin that Mattos says is sustainably farmed in Spain) is a marvel of knife work. It's studded with crisp potato and slivers of black truffle. Fish sauce, a little egg yolk, shallot, olive oil, lemon zest, and chili flakes, are all judiciously applied, as well. It's very simple and very good, and in many ways it's a natural evolution of the chef's fabled steak tartare at Estela, but lightened, refined, and thoroughly modernized.
2. Gotham Bar and Grill
12 E. 12th St, nr. Fifth Ave; 212-620-4020
Like the restaurant in which it's served, chef Alfred Portale's tuna tartare has spent the last three decades largely immune to the prevailing culinary trends, a calm in the sea of ever-undulating appetizer currents. This is the dish you picture when you hear the words "tuna tartare": clean cubes of ruby-red flesh, subtle Japanese notes thanks to the addition of shiso and ginger, a towering presentation that rises from the plate. Touches like a salad of microgreens and a circular fan of cucumber slices would feel futzy if they weren't so authentic to the dish's origins and its worldwide fame. Tastes change. Trends are fleeting. This tartare remains true only to itself.
3. Nougatine at Jean-Georges
Trump International Hotel and Tower, 1 Central Park West; 212-299-3900
A base of avocado, a middle layer of tuna that's cut perhaps a touch too finely, and a striking layer of dressed, fluttering radish slices on top, all in a pool of vinegary lime-leaf-and-ginger marinade. The dish is all about acid, with a sharpness that gives way to the heft of avocado and sweet, understated freshness of the fish.
4. Dirty French
The Ludlow, 180 Ludlow St., nr. Houston St.; 212-254-3000
Served as a large quenelle under a light, eggy "crêpe Indochine," team Carbone's take on tuna tartare feels like a throwback to a '90s restaurant that never really existed. It's also surprisingly lively. Chopped chive adds some bite, while Thai chiles lend heat that sneaks up as you eat. A little swoosh of anchovy aioli sauce helps to round things out. (You can, and probably should, use the crêpe to make little tacos, too.)
5. Le Bernardin
155 W. 51st St., nr. Seventh Ave; 212-554-1515
The line on Eric Ripert's food at Manhattan's most exquisite French restaurant is that it constantly evolves with the times, when the chef could probably get away with relying on more of his greatest hits. If the tuna tartare that's served at the bar has changed over the years, though, it's hard to tell how, exactly. Nicely cut yellowfin tuna is stacked with triangles of endive, dosed with ginger, and dotted with jalapeño brunoise, of all things. It's lovely, and makes an excellent snack with a glass of Champagne and one of the restaurant's very nice mini-baguettes.
Bar Masa
Time Warner Center, 10 Columbus Cir.; 212-823-9800
Masa Takayama made his name with the toro tartare with caviar he serves as part of his pricey tasting menu — first in L.A. before moving to New York — at Masa. You can order it à la carte at Bar Masa, but it will cost you $78. And Shuko serves a similar dish — with toasted milk bread — as part of its $175 tasting menu.
Marea
240 Central Park S., nr. Broadway; 212-582-5100
The delicate flavor — just enough vinegar — is somewhat undone by an unappealing presentation: The tartare itself is shaped into a long rectangle, and scooched all the way to the side of an oversize plate. (It is, perhaps, a bit too dated. Tasty, though.)
The NoMad Bar
10 W. 28th St., nr. Broadway; 347-472-5660
If tuna tartare represents the early '90s, the presentation here — served in a little glass preserves jar — feels like an early-aughts farm-to-table throwback. The tartare itself is unique, incorporating pine nuts and apple, yet is also the most mild version we've tried.
Toro
85 Tenth Ave., at 15th St.; 212-691-2360
The menu description reads tartar de atún "with stuff that we all really like," which is very coy. At the moment, that means it's dressed with coconut milk, lime leaf, chiles, jícama, and Thai basil, all served in a small sardine tin. On the night Grub Street tried it, the tuna could have tasted a touch fresher, but it nevertheless wins points for doing something different.