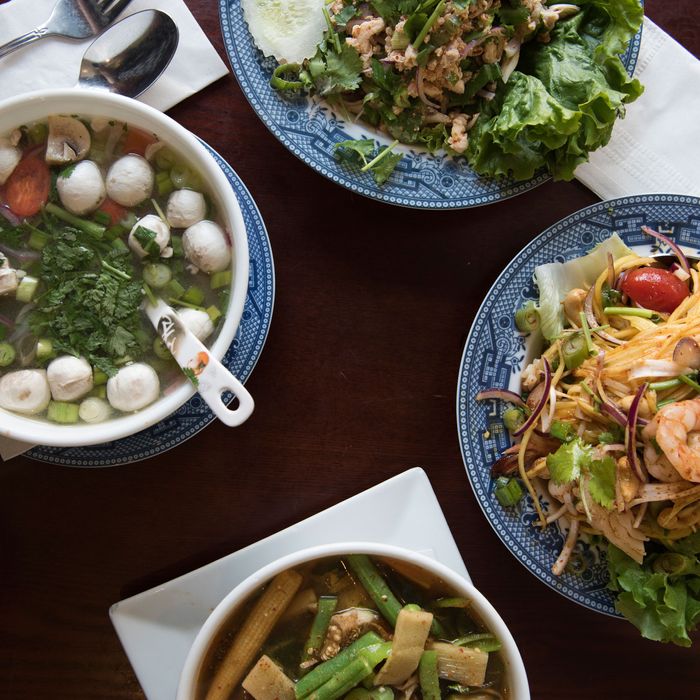 Part of what makes Ayada great is that it does so much so well.
Photo: Liz Clayman
We're here to talk Thai food in Elmhurst, the Queens neighborhood home to the Wat Buddha Thai Thavorn Vanaram temple and the nexus of New York's Thai community. These are the very best places for larb fiends and curry fanatics.
1. Ayada
77-08 Woodside Ave., nr. 77th St.; 718-424-0844
When discussing the merits of Elmhurst's Thai restaurants, it's important to note that the owners come from various regions, with different cuisines, and their restaurants specialize in distinct dishes. So a dish-by-dish comparison isn't the proper way to judge them — just as it wouldn't be fair to compare, say, Cantonese and Sichuanese restaurants on the basis of their mapo tofus. Ayada, seven years into its tenure and not missing a beat, stands out because it does so much so well. Here you'll still find the magic of a relaxed, unassuming place turning out some of the city's most thrilling Thai food. Owner Duangjai "Kitty" Thammasat, who hails from Pichit in central Thailand, just expanded the restaurant into the space next door, doubling its capacity after eight years. The dining room still hums with a consistent, loyal crowd of local Thai neighbors, Queens residents out on the town, and fans and first-timers from farther afield. They're all here, foremost, for the curries, which are as supercharged and varied as ever. There's nutty, thick, lusty panang curry with crispy roast duck; a searingly hot pad kra prow with thick slices of chicken and minty, herbaceous Thai basil; a thicker phat phrik khing with crunchy string beans that is coconut-milk-free but more sweet than spicy; puckering sour curry; and thin, blistering jungle curry. Of course, to focus exclusively on the curries would be to ignore Ayada's range. There's the funky e-sarn sausage, the crispy duck salad, the slightly sweet stewed beef-tendon soup — the list goes on. And because the menu here is typically encyclopedic but atypically strong across the board, Ayada is a restaurant that will never, ever bore you.
2. Khao Kang
76-20 Woodside Ave., at 77th St.; 718-806-1807
At Khao Kang, there is a curry soup called kang som pla, packed with shreds of pickled bamboo shoots and fish, that is absolutely atomic. It's spicy, even for this restaurant, where, as a rule, the food gets hot to the point where regular breathers are necessary (unless you grew up popping bird's-eye chiles into your mouth for sport). But the soup is also tantalizingly sour, courtesy of tamarind; a hint sweet to cut the chiles and tartness; and engrossing enough to compel you to keep at it despite the shellacking you're receiving. The steam-table restaurant is what you might call a curry-and-three, named for and in the style of Thailand's raan khao kaeng restaurants. But the cooking is vivid, varied, and homey in a way that you wouldn't expect from a steam table. Plus, the turnover is quick, so the dishes don't wither away. There's no set menu — just ten or so unmarked dishes with an emphasis on curry — but don't worry: The kitchen's batting percentage is pretty close to perfect. You can expect dishes like squid coated in dry spices; sour sausage and eggs; pork with basil; chicken and pork larb; and tom kha gai or chicken, coconut, and galangal soup. Make sure to round your palate with a milder dish (your mouth will need the relief) like glass-noodle stir-fry with egg or a sweetish fried-pork preparation called moo tod. Desserts such as Thai crêpes and coconut-milk sticky rice are another strong point, and there are a few drinks (Thai coffee and tea, a dragon's-eye juice that tastes like the nectar of Haribo) tumbling around for cooling down your mouth.
3. Chao Thai
85-03 Whitney Ave, nr. Broadway; 718-424-4999
Like Ayada, Chao Thai has settled comfortably, but not passively, into its role as a standard-setter for Elmhurst's Thai scene. The owners opened a larger second location nearby, but it closed after a few years, reportedly because the chef went back to Thailand. It's a decade into its run, but there's still no liquor license — not such a bad thing when you can BYOB your favorite beer — and the dining room is still a tight wedge of a space. But who cares when the service is so warm (if still a bit hesitant about serving spicy or funky dishes to outsiders) and the food is this good? Ayada is where you go when you're in the mood for curries; Chao Thai is the spot for Thai-style salads. The papaya salad is bright, refreshing, and not too hot; a lemongrass salad packed with chopped chiles, limes, and nuts is punchy and invigorating. Whatever you do, don't sleep on the yam pla-duk fu, a salad of firm-fleshed young mango (or sometimes green papaya) with a lime dressing and ground catfish that's been deep-fried into crunchy, wispy bits of fish. It's one of Queens' most thrilling dishes. Chao does have range beyond Thai-style salads. To begin, there's crispy pork belly with Chinese broccoli and oyster sauce, and khao kha moo, that famous Bangkok street dish of stewed pork leg over rice. Here, the gravy is lip-smackingly thick, the tender meat best dipped in the nam pla prik that comes with it, and the rice fluffy.
4. Pata Paplean
76-21 Woodside Ave., at 67th St.; 718-651-2076
This Elmhurst watering hole feels like a makeshift Bangkok bar filtered through an acid trip, what with its stuffed-animal lamp, disco light in the bathroom, and cruise-ship-style drinks inspired by dishes like tom yum. There's a weeknight menu of fusion-y bar food, like a huge bowl of airy chicharrónes with a sweet-and-funky sauce, which is fine. (Along with the bar, they now run Pata Café, a daytime establishment with bubble tea, American snacks, and Thai dishes like num tok beef salad.) The food to seek out, though, are the noodles served by co-owner Satika "Cherry" Kanchanamusik on weekend afternoons until it runs out. (Try to check the bar's Facebook page or call ahead, as sometimes she does events instead.) There's a Warheads-level-sour tom yum soup, with pork and fish balls bobbing around, and a "dry" variation; a ruddy num tok, the pork-blood-enriched soup, that might be best in the neighborhood now that Plant Love House has decamped for Brooklyn; and a gravylike stewed pork belly that is as comforting as any Bolognese.
5. Paet Rio
81-10 Broadway, nr. 81st St.; 917-832-6672
Since opening a couple of years back, Paet Rio has steadily improved and become one of the more reliable restaurants in this exceedingly crowded scene. Like Khao Kang and chicken specialist Eim Khao Mun Kai, a neighborhood favorite, its design is modern and heavy on wood. With its leather cushions, brick walls, and Edison lightbulbs, it looks the part of the hip restaurant slinging, say, confit kao soy chicken and pad Thai fritters. But it's nothing of the sort. There's a lot on offer, so home in on the robust selection of noodles and noodle soups: khanom chin nam-ngiao, fermented rice noodles in a thick, gravylike tomato-and-pork sauce; rich kao soy, served with crispy noodles thicker than standard and a well-cooked drumstick; and sukiyaki, a Bangkok mom-and-pop dish offered both as a soup and dry dish. As for the latter, it comes with pork and is seared to almost smokiness, tangled greens, crunchy stems, and an irresistible, tomato-y sauce that's equal parts sweet and savory. Ignore the larb, which underdelivers, and begin every meal with a combo of dried pork "floss" and excellently made, well-fried curry puffs. Here, the pan–Southeast Asian snack's puff-pastry wrapper is buttery, the spicy potato-and-chicken filling soft like a purée, and the clear dipping sauce sweet and cucumber-y. It's just more evidence that there are unexpectedly excellent dishes to be found at all of Elmhurst's Thai restaurants.
6. Ploy Thai
81-40 Broadway, nr. 82nd St.; 718-205-7298
The stiff competition of the local tom yum wars makes it exceedingly difficult for any restaurant to stand out here, and in other New York neighborhoods Ploy would be a blessing. It's spare but nice, if oddly decorated (see alternating succulents and lightbulbs), and some waitresses might take to, say, playing through the entirety of Britney. The restaurant is most notable for its noodles, stir-fried and otherwise, like rad nar, served in a bowl with Chinese broccoli and a generous helping of thick, sweet gravy speckled with fermented soy beans, the whole lot of which would be right at home at a neo-diner. The stir-fried rice noodles in the guay tiew kua gai are satisfyingly chewy and served well by the crispy egg, chicken, squid, and — an essential addition — sriracha hot sauce. Most famous are the pan-fried pad kee mao, which here taste pure and smoky. Always, though, supplement your noodles with a few appetizers, like the bracing miang kana, broccoli leaves served with shredded pork and a mix of diced chiles, ginger, rind-on lime, and more.