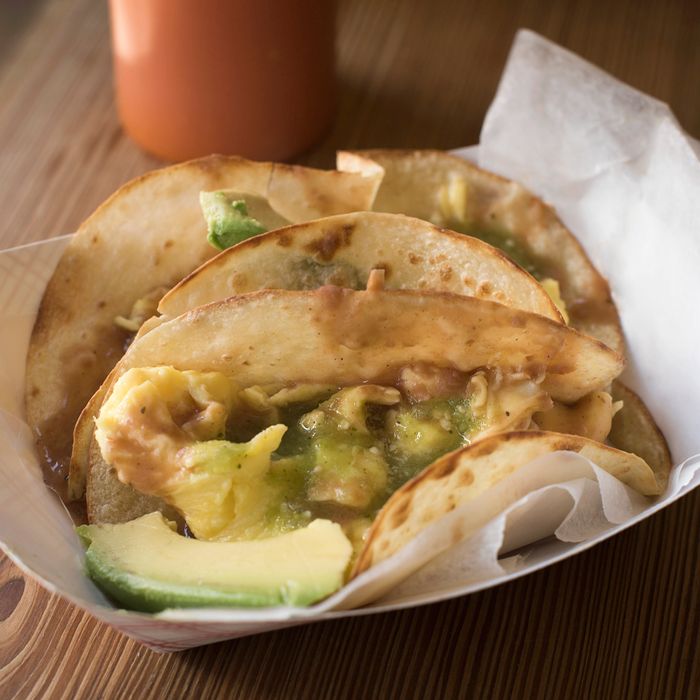 Güeros Brooklyn.
Photo: Liz Clayman
First things first: There is just not a lot of fabulous Tex-Mex in this town. The fusion comfort food — known for its heavy reliance on Ro-Tel tomatoes, refried beans, and heaps of Velveeta cheese — is just one of those things, like Cajun or Laotian, that we don't do all that well. However, there are some very passable Tex-Mex spots, and with my born-and-bred Texan husband in tow, we ate at most of them, consuming our weight in queso along the way.
1. Güeros Brooklyn
605 Prospect Pl., nr. Franklin Ave., Crown Heights; 718-230-4941
This is not a full-service Tex-Mex restaurant, but its speciality — Austin-style breakfast tacos — are special enough to bop this up to the number-one spot on our list. The tiny Crown Heights taqueria opened during the Great Breakfast Taco Boomlet of 2012 (here, we'll pour out a glass of Lone Star for the dearly departed Whirlybird). Since then, on weekends till 4 p.m., the same team behind Park Slope's Texas burger joint, Dram Shop, have been shoveling fluffy scrambled eggs onto housemade flour tacos, smothering and sprinkling them with add-ons — like bacon, chorizo, avocado, cheddar, refried beans, and potatoes — and creating an addictive breakfast taco that is simple and perfect in its juicy-to-salty-to-kicky ratio. In addition to these customizable ones, it also offers migas tacos — scrambled eggs tossed with fried tortilla strips, tomato, jalapeño, and cheddar — the stuff of Tex-Plants' daydreams. If you happen to be here during a non-breakfast-taco designated hour, its regular tacos are divine, in particular, the Dallas-style brisket version (made with cheddar, rajas, roasted onion, green salsa), as well as its signature thick queso. And all day long, it serves (rather strong) frozen margaritas.
2. Javelina
119 E. 18th St., nr. Irving Pl.; 212-539-0202
Though critics gave this place a hard time when it opened during the Great Tex-Mex Boomlet of 2015, our Texan found Javelina to be the most authentically Tex-Mex restaurant in New York, in terms of the range of offerings (for instance, it serves San Antonio puffy tacos, which are hard to find in New York), as well as overall tastiness. The vibe can feel very first Tinder date (it might be due to its location, right off Park Avenue South's Bro Row), and it can get loud here; but the sizzling umami explosion that is its chicken, steak, and shrimp fajitas — served with housemade flour tortillas — are some of the best we've had. Its white queso is thick and tangy, without being too thick and tangy; plus, it has Shiner Bock on tap.
3. Jalapa Jar
100 Henry St., nr. Clark St., Brooklyn Heights; jalapajar.com
If you don't mind eating while standing up — with your coat on, next to a MetroCard machine — there's Jalapa Jar, a new stand in the Clark Street Subway station. (Though you can get them to go, please don't be the person eating a breakfast taco on the uptown 2 train.) Jalapa Jar was first a salsa company (selling its wares at Smorgasburg), and opened its stall last year as a way to showcase its condiment. In addition to the salsa, it offers four kinds of breakfast tacos, including the somewhat odd but yummy Heights (made with crumbled bacon, jalapeño-garlic mashed potatoes, and shredded cheese), and a more classic Dirty 6th, with ground chorizo and refried pinto beans. There's a Tex-Plants leaderboard where visitors can check off what city or town in Texas they're from.
4. Swell Dive
1013 Bedford Ave., at Lafayette Ave., Bedford-Stuyvesant; 917-652-4779
My husband and I disagreed on this one: While I found the tacos at this Filipino-Tex-Mex hole-in-the-wall to be insanely delicious (and he also found them to be delicious), he thought its newfangledness disqualified it from the list. The duo behind nearby Brooklyn Kolache Co. opened Swell Dive last year. One half of the couple is from the Philippines; the other, from Texas. While the menu features offerings from both parts of the world, the flavors do lean more Southeast Asian than Lone Star state. But after my husband tried its charred-beef taco with "proprietary house sauce," black refried beans, shredded Jack cheese, crema, and jalapeño sauce, he reluctantly admitted that it "tasted just like home."
5. Avenida Cantina
25 Ave. B, nr. 2nd St.; 646-882-0593
This under-the-radar East Village joint, opened last year by some homesick Texans, is a festive, unpretentious neighborhood spot (there are many TVs playing football) that makes one of the better white quesos we encountered. Plus, the chicken enchiladas came out looking exactly like our resident Texan said they should: as a plate of pure yellow goop. Points off for no fajitas.