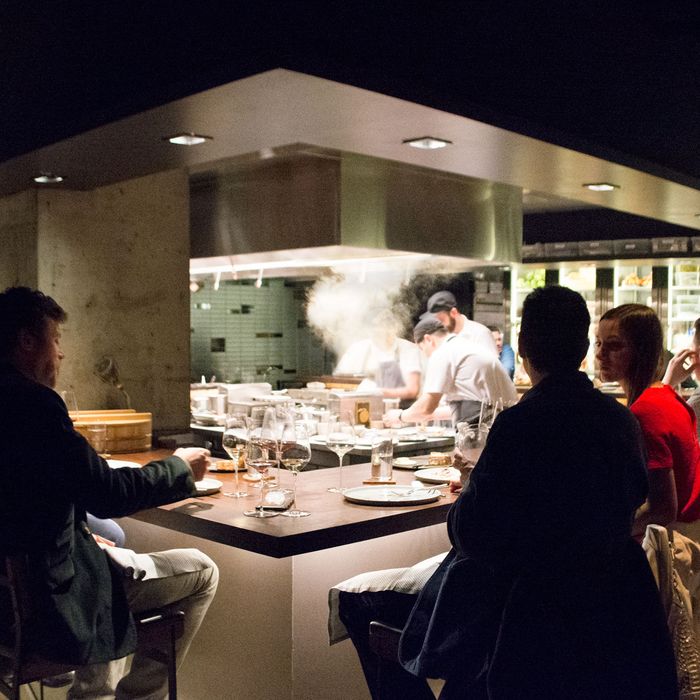 Momofuku Ko has mastered the art of the elegant but intimate chef's counter.
Photo: Tirzah Brott/New York Magazine
The Great Tasting Menu Boom has continued apace since the last time we published this list, so let's reiterate a few ground rules: We're not interested, here, in the occasional chef's menu that might show up only once or twice a week, or the larger haute cuisine restaurants like Eleven Madison Park that use the format in their vaulted dining rooms. The subject of this highly subjective ranking is the discreet, small-sized establishment where dinner is prepared in front of the diner, usually at a small counter, and served course by course, often by the chef him or herself.
1. Momofuku Ko
8 Extra Pl., nr. 1st St.; 212-203-8095
The grandfather of all precious, new-age New York City tasting rooms stays atop our listings, despite the fact that the prices keep ticking steadily upward ($255 per person, when last we checked), and despite the fact that David Chang seems to spend most of his time in L.A. these days, tending to his increasingly large and far-flung entertainment and dining empire. As is usually the case with dining empires, however, the key to stability and success lies with the team on the ground, which begins with Ko's executive chef, Sean Gray, who mans his station behind the dining counter, night after night, like a slightly serious-faced Captain Kirk on the bridge of his state-of-the-art vessel. Unlike at more hermetic tasting operations around town, Gray and his cooks get their influences and ingredients from all over (caviars from Idaho, uni from Maine and Japan, shiso perfume from France), and if you want a more modestly priced, down-home taste of their inventive style of cooking, the à la carte bar operation, which opened in early 2018, is one of the better cutting-edge gourmet deals in town.
2. Chef's Table at Brooklyn Fare
431 W. 37th St., nr. Tenth Ave.; 718-243-0050
We weren't big fans of the original version of this César Ramirez destination that helped spawn the great tasting room fad when it opened next to a random Brooklyn grocery store several years back. But the new Manhattan digs (behind a door in the back of an anonymous Hell's Kitchen grocery store, in case you haven't heard) are larger and more commodious than the old quarters, and the famously domineering Ramirez seems to have mellowed a little over the years (yes, food photos seem to be permitted now). If you can handle the prohibitive prices ($395 and counting), and if you're weary of spending your evenings as we do, crouching in the latest trendy, noise-filled bar-restaurant around town, it's a pleasure, once every year or so, to watch the chef and his crack staff turn out all sorts of 20th-century gourmet favorites (barely-cooked lobster; truffles upon truffles; buttery, beer-fed A5 beef flown in from Japan) in the grand, state-of-the-art kitchen, which is the size of a small theater stage.
3. Atomix
104 E. 30th St., nr. Park Ave. S.; no phone
Curing and fermentation are foundations of Korean cuisine, like butter and cream sauces in France, and if you're a fan of the talented, Michelin-decorated chef, Junghyun Park, you'll find all sorts of little wonders on display at this Nomad tasting room. Depending on what time of year you drop by, you'll find nourishing bowls of rice dappled with green pools of Dungeness crab roe; soft, candylike cubes of Wagyu sweetened in a variety of fruit juices; and segments of duck breast that the kitchen sears, roasts, and sears again before garnishing with an alluring substance called "gochujang mole." At $175 per person, the 12-course dinner is a relative bargain for members of the high-rolling omakase set, and like Ko, there's a bar room serving à la carte goodies like steak tartare and an addictive version of Korean-style chicken wings stuffed with rice.
4. Atera
77 Worth St., nr. Church St.; 212- 226-1444
The much-praised, star-bedecked Danish chef Ronny Emborg is more of an overt classicist than his talented predecessor, Matthew Lightner, who had a fondness, when this seminal little Tribeca atelier opened in 2012, for plating dinners on carefully arranged piles of river pebbles and beds of moss. Emborg's specialty is what he calls "sensory" dining, and although it still costs a small fortune to buy a place at the 13-seat bar ($285, the last time we checked), the deft combinations of elemental smells and flavors (birch bark, juniper, a whiff of woodsmoke), the impeccable ingredients, and the first-class Continental technique continue to make this one of the best big-money tasting extravaganzas in town.
5. Shabu Shabu Macoron
61 Delancey St., nr. Allen St.; 212-925-5220  
Mako Okano's impressive one-woman omakase joint is a veritable dissertation on the joys of the communal Japanese hot pot called shabu-shabu. The prices ($128 for seven courses) are slightly higher than at your average shabu-shabu joint, it's true, but compared to the kind of cash people are shelling out at other discreet little tasting joints around the city, it's a relative steal. You're also not going to find marbled slivers of Wagyu or pork like this on the hot-pot circuit around town (not to mention uni served with homemade yuba on a spoon). The combination of focus and intimacy makes the snug, eight-seat operation feel less like a standard restaurant dinner and more like a private event cooked up by the chef at her dining counter back home.
6. Okuda
458 W. 17th St., nr. 10th Ave.; 212-924-0017
The city is awash in Japanese-style tasting rooms, but for omakase freaks who wish to experience the original "kaiseki" tasting experience without booking a flight to Tokyo, this elegantly mannered, 13-seat restaurant, which opened in the fall of 2017 on the far western fringe of Chelsea, is the place to do it. Just like at the original Okuda back in Tokyo, the dining counter is carved from Japanese wood, and on a recent evening, many of the patrons happened to be Japanese salarymen who were met at the door by women dressed in full kimono. The traditional menu (intricately carved sashimi, charcoal-grilled Wagyu, tastes of yuba and mountain yam decked with forest leaves) changes not just with the seasons but from month to month, and even week to week, depending on what's available in the markets both here and in Japan.
7. Blanca
261 Moore St., nr. Bogart St., East Williamsburg; 347-799-2807
Carlo Mirarchi's tasting menu started out as a kind of improvised event for local gourmets but has morphed, over the years, into an international dining destination where you're more likely to find sophisticates straight off the plane from London or Beijing than anyone from the surrounding neighborhood. The little kitchen is still worth a visit (Mirarchi cooks four times a week), but like many things in Kings County, it's not quite as improvised as in the old days, and thanks to the increasingly extravagant prices ($198 for dinner, before drinks and wine), it drops a notch or two on our updated list.
8. Uchu
217 Eldridge St., nr. Stanton St.; 212-203-7634
The $255 set menu at this spangled little eight-seat kaiseki tasting den down on Eldridge Street can lean a little too heavily on the traditional, slightly tired signifiers of the gourmet experience, like Osetra caviar (flown in from Shanghai and spooned into hand rolls), foie gras and truffles, and A5 wagyu (served in the dreaded sando form). But the Tokyo-style bar service is exceptional (call for the house martini made with Kinobi gin), and if you have the necessary funds, several of the dishes dreamt up by Brooklyn Fare alum Samuel Clonts (soft scrambled eggs with trout roe and pickled onions, the Peconic Bay scallops with uni and green apples) are worth the steep price of admission.
9. Gem
116 Forsyth St., nr. Broome St.; 917-473-3223
There are all sorts of things to like about Flynn McGarry's polished, 18-seat, Lower East Side tasting operation, from the intimate layout (a series of two-seat tables set around the room, instead of the usual formal, Japanese-style bar) to the laid-back L.A.-style décor and vibe (flickering candles, a tawny, woodsy color scheme, decorative pots of cacti here and there). But mostly what we like is the cooking itself, which veers from a kind of polished Japanese influence (raw local clams over ice, uni sprinkled with pumpkin seeds, diver scallops wrapped in shiso leaf) to some of the finest elevated vegetable creations we've tasted (truffle-rolled carrots, ash-grilled sunchokes, slow-roasted pumpkin spooned with melted Gruyère), and makes it hard to believe that this wunderkind cook just turned 20.
10. Secchu Yokota
199 E. 3rd St., nr. Ave. B; 212-777-1124
The chef-owner of this eponymous, modestly appointed little tasting shop in the East Village can trace his kaiseki roots to his grandfather, who, according to the restaurant's website, "had the honor of serving the Emperor of Japan." The tempura-heavy menu (freshly sizzled sweet ebi shrimp, wheels of sliced eggplant, soft chunks of beltfish from Japan's Chiba prefecture) might not be quite up to the Emperor's standards, but at $100 for the most expensive omakase option (two appetizers, full tempura dinner, a pre-dessert, and dessert) in the communal "lounge area," the meal is virtually a bargain compared to other tasting rooms around town.