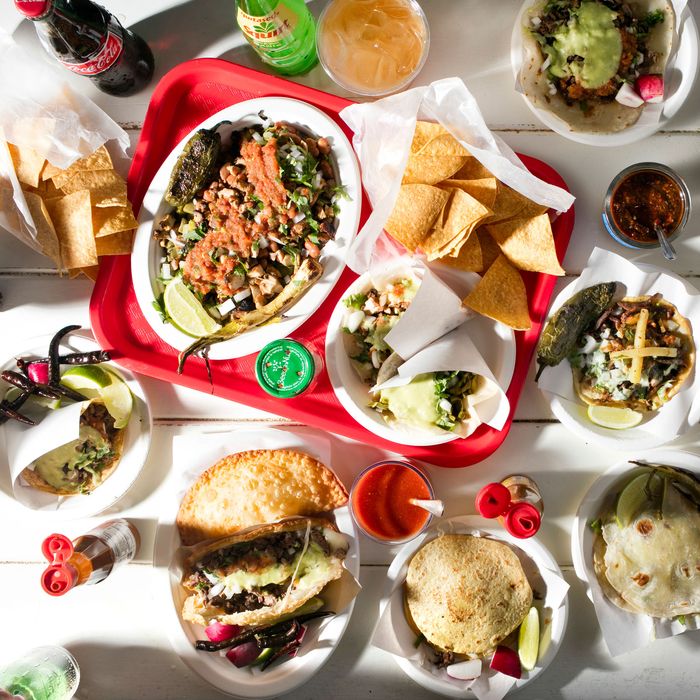 A taco feast at Los Tacos No. 1.
Photo: Melissa Hom
We endured an irrationally exuberant era of high-end fusion tacos in the early 2000s, dark days of tortillas slicked with bespoke cremas, and stuffed with luxury tokens like "Kobe" short ribs and bluefin tartare. Our newer, ascendant glut of ambitious Mexican food is a welcome sign of course correction, and now more than ever, nourishing and impeccably made tacos can be found throughout the city. The best tortillas have a faint perfume of corn, and if they're not made in-house, they're pressed fresh inside any number of quasi-anonymous tortillerias out on the Bushwick border. Salsas layered with dried chilies should be balanced with acid and salt; meat and vegetable fillings should be handled with care and precision. Here, the absolute best tacos in New York.
1. Los Tacos No. 1
Multiple locations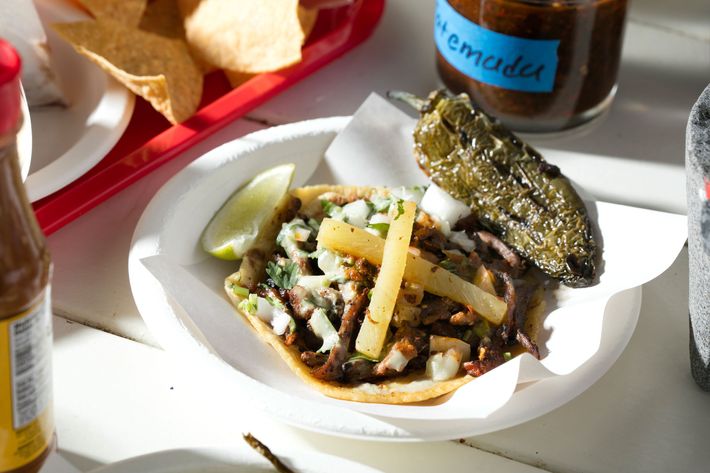 The deftly seasoned fillings at the perpetually frenetic Chelsea Market stall seem to come from ordinary enough sources — beneath the rickety signs plugging Coca-Cola, you'll see no mention of acorn-fed heritage pigs, or hand-foraged nopal — and what comes off as a sort of taco magic is really just the work of cooks with deep and unwavering commitment to their craft. Behind the line, in full view of customers, they roll out and press petite balls of masa and flip steaks on the grill. They spit-roast pork for the signature adobada, basting the towering inferno of pork with vinegar and mellow chile and rendered lard. Improbably, Los Tacos' Chelsea and Times Square locations nail the Tijuana street-stall vibe, from the delicious blister of charred, house-nixtamalized corn tortillas to the crisp-fried árbol chilies. If you hit it at the right, late-afternoon moment, there's often no line at all at the Times Square branch, and if the Chelsea Market stand is too overrun, sister restaurant Los Mariscos is right there, too, with possibly the best rendition of Baja fish tacos in the city.
2. Tacos Los Poblanos
Multiple locations
Though it seems increasingly unlikely, we're still waiting on taco trucks on every corner. Morelos went brick-and-mortar, after all, and on 96th Street, the world-famous Super Tacos recently spun off its first storefront. In any case, there's an opening for this underrated Brooklyn purveyor to add dozens more trucks to its current fleet of two. For the last six years, after 6:30 p.m. every day, the most reliable spot to catch Los Poblanos is outside Payless, in Sunset Park. The crew slices up exceptional al pastor that's been hard-seared on the spit, but isn't dried out. Fantastically chewy pork ear matches texture with plump cebollitas asadas included as garnish. Another option is beef birria, normally sipped from foam cups, but here spooned onto hot tortillas in soft-braised, fragrant hunks. Douse all tacos with the green salsa, which brims with tiny avocado cubes.
3. Taco Mix
Multiple locations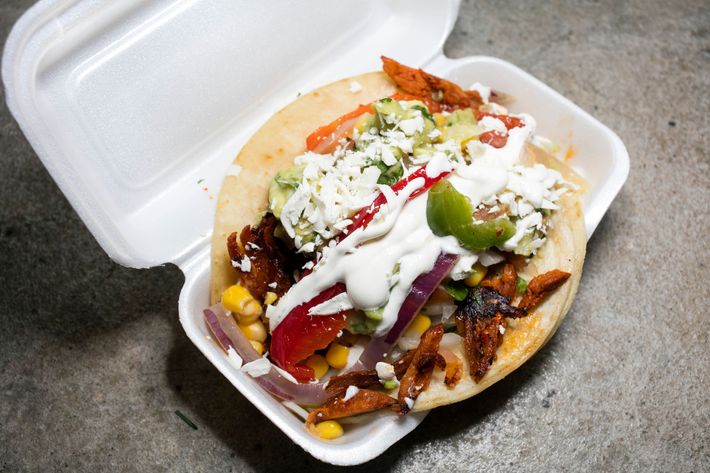 Don't listen to taco scholars who claim that the pork is too red, or that the flames are too hot, because workers have managed the elusive balance of fat, salt, and char since 1990, when this place opened. They gracefully swing what are essentially machetes to lop shreds of crisp meat right onto tortillas, with perfunctory slivers of toasted pineapple. These days, there are often dueling trompos, one of which might be street side and laden with meat for tacos árabes, the cumin-scented, shawarma-ish hybrid taco and by-product of early 20th-century geopolitics.
4. Empellón
510 Madison Ave. (entrance on 53rd St.); 212-858-9365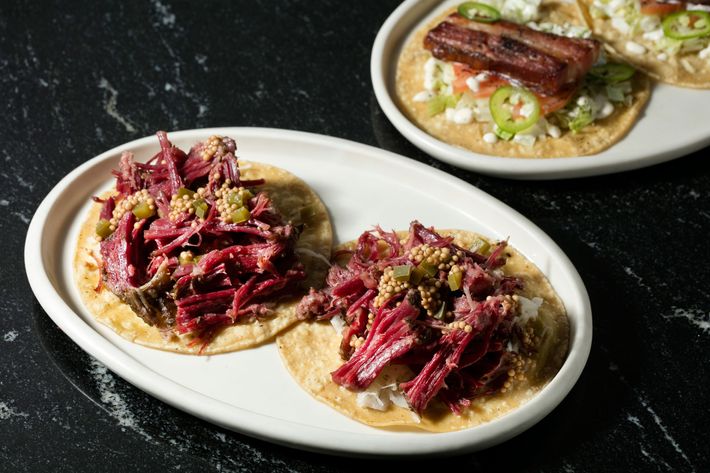 Alex Stupak's slab-bacon and hash-brown tacos are two examples of how the chef reconciles his high-low source material with restless fine-dining aplomb. Empellón's most exuberant tacos, some pioneered downtown, tend to be lovably distinct, New York–ish mutants. Smoky pastrami reads like a kernel of nixtamalized hominy accidentally made its way into the teleportation chamber from The Fly with a Katz's sandwich, along with a spoonful of pickled mustard seeds from Tom Colicchio's kitchen, circa 2002.
5. Taqueria El Mezcal
3910 Fourth Ave., nr. 39th St., Sunset Park; 718-768-2846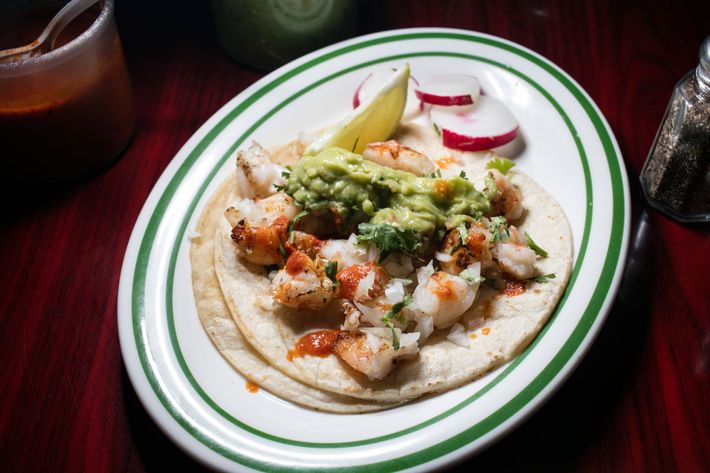 The handful of chairs and hand-painted napkin holders in the cramped dining room are the first sign that no one is getting fussed-over, charm-school tacos here, and that's how it should be: double-layer tortillas appealingly freckled with griddle marks, fresh and bright salsas. Grandes tacos let anyone smooth out spicier fillings like crumbly chorizo with cooling guacamole. Griddled shrimp are sweet, while the meaty, overloaded campechano option comes with a few thoughtful diced bits of grilled nopales.
Honorable Mentions (in alphabetical order)
Chilo's
323 Franklin Ave., nr. Clifton Pl., Bedford-Stuyvesant; 718-676-5245
The cheffy (but not overly preened) tacos are way more ambitious than they need to be at the self-styled dive. Fillings like huitlacoche get a pre-tortilla simmer with epazote and oregano, pork belly brines in Negra Modelo, and pork-shoulder cochinita smacks of sour citrus and open flame, doing a decent impression of the stuff taxi drivers in the Yucatán wolf down on breaks.
Cosme
35 E. 21st St., nr. Broadway; 212-913-9659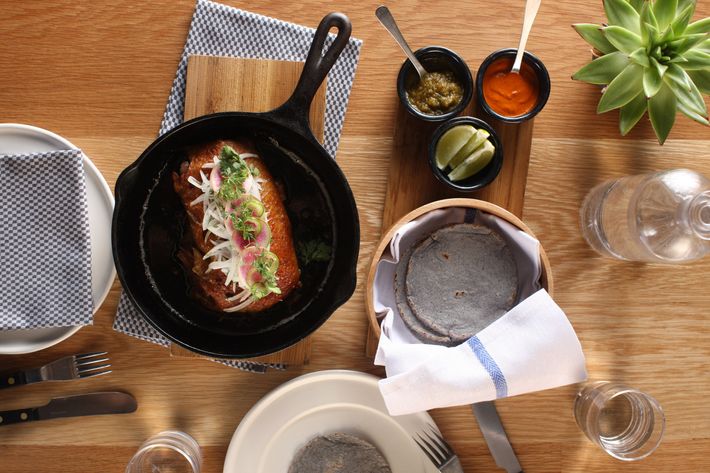 The city's best Mexican restaurant serves two triumphant, large-format dishes meant to be eaten as tacos, even if it's the diner who assembles them. Enrique Olvera and Daniela Soto-Innes's duck carnitas are an Instagram-famed showstopper, a dopamine surge-triggering mix-and-match of crisp skin, salted meat, and molten fat that rivals the very best Peking duck out there. There's also the lesser-known, brunchtime barbacoa, or milk-fed lamb leg that's been slow-roasted for ten hours with guajillo adobo. The dried chilies are more soothing than aggressive, and the overnight braise neatly suffuses the lamb fat into the meat; herb salad and abundant raw chilies punch up all of the flavors. The stack of handmade tortillas — Cosme makes 7,000 a day — certify each dish as masterpieces. If it were conceivable to order them twice a week, they'd easily land in the top five here, if not No. 1.
El Gallo Taqueria
214 Highlawn Ave., nr. W. 5th St., Gravesend; 917-668-2332
The "pick your vessel" approach, along with slats and hammered steel, may suggest some kind of would-be Chipotle, but exponentially better, made to be replicated and transplanted to any horchata-deprived corner. In other words, this under-the-radar spot is no chain, but it should be: Juicy tongue tacos win over the offal-averse, while plump tilapia fillets slicked with achiote call back Guerrero-coast snapper a la talla. Instead of more lean shoulder or a blend, El Gallo uses pork belly for its carnitas option, which makes for a somewhat messy but satisfying taco filled with sticky-crisp nuggets of meat.
El Tenampa
706 Fourth Ave., nr. 22nd St., Greenwood Heights; 718-369-7508
Spicy pork and tripe tacos are 2 of the most popular fillings (of 14, total), but it's worth watching the cook who wields the cleaver on griddled cutlets or charred hunks of goat leg to see what's hottest.
Miscelánea
63 E. 4th St., nr. Bowery; 212-253-0277
On Tuesdays only, all fillings that normally appear tucked inside the shop's dreamy tortas — mole chicken, carnitas styled out with refried beans — are loaded instead into fresh and pliant Tortilleria Nixtamal beauties. The bundled deal includes three tacos and a Mexican soda.
Reyes Deli and Grocery
532 Fourth Ave., nr. 14th St., Park Slope; 718-369-3211
It's all handsome wood trim and floor-to-ceiling Grupo Bimbo sweets stacked claustrophobically up front, creating an effect not unlike being stuck inside a kitchen cabinet well-stocked with powdered doughnut fun-packs. In the back, though, there's a ridiculously small haven for flavorful tacos with fillings like strips of cecina, which go seamlessly from salty to beefy and back, like a Möbius strip.
Tacos El Bronquito
405 45th St., nr. Fourth Ave., Sunset Park; 929-395-7273
Yes, for sure visit the original for full-on diner vibes, and seek out the truck, preferably obscenely late at night with someone you love, so years from now you can reminisce about sipping that restorative birria while some devastating wind lashed up from Upper New York Bay. But also seek the Bronco family's latest spinoff for lengua and chorizo tacos set out on thick, from-scratch, hecha a mano tortillas.
Taqueria El Atoradero at Parklife
Parklife, 636 Degraw St., nr. Fourth Ave., Gowanus; no phone
Step right up to the dinky shipping-container kitchen marooned on the pebbly, 4,000-square-foot outdoor space for mushroom tacos under a canopy of pulled cheese, or chorizo and potato tacos gone wild with a French-fry garnish. Tortillas, pressed fresh with blue corn, may be the color of blueberries muddled in oatmeal, but they're perfect source material for all of your Mexico City street-food daydreams.
Taqueria Huarache
16 E. Mt. Eden Ave., nr. Jerome Ave., Mt. Eden; 718-210-7948
This newcomer no doubt feeds a number of workers from nearby Bronx-Lebanon hospital — turkey-bacon-and-baby-spinach wrap sales seem brisk — but the crossover (tacos dorados with Whiz-like queso) and more home-style (barbacoa) are gorgeous, dressed to the nines with crema and frijoles, or just a plump pickled serrano on the side.
Taqueria Izúcar
Multiple locations
A grainy photo of Casa Colorada, Izúcar de Matamoros's sprawling landmark building, graces the menu. It explains the name, but also goes some way in prepping the diner for an accordingly expansive menu, which spans entry-level tacos pequeños loaded with chicken tinga or red-stained chorizo, to forays into oreja (ear) and buche (pig stomach) territory. At the Dekalb Avenue spinoff, Izúcar's workhorse tacos placeros sport mounds of fried potatoes, or fried beef cutlets, and are made even more calorific with a chopped boiled egg mashed into the toppings. The place opens at 7 a.m., and it's not uncommon to see early morning shift workers and late-night club types at adjacent tables, immersed in hefty paper plates of tortillas.
Tortilleria Mexicana Los Hermanos
271 Starr St., nr. Wyckoff Ave., Bushwick; 718-456-3422
Folks seemingly "discover" this combination tortilleria-taqueria anew each week, which is odd because its Times review dates back to '06, and Bourdain went in '09. Service quirks — the index-card ordering, sloppy garnishes — are now so ingrained, they're basically rejoinders to the perpetually inconsistent food. As always, pork enchilada and achiote-stained chorizo tacos are best.
Tortilleria Nixtamal
104-05 47th Ave., Corona; 718-699-2434
Remember the 2014 tortilla-ssance, when dried corn rendered into masa via the old-school process known as nixtamalization was suddenly everywhere? The movement owes much to this Queens showcase of the technique. Nixtamal's tacos remain hit-or-miss, at least a distant third after their tamales and pozole, but the aromatic, steamy tortillas are alone worth the trip.