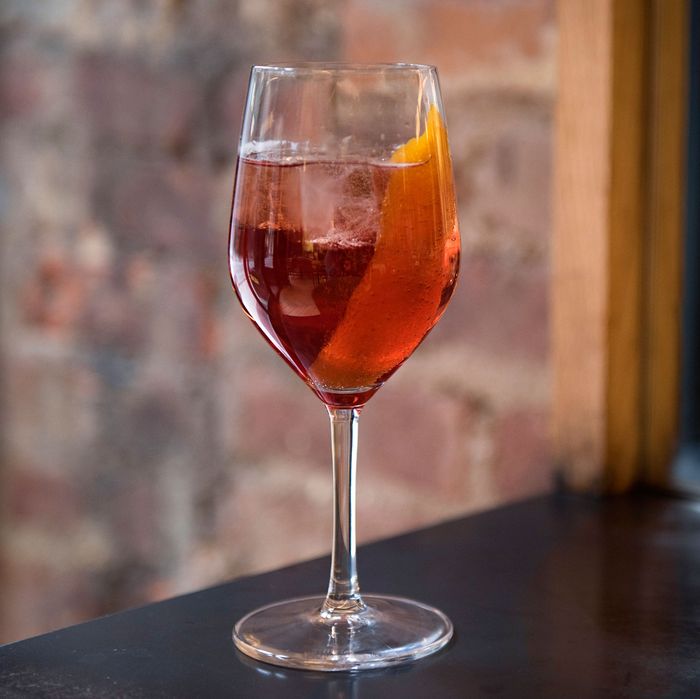 The spritz at Wildair is simple, and very thoughtfully constructed.
Photo: Liz Clayman
When it was published last year, Talia Baiocchi and Leslie Pariseau's book Spritz did much to legitimize the titular drink style, which for decades — in America, at least — was maligned by undue associations with low-cal cocktails and faddish carbonated white-wine nightmares. Lately, however, the combination of light liqueur and sparkling wine has reclaimed its rightful place alongside serious mixed drinks, and the past few years have seen a sharp uptick in spritz variations, as well as those more or less derived from the Italian original. All are fizzy and refreshing, and these are the absolute best.
1. Wildair
142 Orchard St., nr. Rivington St.; 646-964-5624
There's nothing cluttered or complex about Jorge Riera's Vergano Americano spritz, though it is nevertheless deeply considered. Riera, who is also wine director at Wildair's sister restaurant, Contra, employs Mauro Vergano's Americano because he believes the crimson-colored Piedmontese aperitif, with its notes of mentholated wormwood and bitter chinotto, is a modern benchmark for naturally made vermouth. For the top-off, Riera uses a pale sparkling wine called Les Capriades Pet'Sec from Pascal Potaire, the French winemaker known as the "king of pét-nats." It has "great acidity and savory freshness," Riera says, plus an abundance of apple, lime blossoms, and a bit of salty brine. Riera calls for a tallish stem glass to nail the drink's breezy elegance, and an orange twist is crucial to finishing the whole thing off.
2. La Sirena
88 Ninth Ave., at 16th St.; 212-977-6096
While Mario Batali and Joe Bastianich offer a classic Venetian, made with Aperitivo Select (a fan-favorite with striking orange-cardamom notes), in the downtown Eataly, the restaurateurs' sprawling Maritime Hotel trattoria and tapas bar deploys the crowd-pleasing Aperol in the base of its entry-level spritz, which is mixed with Flor Prosecco, Batali and Bastianich's own label. Also on the menu: Sirena's namesake spritz, a mix of the Flor Prosecco and the blood orange–infused Sicilian liqueur Amara, with a giddy boost of fizzy Limonata. And the Sup Girl is a spritz-esque drink made with vodka, Cocchi Americano, green-chile liqueur, and a effervescent glug of Long Island rosé. It's spicy and fruity, with a healthy dose of sweetness on the back end.
3. Nitecap
151 Rivington St., nr. Suffolk St.; no phone
Natasha David's evolving spritz menu, four drinks strong, is jam-packed with ingredients like matcha bitters and chamomile-infused pisco that at first seem to clash, but turn out to fit together neatly. A few sips into the Boogie Wonderland — a seemingly unplanned get-together of cacao nib–infused Maurin Quina, Plantation pineapple rum, dry curaçao, bitters, and Lambrusco — and it suddenly becomes clear that its components re-create something like the notes of a classic Coca-Cola. Intentional or not, the drink's buoyantly pithy lemon and fruity cherry flavors remain in steady orbit above their heavier ABV quotient, and it quenches thirst better than any soda on the market.
4. Benoit
60 W. 55th St., nr. Sixth Ave.; 646-943-7373
The house spritz at the bistro from Alain Ducasse and executive chef Laëtitia Rouabah pulls inspiration from all over: The glug of absinthe-splashed Maurin red vermouth comes from France, and a jigger of Campari hails from Milan. For the bubbly top-off, it's 2014 Antech Blanquette de Limoux Reserve from Languedoc-Roussillon. And the final squirt of seltzer from a heavy siphon bottle is 100 percent pure Canarsie. The finished product is red and refreshing, and at the bistro's buttoned-up wine bar, it's served with a slight hint of Gallic slapstick.
5. Via Carota
51 Grove St., btw. Bleecker St. and Seventh Ave.; 212-255-1962
Like Rita Sodi and Jody Williams's menu, the three spritzes served at Via Carota are straightforward, but loaded with character. The Bicicletta is Aperol and seltzer with Vermentino, a workhorse Italian white that tends to be too young and brash to lie around in anyone's cellar. The Americano has a bitter, delightfully ruddy base of Campari and Cocchi, while the third option is a slightly less festive marriage of the artichoke liqueur Cynar and Prosecco. All the spritzes are served with orange wedges in big glasses, and as a bonus, all three pair well with the all-day menu. (And while Cynar does not taste like artichokes, it does pack a leafy bitterness that goes nicely with Via Carota's classic grilled artichokes.)