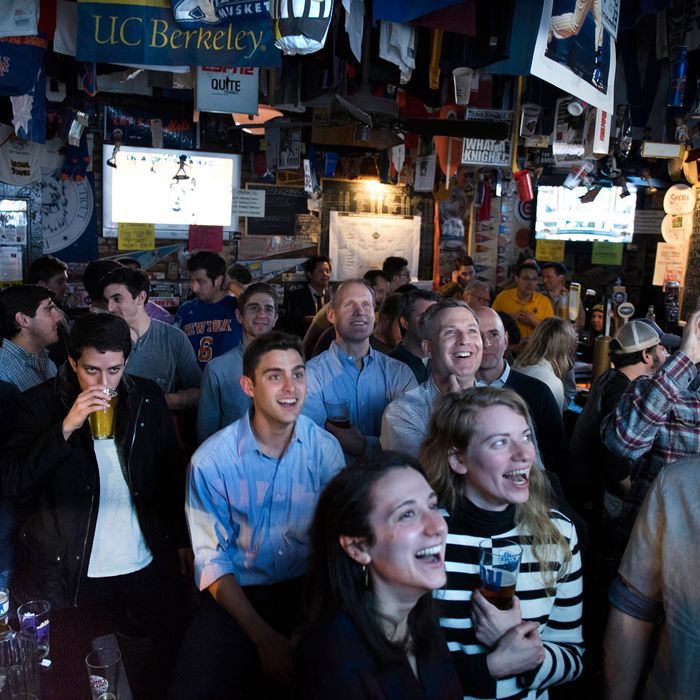 Standings is small, and otherwise perfect.
Photo: Liz Clayman
New York has more professional sports teams than any other city in the country — and what feels like a serious lack of great sports bars. Tiny TVs, very odd policies about when games' sound can be on, mediocre food, and uninterested bartenders are all too common, so Grub went out looking for the best places to catch a game on any given night. That means team-specific bars, such as Kettle of Fish or the Waylon, aren't here; nor are all-purpose dives, which are great in general; but for the purposes of this list, we only wanted bars where sports were the thing.
1. Standings
43 E. 7th St., nr. Second Ave.; 212-420-0671
This bar can cause even the most concise speakers to wax poetic about its virtues. Sure, complaints about its — admittedly tiny — size have been registered, but they should also be dismissed. One, it's New York; two, it's better that way for actually seeing the television, watching the game, and chatting with your neighbors and the bartender. And, God bless Standings, because you can rely on it to have the game sound. As its business cards say: "No music. Ever." What else wins it a No. 1 spot? Among the hundreds of memorabilia items hanging from the ceilings and stuck to the walls are paper-plate signs promoting free-pizza Friday nights; other nights you can order takeout. The bartenders are reliably sports-geeky; the beers are numerous and range from cheap easy-drinkers like Bud to craft drafts from Two Roads. The bar's vibe is like your giant group-text sports thread. And despite being only twelve years old, Standings seems to have been there forever — when you're watching baseball, you can close you eyes and almost feel as if you're at one of the older stadiums (the less-than-pristine bathrooms help). In sum: It is a perfect, authentic sports bar.
2. Half Court Sports Bar
446 Park Pl., nr. Washington Ave., Prospect Heights; 347-663-3121
Call ahead, because we've known the bar to not keep to its stated hours exactly. But when it's open, what a bar! What it lacks in distinctive décor, it makes up for in its unmatched community-center atmosphere. Sit down, get a drink, and the bartender will ask you on a quieter night if there's a certain game you want on the TV. A few sips in and you'll be on your way to making friends with everyone — playful sports banter is encouraged. P.S.: There is a jukebox — a few steps from the neon-creature-housing fish tank — but, happily, a sign taped to it says, "No playing of the jukebox during live sporting events."
3. Warren 77
77 Warren St., nr. Greenwich St.; 212-227-8994
Bougie? Fine, but this is Tribeca. And it's a good place to settle in and get comfortable, and to have better cocktails and food than you'll likely be served in any other sports bar. Call the décor thoughtful — black tufted leather couches; jazz on the speakers when the game's not on; framed Sports Illustrated covers fêting the Rangers. Speaking of Manhattan's hockey team, even though original partner and former New York Ranger Sean Avery was reportedly bought out, the bar and many of its patrons are still loyal to the Blueshirts.
4. Legends Bar
71-04 35th Ave., Jackson Heights; 718-899-9553
At this under-the-radar Queens pub with a small-town feel, everyone seems to already know each other, but it's still a great place to make friends while watching the game. We've even had bartenders here bring out plates of gratis cheese and crackers to encourage patrons to stay. Even if the ultimate goal is to get people to buy more beer, this is an extremely endearing way to go about it.
5. Shorty's
62 Pearl St., nr. Broad St.; 212-480-3900
The mini-chain has a heavy Philadelphia bias, but that just means outsiders can enjoy being ribbed by Philly fans over a roast-pork sandwich. At the Financial District location, there are plenty of high-top tables, a long bar with 15 seats or so, and more than a dozen TVs lining the wall at a height that won't have you craning your neck.
Brooklyn Pub
689 Sixth Ave., nr. 20th St., Windsor Terrace; 718-369-0088
A key component of a great sports bar: The bartenders won't look at you like you've made a completely outlandish request if you ask for game sound to be on. That's about hearing the action onscreen, obviously, but it also usually telegraphs a bartender who actually cares about sports. At this South Slope pub, there's a TouchTunes jukebox, but on quieter nights, you'll be treated to the sound of pucks and skates scraping across ice. Plus, there's a full food menu — try the sloppy joes or the nachos — and the parents' den–style décor (lots of novelty license plates) is oddly comforting.
Croxley's Ale House
63 Grand St., nr. Wythe Ave., Williamsburg; 718-387-4290
Croxley's Brooklyn iteration is almost confoundingly large for a New York City bar, which means you'll eventually find yourself there if you're a sports fan in the city. Good to keep in mind for when you're watching with a group. Also: There are 48 taps and 40-cent wing specials.
Foley's NY
18 W. 33rd St., nr. Fifth Ave.; 212-290-0080
Midtown has plenty of anonymous pubs where you can watch sports. It doesn't have many with so much memorabilia to gawk at during lulls in the game. Signed pucks, bobbleheads, jerseys, and even stadium seats cover the walls here, making it the place to take your sports-geek grandparents and Little League–playing cousins.
Harlem Tavern
2153 Frederick Douglass Blvd., at 116th St.; 212-866-4500
This area's a bit starved for major sports bars, but Harlem Tavern definitely helps: There are 12 TVs in the main dining room, plus a large covered-porch-style area up front with projector screens, making it a great place to catch the Yankees. Bear in mind, if hollering at the TV during games is your style, Harlem Tavern's probably not a perfect match — there's live music during weekend brunch, cocktails, and a full food menu.
Mulholland's
312 Grand St., nr. Havemeyer St.; 718-486-3473
Affordable ($15 Budweiser buckets), spacious (the dark-wood bar is 30 feet long), and housing more than a dozen TVs (including outside, and one above a fireplace), Mulholland's is really only undone by the fact that University of Kansas fans have a habit of descending during games and leaving stickers of their fake-bird mascot everywhere. And yet: Mulholland's is still pretty good.
Rocky McBride's
27-01 23rd Ave., Astoria; 718-777-2723
A low-key neighborhood option that doesn't take itself too seriously (Grub has written about the bar's Peeptinis before); there are standard pub TVs up front in its bar space, and a little semiprivate room in back, where we recently asked to have a basketball game and two different baseball games put on the TVs — only to see our wish get granted.
Smithfield Hall
138 W. 25th St., nr. Seventh Ave.; 212-929-9677
A 70-foot bar, plenty of tables, good drinks, and a second room that you can rent for private parties: Smithfield Hall is reliable, and a bit more upscale than your average sports pub. The bar majors in "football" (the soccer kind), and the New York Reds — the city's Manchester United fan-club members — watch games here.