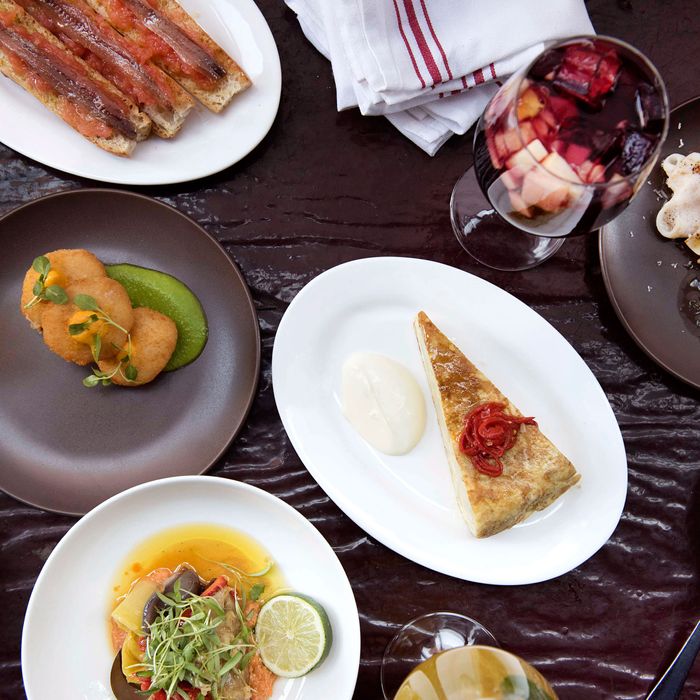 Tapas at El Quinto Pino.
Photo: Liz Clayman
Like many dining genres adopted by New Yorkers from far away, this ancient style of bar snacking has mutated into all sorts of strange and unrecognizable forms over the years. Here, we focus on the absolute best classic-tapas establishments (as opposed to Spanish-themed small-plates restaurants), where the traditional dishes are small in size, numerous in number, and best enjoyed with a glass of wine, or three, at the bar.
1. El Quinto Pino
401 W. 24th St., nr. Ninth Ave.; 212-206-6900
There are a billion tapas joints scattered around the big city, but the undisputed masters of the genre are Alex Raij and her husband from the Basque country, Eder Montero. The industrious couple runs three exemplary Spanish-themed restaurants around town, but if you're in the market for the classic tapas at the bar experience — surrounded by boisterous crowds of tapeador revelers, all fueled by a steady stream of faithfully fashioned lamb skewers, silvery anchovies, and crispy, creamy croquetas — this is the place to visit. The smallish Chelsea space boasts a stylish, relatively quiet dining room in the back, but if you wish to feel like you've been transported to a slightly chaotic, out-of-the-way tapas destination in one of the more fashionable precincts of Barcelona, then we suggest you fight for a place at one of the counters up front — or even better, one of the stools at the small, curving white-marble bar. Two kinds of sangria are available, in addition to a steady stream of sherries, gin-tinted libations, and moderately priced Spanish wines. Everything on the compact, carefully edited menu is good, but pay attention to the classics, like the thin, crunchy-edged slices of "Pan amb Tomaca" spread with crushed tomatoes, Catalan olive oil and sea salt, the aforementioned croquetas (one with serrano ham, the other a crunchy, bite-size version of shepherd's pie), and that bellwether of fine tapas joints everywhere, the tortilla española, which is cut in a generous pie-size wedge at this tapas joint, and plated with a little pool of creamy, housemade aioli.
2. Bar Jamón
125 E. 17th St., nr. Irving Pl.; 212-253-2773
Mario Batali has lately gussied up the Spanish-themed menus at a couple of his restaurants, but this little sidecar establishment to Casa Mono, in Gramercy Park, offers the most classic (and reasonably priced) tapas-style bang for the buck. Like next door at Casa Mono, the menu is overseen by the talented chef Andy Nusser, and it includes an excellent mix of imaginative tapas plates (frizzled baby squid over beds of sweet onions, crab salad with "homemade" sriracha) and slightly reimagined classics (try the tortilla española stuck with paprika-dusted potato chips). Pay special attention to the wines, which are drawn from Casa Mono's impressive 30-page list.
3. Tertulia
359 Sixth Ave., nr. Washington Pl.; 646-559-9909
With its roaring oven fire, and hearty "share plates" portions, Seamus Mullen's superior West Village establishment sometimes feels more like an Iberian-themed gastropub than a proper tapas bar; but if you perch at the small bar up front, and gorge on the excellent "Snacks and Bites" portion of the menu, you'll feel like you're in tapeador heaven. Mullen's own innovations — smoked pork cheeks with quail eggs; the sublime crushed-egg, potato, and ibérico-ham sandwich — are worth the price of admission, and the house tortilla española is one of the best in town.
4. Donostia
155 Ave. B, nr. E. 10th St.; 646-256-9773
The white-marble bar at this bustling, faithfully rendered little Tompkins Square joint is reliably crowded and pleasingly long, and the large no-nonsense menu (hand-carved ibérico ham, blood sausage and numerous other charcutería and cheeses, "Berberechos" cockles canned in brine) is served with tip-tap efficiency on little round plates. There are plenty of wines to choose from, but the stars of the drinks list are the superior, sherry-crafted cocktails — in particular, the smooth, expertly chilled "Rio de Barcelona," made with two kinds of vermouth and a hint of fennel.
5. Toro
85 Tenth Ave., nr. W. 15th St.; 212-691-2360
Unlike some other establishments on this list, Ken Oringer and Jamie Bissonnette's great aircraft carrier of a restaurant in the Meatpacking District doesn't conjure up images of intimate little bar hangouts back in old Catalonia, but with a wide-ranging, faithfully executed menu like this, who cares? The familiar members of the great tapas canon (a thin, garlicky pan con tomate, dry-cured chorizo with ibérico ham) are well represented here, but pay attention to some of the more radical innovations, like the slim house croquettes made with salt cod, served with tempura lemon rings and aioli; and the chefs' delicious pressed sea-urchin sandwich, with miso butter and pickled mustard seeds.
Boqueria
171 Spring St., nr. Thompson St.; 212-343-4255

There are almost too many outlets (five and counting) of this brassy, happy-hour chain these days. But the Soho branch remains a dependable option for your dutiful critics when roaming around the blocks near the office, searching for a quick tapas fix.
Cata
245 Bowery, at Stanton St.; 212-505-2282
This Bowery joint that is technically more of a hybrid small-plates operation than a proper tapas bar. This does not detract from the quality of the menu (bacalao fritters, deviled eggs with fried oysters, quail "eggs Benedict"), or the vaunted house gin-and-tonics, which come in ten inventive styles.
Huertas
107 First Ave., nr. E. 7th St.; 212-228-4490

This fine East Village dining bar might be further up our list, but — as any member of the tapeador police will tell you — the specialty is Basque-style small bites, or "pintxos," which are not technically tapas. By whatever name, the $65 small-plates dinner is possibly the finest tapas-esque omakase in town, and so is the egg-and-onion tortilla, which is made fresh to order every time.
Tapas Bar at La Sirena
88 Ninth Ave., nr. W. 17th St.; 212-977-6096
Casa Mono alum Anthony Sasso works his magic on a lavish new tapas menu, which was recently installed at the bar of this glittery Batali-Bastianich hotel operation. Highlights include a whole leek roasted in newspaper, and a globe of ham lit by the flame of a lardo candle.
Tía Pol
205 Tenth Ave., nr. W. 22nd St.; 212-675-8805
The diminutive Chelsea tapas destination has lost much of its luster since Alex Raij flew the coop after a dispute with her partners many years ago, but the classic, no-nonsense, small-plates menu endures; and in the manner of a faithful neighborhood bar, the snug little room has a durable, timeless feel.