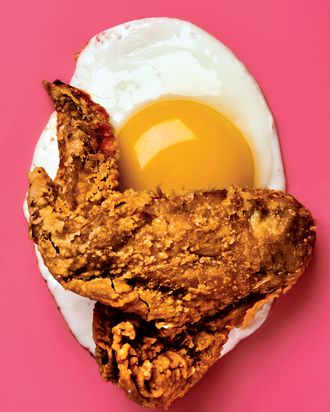 Pies 'n' Thighs.
Photo: Bobby Doherty/New York Magazine
"Southern" is an umbrella term for multiple culinary styles: Low Country food, barbecue, creole, soul food. All of these categories merit their own consideration, but for this list, we largely focused on the generalists. That is, restaurants that serve the most popular dishes of the genre, and restaurants that offer that somewhat-ineffable quality of southern hospitality.
1. Pies 'n' Thighs
166 S. 4th St., at Driggs Ave., Williamsburg; 347-529-6090
In 2007, the best southern food in New York came from an excellent little operation inside a place called Rock Star Bar, a dive where bartenders were fond of such edicts as "If the Department of Health comes in, eat your cigarette." In 2017, the best southern food in New York is from the same restaurant, although it's being served in a more cheery (a grumpier person might say "twee"), checked-plaid-heavy location. The menu's big and it's virtually all good: the hot-sauce-coated, honey-butter-sweetened chicken biscuit, which is the stuff of hangover legend; the sweet apple pie with a slice of cheddar; the unstoppable, rich cheese grits. Even the green stuff is great. The Big Salad is filled with fresh counters to the chicken skin you'll be licking off your fingers (avocado, carrot, sprouts), though we'd say the stars are the dressings — ask for the cilantro-lime vinaigrette and buttermilk ranch to be mixed — and the accompanying side of fantastic, addictive buttered anadama toast.
2. Bobwhite Lunch and Supper Counter
94 Ave. C., nr. 6th St.; 212-228-2972
In a laid-back setting, devour terrific, crisp fried-chicken sandwiches with bread-and-butter pickles; tangy collard greens; and rich, al dente macaroni and cheese. That last one is a real accomplishment: There are too many overcooked, goopy messes being served around town. (P.S.: Bobwhite's great for delivery or takeout. Don't forget to add the banana pudding.)
3. SpaHa Soul
2294 Second Ave., nr. 118th St.; 347-463-7387
Having a meal at this young East Harlem operation feels something like a dinner party at the house of your friend who's an incredible host and cook. Come by for brunch (and BYOB), order everything on the chalkboard menu, and wait for the parade of updated soul-food hits to begin. Many are influenced by the chef's years spent running restaurant kitchens in Mexico: Corn bread is ingeniously made with masa; creamy, smooth, buttery grits are topped with a poblano sauce. No southern restaurant in town will make you feel more taken care of.
4. Peaches Hothouse
415 Tompkins Ave., at Hancock St., Bedford-Stuyvesant; 718-483-9111
Of the great Peaches family, Hothouse is especially nice. Start with the regular hot ("extra hot" is insane) chicken dinner: three pieces of bird atop white bread that will turn red from the cayenne dusted on the crispy chicken skin, plus pickles, corn bread, and a side like mac 'n' cheese.
5. The Commodore
366 Metropolitan Ave., at Havemeyer St., Williamsburg; 718-218-7632
Brooklyn's arrested-development set's favorite spot to eat divey fried chicken; messy, queso-covered nachos; and home-style, poblano-spiced "adult" grilled cheese on buttered, perfectly griddled white bread — all while guzzling Pacífico.
BLVD Bistro
239 Lenox Ave., at 122nd St.; 212-678-6200
Like at so many Harlem restaurants, brunch is busy and multi-meal-spanning (Sunday's here is from 10 a.m. to 6 p.m.). So stop by for weekday lunch, when the menu is similar to the brunch offerings, but with fewer crowds. Order the housemade biscuits covered in sausage gravy, and if you're feeling like you need to atone for them, add an apple-and-goat-cheese salad. If it's warm, you can even sit outside.
Charles' Country Pan-Fried Chicken
2461 Frederick Douglass Blvd., nr. 132nd St.; 212-281-1800
The chicken is great — but there are lots of places in town to get great fried chicken, so don't go just for that. The side options are also excellent, like the okra that's served almost stewlike; the acidic, tasty collard greens; and the almost confusingly moist, dense, semisweet corn bread.
Cheeky Sandwiches
35 Orchard St., nr. Hester St.; 646-504-8132
You know about the fried-chicken cutlet sandwich and all its messy glory, and you're already ordering it. But come, too, for the sense of ramshackle community about the place (a bench is constructed from stacked milk crates; the posted hours are "kinda early to kinda late"), and for the powdered-sugar-coated, sweet-dough Ben-Yays: You can get a Chinese takeout container full of them for a buck.
The Drift
579 Meeker Ave., nr. N. Henry St., Greenpoint; 718-504-7776

The menu's different, sure, but the place still feels like a less-discovered version of its older sister, the Commodore. Drop by most nights and you'll probably be able to find a seat to eat from a menu that's affordable: Try the celery sticks and jalapeño slices with terrific, and substantially portioned, pimento cheese ($7).
Harold's Meat + Three
2 Renwick St., at Canal St., in the Arlo Hudson Square; 212-390-8484
Sometimes you want to drink $3 beers with fried chicken in a dive. Sometimes your parents are in town — so when you're in need of a more upscale (but still affordable) experience, head to Harold's Meat + Three. At lunch, great — and not greasy — fried chicken is accompanied by a brown gravy and citrusy hot honey for dipping; with three sides, it's $18. Try the creamy grits and the spiral mac 'n' cheese.
Melba's
300 W. 114th St., at Frederick Douglass Blvd.; 212-864-7777
Eat at the bar at Melba's, and hope that you're served by Champ, who's one of the more engaging, joyful bartenders in town. Order the fried chicken with crisp, light waffles topped by a spoonful of sweet, tangy strawberry butter and a side of maple syrup.
Popeyes
Various locations
Where do the chefs eat? Lots of fancy restaurants, yes, but also Popeyes, and with good reason: It's great. Order a three-piece meal, spicy (if they tell you there's a wait for spicy, accept it; it's so much better). Purchase an extra side of ranch sauce for dipping. And choose the red beans and rice as your side.
Porchlight
271 11th Ave., at 28th St.; 212-981-6188
Come by this Hudson Yards– (and Scores-) adjacent spot early in the day to get pan-southern-influenced menu items like po'boys. At night, come for happy-hour onion dip, or try the Texas red chili, which is appropriately beanless and incredibly earthy and smoky.
Tin Kettle
611 Vanderbilt Ave., nr. Bergen St., Prospect Heights; 718-975-7555
At this year-old bar-restaurant, order the light hush puppies (cut one open and let the side of sweet sorghum butter melt inside it), the Kentucky Poutine of sturdy fries topped with fried-chicken pieces and white gravy, and the We Smashing on the Low mezcal-bourbon cocktail.
Wilma Jean
345 Smith St., nr. 1st Pl., Carroll Gardens; 718-422-0444
Lots are great on the Wilma Jean menu — try anything with the Mississippi comeback sauce — but you're a fool not to order the skewered Chicken on a Stick, which is a brilliant way to not get too messy while you devour the greasy, crumbly chicken dipped in a spicy buttermilk sauce.
*A version of this article appears in the March 6, 2017, issue of New York Magazine.