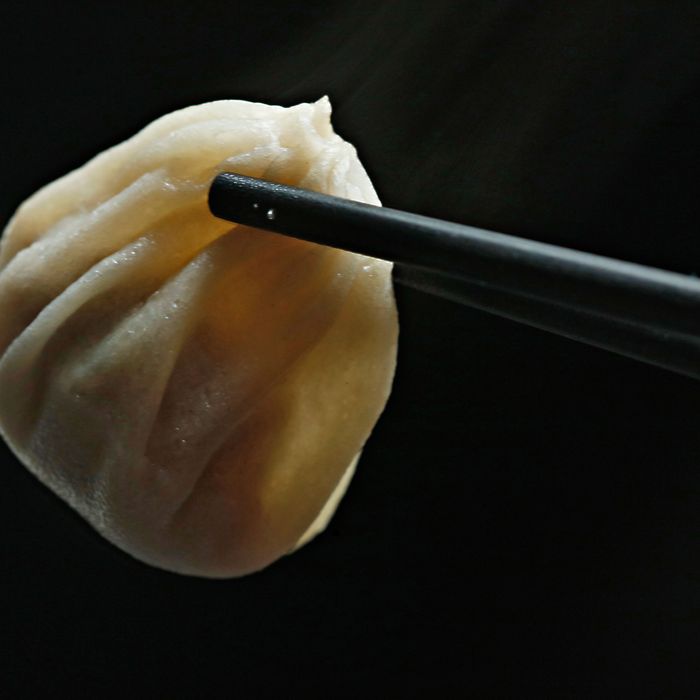 Dumpling perfection.
Photo: Melissa Hom
To declare the city's best xiao long bao, otherwise known as soup dumplings, we wanted dough that was delicate without being flimsy and filled with hot, rich broth that was deeply meaty. These are the four places that do it better than anyone else.
1. The Bao
13 St. Marks Pl., nr. Third Ave.; 212-388-9238
The soup dumplings at the Bao, a St. Marks offshoot of a Flushing restaurant, are quite simply unimpeachable in their craftsmanship and consistent excellence. The skins are made daily and pushed to the edge of thinness; they're glutinous and don't display the easy breakage exhibited by lesser dumplings. And the soup itself is deeply flavorful, but not so rich that it overwhelms the dumpling's essential delicateness. These are the soup dumplings that will make you understand why people return from Shanghai with xiao long bao fever.
2. RedFarm
529 Hudson St., nr. Charles St.; 212-792-9700
Chef Joe Ng is a dumpling wizard, and the versions he serves at the neo-Chinese restaurant he runs with Ed Schoenfeld are definite contenders. Truthfully, no other soup dumplings in town can compare to the Bao's and RedFarm's. Here, the scallion-and-ginger-seasoned soup is also thickened by fat and collagen, making it slick, while the meat has real bite and a flavor that's deeply porcine. Meanwhile, the yellow skins are nicely chewy. The thin bottoms can break unexpectedly, but the dumplings' general excellence and outstandingly concentrated flavor make up for that one flaw. Just be gentle.
3. Diverse Dim Sum
133-35 Roosevelt Ave., nr. Prince St., Flushing; 347-925-5716

A few years back, the original stall became the neighborhood go-to for in-the-know Flushing food geeks, supplanting longtime favorite Nan Xiang Xiao Long Bao; since relocating to the bustling New York Food Court in 2014, Diverse Dim Sum has found its groove again. Go with the crab-and-pork dumplings, which are as meaty and juicy as they have ever been.
4. Shanghai Cafe
100 Mott St, nr. Canal St.; 212-966-3988
There's no shortage of cheap dumplings in Chinatown, and bargain-bin xiao long bao can be had at plenty of places. Few of the discount dumplings, though, are worth it — with the exception of the ones served at this Mott Street haunt. The soup is saltier and not as refined as others on this list, it's true, but the crab-and-pork filling is seriously briny with a hit of the crab's natural sweetness. The pork has a nice little bit of chew to it, and the ratio of soup to meat (both ample) is just right.