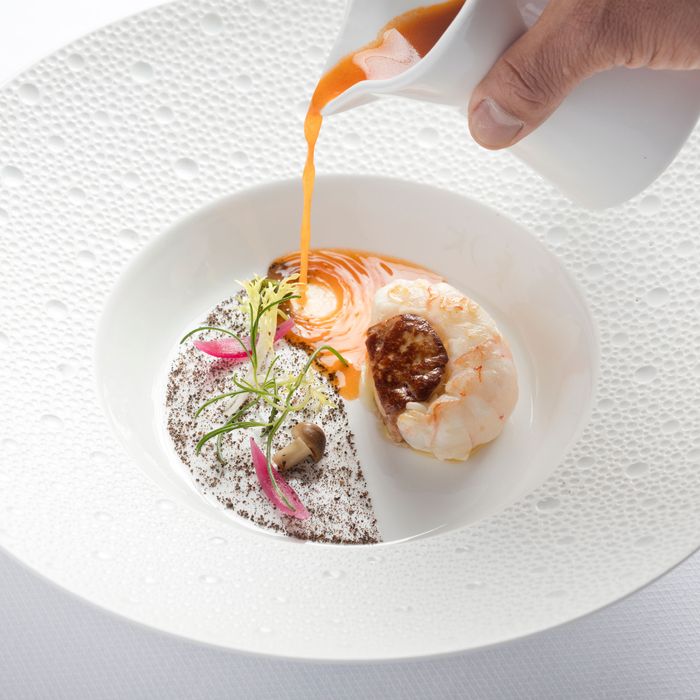 Le Bernardin is painstakingly elegant.
Photo: Melissa Hom
It's not always easy to remember, amid the endless hubbub about bagels, pizza slices, and fat-cat steak palaces, that New York City is a port town, and for much of our culinary history the most prized delicacies in the city's restaurants came from the sea. Thanks to the overfishing of the oceans, and the long ago death of the harbor's great fish and shellfish populations, there hasn't been much good news to report from the waterfront in recent decades, but lately we've been sensing a welcome uptick in worthy new venues to visit for your fix of a $28 lobster roll, say, or an old-fashioned, impeccably rendered, expense-account piece of Dover sole. Here, without further ado, is our list of the absolute best upscale seafood restaurants in town (sushi excluded).
1. Le Bernardin
155 W. 51st St., nr. Seventh Ave.; 212-554-1515
When Maguy Le Coze and her brother Gilbert opened for business in 1986 at the bottom of the Equitable Life Assurance building on West 51st Street, their restaurant instantly became the top seafood destination in the city, and until Mme Le Coze and her chef-partner Eric Ripert decide to retire from the city's dining scene, that's not going to change. Go for the wine service, which is the finest in the city and possibly the entire USA. Go for the classic, old-world table service, which rivals any of the grand dowager restaurants in Paris. Go, of course, for the rainbow of seafood textures and flavors, which, despite the challenges of maintaining variety, quality, and sustainability in the face of mounting odds, has retained its color and range for all these years. Go for the impeccable technique emanating from the kitchen in everything from the baking of bread to the work of the legions of sauciers to the legendary butcher Justo Thomas, who breaks down his fish in the basement for eight hours a day. But mostly go because this kind of painstakingly elegant establishment is vanishing from our dining world faster than the fish are disappearing from the sea, and when Maguy Le Coze and chef Ripert do finally decide to close their doors for good, we won't see a restaurant like this in the city again.
2. The Fulton
Pier 17, 89 South St., nr. Fulton St.; 212-838-1200
Jean-Georges Vongerichten has made a career of taking tired old formulas (French cooking, Asian fusion, farm to table) and standing them artfully on their head, and at this impressive new destination restaurant down on Pier 17 at South Street Seaport he does the same thing for that most finicky and exacting of restaurant genres — seafood. You can obtain a fish or crustacean dish for every occasion at this excellent waterside establishment, ranging from a first-rate lunchtime crispy fish taco, to bowls of lobster-rich Cantonese-style "Longevity Noodles" for dinner, along with an entire perfectly cooked black sea bass baked to order in a fish-shaped pastry crust. Add in the million-dollar seafood lover's view, which stretches from the iconic bridges to the north (Brooklyn, Manhattan, etc.), down south to the ferries and sailboats cutting to and fro in the open harbor, and you have one of the finest new seafood joints in town.
3. Saint Julivert Fisherie
264 Clinton St., at Verandah Pl., Cobble Hill; 347-987-3710 
The announcement of a new Alex Raij and Eder Montero restaurant is always a happy occasion, but when the joy of seafood is the specific theme in these seafood-challenged times, it's cause for special celebration. Depending on the season and availability, you might find all sorts of strange and delicious little wonders served up in the tiny, railcar-size Cobble Hill dining room, including silvery anchovies plated with moons of unmelted vanilla butter, bowls of risotto folded with chopped conch and smoked eel, and steamy helpings of that ugly-delicious Catalan speciality, goose barnacles, served with proper ceremony in a fold of white linen. Compared to the great seafood palaces across the river, the prices are a bargain. And if you're hankering for a taste of beefsteak after all this seafood bounty, call for the Portuguese "Prego" steak sandwich, which the kitchen will dress with a mess of fat fried oysters surf and turf–style for an extra fee.
4. Marea
240 Central Park S., nr. Broadway; 212-582-5100
Michael White's famous midtown pasta-and-seafood flagship falls a little lower on our newly updated list for the usual reasons — increased competition, ever-rising prices, and the sense, as with any successful, widely imitated formula, that you've seen most of these tricks before. But the quality of the famous crudi and Mediterranean-themed pasta creations is the same as ever, and our favorite time to visit is still at lunchtime, when the mood in the dining room feels less formal and sunlight filters into the tall windows through the screen of trees in the park across the street. The $67 two-course business lunch still buys a taste of White creations like the great house-grilled octopus, or a tangle of freshly made, perfectly al dente tagliolini tossed with Manila clams, which, when you think about it, is a modest price to pay to be transported for a New York minute or two directly to some sun-dappled (and, yes, radically overpriced) seafood trattoria perched on the Amalfi cliffs, high above the blue blue Mediterranean sea.
5. Lake Pavilion
60-15 Main St., at Horace Harding Expy., Flushing; 718-886-6693
The voluminous, mostly Cantonese menu at this cavernous, bustling Flushing standby is filled with all sorts of wonders, like slippery piles of little sea snails or Manila clams smothered in black-bean sauce, shell-less flash-fried jumbo prawns as big and sweet as plums, and platters of Maine lobster tossed in the thinnest scrim of corn starch with scallions and chunks of ginger that you can taste in the back of your nose. As with any great seafood establishment, the key is demand, which leads to freshness, which leads to an endless array of variety, including five types of crab cooked a multitude of different ways, depending on the season. If you're feeling flush, we recommend the Dungeness monsters, which arrive at your table more or less direct from the chilly waters of Alaska by way of JFK, sizzled in a crunchy, vaguely sweet batter, like some strange, savory seafood version of funnel cake.
6. Pearl Oyster Bar
18 Cornelia St., nr. Bleecker St.; 212-691-8211
Like David Chang and his ramen, Rebecca Charles didn't invent the classic Atlantic coast oyster bar. But she deserves credit for reimagining it for a new generation of eaters, and her dependable, highly successful template — classic, comforting recipes imbued with first-class ingredients and technique, and a touch of New York largesse — has been imitated, not just in the realm of seafood, but all over the endlessly expanding haute-comfort-food map. The vaunted house lobster roll still gets all the press, and for good reason. But the menu is dotted with a veritable murderers' row of reliable favorites, like the Pearl Caesar and the smoky, bacon-rich clam chowder, as well as the other bountiful, less-publicized lunchtime sandwiches (the fried-oyster roll, the pan-fried fish sandwich) and the smoked Atlantic salmon, which is plated at this old downtown institution with a loose, buttery johnnycake instead of blinis and an elegant spoonful of crème fraîche.
7. The Pool
99 E. 52nd St., nr. Park Ave.; 212-375-9001
There's a hushed, placid, almost somnolent vibe to the proceedings at this Major Food Group seafood palace in the old Four Seasons complex, it's true. But Rich Torrisi's diligent, extravagantly priced menu has many admirable qualities (the chilled oysters over mounds of ice, the elegant uni-toast service, the classic Dover sole), and so do Stephanie Prida's excellent desserts (frozen-yogurt parfait, the Meyer-lemon meringue). The Park Avenue prices are generally insane, of course, but if you have the resources and high-end seafood is your particular addiction, it's worth a trip.
8. Estiatorio Milos
125 W. 55th St., nr. Sixth Ave.; 212-245-7400
There are two branches of this elegant, upmarket Mediterranean-themed seafood chain in the city now, but the one we like is the midtown original, especially at lunchtime, when the power crowd from the surrounding towers fills the tables with their tailored suits, double-folded cuffs, and impressively large watches. Glimmering bounty from around the world is arranged over mounds of ice in the back of the austere room, like at a global fish market, and the custom is for the polished, silver-tongued waiters to invite customers to claim their entrée before it's portaged to the kitchen. The menu lists prices by the pound, however, so if you're not paying, let your host choose. Otherwise, the $32 prix-fixe lunch menu remains one of the best deals in midtown.
9. Fish Cheeks
55 Bond St., nr. Bowery; 212-677-2223
This colorful, playfully decorated little fish house on Bond Street is run by the Suansilphong brothers, two accomplished chefs from the north-central part of Thailand, who joined forces a couple of years back after making stops in top-flight kitchens around Asia and New York. It's not an elaborate menu by Thai standards, but the totems of that country's great seafood canon (a rich coconut-crab curry from the south, platters of tiger prawn "karee" served over a bed of wetly scrambled eggs, nourishing terrines of "po tak" seafood soup spiked with galangal and lime leaf) are faithfully reproduced here. If you're in the market for a larger group slap-up feed, we recommend one of the banquet-style "chef's selection" options.
10. Grand Central Oyster Bar
Grand Central Terminal, lower level, 89 E. 42nd St., at Vanderbilt Ave.; 212-490-6650
The service had gone all to hell the last time we bellied up to our favorite seat at the eastern end of the original bar at this great landmarked space, although for ambience alone, this seminal New York restaurant is still worth a visit. A few die-hard lunchtime regulars remain in the mostly tourist-filled dining room with its signature red-square tablecloths and sky-high prices, but the original bar and its surrounding counters are the place to be. On a good day you can get a decent mess of fresh Long Island cherrystones, and that most regal of all ye olde New York concoctions the oyster pan roast is still made to order the old-fashioned way by the countermen in their white paper hats, with half a dozen Blue Points, a sprinkling of paprika, a splash of Worcestershire, and flagons of rich country cream.
11. Barca
44 Navy Pier Ct., nr. Front St., Stapleton; 718-556-9300
David Pasternack's recently rebooted version of Esca seemed like a pale, slightly harried version of its former self when we dropped in for dinner the other week, so if you're looking for a quick fix of the master's two-fisted Mediterranean cooking, we recommend a trip out to this polished waterfront restaurant on Staten Island. The much-imitated crudo creations (fluke dressed in season with fresh figs, thick cuts of wild salmon touched with black-garlic romesco) have a little of the same elegant magic as at the original Esca long ago, and so do many of the other hearty classics (crispy calamari with little wheels of fried jalapeño, whole roasted branzino, an excellent linguini alla vongole tossed with bits of pancetta), all of which you can enjoy while gazing out at the chef's favorite striper fishing grounds under the distant Verrazzano Bridge.
12. Mar at Mercado Little Spain
10 Hudson Yards, entrance on 30th St. at Tenth Ave.; 646-495-1242
It's not Barcelona, exactly, or a table at some parasol-shaded restaurant by the Bay of Biscay, but in season you can get a nice helping of razor clams at the bar of this José Andrés outlet in the excellent Mercado Little Spain food hall in Hudson Yards, and the gambas al ajillo are served head-on in the classic style and scattered with plenty of frizzled garlic. Other Spanish-themed specialties include tapas-style plates of fried fish and an occasional special of chilled almond soup dappled with baby white shrimp, but don't miss the big-ticket arroz-for-two items, in particular the great salver of dark, creamy squid-ink rice that's served with generous spoonfuls of fresh-whipped alioli brought to the table, just like back in the old country, in a ceramic mortar.
13. The Clam
420 Hudson St., at Leroy St.; 212-242-7420
Countless faux ye-olde-neighborhood seafood establishments have popped up around town in recent years, but this cozy, comfortably reliable Hudson Street restaurant is the one we wish was around the corner from our apartment. Mike Price, who is also a partner in the neighborhood mainstay Market Table, specializes in the comfort-food canon of the Atlantic coast, which means plateaux of raw-bar bounty, bowls of Long Island steamers served with wedges of toast, a predictably stiff, nourishing New England clam chowder, and spaghetti tossed with more clams.