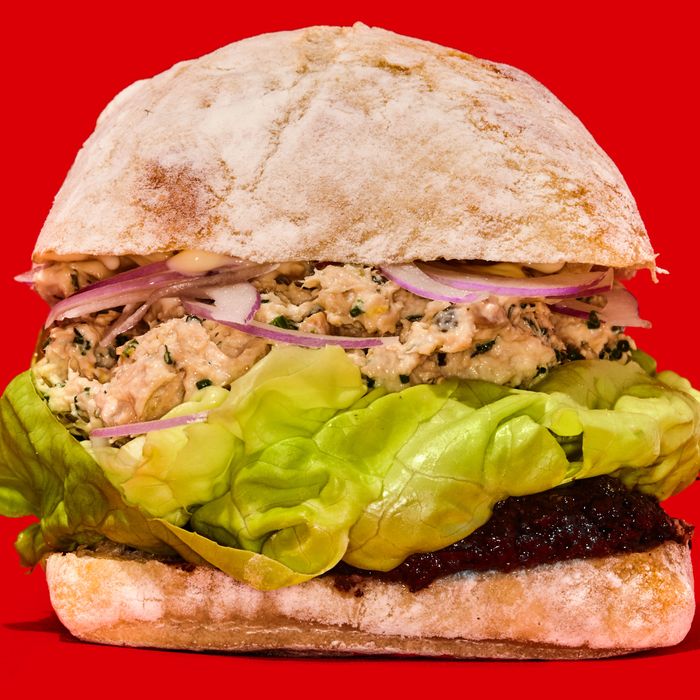 Thomas Keller and Bouchon Bakery yield to none in the tuna-salad-sandwich arena.
Photo: Bobby Doherty/New York Magazine
What does the gourmet desk jockey look for in a sandwich? Neatness counts. Careful construction is key. Slopfest sandwiches of the type you eat over the sink at three in the morning are out. You don't want unwieldy garnishes and crumbly bits spilling all over the place and onto your keypad. Forget about tortas and triple deckers, and unless you bale hay, move pianos, or unload cargo ships for a living, don't even think about roast-beef-mozzarella-and-gravy heros. Minimalism is the ticket. A $28 2nd Ave Deli combo might be a beautiful thing, but the postprandial bloat it induces will kill your afternoon productivity. Which is not to say that flavor and satisfaction and the joie de vivre that comes with having tucked into an excellent sandwich are off the table. As proof, here are 11 takeout specimens that will leave you energized yet sated and your desk spotless.
1. Bouchon Bakery's Tuna Niçoise
10 Columbus Cir., nr. 58th St.; 212-823-9366
The most perfectly calibrated tuna salad on the planet is neither too wet nor too dry, with a ratio of tuna to mayo (make that aïoli) that should be printed out and hung on the wall of every sandwich shop in town, just like those what-to-do-when-someone-is-choking posters. Everything else about this sandwich is perfect, too — the no-spill construction, the piquancy of the tapenade, the precision cut of the red-onion slices. Even the lettuce makes you wonder whether Thomas Keller had one of his vegetable-whisperers conjure it up so that each leaf matches exactly the dimensions of the house-baked Palladin bread.
2. Arcade Bakery's Ham and Cheese
220 Church St., nr. Worth St.; 212-227-7895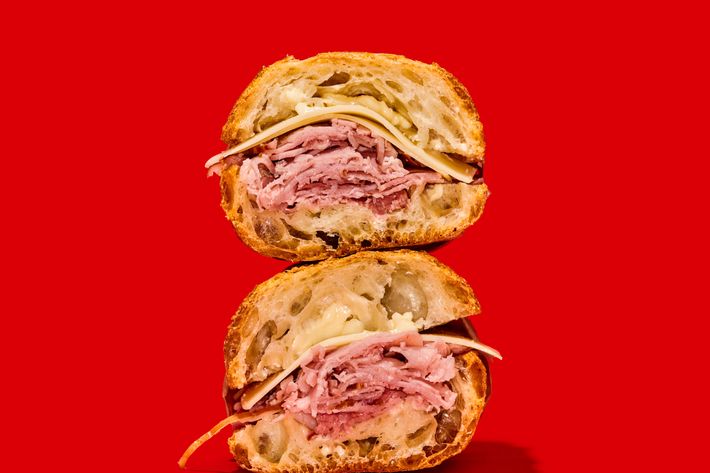 The classic French jambon-beurre on a split of house-baked baguette that is light and airy, creamy crumbed and crackly crusted, not to mention still a little warm from the oven. The ham is Fra' Mani, the butter Vermont Creamery, and there's a judicious slice or two of Comté as well. But the baguette is the thing. When aficionados talk about sandwiches being all about the bread, it's likely they've just finished eating an Arcade Bakery ham and cheese.
3. Sunny & Annie Deli's Special BLT
94 Ave. B, at 6th St.; 212-677-3131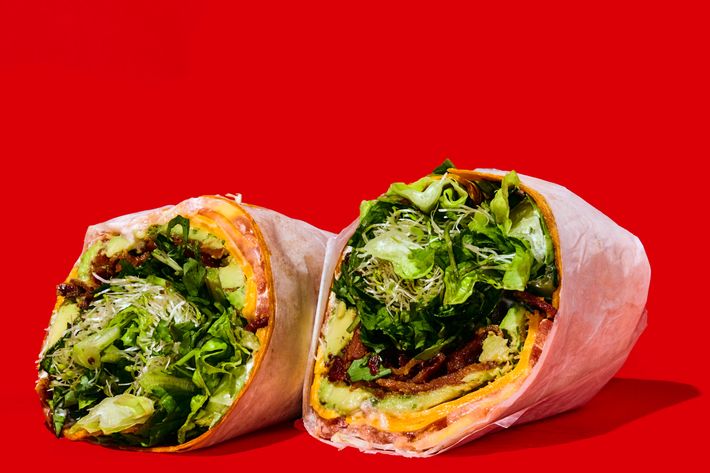 The genius of this sandwich — yes, we count wraps as sandwiches — is that it breaks a lot of BLT rules and comes out a winner. No mayo, average -quality tomatoes, a bunch of things (sprouts, watercress, cheddar cheese, avocado) a purist would look askance at. Yet this wrap hits all the right BLT notes — juicy, crunchy, porky, creamy — and it's as well engineered as a Swiss watch.
4. Maple's Spicy Chicken
maple.com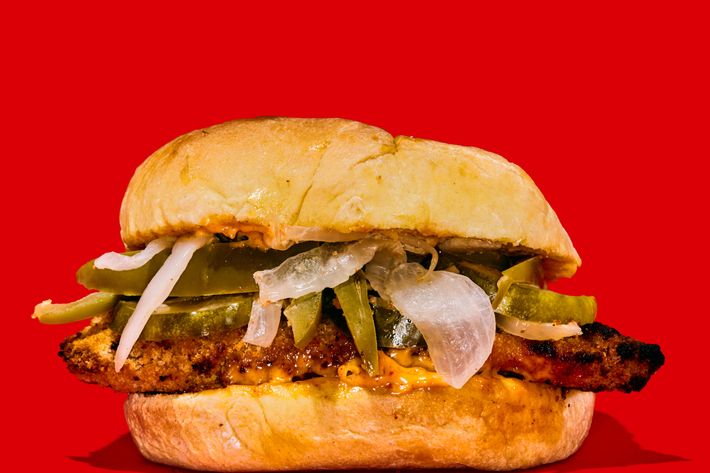 Not that it won't hold you until dinner, but in a world of bulging, greasy, over-the-top fried-chicken sandwiches, this one, by comparison, is practically dainty. Like a Cold War military strategy, the trick is containment, with nothing sticking cartoonishly out the sides or dripping over the edges (despite the way our crackerjack if slightly overzealous food-stylist team may have made it look in the above photo). That, plus a zesty swipe of seasoned mayo and such an audacious ­pickle-forward flavor profile that perhaps the folks at Maple should rename it Spicy Pickle Sandwich With Fried Chicken.
5. Eisenberg's Cream Cheese and Chopped Olives
174 Fifth Ave., nr. 22nd St.; 212-675-5096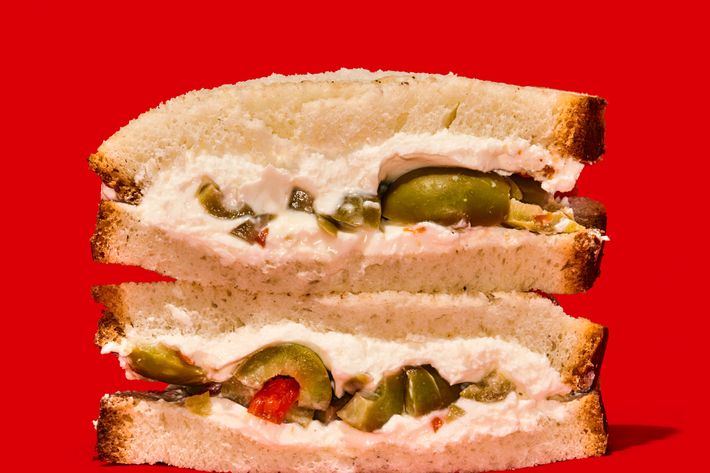 Yes, sliced and chopped pimiento-stuffed green olives cemented between thick smears of Philadelphia cream cheese on white is quite an oddball little concoction, like some overgrown canapé you'd find in an old James Beard cookbook. Why — besides the fact that it allows you to imagine for a moment that you're at a cocktail party circa 1963 and not eating lunch in your cubicle — is it a great desk sandwich? Because it's neat enough that you can nibble away, holding it nonchalantly with one hand, while shoving your computer mouse around your desk with the other. Delicious, too, with the briny olives and snappy peppers providing a sharp and tangy counterpoint to the sweet cheese and bland bread.
6. Saltie's Little Chef
378 Metropolitan Ave., nr. Havemeyer St., Williamsburg; 718-387-4777
While no one is more devoted to the superb sandwiches Caroline Fidanza whips up at Saltie than we are, most of her between-the-bread work is so ecstatically messy, requiring a protective bib plus several backup bibs, we have to classify it as NSFW. One exception: the comparatively streamlined Little Chef — good mortadella, sharp Pecorino, green olive, a strewing of parsley, maybe a drizzle of extra-virgin olive oil on Fidanza's signature canvas, a sea-salted slab of house-baked focaccia. Buy one early in the day, plop it on your desk to allow the flavors to develop like a poor man's muffuletta, and devour at lunchtime if you can hold out that long.
7. Great Northern Food Hall's Morning Bun With Cheese
42nd Street at Park Ave.; no phone
A slice of Havarti and a swipe of butter on a stout roll. It sounds like the plat du jour at some Danish state prison. But an aha! moment comes at first chomp: This is serious, long-fermented, high-hydration sourdough bread with a crumb that's so moist and springy you could frost the thing and call it cake. And despite the seemingly stingy amount of cheese, this sandwich will make you reconsider what you thought you knew about bun-to-filling ratios.
8. Cipriani Le Specialità's Tramezzini
110 E. 42nd St., nr. Park Ave.; 212-557-5088
Various filling combos on soft white bread, abundantly mayo'd, with crusts removed, and typically cut into triangles, tramezzini are Italy's answer to England's tea sandwiches — bar food designed for ease of entering one's maw between sips of espresso or gulps of Negronis. The exemplary models at this midtown canteen (chicken salad, prosciutto cotto and mushrooms, egg and asparagus, and the like) perform equally well when consumed while deleting emails or staring blankly at spreadsheets. One is a snack, two or three qualify as lunch; though, truth be told, we find them as addictive as Doritos and could knock back a half-dozen in one sitting without giving it a thought.
9. Court Street Grocers' Anchovy
540 LaGuardia Pl., nr. W. 3rd St.; 212-777-9292
Why is the one with anchovies always the least popular at the artisanal sandwich shop? After all, anchovies are not sheep eyes or bat tongues or even Marmite. Still, many fear the little fishes. To combat the ingredient's polarizing effect, the folks at Court Street combine top-notch oil-packed anchovies with a crunchy stack of romaine that acts as the meat, so to speak, with the anchovy playing more of a supporting role like a condiment. There are fresh herbs, thinly sliced radish and red onion, and a swipe of caper butter, too, all of it layered onto one of those super-pliant Sullivan St Bakery stecca rolls that seamlessly contain without either disintegrating or distracting. If this doesn't raise the prestige of anchovy sandwiches in this town, nothing will.
10. Despaña's Picante
408 Broome St., nr. Cleveland Pl.; 212-219-505
Pressed sandwiches by definition make good desk sandwiches. A case in point is Despaña's Picante bocadillo — ripe tomato; hot, smoky chorizo; and the excellent pickled peppers from Basque country called guindillas. All of the above are neatly sliced into thin rounds, expertly smooshed on ciabatta until the flavors meld, and, with melted Mahón and a swipe of aïoli, glued into one tidy, Zenlike package.
11. Souk & Sandwich's Samke Harra
117 Sixth Ave., nr. Broome St.; 212-625-3982
The wraps at this Lebanese takeout shack hard by the Holland Tunnel are so solidly built and expertly wound, you could use one as a baton in a relay race. They come in many excellent permutations, but our standbys are the marinated eggplant, the fried cauliflower, and especially the samke harra — spicy, tangy, tahini'd tilapia that's flaked off the bone and mashed about until it achieves a finely chopped texture not unlike Underwood Deviled Ham.