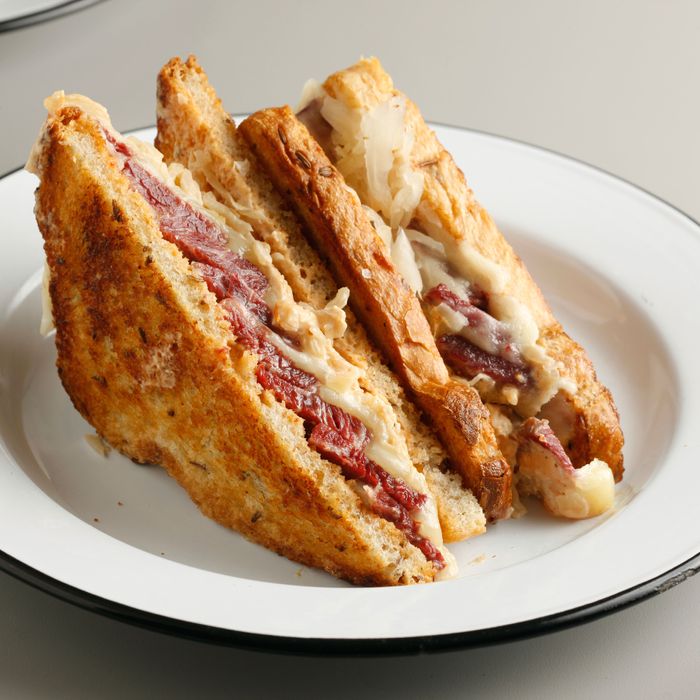 Court Street Grocers' Reuben is a sweet, salty, fatty package of pickled meat and zingy condiments.
Photo: Melissa Hom
There are two main theories regarding the invention of the Reuben sandwich, both of which revolve around men named Reuben. (1) New York City, 1914: Arnold Reuben, the owner of Reuben's Restaurant, slaps together some Virginia ham, roast turkey, Swiss cheese, coleslaw, and Russian dressing on rye and calls it a Reuben's Special. (2) Omaha, Nebraska, 1922: A poker-playing grocer named Reuben Kulakofsky, who must have fashioned himself along the lines of a modern-day Earl of Sandwich, takes a break during a card game and fixes himself a similar sandwich but subs corned beef for the ham and turkey and sauerkraut for the coleslaw. The former, admittedly, isn't what we now consider a classic Reuben, which is why most sandwich aficionados give the edge to Omaha. What's not up for debate, though, is that the Reuben, whoever invented it, has everything you could ask for in a sandwich. Here are the very best Reubens in New York.

1. Court Street Grocers
485 Court St., nr. Nelson St., Carroll Gardens; 718-722-7229
Unlike revenge, a Reuben is not a dish best served cold. It should be butter-griddled like a grilled cheese, not just for textural contrast but so the Swiss oozes and the flavors meld. Dry-toasting the rye, BLT-style, misses the point, as a cohesive Zen oneness is what you want in a Reuben. Regarding ingredients, there is flexibility. Pastrami or even turkey are okay substitutes for corned beef. Russian dressing standing in for Thousand Island is copacetic. Coleslaw instead of sauerkraut? Why not? Though we're partial to the latter. One thing to avoid is the abomination known as the open-faced Reuben, topped with a big, sweaty rubber blanket of broiled Swiss, the way some delis serve it. Generally speaking, the Reuben enthusiast would be wise to steer clear of delicatessens — even respectable ones — as they tend to coast on the superiority of their meat, which they pile on thick, sacrificing balance, proportion, and technique. The buffoonish construction at Katz's, for instance, starts out by melting Swiss cheese over a sloppy scoop of sauerkraut in the microwave and goes downhill from there. And Katz's isn't the half of it. There are some incredibly bad Reubens in New York — overstuffed monstrosities, abysmal grease bombs, even ones served with lettuce and tomato on hero rolls.
Not so our winner, the Court Street Grocers' Reuben — a sweet, salty, fatty package of pickled meat and zingy condiments wrapped up tight in slices of caraway rye. Our traditionalist side likes the fact that the kraut comes straight from a jar bearing the name of the venerable Brooklyn briner Ba-Tampte, and the rye bread from uptown bakery Orwasher's. Our innovationist side likes the housemade Mississippi-style comeback sauce (a spicy substitute for Thousand Island), and the quirky choice of meat — corned short ribs of beef instead of the usual (often dry) brisket, that's well-marbled, cured in house, and redolent of clove and coriander. Yet another side — a lazy one — likes the location of the shop's new Manhattan spinoff, a short post-Reuben waddle from our apartment.
2. Frankel's Delicatessen & Appetizing
631 Manhattan Ave., nr. Nassau Ave., Greenpoint; 718-389-2302
Did we just say to avoid delicatessen Reubens like the plague? Well, forget that for a moment. Frankel's Reuben is the exception to the rule. Although they griddle the seedless rye too lightly, there's great synergy among the ingredients, and the juicy, deep-pink shingles of corned beef are beautifully sliced and as carefully layered as a Farrah Fawcett hairdo.
3. Pickler & Co.
216 E. 45th St., nr. Third Ave.; 646-869-9026
Could it be that you'll find the city's third-best Reuben at a coffee bar located inside the lobby of a midtown fashion college? Could it be that this Reuben was devised by two 20-something childhood friends from Pittsburgh whose goal it is to serve wraps, salads, and sandwiches made from ecofriendly ingredients that won't kill you? Could it be that despite the name of the place — an allusion to the proclivity of one of the partners for preserving vegetables in salt and vinegar solutions — they forgot to give us our complimentary pickle? And did that outrageous act of neglect cost this upstart sandwich shop a higher position on our list? The answer to that last question is "Not quite." But the Pickler Reuben — corned beef sliced prosciutto-thin the way some aficionados prefer, and laid out on Tom Cat rye with Greenmarket kraut, Swiss Emmentaler, and housemade Thousand Island — is a contender. The beauty of this sandwich is its balance, and how the Pickler boys deploy the corned beef more like a condiment than as the featured attraction at an all-you-can-eat St. Patrick's Day buffet. It's a reasonably sized sandwich designed for midtown office workers rather than upstate hay balers. If the too-lean meat (admirably made from antibiotic-and-hormone-free beef without nitrites) had just a little more fatty flavor it could have been our top choice.
4. Foster Sundry
215 Knickerbocker Ave., at Troutman St.; 718-569-8426
In fine Bushwick DIY style, they cure their own corned beef (sliced medium thick), they pickle their own kraut (good and tart), and they whip up their own special sauce (nice and tangy). You won't blame them for not making their own cheese when you taste the funky washed-rind and surprisingly Reuben-friendly Ashbrook, an excellent melter from Vermont. Darn good pickle on the side, too. But demerit points for a sharp-edged, dry-toasted marble rye sliced disproportionately thick, which leaves the eager Reuben eater with a painful case of what is known in certain sandwich circles as pressed-panini palate.