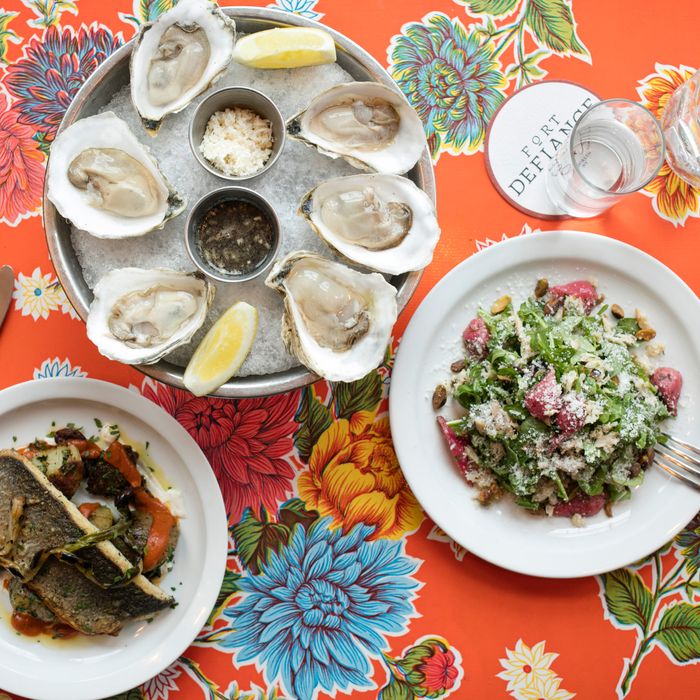 Oysters and more at Fort Defiance. (You'll want a drink with that.)
Photo: Melissa Hom
Serviced by a single subway station and somewhat isolated from the rest of Brooklyn by the towering Gowanus Expressway overpass, Red Hook retains an improbable small-town feel, right down to Van Brunt Street's modest restaurant row and the influx of seasonal "tourists" who disembark from the ferry platform on weekends. The result is an offbeat mix of food establishments that include a red-sauce holdout from the neighborhood's working waterfront era, small but pioneering dining rooms with stellar food, a destination cocktail bar, and even a gregarious barbecue joint. Here, the absolute best restaurants in Red Hook.
1. Fort Defiance
365 Van Brunt St., at Dikeman St.; 347-453-6672
As a bartender and consummate cocktail scholar, proprietor St. John Frizell is well-known for his stellar piña colada and a downright transcendental Irish coffee. Moreover, the general concept of drinking food goes in several fun directions: Get snacks to match the slings and fog cutters on tiki night, a dozen oysters and a bottle of Muscadet for $40 on Wednesdays, or a Tom Collins-and-burger combo on Mondays. Matt Fleming, the chef, serves immensely flavorful Berkshire pork chops with chorizo and beans, and a just-about-perfect whole branzino with briny olives and crunchy patatas bravas. The wine list is packed with unexpected and great-value bottles from practicing organic and biodynamic producers.
2. Pizza Moto
338 Hamilton Ave., nr. Mill St.; 773-931-7900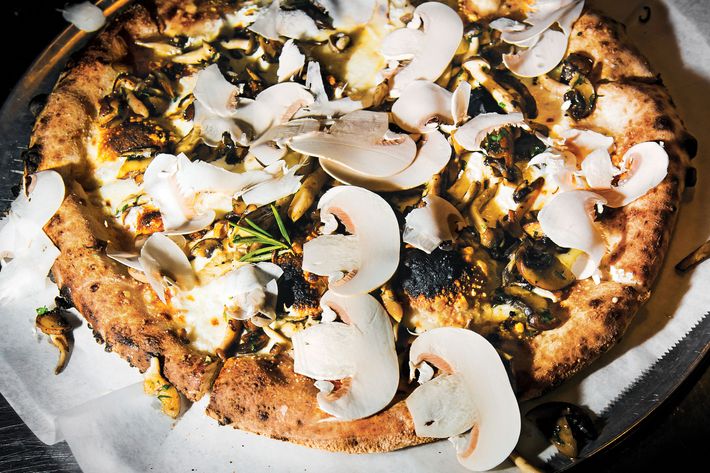 Some of the most impressive and inventive pizza in the city is found beneath the green and rusted girders of the Gowanus Expressway, behind a stack of split logs that burn inside its ancient oven. Greenmarket options inform starters like a springtime asparagus dish with Pecorino and a buttery six-minute egg, while pies have a slight sourdough tang, with spots of char, bubbles galore, and a tellingly wispy, inner-tube-like outer crust. Sour pickled chilies, broccoli rabe, and spicy sausage dot one pizza that also sports a mantle of melted mozzarella and vaporized ricotta. Smooth buffalo mozzarella, nutty Pecorino, almost fermented tomato, and a splash of bitter olive oil combine to majestic effect in the entry-level margherita.
3. Hometown Bar-B-Que
454 Van Brunt St., at Reed St.; 347-294-4644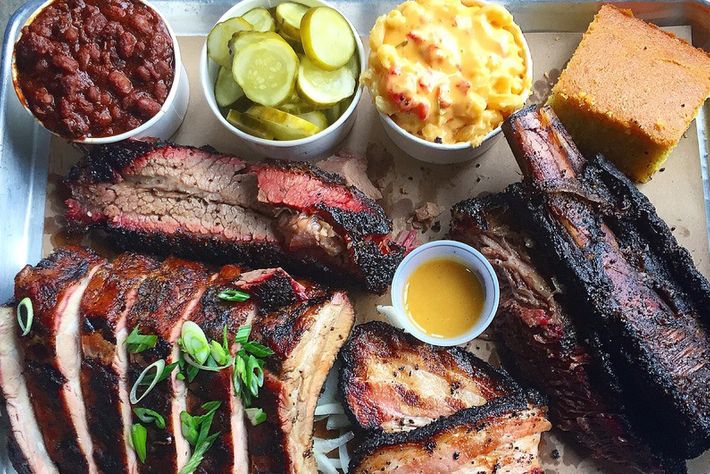 Hardwood smoke permeates the air, behemoth beef ribs weigh down the paper-lined trays, and most everyone gets at least a quarter pound of the brisket. The meat cavalcade extends to pastrami bacon, finished on the grill, and smoked lamb belly, which has crisp salty bits and fatty sweetness. Lip-smacking Chinese sticky ribs and jerk-pork ribs are a nod to owner Billy Durney's old Flatbush Avenue haunts, and his terrific namesake sausage with peppers and provolone suggests nothing less than the enduring power of Bensonhurst's old-school pork stores.
4. The Good Fork
391 Van Brunt St., nr. Coffey St.; 718-643-6636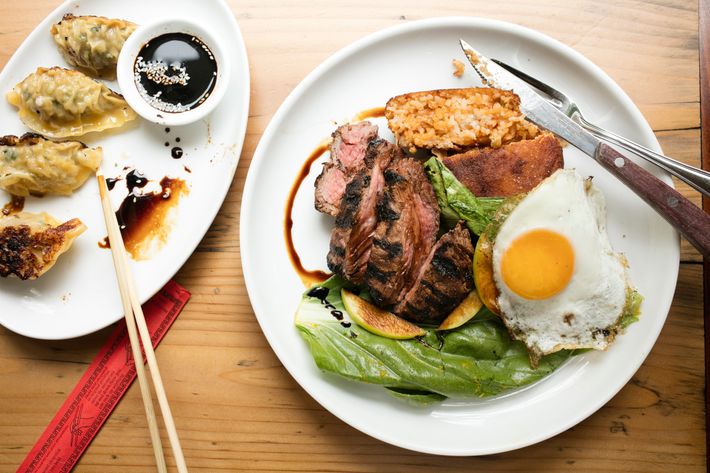 Red Hook had few full-service restaurants in 2006, when Sohui Kim and Ben Schneider's hand-built space debuted and set the tone for their immediate neighborhood peers. Now, as then, the menu abounds with pretense-free comfort food, with Korean accents that reflect the food Kim ate growing up. Grilled skirt steak with kimchee rice and a perfect fried Lancaster egg is a reliable favorite, as are Kim's pork-and-chive dumplings, seared to a crisp finish.
5. Defonte's
379 Columbia St., at Luquer St.; 718-625-8052
It's possible that the quartet of picnic tables in the adjoining lot satisfy the loosest possible definition of "seating," but because Defonte's started out in 1922 as an earnest morning stop for dock workers and longshore folk and has become a full-fledged Brooklyn institution in the decades since, it's on this list. The Nicky Special, with its barrage of cured meats, slices of the shop's trademark battered eggplant, and a slather of house hot salad (bright cherry peppers, pickled mushrooms, giardiniera veg) is a great starting point. Proceed with more of that eggplant — parm, loaded up with fantastic meatballs; with roast beef and mozzarella — on the shop's quirky one-third or half bread-length formats. Either size is probably more sandwich than can be eaten in one sitting.
6. Red Hook Lobster Pound
284 Van Brunt St., nr. Verona St.; 718-858-7650
The illustrious lobster-roll purveyor's heavily decorated space can come across as an alt-universe, freak-flag TGI Friday's, especially because the jolly staff duly upholds the carnival atmosphere. There's also funnel cake, enough nautical-flag décor to occupy a semaphore buff for hours, and lobster-claw Bloody Marys to match. Rolls are not only available in classic Maine and Connecticut style, but even Tuscan (tomato-basil vinaigrette) and then some, with battered fish and chips, lobster cheese fries, and Steve's Key-lime pie, made from scratch just a few blocks over on Van Dyke Street, rounding it all out.
7. Court Street Grocers Hero Shop
116 Sullivan St., nr. Conover St.; 347-529-6803
Seeded Caputo's hero rolls are primo vehicles for meatloaf with cheddar and tangy pickles, or a few soft sardines and pickled fennel tucked into mounds of Caesar-dressed greenery. While the diminutive Court Street Grocers spinoff is, like the vaunted Defonte's nearby, a sandwich shop with a few seats, the availability of salads (like kale and arugula with house ranch dressing) imbue the sub shop with an extra flourish.
8. Kevin's
277 Van Brunt St., nr. Visitation Pl.; 718-596-8335
Dinnertime, Thursdays through Saturdays, Kevin Moore can be found sending out shrimpy amuses-bouches, popping Fishers Island oysters, and twirling Raffetto's noodles in lobster cream sauce. There are hollandaise-doused poached eggs on hefty crab cakes at brunch, as well as fluffy pancakes with tiny caramelized blueberries, both of which complement the beachy vibes.
9. The Brooklyn Icehouse
318 Van Brunt St., at Pioneer St.; 718-222-1865
Red Hook lost a foundational dive when Bait & Tackle closed in 2018. Even if it lacks the resolute outlandishness of the storied bar, the neighboring Icehouse still has bargain pulled-pork sandwiches, onion rings, and cold beer. Its wares are delightfully mismatched, its stash of board games are irredeemably stained with condiments, and the spacious yard, seemingly assembled by carpenters with a cache of driftwood, soldiers on as a respite from whatever trends are reshaping the neighborhood around it.
10. Edward Lunch
56 Lorraine St., nr. Columbia St.; 718-260-8284
While less of a restaurant proper and more of a steam-table operation with a handful of tables, the austere environs belie a vast menu of home-style Dominican dishes, starting bright and early with mangú with salami and fried cheese at breakfast. The shrimp ajillo is appropriately garlicky, and snapper is flaky and golden. Pernil is doled out in heaping portions, and the hangover-busting mondongo has the mild sting of chilies and brims with soft bits of tripe.
11. Fairway Café
480-500 Van Brunt St., nr. Reed St.; 718-694-6868
In a city lousy with pricey lobster rolls, Fairway's bare-bones, claw-and-knuckle-meat version is a steal. At press time, a meal's $9.99 retail price included a bun heaped with meat, a snappy dill spear, and a side of non-offensive coleslaw. (An admirable "seasonal" crab roll was on special as well, and there's always sushi, pizza, and burgers.) The layout expands with the grocer's summer "Waterfront Grill," replete with lamb sausage and BBQ chickens from Murray's. The harbor view is unbeatable, and for a digestive, Nobletree Coffee is a short walk away.
12. Brooklyn Crab
24 Reed St., nr. Conover St.; 718-643-2722
A supercharged realm of wedged lemons, strawberry-bourbon smashes, nautical knickknacks, and hapless crustaceans awaits the crowds who pack out the shacklike multiplex on weekends. The draw, though, has never been impeccable chowder or sustainable steam pots, but the view, particularly in summer months at dusk, when the sky turns layered shades of frazzled pink and burnt orange, and even the hardest-partying mini-golfers hush for a minute.