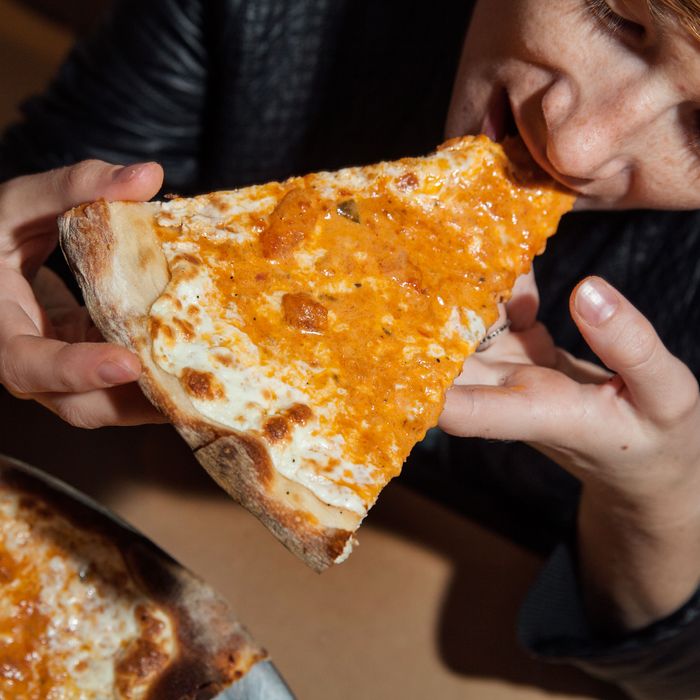 Joe & Pat's epitomizes Staten Island–style pizza.
Photo: Konstantin Sergeyev
When New Yorkers think of pizza, they tend to think of downtown Manhattan and Brooklyn. Fair enough: Pizza arrived here on the streets of Little Italy, and Brooklyn's old-school scene is alive and well, and the home base of the city's slice-shop revival. Staten Island's excellent pizza culture, meanwhile, remains chronically underappreciated by dint of its relative isolation. This is unfortunate. Not only is the borough home to a glut of pizzerias any New Yorker would be glad to call their local, it has unique pizza that distinguishes it from the rest of the city — a Richmond County riff on bar pies, the style defined by the thinnest crust possible (so as not to inhibit drinking) and served at pubs. Staten Island's pies are not like the regional bar pies peddled by such famous purveyors as Connecticut's Colony Grill, New Jersey's Star Tavern, or New York's Margot's pop-up. The crust isn't quite so thin, for one, and they lack the characteristic frico crust. And the signature version is a topping of Day-Glo-orange vodka sauce with fresh mozzarella, arranged in the Neapolitan style as little islands of cheese. There are no inhibitions when it comes to "gourmet" toppings like buffalo chicken, and clam pies are commonplace. Here, the best pizzerias on Staten Island.
1. Joe & Pat's
1758 Victory Blvd., nr. Manor Rd., Castleton Corners; 718-981-0887
Joe & Pat's is the king of Staten Island pizza. Its pies are the ultimate version of one of the borough's dominant styles: thin-crust, vodka-sauced bar pie. Open since 1960, it doesn't look like much, but the pizza is magnificent. The dough is pounded so it doesn't get airy, resulting in a crust that's disappearingly thin and extra crunchy. The vodka sauce is sweet and smooth; pepperoni, curled up in crisp cups, makes the perfect foil. But it's tantalizing just with mozzarella, which, unlike in a traditional New York slice joint, doesn't fuse with the sauce; the fresh cheese is applied more sparingly, so the islands of cheese remain distinct and creamy. The Sicilian, too, is at the top of its game — not at all bready and dense, but possessing a pleasantly soft, moist, and chewy crust that's spread with bright tomato sauce and a reasonable amount of cheese.
2. Nunzio's
2155 Hylan Blvd. nr. Midland Ave., Grant City; 718-667-9647

Before opening Joe & Pat's, Giuseppe Pappalardo worked at several Staten Island pizza institutions, including Nunzio's, which has been baking pies since 1942. (The iconic and development-spurring Verrazano Bridge, for comparison, wasn't completed until 1964.) But rather than the style that's come to define the island, the pizzeria's signature slice is more in the vein of the New York–Neapolitan hybrid as seen at the city's original pizzerias, like Patsy's and Totonno's. It's a bit thicker than those, but still floppy, wonderfully messy, and topped with stringy mozzarella and a sauce that's tangy and just sweet enough. The basic chemistry simply works. There's a worthy square, too, thick but not too much so, and with an extra plentiful dose of that tomato sauce. And while Nunzio's might not be as well-known as institutions like Patsy's, it can hang with the best of them.
3. Pier 76
76 Bay St., nr. Slosson Terrace, St. George; 718-447-7437

The vodka Sicilian served here is a contender for New York's finest square. It's generously topped with a neon-orange, lavishly smooth sauce, which smothers mozzarella that's browned in spots, and soaks into a layer of buttery crust right underneath. The quality should come as no surprise, considering its ownership has ties to Joe & Pat's. But vodka sauce isn't all they do well at this family-friendly sports bar, restaurant, and slice shop. There's a buffalo-chicken pie, with its shredded chicken slathered in a sauce that's a tad vinegary and has just the right amount of heat. It's blue-cheese optional; the mozzarella does plenty of work on its own, so you won't be missing out. The maximalist approach to toppings results in seldom-seen novelties: Take the chicken fra diavolo, or the architectural fried calamari that's served with a side of marinara sauce for dunking.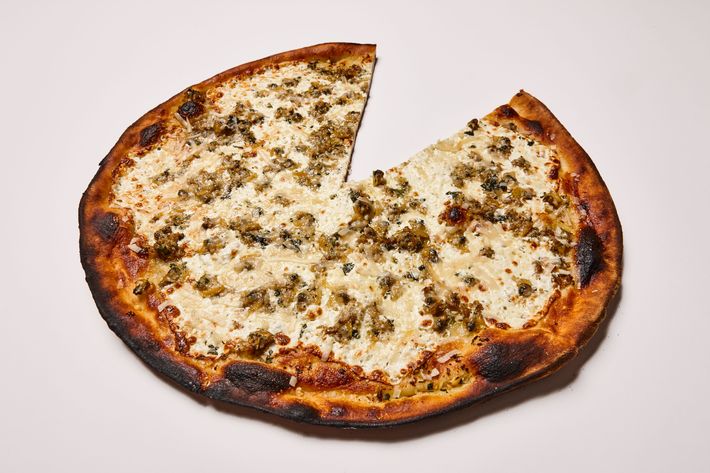 4. Reggiano's Brick Oven Pizza
7339 Amboy Rd., nr. Wood Ave., Tottenville; 718-966-6610

New York's reigning king of the clam pizza isn't a one-trick pony. Other hits include shrimp oreganata, arugula and Italian sausage, and a deliciously lemony variety with slivers of artichoke amped up by nutty Parmigiano. There's an admirable vodka, but let it cool just slightly to allow the sauce's full flavor to come through. The crust is made with 00 flour — essentially the most finely ground flour, and what Neapolitan purists demand — and the result is airy but crackery. Then there's, yes, that clam pizza. It's offered red or white, but there's only one move: Skip the sauce, so you can focus on the clams. Mozzarella, a fatty vehicle for the briny bivalves, is spread evenly across the pie, but thinly enough not to overpower. They don't hold back when it comes to doling out the shellfish, which is generously seasoned with fresh basil, olive oil, and plenty of fresh garlic, giving the pie a pestolike flavor that's impossible to resist.
5. Pizzeria Giove
278 New Dorp Ln., nr. Edison St., New Dorp; 347-286-0635

The four brothers who opened this restaurant are Staten Island–pizza royalty. Back in the day, their Italian father and his two brothers bought and ran Brother's, one of the borough's more famous slice shops. That spot is known for its thick, sloppy squares, but the pies made here by Giorgio Giove — a repeat champ in competition-pizza circles — are super thin, but notably moist. The pizzas are cooked in a gas-fired oven, with enough toppings to keep you occupied for at least a few weeks of slice binging. There's a classic cheese, though it can't compete with the vodka sauce, which has that supersweet flavor straight out of childhood birthday parties, plus reds made with occasionally surprising ingredients like Tabasco and bresaola. But the thing here is the white pizza, which comes in some 17 versions, many of which are made with stretchy stracciatella cheese. The best of the bunch is the Millennium: teasingly lemony and topped with wisps of cooked ham and peppery arugula.
6. Denino's Pizzeria & Tavern
524 Port Richmond Ave., nr. Hooker Pl., Port Richmond; 718-442-9401
Denino's, which looks a bit like a 1950s social club, is one of the originators of Staten Island's pizzeria-pub hybrid, and also helped pioneer the borough's thin-crust style. The cheekily named Garbage Pie goes all or nothing by loading up the pizza with a bounty of sausage, not crumbled but in chunks, as well as sliced button mushrooms, onions, and — because why stop at one meat? — pepperoni. You could call it Staten Island's answer to the Meat Lover's; certainly, it'll please those with carnivorous inclinations. But the place has long been famous for its clam pizza, which goes extra heavy on the mozzarella and fresh garlic. If you like your clam pies cheesy, this one's for you.