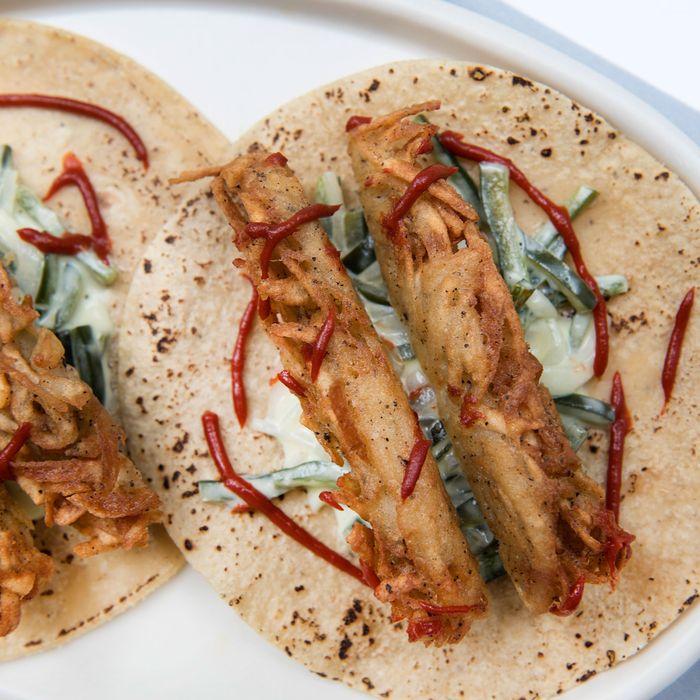 Hash-brown tacos from Alex Stupak's biggest Empellón yet.
Photo: Liz Clayman
A lunch that happens in the middle of town need not be middle of the road. The very idea of "midtown lunch" means different things to different people: something quick at a great halal cart, the classic three-Martini mini-bender, or chopped salad amid the area's last remaining power brokers. For the purposes of this list, however, the midtown-lunch destination offers a midday meal that is neither too rushed, nor too languorous. It's not too fancy, and not too casual. It is neither outrageously expensive, nor is it bupkis. Instead, the best midtown lunch experience is 60 minutes or so of respite from spreadsheets, small talk, and market calls. And these are the best restaurants at which to find that hour of civility.
1. Empellón
510 Madison Ave., at 53rd St.; 212-367-0999
Alex Stupak has gone full fun land with his latest and largest endeavor, the two-level, 8,000-square-foot Empellón in midtown. Amid the brightly colored walls and Biata Roytburd sculptures, Stupak upends traditional Mexican technique with his usual impish twinkle, while managing to cater to the area's traditional natives: Yes, there are $125 fajitas and steak tartare served atop gooey queso fundido. Midday, though, Stupak also offers a $35 prix fixe, where one can try, say, a cheerful plate of yellow beets, coconut crema, and green-chile ice; and a quiver of inventive tacos, with fillings like crisp hash browns or soft sweetbreads. Save room, naturally, for the cinnamon ice-cream sandwich.
2. Jean-Georges and Nougatine
1 Central Park W., at 60th St.; 212-299-3900
Its location within the Trump International Hotel & Tower may have recently made it a harder sell, but Jean-Georges Vongerichten's flagship has long been worth a visit. For 20 years, the Vongerichten brothers — Jean-Georges in the kitchen (spiritually, if not literally), and Philippe in the dining room — have administered to anyone and everyone that's well-heeled and in need of sustenance. And over those two decades, they've only raised their prices in the gentlest of ways. For $58, one can feast like a king in the main dining room, with punchy crab dumplings and many dishes crusted in many things: sea bass with nuts and seeds; salmon with sourdough; chicken confit with Parmesan. Real canny lunchers find themselves at the more casual Nougatine, where $38 will get you three plates, including New York's most underrated cheeseburger, which — in a no-doubt-inadvertent nod to the restaurant's setting — is topped with Russian dressing.
3. Indian Accent
123 W. 56th St., btw Sixth and Seventh Ave.; 212-842-8070
Pause for a moment to appreciate the name of Manish Mehrotra's haute-Indian restaurant. Playful, smart, and justifiably confident. Indeed, at Indian Accent — which Mehrotra opened last year as the New York counterpart to his New Delhi flagship — the chef slays. Two courses, had for $34, open a world in which one enjoys Bengal rice khichdi, a proto-kedgeree, with smoked papa; tender short ribs topped with tart mango sauce; and a soft-shell crab fried in the style of Koli fishermen that's presented like a poor crustacean Pompeii victim. It's lunch, and it's an adventure.
4. Má Pêche
Chambers Hotel, 15 W. 56th St., nr. Fifth Ave.; 212-757-5878
Má Pêche opened in 2010, during the Manifest Destiny days of David Chang's decade-plus of empire building. It was a risky move uptown, and much has changed since those days, including the chef. Now overseen by Ssäm Bar's Matthew Rudofker, the slightly sterile space is still a bit of a bummer at dinner, but at lunch it is exactly the type of refuge for which one hankers. The menu, meanwhile, is all over the place in the best, most Chang-ian way imaginable: The bao are filled with corned beef and cabbage; there's a bucket of habanero fried chicken; and you'll find pork ramen and a kimchee-bacon burger. And, for the more rushed among us, the mezzanine bar houses Fuku+, Chang's sandwich-forward fast-food counter.
5. Great Northern Food Hall
Grand Central Terminal, 42nd St. at Park Ave.; no phone
When done right, giant food halls can function as a conclave of the delicious. They are also extremely convenient. True to its name, the food in this particular hall — opened by Noma co-founder Claus Meyer — is both great and northern. At the smørrebrød stand, rye bread comes layered with perfectly tiled pickled herring with horseradish crème fraîche, or eggs and shrimp with rapeseed mayo. At the breezily elegant restaurant, there are veal tartlets, beef tartares, and pork terrines, in addition to salads so fresh, they deserve to be slapped.