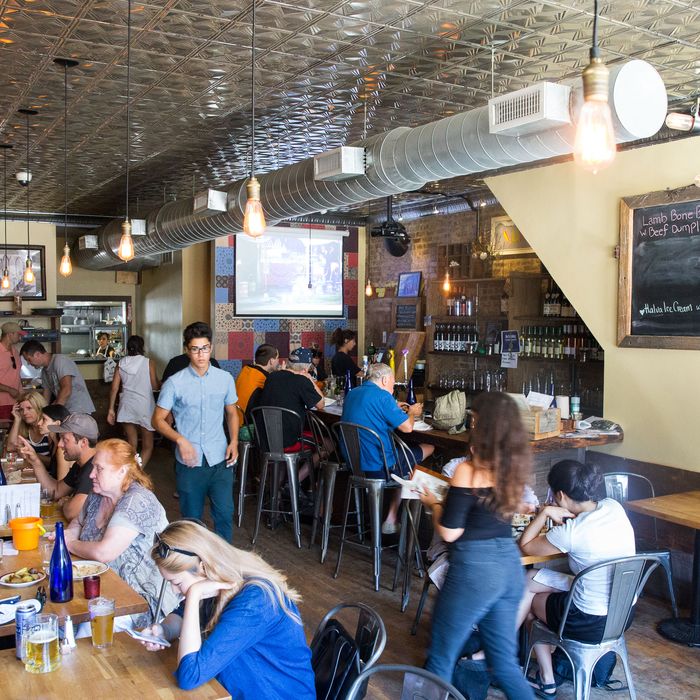 Make sure to get the halvah ice cream at Uma's.
Photo: Nitzan Rubin
As we head into intolerably hot August in New York, the only real solution to surviving the heat is to spend every weekend at the beach. The beaches and neighborhoods that make up Queens's Rockaway peninsula have developed, in recent years, a real restaurant scene, one that's best to check out in the summer, before the outdoor-only spots board up for winter. Hop on the A train this weekend to try our favorite spots.
1. Uma's
92-07 Rockaway Beach Blvd., Rockaway Beach; 718-318-9100
Uma's 2013 opening was an important marker in Rockaway's path to being taken seriously as a restaurant destination (more than just a summertime-concession scene). These days the Central Asian restaurant is among the trendiest places to eat on the peninsula (last time we swung by, we sat near PS1 director Klaus Biesenbach, who has a home nearby), and it's serving the best food, too. Get a salad — the house one has great bites of eggplant and roasted peppers showered in feta — and the manti dumplings, and add a shish kabob or two. And if the housemade halva ice cream, sprinkled with more crumbled halva and black sesame seeds on top, is on the menu, consider ordering four or five of those and calling it a meal. Open year-round.
2. Samesa
Riis Park Beach Bazaar, 167-02 Rockaway Beach Blvd.; no phone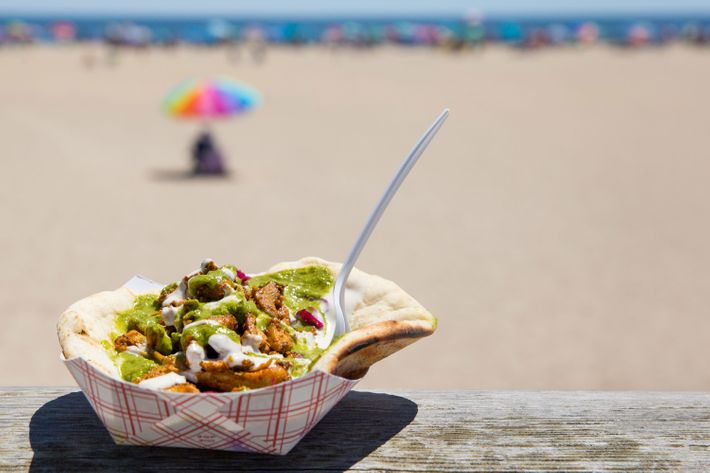 Samesa is an outpost of brothers Max and Eli Sussman's Williamsburg restaurant, and it sells the best bite you'll find at Riis Park Beach Bazaar, the chicken shawarma. You know when you get food to go and can't wait to stop walking to eat it? That's a dangerous step to take with this shawarma as you tote it back to your beach towel. The mess of moist, tender chicken, slathered in spicy green zhug and tahini-buttermilk sauce, mixed with cucumber salad, and topping a chewy pita, is so good that you'll have to stop wherever you are and eat it all right then and there. Open seasonally through Labor Day.
3. Rockaway Beach Bakery
87-10 Rockaway Beach Blvd., Rockaway Beach; 347-727-7680
Can a bakery open only from 8 a.m. to 4 p.m., Tuesday through Sunday, be one of Rockaway's best restaurants? Consider great cold brew and incomparable pecan sticky buns your breakfast; "everything" croissants with ham and Swiss your lunch; and pie with slightly savory and salty oat crumble your dinner, and the answer is absolutely yes, it's a restaurant, and you can and should get all your meals of the day here. The place has a backyard with hammocks, too, so maybe you won't even have to go to the beach in between chef Tracy Obolsky's treats. Cash only; open year-round.
4. Cuisine by Claudette
143 Beach 116th St., Rockaway Park; 718-945-5511
On the strength of its mini-cheesecakes alone, Cuisine by Claudette could make this list. But the healthy-feeling cafe has plenty of other great, mostly Mediterranean-style food, like grilled cheeses and sides that are perfect for picking up for a beach picnic: couscous and veggies, corn salsa, hummus, etc. And there's a location down at Riis Park Beach Bazaar, where you can grab cookies and $6 hummus plates. The 116th Street location is open year-round.
5. Dredsurfer
16-27 Seagirt Blvd., Far Rockaway; 646-463-3271
Head way east on the peninsula and you'll find a relatively quiet beach and Dredsurfer's excellent Caribbean-style food. There's fantastic (and, thrillingly, slow-burn spicy) jerk chicken, housemade sorrel, crunchy fried plantain slices with guacamole, cheap beer, and an indoor-outdoor space right on the boardwalk. Open year-round.
Honorable Mentions
Bungalow Bar
377 Beach 92nd St.; Rockaway Beach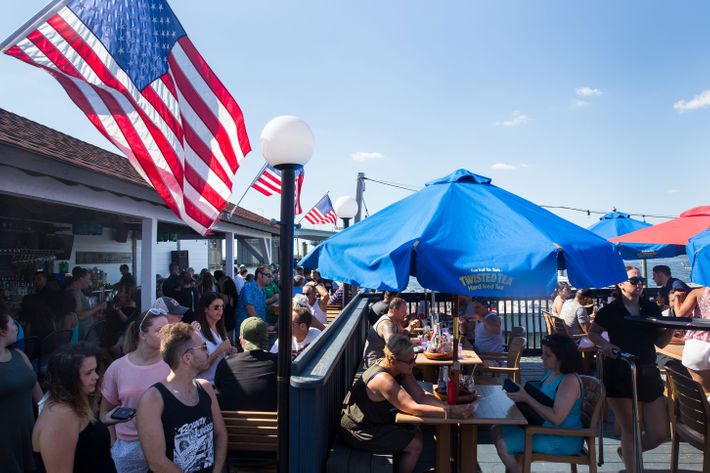 This bar and restaurant with a giant patio abutting Jamaica Bay is always jammed with Rockaway locals (hang out here for a while and you'll start to meet lots of Breezy Point residents) and, on the weekends starting around 3 or 4 p.m., a down-for-the-day post-beach crowd. Go a little later, though, because it's a terrific place to watch the sunset. Maybe the food isn't particularly innovative, but it's reliable. And after a sunburnt day, it's fun to eat things like pretzel sticks with cheese sauce. Open year round.
Cevicheria
97th Street Boardwalk Concessions, Seaside; 917-586-4029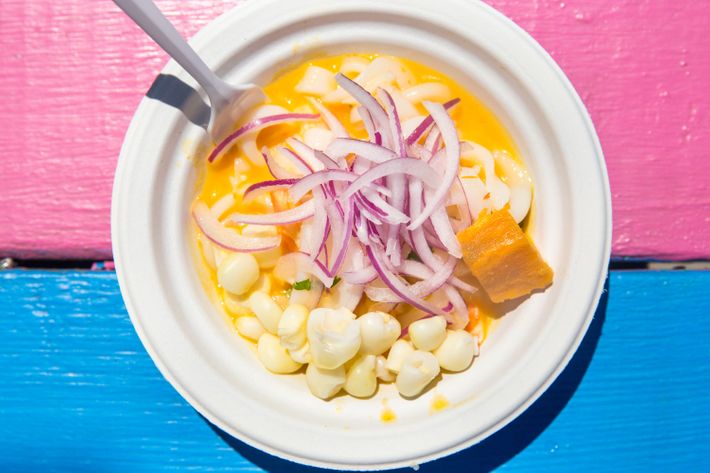 This concession stand is sort of easy to overlook, as it's wedged in between other, often more-crowded stands, and the service can be a little slow. But the service can be slow because there's a great amount of care put into the food — witness the cooks tasting as they go (it's more common to see staffers sipping a beer while throwing together your food, which is, don't get us wrong, also a lovely part of the Rockaway ethos). Get the ceviche mixto for $12; it's a blend of shrimp, squid, and other fresh fish, and onions and sweet yams soaked in a bright-orange juicy, acidic broth that you will want to drink. Through at least Labor Day.
Ed & Bev's
Riis Park Beach Bazaar, 167-02 Rockaway Beach Blvd.; no phone
The Sussman brothers' other outpost at Riis Park is Ed & Bev's, from which they vend Detroit-style food, and it's great too. We might even say the cheeseburger, whose toppings of "Cheddar sauce" and "burger sauce" combine to make one confoundingly good sandwich, has ousted Rippers as the best burger on the peninsula. Through Labor Day.
Edgemere Farm
385 Beach 45th St., Edgemere; no phone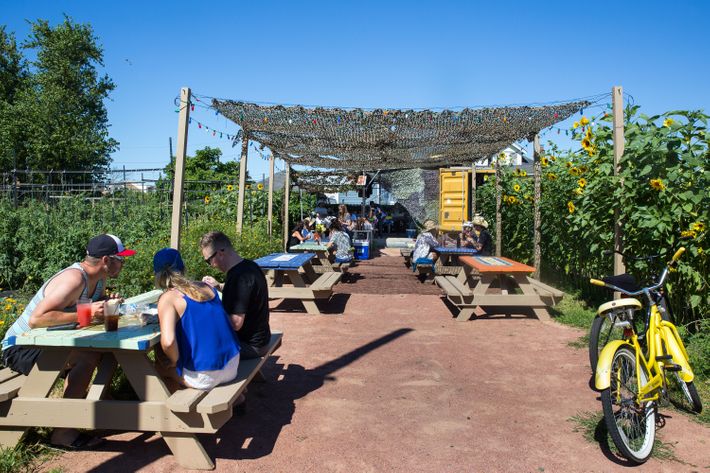 Come for Cowboy Breakfast on weekends from 9 a.m. to noon. It's worth heading out here early enough to make it (and you can even peep chickens, watch real-time harvesting of the farm's rows of produce, and pick up fruits, veggies, and sundries like granola from the farm stand out here). You'll see a lot of locals ordering off the short, simple, cooked-to-order menu; get the hash with potatoes, a poached egg, farm veggies, and a slice of great seeded bread. Breakfast is summer-only.
Rippers
8601 Shore Front Pkwy., Hammels; no phone
We may have said we prefer the burger at Ed & Bev's, but that doesn't mean Rippers' burger ($7.50) isn't great — squishy-bunned, heavily-special-sauced, crunchy-pickle-topped, perfectly-griddled, and beefy-juicy as it is. It's especially good when followed up with a super-smooth soft serve, like, recently, lavender flavor. Through at least Labor Day.
Rockaway Beach Surf Club
302 Beach 87th St., Rockaway Beach; no phone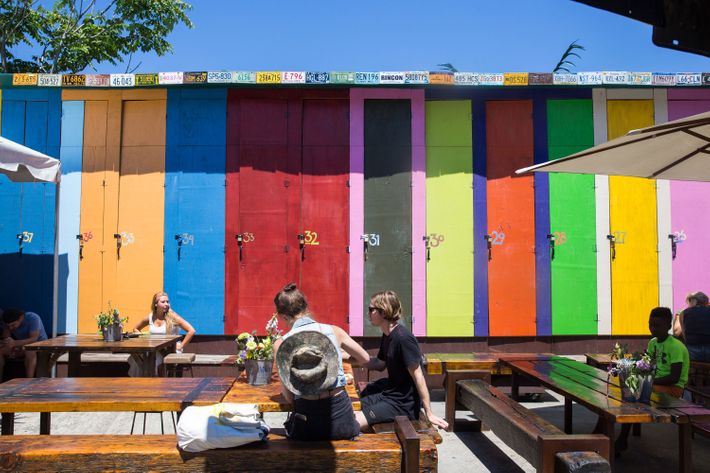 In case you're a few years behind on your taco-vendor news: Rockaway Taco closed in 2015, and after a legal battle, onetime co-owner Andrew Field split off and opened Tacoway Beach with a similar menu in the patio of Rockaway Beach Surf Club. The tacos were always and still are popular for good reason, and we'd venture to say they're even better to eat here, among the multi-colored surfboard lockers and ample seating, than they were in the old, teensy location. Plus: You can get a drink from the indoor bar while you wait. Rockaway Beach Surf Club is open year-round; the menu changes in mid-October.
Sugar Bowl
15 Bedford Ave., Breezy Point; 718-945-1409
The location and atmosphere make up most of the appeal here, but that's not to say the food's bad — expect decent-poolside-restaurant quality, and you'll be pleasantly surprised. The burgers are pretty good, and the great boozy frozen drinks come in four flavors. To get to the Sugar Bowl, you'll need to take a cab or a long walk, as it's located in Rockaway's heavily Irish Breezy Point neighborhood, which is privately run as a co-op. Thus the bar is something like a summer-season community center and is filled with locals who all know each other (you will have no chance of not being ID'ed as an outsider), but the place is welcoming. There's even a gender-neutral bathroom, remarkable considering Breezy's homogeneity. Come early to snag a table on the patio, which sits right on the beach.
Trop Pops
Riis Park Beach Bazaar, 167-02 Rockaway Beach Blvd.; no phone
Not a whole lot to explain here: It's frozen fruit dipped in dark chocolate ($5) vended from a tiny boardwalk cart, and it's really refreshing without being guilt-inducing. We're fans of the pineapple one, but there's also kiwi, banana, mango, and papaya.