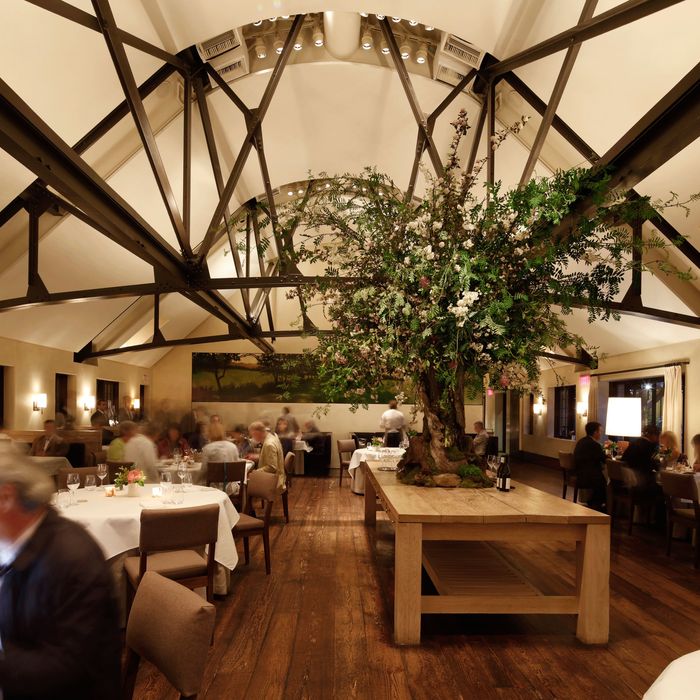 Dan Barber's great farm to table destination.
Photo: Melissa Hom
In that sprawling realm of all of the things that are delicious to eat in this food-obsessed town, few things get the passions going quite like a good old-fashioned best-restaurant debate. The venues listed below aren't the newest best restaurants, or the trendiest tasting rooms (we've already done that list). They're classic dining establishments, with waitstaffs, and they've been chosen, in tenuous, highly subjective order of preference, as a way of providing you, dear list reader, with a snapshot of the buzzing, fickle, ever-changing world that is New York dining. They include our current favorite Japanese omakase spot; a quintessential grand, old-guard (i.e., French) midtown dining palace; two representative "New American" restaurants (one in Manhattan and one in Brooklyn, of course); and our favorite farm-to-table destination, which — because it's an actual farm-to-table restaurant and because, as any well-traveled dining snob will tell you, New York City isn't really the absolute capital of the restaurant world anymore — doesn't happen to be in the city at all.
1. Blue Hill at Stone Barns
630 Bedford Rd., nr. Raafenberg Rd., Pocantico Hills; 914-366-9600
No, Dan Barber's great farm-to-table destination isn't technically within the confines of New York City, but so what? The chef grew up and lives in Manhattan; the carrots, pigs, hens, eggs, and assorted other boutique barnyard bounty that he and his merry band of farmers, bakers, picklers, and cooks raise, harvest, butcher, pluck, and roast at this beautiful Rockefeller complex up the river outside Tarrytown are a product of the city's local Hudson River watershed; and if you count the original Blue Hill, off Washington Square, there's technically even an outlet here in the city. Over the years, as the farm has matured, Barber's particular brand of free-association, Slow Food cooking has grown and evolved from a more standard "gourmet" locavore experience (which you can get a taste of at the West Village Blue Hill outlet) into a kind of elaborate, ever-changing culinary pageant, which is educational, entertaining, and, yes, delicious to eat. Yes, there's a cozy tasting room on the grounds themed around the boundless joys of composting, and, yes, when you're presented with two kinds of freshly churned butter, you're also given the names of the noble cows who produced it (Tulip and Daisy, for the record). Like everything about the modern haute barnyard phenomenon, the proceedings can tip occasionally into the realm of parody, but for jaded city slickers who wish to experience this dining revolution in all its nuanced, creative, and, yes, entertaining glory, there's no better place to do it, not just within the general biosphere of the greater New York City region but, arguably, the entire USA as well.
2. Le Bernardin
155 W. 51st St., nr. Seventh Ave.; 212-554-1515
The table service at this great midtown seafood palace rivals any of the grand old dowager restaurants of Europe. You won't find a broader, more impeccably tuned range of seafood textures and flavors, either, or a more impressive range of technique emanating from the kitchen in everything from the baking of the small, toasty predinner baguettes to the work of the legions of sauciers to the legendary butcher, Justo Thomas, who breaks down a veritable rainbow of fresh fish in the basement for 12 hours a day. Unlike many of its multi-star competitors in town, whose tables are increasingly crowded with gastronauts jetting in for the evening from far-off places like Beijing and Dubai, Maguy Le Coze and Eric Ripert's cultivated midtown establishment also remains, after all these years, a uniquely New York (okay, Manhattan) institution, one filled with regulars who return for their power lunches, pretheater dinners, and special occasions again and again. The great restaurant is celebrating its 30th anniversary this year, so save up your dollars, dial up that wealthy out-of-town aunt out in Winnetka, or badger your increasingly tightfisted editor or boss for one last nostalgic, expense-account visit, because when Mme Le Coze and chef Ripert do finally decide to close the doors of their grand, old-fashioned, impeccably refined restaurant for good, you won't see another one like it in the city ever again.
3. Eleven Madison Park
11 Madison Ave., at 24th St.; 212-889-0905
It's probably true that in his relentless campaign to scale the heights of the all-powerful World's 50 Best Restaurants list (currently No. 3 with a bullet) and to attract the international clientele and cachet that come with it, Daniel Humm has sacrificed some of the essential, everyday local character of this famous downtown restaurant. It's also true, however, that great chefs, like great athletes, have a sweet spot in time when they're at the height of their powers, and, whether dabbling in the newfangled realm of veggie burgers or the intricate reimagining of ancient comfort-food favorites like eggs Benedict, no chef in the city is more consistently in the zone these days than Mr. Humm. The restaurant's almost comically long tasting menu has lately been pared down to a more manageable size, and the dishes we sampled on a recent visit — celery root steamed to impossible tenderness with black truffle "en vessie" inside a pig's bladder; soft pork cheeks poured with the sweet, sticky reduction made from a thousand burnt onions; a luminous post-millennial version of baked Alaska lit aflame table-side — were an almost perfect combination of old-fashioned classical technique and no-nonsense, postmodern largesse. If you're looking for a more local, less time-consuming (and more modestly priced) dining experience, the small bar is one of the great unsung cocktail (and, with a small à la carte menu, dining) destinations in the town, and if you ask politely, the kitchen might even whip up a taste of the chef's famous lavender-flavored roast duck to go with your old-fashioned or glass of Champagne.
4. Shuko
47 E. 12th St., nr. Broadway; 212-228-6088
There may be more elevated, hushed, big-money sushi establishments in town, and there may be one or two more secretive, lavish, tasting rooms, but you won't find a restaurant that ties these two strands of the postmodern gourmet experience together in such a neat, pleasing (and, yes, pricey) package. The chef-owners of this discreet 36-seat restaurant below Union Square, Nick Kim and Jimmy Lau, spent years apprenticing under the father of the big-money power sushi meal, Masa Takayama. Like the master, they have a penchant for combining a stately procession of expertly prepared sushi (deeply orange uni from Hokkaido, milky tuna belly, forbidden treats like tempura fried sacks of cod roe) with classic Western gourmet delicacies (white and black truffles, foie gras, caviar spooned here onto discs of tuna-belly tartare). Unlike the sternly serious, Jiro-like master, however, Lau and Kim inject the hushed, priestly omakase experience with their own updated touches. There's a sommelier on premises (wine and sake) and a first-class mixologist to whip up Champagne cocktails upon request to go with your slivers of sustainable toro belly (the fish is farmed off the Spanish coast), and folded in among the omakase classics are a series of new-age treats, like portions of seasonal, Greenmarket-inspired "vegetable sushi," servings of fresh Maine lobster feathered with strands of smoked bacon, and, as we've mentioned in other debatable, highly subjective lists of this kind, an excellent fusion version of good old American apple pie for dessert, made with fresh apples and a healthy dose of white miso.
5. Roberta's
261 Moore St., nr. Bogart St., Bushwick; 718-417-1118
In this comfort-mad, two-star era, any random, truncated list like this should include a more casual joint — a place where you can enjoy a frosty craft beer in the company of your bewhiskered neighbors, say, or a bountiful lunchtime cheeseburger made from the finest hand-ground, pasture-raised beef, or a well-turned pizza pie, the flour for which has been lovingly milled by merry artisans in some rolling valley up the Hudson. So, after much tortured deliberation, we choose the most seminal (and, yes, we admit, clichéd) Brooklyandia restaurant destination of them all, a dining complex where, we would argue, the cooking gets better (there's now a Manhattan-style Michelin-starred tasting room on the rambling Bushwick premises, in case you haven't heard), more varied (there's also a bakery and a carry-out window for morning and afternoon snacks), and more satisfying (did we mention you can get a fine carry-out Cubano sandwich with that burger) with every passing year. A couple of weeks back, the alarming news broke that big Manhattan money was buying into the operation, so before Roberta's outlets start sprouting up all over the map, we recommend you pay one last visit — preferably at lunchtime, when the long picnic tables fill up with regulars from the neighborhood — to call for the romaine salad topped with sprigs of mint from the garden outside, a bowl of the consistently excellent house pasta (doused with local littlenecks, or clouds of pepper and Pecorino in currently trendy cacio e pepe style), and a slice of two of that great murderers' row of righteously named pizza pies ("Speckenwolf," "Cheesus Christ," "El Supremo"), which any outer-borough chowhound worthy of the name can recite from memory, the way baseball fans from another long-ago Brooklyn can recall the starting lineup of the Dodgers of '55.