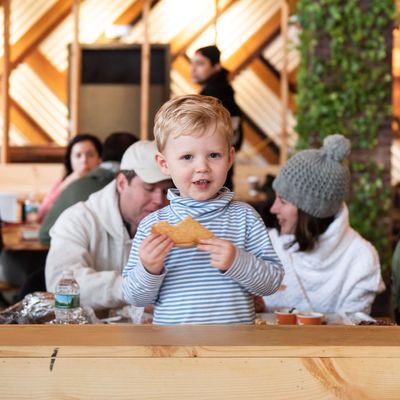 At Hill Country Food Park, children are almost an entry requirement.
Photo: Liz Clayman
You thought your kid, of all kids, would love chickpeas and carob and seaweed and squash blossoms; that their first word would be pho or fondue or at least something that sounds like — could it be? — Mo-Mo-Fu-Ku; that they'd love Blue Hill as much as Big Bird and Sahadi's as much as Sofia the First. But let's face facts: It ain't happening. Your kid will only eat mac 'n' cheese, peanut butter-and-jelly, and pizza. Sometimes a waffle. Once, a canned chicken-noodle soup. So what's a restaurant-loving parent to do? You're going to find restaurants that have the best mac 'n' cheese, PB&Js, and pizza. You're going to seek out delicious places where YOU — yes, YOU as a full-formed person, not just a parent — can eat an excellent meal, and where, simultaneously, your kids are wanted and welcomed. You're going to find restaurants that have baked-in activities like pizza-making or vintage Parcheesi. You're going to find a space that has room for strollers and scooters. You're going to find a restaurant that feels right for your family, as unique and impossible as you all are, whether it's because of the big booths, the father-of-four bartender, or because this restaurant is the home of a happy memory that belongs only to you, your sticky little monsters, and the Bloody Marys that saved the day. Here, the absolute best kid-friendly restaurants in New York.
1. Hill Country Food Park
345 Adams St., nr. Brooklyn Bridge Blvd., Downtown Brooklyn; 718-885-4608
This newly revamped Hill Country outpost meets and exceeds all the kiddo criteria: high-quality, kid-friendly, and adult-crave-able eats like tacos and fried chicken; a massive space for clusters of strollers or scooters, not to mention cartwheels, cousins, meltdowns, and musical chairs; and an easy, fluid, judgment-free atmosphere that allows parents to keep calm and BBQ on. The gargantuan, two-level complex is open and airy, with six food-truck-like "stations" on the ground floor. Austino's (named after the owner's son) is a pizza hut that serves big-mamma slices that will feed at least two hungry siblings; Bluebonnets, as in the Texan wildflower, offers lighter wedge-salad and daily soup options. Everything is made in the same kitchen and it's hard to choose a starting point. The chicken and waffles is a good point of entry but a better move is to stick to the BBQ, which is aggressively smoked and tastes like it came straight from Texas. Get the brisket. A big ol' plate of it. Or the brisket sandwich, or the brisket taco, or the brisket nachos. And save enough room for a scoop of Van Leeuwen's sublime vegan (the irony!) chocolate ice-cream on the way out. By the way, the upstairs boasts a sprawling private space for (not cheap, but epic) birthday parties, magic shows, or concerts. Essentially, the restaurant is so ridiculously kid-friendly that no one should be admitted without one.
2. Brooklyn Farmacy & Soda Fountain
513 Henry St., at Sackett St., Carroll Gardens; 718-522-6260
One look at Farmacy and you're transfixed by the charm. An old-fashioned soda-fountain counter, vintage telephones, checkers sets, and Chutes and Ladders — with thick chocolate milkshakes and tall ice-cream floats flying by, all set to the sounds of kids laughing and parents schmoozing. The food could be so-so and it would still be a fabulous family destination. However, Farmacy is owned by a family originally from Maine, who care deeply about ingredients and recipes and authentic homemade-ness. They make a mother of a pastrami-and-kraut sandwich. The hearty baked mac 'n' cheese looks straight from your own casserole dish. Their gooey grilled-cheese sandwich, served on Caputo's bread, is one of the best grilled cheeses ever. But at the end of the day, Farmacy is a church for the religion of ice-cream. (It's from Adirondack Creamery — all grass-fed cows, no artificial crap.) They offer every kind of sundae under the sun, from fluffernutter-style to affogato. The Anyday, which starts at $5, does the trick, with a few scoops of your favorite flavor, homemade whipped cream, homemade hot fudge, and a cherry on top.
3. Vic's
31 Great Jones St., nr. Lafayette St.; 212-253-5700
This is a story of a kid-loving chef (Hillary Sterling) who runs an adult-centric restaurant, and the exhilarating meal that comes as a result. Exhilarating because, as a parent, you can eat at Vic's and feel like your old self — i.e., a New Yorker who's more cocktail list than Costco list; a person who appreciates, say, a sunchoke. But this is a place where your kids, too, can thrive! The booths are big and comfy and the buzzy noise level makes your table a safe space for a Moana song session. Chef Hillary has stashes of toys and dinosaurs near the open kitchen and generously and playfully invites kids to hang with her, even when she's in the weeds. The seasonal food is consistently delicious — the cacio e pepe is something you and your kids can inhale together — and their heirloom carrots are the most dill-icious veg in the city.
4. Brooklyn Firefly
7003 Third Ave., nr. Ovington Ave., Bay Ridge; 718-833-5000
There is an abundance of enticing family fun happening here: make your own pizza, make your own sundaes, decorate your own pizza box, live music, and movie nights. About the DIY pizza: A server brings over the dough, tomato sauce, cheese, and toppings of choice and your kids can design their dream personal pie (which can really feed three). That's a major treat, and artistic endeavor, for kids. It's also a great opportunity for parents to focus on, say, Firefly's bottomless brunch. (The Bloody Marys will put some hair on your chest, that's for sure.) While there are other tasty things on the menu, like a hearty kale salad with fennel and hard-boiled eggs and a devour-able smoky-cheese calzone, the "professional" pizzas, made by one of the owner's kids — a hip CIA student who already looks like a Top Chef winner — are some of the best pies in Brooklyn, and come in all shapes and sizes, from a vodka-sauce square pie to a white pie with 'shrooms.
5. Empellón al Pastor
132 St. Marks Pl., at Ave. A; 646-833-7039
This is a tiny, graffitied, walk-in-only dive bar-cum-quickie restaurant where you couldn't lose your kid if you tried. Just sail right in, park your brood at a table, hit the bar or kitchen counter a few steps away, and order some Alex Stupak-ian awesomeness. The margaritas and micheladas come quickly and go down smoothly. For you, order a juicy al pastor taco and one with beef and caramelized onions, too. For the kids, get the chicken nuggets, curly fries, or the corn dog. The punk rock, East Village-y team is super-happy to make any accommodations in spice level, or to prepare something basic to the tune of a quesadilla. Anything goes, mama.
6. Kings County Imperial
168 1/2 Delancey St., nr. Clinton St.; 212-475-0244
A stone's throw from the Williamsburg Bridge, this second Kings County outpost is all about the booth. The huge booths line the dark room, and can comfortably tuck away big families who want to delight in the reinvention of one of the greatest snack-tivities of all time: the (off-menu) pu pu platter, served on the ever-entertaining lazy Susan. Or devour an amazing crispy garlic chicken. Kids love the cold sesame noodles (without the chili paste) or just plain noodles with a little sesame oil. And the cocktails are strong, exotic, and often come in groovy glassware. The original Williamsburg location is great for families too, but this one has more booths. (Did we mention kids love booths?)
7. Olmsted
659 Vanderbilt Ave., nr. Park Pl., Prospect Heights; 718-552-2610
The fact is, if you have a well-behaved-ish kid and a new pack of Magic Markers, or a sticker book, or a loaded-up iPad (every parent has their own rules for kids and screen-time), you can enjoy some of the best restaurants in town without worry. But let's focus on this best restaurant, because the environment is so warm and inviting to all, and that trickles down from the super-sweet chef, Greg Baxtrom. Baxtrom's equally cheerful team makes sure you have a carrot mimosa in hand before you even whip out a coloring book. The backyard garden is the perfect place for kids to explore, where they can experience produce growing at all stages, including fruits, vegetables, herbs, flowers, and more. Olmsted's new private dining room is ideal for large family gatherings and birthday parties. Kid-friendly menu items include the brunch-only bacon-egg-and-cheese rolls, which resemble and are served like extra-thick French fries; and then there's the s'mores, the classic assemblage of large, house-made marshmallows, individual portions of Hershey's chocolate, and graham crackers. The inner child in all of us, plus our real life children, will love that to pieces.
8. Jackson Diner
37-47 74th St., Jackson Heights; 718-672-1232
Take a ride on the 7 train to indulge in an all-you-can-eat Indian meal that's sure to satisfy everyone, if only for the perennial playfulness of the buffet line. While the timeless Jackson Diner is wildly popular and somewhat of a tourist trap, the crowd works in your favor, as a little bit of chaos can mask any noisy or fussy kid (it happens!). While parents will want the tandoori wings or lamb saag or crispy okra, all kids love naan … and plain dosas … and after a little nudging, they'll be perfectly happy with the chicken tikka with no sauce.
9. An Choi
85 Orchard St., nr. Broome St.; 212-226-3700
At first glance this place looks problematic: There's no room for strollers and the vibe seems a little too street-eats hipster to be kid-friendly. However, the Vietnamese iced coffee will fix any sleep-deprived parent, and with the right table, kids (who are warmly welcomed by the staff) can nestle in with their own little toys or art projects. The key is to call a little in advance, even just a half-hour, to secure a cozy nook for your crew. Then, parents can luxuriate in the pho bo dac biet of their child-free dreams, and kids can slurp a simple chicken or beef broth for just $2, plus rice. An Choi is also a great place to end the day after a tour of the Tenement Museum, just down the street. Again, best to come sans stroller. (By the way, for Brooklyn families who can't schlep into Manhattan, Bricolage is an equally scrumptious Vietnamese option in Park Slope — plus, it has a patio.)
10. The Plaza
768 Fifth Ave., at Central Park S.; 212-759-3000
As Eloise can tell you, the Plaza is almost comically fancy and exorbitantly expensive and a total snob-fest. However, if you can get past all that, there is indeed something magical and whimsical about getting your kids all dressed up and checking in to the lush Palm Court for afternoon tea ($75 per person, $95 including a glass of champagne; $60 for ages 12 and under). The spread includes shared tiers of cucumber or deviled-egg-salad sandwiches, homemade scones, precious éclairs, little bonbons, and tea. Like it or hate it, tea at the Plaza is a truly elegant experience that your kids won't forget for the rest of their lives. That being said, you can achieve the same sense of occasion by roaming the lobby and skipping through the halls with a packed lunch or a little snack from the food hall downstairs. Beating the system might even make it better.
11. Tanoreen
7523 Third Ave., at 76th St., Bay Ridge; 718-748-5600
At its heart, the big, bustling Tanoreen is a family-oriented Middle Eastern restaurant owned by two women whose mission is to honor their mothers' passion for cooking and entertaining. If you're lucky enough to have a kid who likes hummus, the lemony version here is supreme, especially when paired with fresh pita covered in za'atar. The addictive grape leaves stuffed with rice and ground lamb are a clever way to sneak protein into little people. Plates are best for sharing, so get the shepherd's pie and a couple kebabs — after all, kebabs are fun, and kids can smell fun (and in this case, hunger-inducing Middle Eastern spices) anywhere.
12.  Scalino
659 Manhattan Ave., nr. Bedford Ave., Greenpoint; 917- 962-8879
Strollers, screaming toddlers, and breastfeeding babies are all welcome in this low-key Greenpoint Italian restaurant, a consistently yummy landing place post-McCarren or McGolrick parks. With an $11 weekday lunch special that includes any pasta on the menu plus a salad, this is also a fantastic option for families looking for daytime plans or meet-ups with other parents. The pastas are creamy and comforting, the scene is pretension-free, and the perfecto Aperol Spritz will transport you to Venice. Cin-cin!
13. Insa
328 Douglass St., nr. Fourth Ave., Gowanus; 718-855-2620
Screen-time is cheating. It's best if there's some entertainment embedded in the meal itself, and place mats (even nicely drawn ones) plus crayons (even dope-ass unbroken Crayolas) only go so far. Enter Insa, a Korean-BBQ fantasia in Gowanus, with its diorama of a small village at the entrance,and Korean grills nestled in the hearts of its mahogany tables. On one Saturday evening — on the early side, of course — the large wood-paneled space bounced with the laughter of children and the sizzle of thinly sliced meats on the grill. The restaurant is run by the Good Fork's Sohui Kim and Ben Schneider (parents themselves), and it offers the possibility of theater within the meal. Like a concours d'elegance, tiny, brightly colored dishes of banchan offer low-risk, high-impact tastes. Then the main course: meat! Shrimp sizzle and go pink. Short ribs — off the bone — char. Thin slices of brisket crinkle with what seems like time-lapse energy. The kids are rapt. The food is eaten. There are no leftovers. — Joshua David Stein.
14. Emma's Torch
345 Smith St., at Carroll St., Carroll Gardens; 718-243-1222
Named for the poet Emma Lazarus, who wrote, "Give me your tired, your poor / Your huddled masses yearning to breathe free," this bright, simple, fully functioning restaurant is also a nonprofit cooking school for refugees and survivors of human trafficking, making the mostly Mediterranean and mostly delicious dishes food that both nourishes the body and feeds the soul. They'll whip up a glorious cavatelli with butter and pecorino for the kids, and the crispy lamb meatballs, North African in spirit, are the perfect light dinner to enjoy while talking to your children about what's really going on in the kitchen: love and kindness.