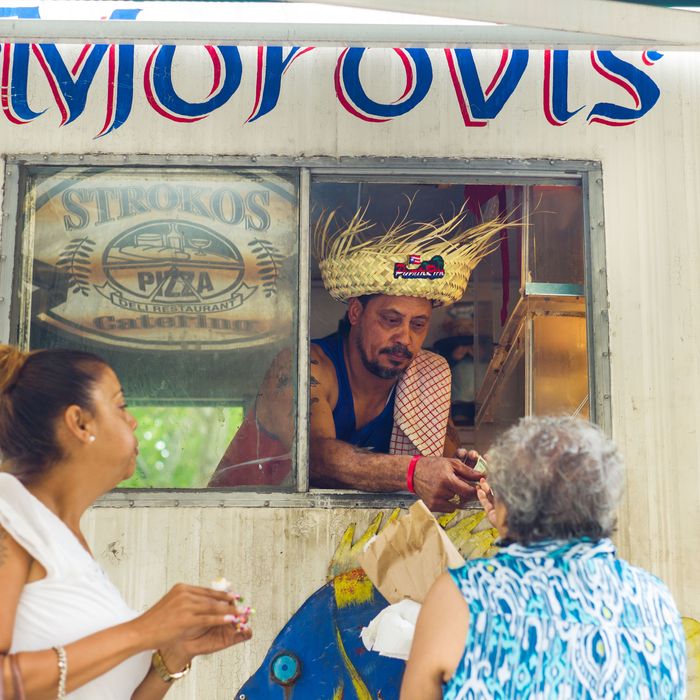 New York's most persuasive advocate for la cocina criolla.
Photo: Freddy Mejia
New York City's northernmost province is its Hispanic borough, and, along with Washington Heights, the Bronx the best place to eat the commingled cuisines of Cuba, the Dominican Republic, and Puerto Rico. (Referred to here as Latin food.) Here, the borough's four best restaurants, whether you want mofongo or mangu, tostones or maduros, lechon or pernil.
1. Lechonera La Piraña
Near the corner of 152nd St. and Wales, Mott Haven, the Bronx; no phone
Can a food truck parked next to a vacant lot, one only open on the weekends, really be the best place for Puerto Rican food in the Bronx? In this case, certainly. Angel "Piraña" Jimenez is arguably New York's most persuasive advocate for la cocina criolla. Jimenez grew up in the Puerto Rican beach town of Aguadilla, where his father fished and ran a lechonera (after which he models his own). His Puerto Rican–style lechon is rubbed with a dry spice mix, hung overnight, and cooked in an oven starting at 4 a.m. Meat is taken out and chopped up with his signature machete throughout the day. At its best, the burnished skin (which is what lechon is really all about) is crackling and chewy, and the meat fragrant. Customers come from all over the city and further afield; sometimes you'll see fans who have left the tristate area only to return for a taste of home. The pork can be fantastic, especially when doused with raw-garlic sauce and a vinegary hot sauce, but the pastelillos, or Puerto Rican–style empanadas, are something else. Beef and chicken are just fine, but the juicy shrimp and briny crab, both bursting with sofrito, taste like Jimenez's love letter to his beachy upbringing. Alcapurrias, fritters stuffed here with beef, are uncommonly fresh, and the octopus salad, accented with chopped olives, is so vivifying Jimenez calls it ensalada de viagra. The best thing about Piraña, however, with its booming salsa and locals hanging around, is that it feels like a block party.
2. 188 Bakery Cuchifritos
158 E. 188th St., nr. Fordham-Belmont, the Bronx; 718-367-4500
The old-school lunch counter is a festival of supercharged, bubblegum-bright colors. It serves the kind of food, along with a litany of tropical juices, that you'd find in Puerto Rico at a place like the Piñones, a beach famous for its fried foods. None other than Anthony Bourdain once called it the "center of the pork universe as I've ever seen it in New York." It was originally opened several decades ago by a Cuban immigrant, and the menu emphasizes Puerto Rican food but mixes in dishes from Cuba and the Dominican Republic. There's a veritable buffet of stewed, fried, and roasted Latin soul food, like Dominican-style chicharrones, some of the Bronx's very best mofongo and its Dominican counterpart mangu, and a litany of frituras or fritters like alcapurrias. The cuchifritos in the restaurant's name is a Nuyorican term that refers to traditionally fried pork offal and offcuts. Here, the cuchifritos are stewed rather than fried, but there's plenty of stomach, thickly sliced blood sausage, chewy tongue, and firm ear. They're all served in their funky stewing juices and surrounded by a ring of starchy stark-white plantain. It's a delightful celebration of all things pork, packed onto a single plate.
3. Nano Billiards Cafe
185 E. 167th St., nr. Grand Concourse, the Bronx; 646-515-7700
The Bronx's, and possibly New York's, best Dominican restaurant is a divey pool hall that serves a steam-table lunch for a few hours on weekday afternoons. It's easy to miss Nano: The bar is holed into the ground level of a basement off the buzzing Grand Concourse, and its muted sign doesn't exactly announce itself. You could be forgiven for thinking the restaurant was a front. But there's great food inside, and the cook, Anita, wears a perpetual smile. It gets rowdy at night, but during the day it's quiet and relaxed, with a few people lingering, hunkering over plates of steamy food, or playing pool. The menu, which changes daily, is all homey, rustic Dominican country food like salt cod in white or red sauce, stewed goat, and rice and beans. Much of the cooking pulses with an undercurrent of Dominican sofrito (sautéed tomato, pepper, and onion) and briny chopped olives. Guisadas, or stews, are a particular strength. The chicken is solid, but it can't match the cerdo, with its unctuous pork belly, or the even better costillas, fatty pork ribs sauced up with abandon. Few dishes in the Bronx reach higher gastronomic heights. Different variations on locrio, essentially rice cooked with a protein, are available. If locrio de cerdo is on the menu, make haste. The pork belly and shoulder cloak the rice in fat, turning each bite into a blast of porcine flavor. Spa food this is not.
4. Bronx Havana Cafe
3151 E. Tremont Ave, nr. La Salle Ave., Schuylerville, the Bronx; 718-518-1800
The bustling Bronx Havana Cafe is nestled into the traditionally Italian-American neighborhood of Schuylerville, where restaurants tend to go by names like Louie & Ernie's and Jimmy Ryan's. It's also more upscale than many of the Bronx's Latin restaurants, with sidewalk-café seating, a wide bar anchoring the cozy dining room, and a slightly elevated semiprivate space tucked into a back corner. The menu spans both traditional and new-school Cuban food, with Chino-Cubano nights on Thursdays. Ropa vieja, or shredded beef, tops thick, wonderfully crisp tostones, while picadillo, the ground-beef preparation, is featured on brick-oven pizza. Bacalitos, or salt cod fritters, are golden brown on the outside and dense but moist and almost elastic inside. The garlic-lime sauce in the pollo al mojo doesn't really cling to the chicken — better to go for the arroz con pollo, which is speckled with cubed chicken and painted with tomato sauce. The churrasco is another favorite, but whatever you get make sure to order a side of the crispy yucca fries. There's a surprisingly decent selection of rum at the bar, including El Dorado 12-year and Zacapa 23-year, as well as cocktails like a Cuban Sidecar, with rum substituting for the cognac. Better (if a tad sweet) is the classic mojito, made with Bacardi and suffused with mint.