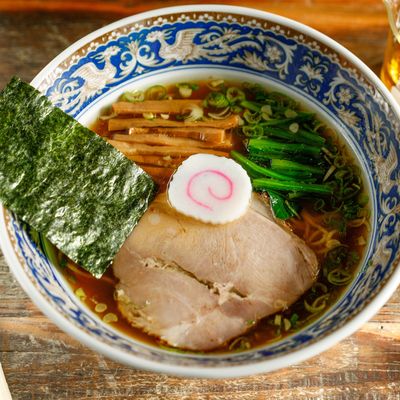 Nakamura's understated torigara ramen.
Photo: Melissa Hom
It's time to talk New York's best ramen. Since the first craze of the 2000s, the city's scene has expanded well beyond its original territory in the East Village and midtown — raising the stakes, introducing new styles, and increasing New Yorkers' expectations. Here, the city's five best ramen spots, as defined by the excellence of their broths, the quality of their noodles, and the thoughtfulness of preparation.

1. Nakamura
172 Delancey St., nr. Clinton St.; 212-614-1810
Even among New York's murderers' row of noodle masters, Shigetoshi "Jack" Nakamura stands out. He is considered a ramen god in Japan, where he started his career nearly 20 years ago; develops recipes for the influential Afuri chain; and is revered here by the likes of Dave Chang and Ivan Orkin. His name may be less known outside of hard-core ramen circles, but everyone should know his torigara shoyu, a classic bowl of chicken-and-seafood broth seasoned with Japanese soy sauce. It's the most compelling bowl in town right now, with a delicacy and balance that fattier, more robust ramen options simply can't match. The noodles are firm and chewy, and the savory broth clings to them with ease. And it's topped with hamlike pork shoulder or rich belly meat (the former is leaner and more flavorful, the latter adds a deeply luscious note). Finally, the shoyu lends a sweet, roasted flavor that deepens the whole experience.
2. Ivan Ramen and Ivan Ramen Slurp Shop
25 Clinton St., nr. Stanton St.; 646-678-3859
Gotham West Market, 600 11th Ave., nr. W. 45th St.; 212-582-7942
Long Island–born Japanophile Ivan Orkin's penchant for freewheeling originality works because he marries it to a studied reverence for ramen's subtler traditions and his borderline-obsessive attention to detail. Before opening in New York, Orkin meticulously tinkered with noodle recipes to find the right texture and flavor, eventually landing on options made with toasted rye flour and a heartier whole-wheat noodle used in Orkin's brothless mazeman. (There are also tofu noodles for the gluten-averse.) The broths and toppings are no less fussed-over. The highly celebrated, rip-roaring spicy ramen is built on the foundation of a homemade chile mix, and the famed triple-garlic, triple-pork mazeman is as gloriously caloric as the name suggests.
3. Mu Ramen
12-09 Jackson Ave., nr. 48th Ave., Long Island City; 917-868-8903
In a city full of creative riffs on traditional ramen recipes, Mu Ramen's beef-based namesake is unlike any other, suffused with the great New York flavors of half-sour pickles and corned brisket. Experiments like this might not be so successful if it weren't for chef Joshua Smookler's intense focus on quality over quantity (the restaurant seats about half as many people as it could actually fit, in an effort to ease the kitchen's burden). Other options are just as impressive: There's a regal duck shoyu, clean like consommé, and a killer tonkotsu "2.0," Smookler's take on the potent, heady broth made of pork bones and meat boiled for hours. The chef refines it just enough, by skimming off the fat, allowing its concentrated porkiness to come through more clearly.
4. Ippudo
65 Fourth Ave., nr. E. 9th St.; 212-388-0088
321 W. 51st St., nr. Eighth Ave.; 212-974-2500
Since crashing into New York on a tonkotsu tsunami eight years ago, the Japanese chain has weathered the ramen craze, and an ever-growing list of competitors, to remain one of the city's top. (It's also opened a second location, as well as a market-vendor spinoff, Kuro-Obi, specializing in chicken broth boiled for hours.) It's all because the milky tonkotsu is still supremely sumptuous, and its housemade noodles retain the kind of springy bounce that makes them so appealing.
5. Totto
Multiple locations
Totto — first known for its Bourdain-approved midtown yakitori shop — made a name for itself in the ramen world by packing a narcotizing amount of chicken fat into its ramen. In fact, this soup is so schmaltzy, you might think they cooked down a whole brood of hens for each bowl. The basic offering — which can be ordered classic, spicy, or spiked with miso — is minimally adorned with just raw scallion, a single sheet of nori, your choice of chicken or pork chashu, and some additional shredded chicken. The simplicity allows slurpers to focus on the satisfyingly dense egg noodles and the deeply comforting poultry broth.
Bar Moga
128 W. Houston St., at Sullivan St.; 929-399-5853
This downtown cocktail den specializes in yōshoku, or Japanized Western food, but also features a sleeper hit of ramen made with soy-milk broth — thick and painted red by spices; properly chewy noodles; and a tangle of fried vegetables on top.
Chuko
552 Vanderbilt Ave., nr. Dean St., Prospect Heights; 718-576-6701
144 Evergreen Ave., nr. Jefferson St., Bushwick; 718-484-9022
A trio of Morimoto alums is behind this beloved Brooklyn ramen spot. The vibe is a bit Momofuku Lite, and non-noodle dishes show plenty of polish. But ramen is the thing, and the vegetarian version — full of seasonal, vibrant produce — is the sleeper hit.
Ichiran
374 Johnson Ave., nr. Bogart St., East Williamsburg; 718-381-0491

The Japanese import is most famous for its "flavor-concentration booths," individual seating that's like a ramen isolation chamber. It serves just one broth, a creamy tonkotsu that's customizable by richness of broth and potency of dashi. The noodles, made in a factory next door, can be ordered to your liking as well, and are similarly top-notch.
Ganso
25 Bond St., nr. Livingston St., Downtown Brooklyn; 718-403-0900
Chicken and beef come from local farms, as do the braised seasonal greens adorning bowls of the short-rib and house ramen, a shoyu-broth-based variety decked out with kakuni (slow-cooked pork belly) and an egg.
Jin Ramen
3183 Broadway, nr. Tiemann Pl.; 646-559-2862
462 Amsterdam Ave., nr. W. 82nd St.; 646-657-0755
Cocooned by the metalwork of the 125th Street station, Jin Ramen — which claims the famous ramen-yas of Hakata as its chief influence, and now has a sister location on the Upper West Side — feels like a Harlem hideaway. Its expansive menu covers the four principle styles of ramen — miso, shio, shoyu, and tonkotsu — plus kakuni, green-coconut Thai curry, kimchee, and vegetable. All are cooked from scratch; the best are the miso and tonkotsu.
Hanjan
36 W. 26th St., nr. Sixth Ave.; 212-206-7226
At his stylish ode to Korean bar food, chef Hooni Kim begins offering Korean Spicy Ramyun after 9 p.m. Why the limited-time offering? Because it takes 12 hours for Kim's kitchen to make the broth — and it is absolutely worth it.
Hidechan
248 E. 52nd St., nr. Second Ave.; 212-813-1800
314 W. 53rd St., nr. Eighth Ave.; 212-696-0066
This second-floor hideaway might not have the most ecstasy-inducing bowl of tonkotsu in town, but everything here — including a signature soup made with rich, dark, garlicky broth — is satisfying, and you can generally walk right in and grab a seat. It's affordable, quick, and casual, just like a proper ramen-ya should be.
Momofuku Noodle Bar
171 First Ave., nr. E. 11th St.; 212-777-7773
Any self-respecting noodle fiend has no doubt already made many trips to David Chang's First Avenue ramen mecca. Its renown doesn't make the food any less delicious.
Mokbar
Chelsea Market, 75 Ninth Ave., at 15th St.; 646-775-1169
212 Flatbush Ave., nr Bergen St., Prospect Heights; 347-987-3042
The ramen here is not made in traditional Japanese styles like shio, but in the modified flavors of classic Korean dishes — including kimchee-jjigae, the popular kimchee stew, and samgye-tang, the chicken soup.
Rai Rai Ken
218 E. 10th St., nr. Second Ave.; 212-477-7030
One of the city's OG ramen destinations, this noodle shop relocated from its original 14-stool home on 10th Street in 2012, into a larger space on 12th Street. But it's still one that offers a truly authentic ramen-ya experience, right down to the surprisingly gentle prices.
Ramen Lab
70 Kenmare St., nr. Mulberry St.; 646-615-7522
The hit ramen-ya from acclaimed noodle manufacturer Sun Noodle, whose noodles are used by the likes of Momofuku and Yuji Ramen, is now an incubator, hosting noodle masters and hopefuls for monthlong residencies.
Ramen Shack
13-13 40th Ave., nr. 21st St., Long Island City; 929-522-0285

The chef behind this no-frills Queens counter is the inventor of the ramen burger, but his noodles are no joke. Along with old-school bowls of shoyu, shio, and tonkotsu, he serves bowls made with almond-milk broth (the Vintage Veggie) and a triple-blend broth spiked with dried fish powder and shoyu.
ROKC
3452 Broadway, nr. W. 141st St.; no phone

The bartenders behind this tiny uptown hangout worked at the cocktail bar Angel's Share, and the chef (who cooked at Hidechan and Totto) has a similarly impressive pedigree. His menu focuses on lighter, cleaner ramen, like the Okinawa — a chicken broth seasoned with yuzu and sake lees — and the impressive Kyoto, a combination chicken-and-fish broth.
Takashi
456 Hudson St., at Barrow St.; 212-414-2929

On weekends, starting at midnight, the beef-mad chef behind this high-end Japanese-barbecue restaurant serves a luxe ramen that — with its rich and garlicky beef broth, crispy beef intestine, and beef belly — is unlike any other in town.
Yuji Ramen
150 Ainslie St., nr. Lorimer St., Williamsburg; no phone
This nighttime-only endeavor inside Yuji Haraguchi's Okonomi serves inventive ramen takes like white-shoyu ramen with clams and asparagus, or wild Alaskan king salmon and cheese mazeman.