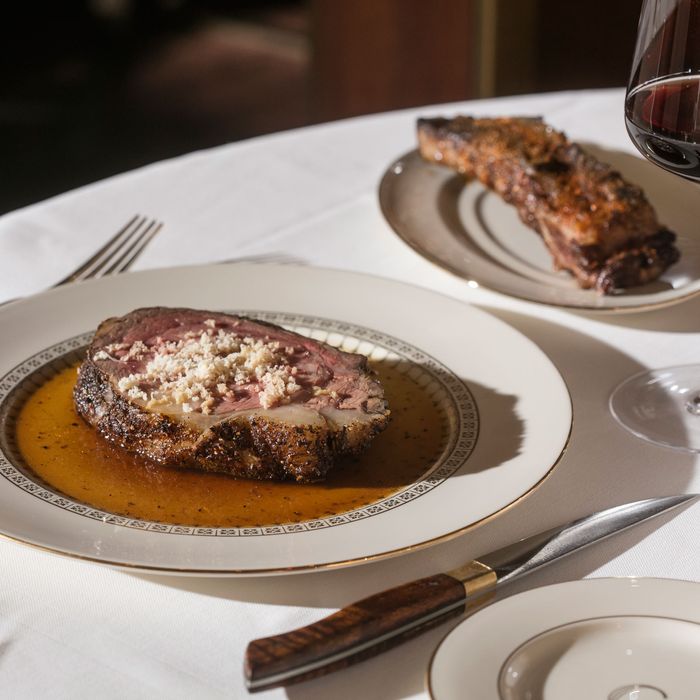 The Grill's prime rib is as much a production as it is a meal.
Photo: Melissa Hom
For years, this most elemental and grandiose of all beef-eater pleasures was out of fashion in the city's haute carnivore circles, but lately, it's been making a comeback. It comes in all sorts of different varieties, but the elemental pleasures of blood, bone, and the lustrous top layers of deckle fat remain timeless and the same. We've excluded special-order prime-rib roasts, which are available at several reputable chop houses and restaurants around town, in favor of more accessible cuts. Here is our newly updated list of the absolute best, ordered medium-rare, without ketchup, of course.
1. The Grill
99 E. 52nd St., nr. Park Ave.; 212-375-9003
What makes this painstakingly prepared, theatrically presented dish our choice for the absolute best prime rib in this fabled beef-eating town? Let's begin with the preparation, which involves dry rubbing the exterior not once, but twice, with a peppery Montreal-style rub, slow roasting the beef on a spit for several hours, then finishing it at high heat to seal in that fatty, crunchy crust. Instead of languishing in a steam tray, the way your grandfather's country-club prime rib used to do, this version is then perambulated directly to the table, where you can have it thin-cut, in the English style, or carved in a single tender New York–size slab. The drippings-laced jus is prepared separately, from the simmered remains of fatty brisket beef, and so is the rib bone, which is muffled in its own dry Kansas City–style barbecue spice rub, and presented with proper ceremony on a gold-rimmed plate. Add the impressive selection of possible trimmings — cottage fries or marrow-laced grits, perhaps, along with pots of horseradish cream and Dijon mustard on the side — and the storied, cathedral-size venue, and you have a prime rib that's fit (and at $72, priced) for a king.
2. The Beatrice Inn
285 W. 12th St., at W. 4th St.; 212-675-2808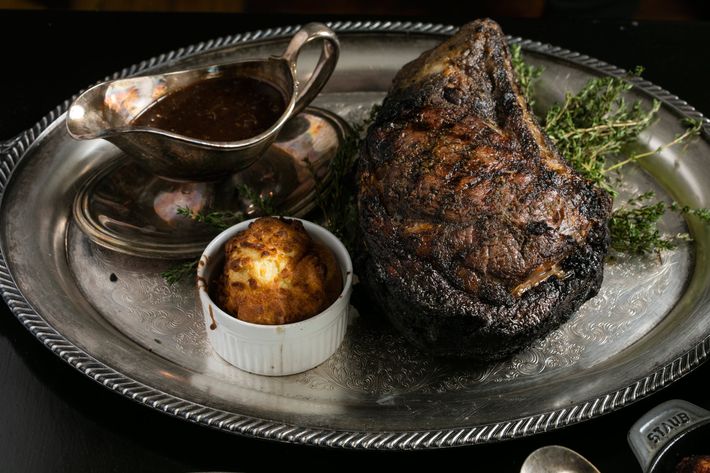 Angie Mar's impressive homage to the ye olde English rib roast is available on Sundays only, which is a good thing, since if you (or you and your family of four) actually manage to consume the entire beautifully aged, two-pound chop in one sitting, you may not need an infusion of red-blooded beef for several months. This elegant roast is cut to order, smothered in a rich cherry Bordelaise sauce, and set atop a buttery mash of potatoes and black kale. For maximum enjoyment, consume it in the brightly lit back room, by the gently guttering fire, where there's enough space, late on a Sunday afternoon, to stretch out for a short, digestive nap.
3. 4 Charles Prime Rib
4 Charles St., nr. Greenwich Ave.; 212-561-5992
There are all sorts of pleasures to enjoy at this tiny, hyperstylized West Village import from the Hogsalt restaurant group in beef-loving Chicago, but if you're a prime-rib devotee, it's worth the hassle of obtaining a table to get a taste of the house specialty. The prime Angus beef is crusted with a simple layer of salt on its exterior, and slow roasted for many hours to a kind of soft, happy tenderness. It's offered in three different styles, ranging from the smaller ten-ounce "English Cut" to the mammoth 24-ounce bone-in "4 Charles Cut." For the best of both worlds, try the middle-of-the-road "Chicago Cut."
4. Smith & Wollensky
797 Third Ave., at 49th St.; 212-753-1530
The kitchen at the flagship branch of this increasingly sprawling New York City–based chain turns out over a hundred of these beauties a day, each one laid out on the plate the simple, old-fashioned way: in a pool of its own cooking juices. It's the most reliable of the old New York–steakhouse prime ribs, and for the best results, we suggest you enjoy it with a side of the house hash browns, a bite or two of spinach (un-creamed, please), and — if the depleted expense account, or your rich uncle from the hinterlands, can bear the prohibitive markup — a bottle of the inky red stuff from the house cellars.
5. Keens Steakhouse
72 W. 36th St., nr. Sixth Ave.; 212-947-3636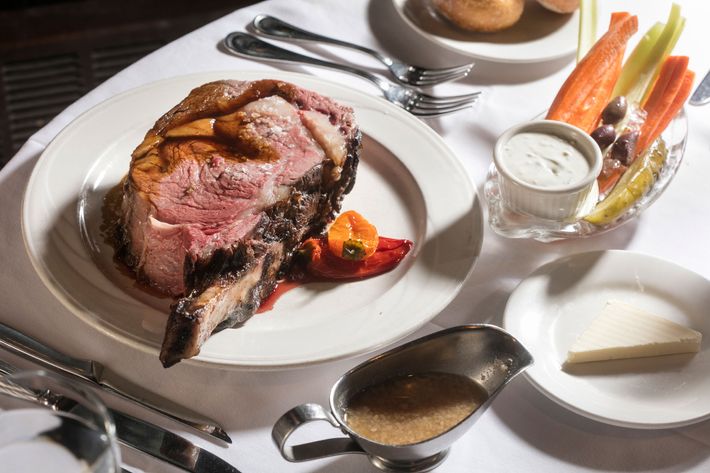 Some people swear by the mutton chop here, and others by the porterhouse, but if you want to be transported directly back to the long-ago era of the classic New York beefsteak, this is the cut to get. Like lots of the product at what is arguably the most authentic and beloved of the city's venerable beef palaces, the aging can be spotty, and who really knows whether the meat is prime, or choice? But when all the stars align (we recommend ordering it on a properly chilly winter's day, in the taproom, at a table by the fire), there's no more regal beef-eater meal in the city.
6. Gallaghers
228 W. 52nd St., nr. Broadway; 212-245-5336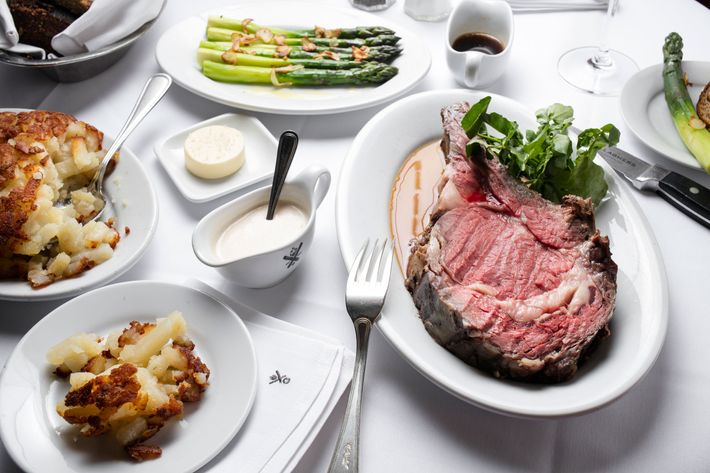 This time-honored midtown restaurant was given an elaborate face-lift a few years back — the wood-paneled walls and ancient horseshoe-shaped bar were polished and repaired, and the famous aging room in the front of the house was updated and expanded. Like at the other storied beef houses, the cut is generous, if slightly under trimmed; you can enjoy it for lunch, dinner, or any hour in between; and if you're partial to just a little touch of funk on your fix of prime rib, it's the cut for you.
7. Augustine
5 Beekman St., at Nassau St.; 212-375-0010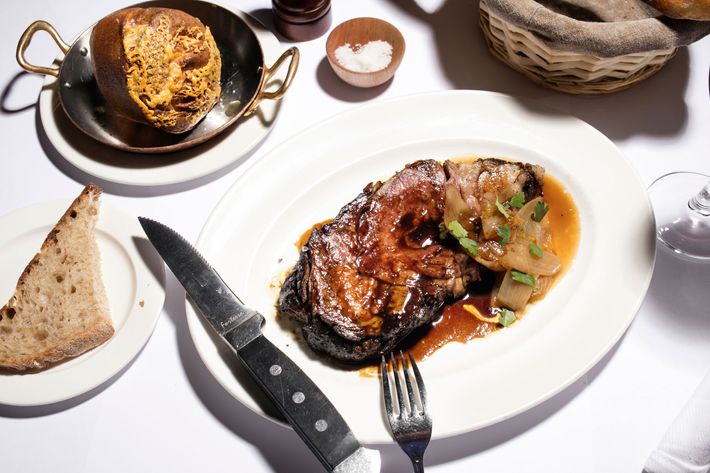 Keith McNally's late Bowery bistro, Cherche Midi, used to serve up our favorite version of this dish every day of the week. But you can still get a decent facsimile at this popular McNally brasserie down in the Financial District, although it's only available on Saturday evenings. A decorative helping of pommes soufflées is not included in the fairly modest $55 sticker price, the way it was back at the old joint, but the deckle cut is well-proportioned and perfectly pink at its center, and for an extra ten bucks, you can enjoy it with a little pot of mayonnaise and a tangle of those trademark McNally frites.
This post has been updated throughout.