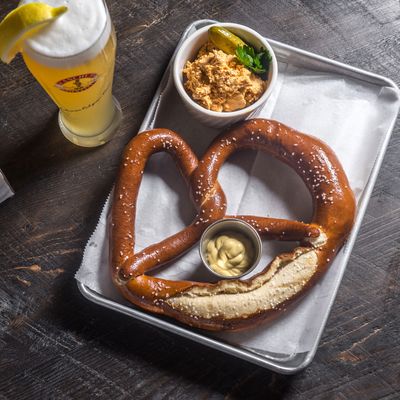 The city's very best pretzel isn't actually made in the city at all.
Photo: Paul Wagtouicz/© Paul Wagtouicz
It's time to declare the best pretzel in New York. Luckily, one of the city's most iconic foods has gotten some serious upgrades lately. These half-dozen are truly excellent.
1. Werkstatt
509 Coney Island Ave., at Turner Pl., Prospect Park South; 718-284-5800

The city's greatest pretzel is enormous and soulful. Its exterior is buttery and blistered. Following ancient pretzel axioms, its fattest loop is scored so it busts open at the seam, and it has the sting of crunchy salt that pretzels are supposed to have but rarely do, which is why it may seem a cruel irony that these pretzels actually come from a nameless factory based in the suburban outskirts of Munich, shipped from Bavaria to Las Vegas, then trucked into Brooklyn by a distributor. Werkstatt owner Thomas Ferlesch admits he first dismissed the concept of imported pretzels as nonsense. Until, that is, he held a tasting with a spread of different options, and "none of them came even close." After tasting them, it's hard to disagree.
2. Lafayette
380 Lafayette St., at Great Jones St.; 212-533-3000

James Belisle, the house boulanger at Andrew Carmellini's French café, prepares his pretzels in a kind of cross-cultural "Alsatian" mode. His folded dough gets a dip in a water bath with food-grade lye, the traditional, fussy prebake ritual that ensures a deep brown color will develop in the hot oven. The pretzels emerge with a spindly interior and puffed-up outer ring, meaning bites alternate between crisp and fluffy. A sprinkle of flaky salt lends a satisfying crackle.
3. Bronx Baking Co.
Available at multiple locations
The first Ghostbusters was playing in theaters the last time anyone bought a decent pretzel from a street cart. Alexis Farachi, a Bronx-based upstart and baking savant, wanted to change that, so she delved into research to come up with an amazing pretzel that could be sold around town. Her finished product is chewy, with a hint of sweetness, that would be welcome on many street corners. For now, though, you'll find them in dozens of locavore-leaning shops and establishments, such as 61 Local and the Greene Grape.
4. Sigmund's Pretzel Shop
29 Ave. B, nr. 3rd St.; 646-410-0333
Sigmund's pretzels happen to be the softest of all soft pretzels, and the more experimental flavors are surprisingly effective: Feta and olive proffers a volcanic bloom of cheese spouting from a pastry mantle; caraway makes a welcome appearance elsewhere. The Gruyère-paprika pretzel is made with a heap of cheese blast-melted on top that gives it a sharp, elegant funk. Sigmund's "churro pretzel" may sound like a marketing exercise in hybrid food 101, but the pillowy, cinnamon-sugar-sprinkled demeanor would devastate Auntie Anne if she ever caught word of it.
5. Prime Meats
465 Court St., at Luquer St.; 718-254-0327
Thin, loopy, and crisp on top, thick and soft on the bottom, with a generous reservoir of coarse-grain salt, this southwestern German version is served with a big pat of butter and mustard, which means it is essentially calling out for a big side of weisswurst. Thankfully, Frank Castronovo and Frank Falcinelli make that in house as well. Lovers of grab-and-go pretzels are in luck, too, since the Franks also sell these at their nearby coffee shop, Cafe Pedlar.
6. Crimson & Rye
198 E. 54th St., at Third Ave.; 212-687-6692
Kudos to chef Charlie Palmer for keeping a lowly pretzel on his bar menu while the rest of the world continues to obsess over sliders and tartare. Palmer's version of the classic New York snack has a dark exterior that packs a distinct alkaline tang. It's outsize and inflated, and the accompanying beer cheese is actually a melty dip that approaches fonduta, which is an appropriate touch considering this pretzel's swanky surroundings.