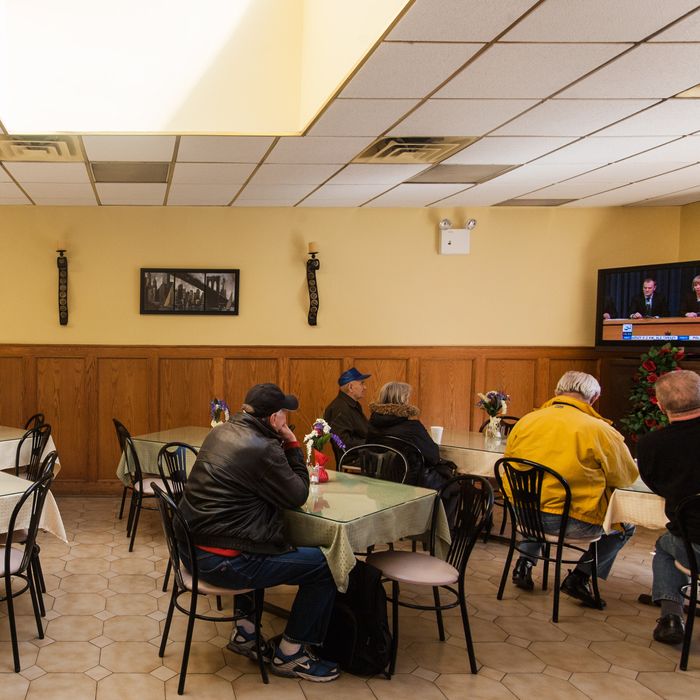 The cheap and delicious Polish & Slavic Center Cafeteria.
Photo: Konstantin Sergeyev
Even as the many other Manhattan-adjacent ethnic enclaves have fallen victim to marauding developers and their gentrifying soldiers, the Polish scene in Greenpoint is nearly as vital now as it was when the shipyards still operated. And the restaurants here hew closely to the meat-and-potatoes canon of bigos, pyzy, and kielbasa. Despite the passing sometime last year of the best-known Polish restaurant, Lomzynianka, with its disco hunting-lodge interior, there is still a panoply of pierogies to be enjoyed.
1. PSC (Polish & Slavic Center Cafeteria)
177 Kent St., nr. McGuinness Blvd.; 718-349-1033
Silent but for the television tuned to a Polish news channel, the cafeteria adjoining the Polish & Slavic Center has the monastic silence so often enjoyed by restaurants serving very good food to very tired people. A handful of generously spaced tables occupy the pale-yellow room suffused with a gray light filtering in from a skylight in the center. But the food is comforting, classic, and cheap: a massive pounded, breaded, and fried pork fillet comes under a fried egg with a mound of mashed potatoes. Surprisingly sophisticated brown gravy covers it all. This is called the Mountain Cutlet, and it costs $11.50. Homemade mushroom dumplings stud a bowl of borscht so brilliantly red it looks like stained glass lit from within. And the pierogies — cabbage and mushroom are among the best — arrive with bits of bacon and onion strewn atop, with beads of water like perspiration still on the dumplings' velveteen skin. One eats this, washed down with a complimentary glass of sweetened juice called kompot in cheery pastel colors.
2. Polka Dot
726 Manhattan Ave., nr. Norman Ave.; 718-349-2884
The origins of this Polish meat market turned quasi-hipster café are clear in the formidable deli case. It's full of melonka (luncheon meat), many varieties of kielbasa, and meat loaves. But today these meats and more are served by a trio of young Polish women with hot-pink hair and facial piercings. The space was, until a few months ago, the Polski Meat Market, but after her husband died, owner Marzena Parys changed things up to appeal to the non-Polish influx more interested in social media than the Socjaldemokracja Polska. Today there is Wi-Fi, but also pickle soup; an Instagram account and smoky Gypsy-style Canadian bacon; stuffed cabbage and lemonade. Though no match for Peter Pan across the street, the surprisingly sophisticated homemade orange-glazed doughnuts contain a dab of rose jelly.
3. Krolewskie Jadlo
694 Manhattan Ave., at Norman Ave.; 718-383-8993
Krzysztof Drzewiecki is the closest thing Greenpoint has to a Keith McNally. Drzewiecki was a cook at Nobu before he started his own Greenpoint empire. Today it includes Krolewskie Jadlo, Karczma, and Dziupla, in Williamsburg. Koleweskie Jadlo was his first and perhaps his most grand attempt to elevate Polish cuisine. The name translates as King's Feast, and the menu is suitably regal. (Drzewiecki, in fact, might have a Polish cuisine savior complex — there is literally a knight in shining armor at the threshold of the restaurant.) But there's nowhere else one can find recherché Polish cooking like crispy roasted duck legs with apples, wild boar with pepper cognac sauce, or goat-cheese-and-spinach pierogies drizzled with chanterelle sauce.
4. Karczma
136 Greenpoint Ave., nr. Manhattan Ave.; 718-349-1744
The word karczma simply means "tavern," and the rustic room on Greenpoint Avenue, with its rough-hewn wood tables and farm utensils hanging from the walls, could be ripped from the Polish countryside circa 1880. Every aspect is geared to gin up affection for the old world. The waitresses sport traditional Polish getups (white blouses, embroidered black velvet vests), and there's a verse by the 18th-century Polish poet Adam Mickiewicz written on the wall. But one needn't to have ever set foot in Krakow to appreciate what comes out of the kitchen. Dense peasant bread with a side of spice-and-bacon-studded lard; just a trout grilled, no big deal, side of fries; and slightly sour white borscht served in a bowl of bread with a hard-boiled egg floating in it like an oversize amoeba.
5. Christina's Restaurant
853 Manhattan Ave., nr. Noble St.; 718-383-4382
The presence of Christina is felt strongly in her modest, eponymous restaurant on Manhattan Avenue. Hers is the tanned face — same smile, immovable coif of blonde hair — staring from the framed photographs of celebrities on the exposed brick wall. But she's also the one in the kitchen and has been since 1993, when she opened the place. Unlike most other Polish holdouts in the area, Christina (née Krystyna Dura) does a brisk trade in American breakfast, including an excellent babka French toast and a rarer-than-it-should-be kielbasa omelette. However, her wheelhouse continues to be home-style Polish favorites like tender beer-braised pig knuckles, small footballs of stuffed cabbage with tomato sauce, and crispy meat pierogi with a traditional plum sauce.