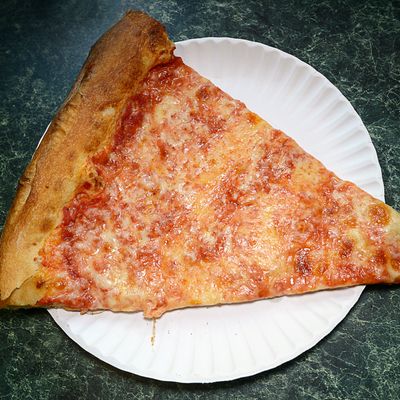 Joe's is the definition of consistency.
Photo: Jody Wissner
Pizza: It's what New Yorkers are made of. Now, we're not talking Neapolitan or neo-Neapolitan, deep dish or Detroit-style — not even whole pies. It's all about the slice, the economical, accessible, on-the-go meal in its many styles: the classic round slice; square in the Sicilian or grandma style; vodka-sauced; with or without toppings, from the minimal (sausage) to the maximal "gourmet" (Buffalo chicken); and so on. Ideally, it's served on a paper plate — which it stains with grease — at a small shop or a takeout counter of a larger operation that's no-frills and was built with economy more than design in mind. There could be cheap beers, should be a fridge with sodas, and possibly, but not necessarily, photos of random celebrities on the wall (ideally Italian-American and/or C-list). But most of all, the perfect slice is served at a place where you can get in and out quickly, whether you're a local without any time to wait or a pizza pilgrim — save the 40-minute waits for whole pies.
1. Joe's Pizza
7 Carmine Street, at Bleecker St.; 212-366-1182; 150 E. 14th St., nr. Third Ave.; 212-388-9474; and 216 Bedford Ave., at N. 4th St.; 718-388-2216
As the ancient Italian-American proverb goes, there are three constants in life: death, taxes, and the excellence of Joe's slices. The workaday Greenwich Village shop is the consummate New York slice parlor first and foremost for its uncanny, unparalleled consistency. It's a spot where your slice is exactly as excellent as the last time, and the time before that, every time. That can be attributed, yes, to high turnover: Slices fly off the counter, and new pizzas are constantly being baked, guaranteeing freshness. This brings up another essential fact: Joe's is always busy, but it's never a pain to get in and get out. The ideal slice joint shouldn't be a major commitment for locals, and the slice must be obtained without hassle. Which is why the legendary Di Fara, where you wait 45 minutes to an hour for a slice that could be fantastic but might be burnt, is absent from this list.
The perfect slice is also about dedication and craft. Staff turnover is low, so the pizza men master their skills, and owner Pino "Joe" Pozzuoli and his family remain invested in the operation and expand at a sloth's pace. Cooked so it's a few shades shy of burnt and speckled with black spots, the thin crust has that slight yeasty tang, bends easily, and has a pudgier, puffy, and nicely browned end-crust. The cheese blisters, with occasional golden freckles, and the sauce has the brightness of fresh tomatoes. The consistency and craft come into focus here, as the sauce and cheese are laid out evenly and in just the right amount so that you're getting the ideal ratio with every bite. It's, in a word, what your younger self thought all New York slices were like.
2. Joe & Pat's
1758 Victory Blvd, nr. Manor Rd., Carlston Heights, Staten Island; 718-981-0887
The Staten Island icon doesn't serve a classic New York slice. Its style is more of a bar pie, defined by its exceedingly thin, unyielding, and ultra-crunchy crust, made from dough that's pounded rather than stretched, so it doesn't get airy. It's topped with a delicately ladled layer of irresistibly sweet, smooth vodka sauce and mozzarella applied, in the Neapolitan style, as little misshapen islands. The cheese doesn't commingle with the tomatoes, unlike in the classic New York slice, but it's chewy, creamy, and perfectly balanced with it. Joe & Pat's, which has served pies in the heart of Staten Island since 1960, is wonderful, but it's on this list in part because of its vodka-sauce-drenched confederacy of pizzerias. There's the Mulberry Street spinoff Rubirosa, where they sell slices of their admirable, slightly more yielding vodka pie during lunch. Even better is the estimable Pier 76, a family-friendly bar, restaurant, and takeout spot that's a short walk from the Staten Island Ferry. The crust here is a bit thicker than the version at Joe & Pat's, but still remarkably thin, and the slices, some argue, surpass their forebear's. Certainly get the Buffalo chicken, which is, thankfully, blue-cheese-free. And whatever you do, don't sleep on the vodka square. A corner slice has a high-ridged crust that contains the soupy, Day-Glo vodka sauce, some of the blistered and browned mozzarella peeking through, and a few bits of tomatoes swimming around. The best part of it, though, is the crust that's just under the sauce. Whereas so many squares have crusts that are soft and doughy up top, here it's sublimely buttery.
3. Prince St. Pizza
27 Prince St., nr. Mott St.; 212-966-4100
All respect to the revered L&B Spumoni Gardens, but New York's current king of the square is Noho's Prince St. Pizza. Successor to the original Ray's, it's a slice lover's slice shop, with a brick-lined Marsal & Sons oven that turns out Sicilian slices that, at their best, put the leaden, middling squares sold at many parlors to shame. The three Sicilian-style slices look imposing, but the dough is anything but dense. It's airy with a crunchy bottom and soft interior, substantial but not leaden. It's the sort of slice you can't help but wolf down and is gone before you know it. Nothing beats the dangerously good Spicy Spring, with its mildly spicy and complex fra diavolo sauce and cups of oil-catching, extra-crispy pepperoni. It's the kind of slice you order two of when you only have room for one, then can't help but order a third to go, undaunted by the threat of a food coma. The ultragarlicky, thin grandma slice, a.k.a. the Mercer Margherita, will do you well, too, as will the regular slices, if you're a round-or-bust kind of slice hound.
4. Williamsburg Pizza
265 Union Ave., nr. S. 3rd., Williamsburg; 718-855-8729; and 277 Broome St., nr. Allen St.; 212-226-4455
New York's new-wave slice parlors are distinct from the new crop of throwback shops like Pier 76 and Prince St. They're hipper and more modern in the Roberta's vein, flaunt better ingredients, are run by pizza mavens who talk flour varietals and exacting dough techniques, and tinker with more unorthodox toppings. While Best Pizza's sesame-seed-crusted white slice is a contender for Best White in Show, the king of this crew is Williamsburg Pizza, now with a second Lower East Side location and a Barclays Center outpost. Its excellence is an accident, really. The parlor was opened by a guy who lived upstairs, wanted decent pizza downstairs, and instead got into league with one of America's most talented pizzaioli, Nino Coniglio. The Brooklyn slice is a delicious homage to the classic, with a sweet and fresh tomato sauce interwoven with bubbly Grande mozzarella and a puffy end-crust you'll find yourself tearing into. However, the real magic here is in the sensational grandma slice, topped with homemade fresh mozzarella and wilted basil, and given a salty boost courtesy of parmigiana. The star of the show, however, is the golden crust, which isn't as thick as a Sicilian or flimsy-thin as many other grandma slices. Thankfully, for those with easily distracted palates, there are another six well-thought-out combinations available, several of them perplexingly good. Take the kale-taleggio, with its crumbles of moist sausage; taleggio melting into blistered kale, plus more batons of cheese on top; and sweet, crunchy pine nuts. There's an oddly appealing Gorgonzola, bacon, and apple, but also more traditional options like the Paesano, blanketed with mushrooms, crumbly Italian sausage, and red peppers roasted to intense sweetness.
5. Patsy's Pizzeria (East Harlem)
2287 1st Ave., at E. 118th St.; 212-534-9783
Before anyone waxed poetic about grandma slices or the airy structures of end-crusts, pizza in New York was cooked in coal ovens. Today, only two coal-powered places serves slices. The one that truly matters is the original Patsy's in East Harlem, part of the loose family that grew out of Lombardi's, New York's original pizzeria. Of course, you can't eat history. But the cheese-only slices at Patsy's dimly lit, dusty takeout corner have held up (possibly after a dip following the death of its longtime head pizza-maker in 2009) — and cost only $1.75 a pop. Like Totonno's, another branch of the Lombardi's fam, Patsy's does a sort of hybrid New York–Neapolitan pie, with the scorching heat of the coal oven creating a crust that's lighter and more yielding while being impossibly thin. Rather than overloading it and causing the crust to break under the weight of its toppings, the bright tomato sauce and mozzarella are applied frugally, bordering on spartan. The mozzarella is creamy and high-moisture, the crust a little smokey and blackened, but be patient and give your slice a few moments to cool off so you can properly enjoy it.