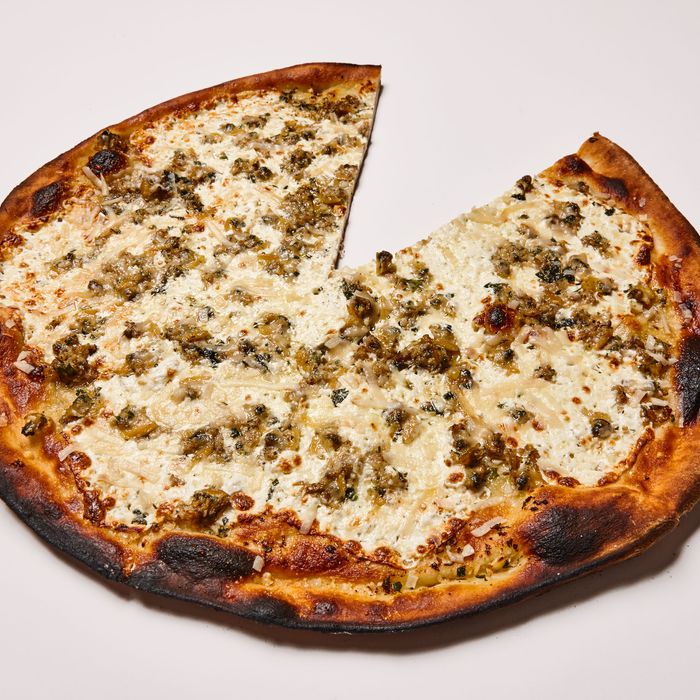 Reggiano's white vongole pie, the pride of Staten Island.
Photo: Bobby Doherty/New York Magazine
The key to a great clam pizza is to not overcomplicate it. Tomato sauce can be okay, but it's usually unnecessary; cheese is good but shouldn't smother the crust; and there shouldn't be an excess of toppings competing with the clams — nothing like, say, burnt kale. Garlic is pretty much mandatory, but otherwise there aren't any strict rules: maybe some chiles, surely an herb like basil or parsley. Recent entrants into the clam-pizza fray have been of the Neapolitan persuasion, but New Yorkers have chowed down on these briny pies for decades at places like Lombardi's, the original Patsy's, and Denino's on Staten Island. Believed to have originated at New Haven's Frank Pepe's in the 1960s, clam pizza is a natural fit for this region, marrying the local passion for pizza with the Long Island Sound's abundance of excellent clams. Some restaurants — like Otto, Barano, and L'Amico — serve the clams still in their shells, but that's too much work and keeps the delectable liquor from seasoning the crust.
1. Reggiano's Brick Oven Pizza
7339 Amboy Rd., at. Wood Ave., Tottenville; 718-966-6610

If there is an epicenter of clam pizza in New York, a place to rival New Haven, then it is Staten Island. The current standard-bearer for the borough is Reggiano's, which opened in 2012 in well-heeled Tottenville, near the southern edge of the island. The restaurant looks like any old suburban trattoria, with its undistinguished décor of sepia photographs, Formica countertop, and bargain-bin tables with paper menus, set to a Sinatra-heavy soundtrack. Getting there is a trip for anyone not on the South Shore — a 50-minute ride on the Staten Island Railroad — but, oh, is the white vongole pie worth it. There's a solid red, too, if you insist on tomato sauce, but it distracts from the purpose of this pizza: the clams. The owners might brag about their 00 flour and homemade mozzarella, but the pie is worthy of the hype. Topped with a thin layer of stretchy, creamy cheese that arrives freckled and a little porous, it's generously decorated with clams and seasoned with basil and loads of fresh garlic. What sets it apart is how it all coalesces into something exquisite, with a dynamic flavor that serves to accentuate the clams. The seasoning is punchy but never overwhelms the bivalves, the mozzarella reins in the more aggressive flavors, and the golden crust is light and airy but still tastes clearly of wheat. The result is pesto-y like a supercharged California Pizza Kitchen pie, in the best way.
2. Motorino
Multiple locations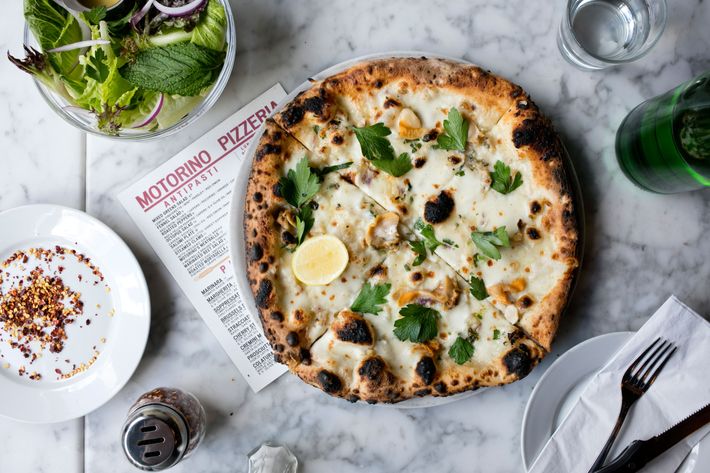 Mathieu Palombino's clam pizza is for clam lovers. The version at his Neapolitan pizzeria — which has locations in the East Village, Williamsburg, and the Upper West Side, as well as Hong Kong and Dubai — is, from first bite to last, suffused with the briny flavor of bivalves. It's properly floppy and soupy in the center in the Neapolitan fashion, with sweet, plump cherrystones that are cooked gently to preserve their essential flavor and soft texture. These are not the slightly springy, drier clam strips of lesser pizzerias. They're complemented by a layer of tangy buffalo mozzarella, enriched with oreganata butter, and garnished with whole parsley leaves that add a necessary touch of herbaceousness.
3. Pasquale Jones
187 Mulberry St, at Kenmare St.; no phone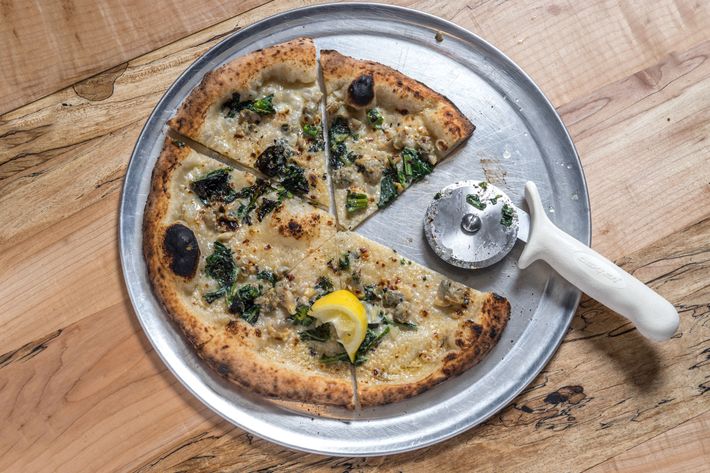 At this swanky pizzeria outfitted with a pair of roaring wood-fired ovens, chef Ryan Hardy serves an exemplary rendition of what could be called the modern New York clam pie. That means neo-Neapolitan, in the Franny's mold and, most important, cream substituted for cheese. The littlenecks are marinated in garlic and chopped up, evenly distributed and buried in the cream so that their flavor permeates every bite. The cooks display a heavy hand with the parsley, which arrives at the table wilted but not charred. There's not much messing with the clams otherwise: just a wedge of lemon that's served with the pie, ready to be squeezed.
4. Pizzeria Sirenetta
568 Amsterdam Ave., nr. W. 88th St.; 212-799-7401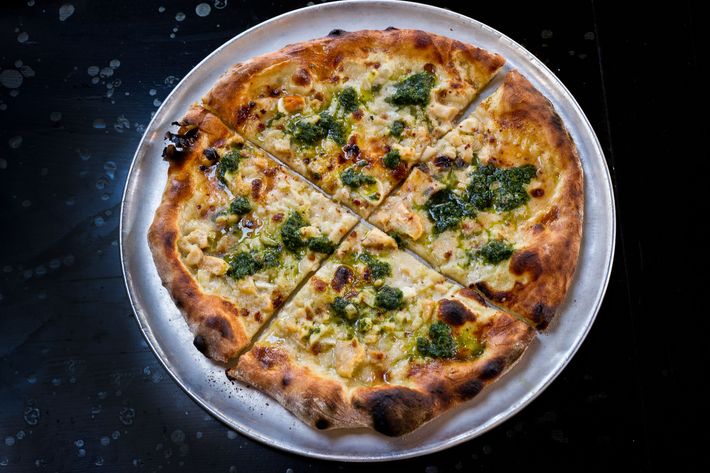 The menu at this breezy, family-friendly Upper West Side restaurant from the Mermaid Inn crew was created by a Franny's vet. So of course there's a clam pie, and it's made in the Franny's mold, but it's not a by-the-numbers replica. There's slightly caramelized cream in place of cheese, yes. But the crust is cracker-thin, there are verdant pools of puréed-parsley oil you'll want to dredge your fingers through, and there are no chiles. The chopped clams are seasoned with plenty of lemon, brightening them up and cutting into the heaviness of the cream.

Honorable Mentions
The Clam
420 Hudson St., at Leroy St.; 212-242-7420

As its name indicates, Mike Price and Joey Campanaro's upscale seafood restaurant, nestled into a quiet West Village corner, is all about bivalves. It doesn't look like your typical clam-pizza dive, and it doesn't serve your typical clam pizza, either: The dough is grilled and has a texture like a Carr's cracker, and it's topped with sweet, meaty clams and whipped ricotta that's cooked to a golden hue. Pickled chiles add a hint of heat, bringing more acidity and brightness to the table.
Denino's
524 Port Richmond Ave., nr. Hooker St., Port Richmond; 718-442-9401, and 93 Macdougal St., nr. Bleecker St.; 646-838-6987

Part of Staten Island's grand tradition of pizzeria-taverns, Denino's serves the borough's — and, by extension, the city's — most famous clam pizza. The Port Richmond original looks a bit like a 1950s social club, but the Manhattan outpost, opened on touristy Macdougal Street, looks more like a city pub. The crust is thin, befitting the island's bar-pie style, and it's topped with a mess of chopped clams, a blanket of mozzarella, and a not-insignificant amount of garlic.
Ignazio's
4 Water St., nr New Dock St., Dumbo; 718-522-2100

At this large but somewhat indistinct-looking restaurant in the shadow of the Brooklyn Bridge, the well-browned crust comes piled with chopped clams and garnished with a few slices of lemon for squeezing to spec. Served white, it's seasoned with oregano, parsley, and black pepper.
Milkflower
34-12 31st Ave., Astoria; 718-204-1300

A former laundromat retrofitted with an Italian oven, this Neapolitan pizzeria serves the cheekily named "Wu Tang Clam." Made with meaty cherrystones, it's punctuated with red rings of Fresno chiles, garnished with lots of garlic and leaves of parsley, and sprinkled with salty, nutty Grana Padano cheese.
Paulie's Pizzeria
500 Bay St., at Wave St., Stapleton; 718-981-5111

A North Shore newcomer on the Staten Island scene, Paulie's slings its pies both as a counter-service operator and at Eriggo's, the sparsely decorated red-sauce restaurant next door. The thin crust is practically buttery, an excellent complement to the sweet chopped clams. The pizza's only flaw is the watery diced tomatoes: Pluck those off and you're good to go.
Pizzetteria Brunetti
626 Hudson St., nr. Jane St.; 212-255-5699

This somewhat anonymous-looking West Village branch of the popular Westhampton Beach pizzeria points to its Long Island roots as evidence of the quality of its clam pizza. Here, the clams are chopped up and served like they're going out of style. The pizza is sauced with herbed garlic butter, the heady fat channeling the bivalves' flavor.