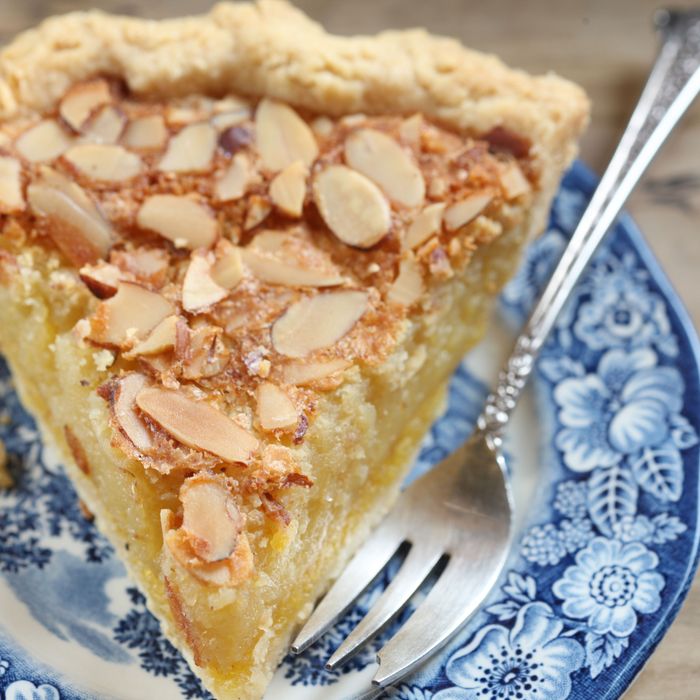 The pies at Petee's Pie Company deserve a cult following.
Photo: Melissa Hom
We've decided to wade through the piles of salted caramel Granny Smiths and lemon meringues to find the best pies in New York City.
1. Petee's Pie Company
61 Delancey St., nr. Allen St.; 212-966-2526
Petra Paredez started off with recipes borrowed from Mom's Apple Pie Company, her family's operation, which for decades has turned out thousands of ribbon-worthy baked pies from its home base in Virginia. At first, Paredez produced a faithful rendition of her father's almond chess pie at her excellent Lower East Side shop, until she came up with the idea to add a benthic layer of dark-chocolate ganache. She then sharpened the tart and buttery accents of the family's lemon chess pie, which manages to be perfectly flaky and gooey, usually in the same bite. The puffed-top chocolate cream is the shop's sleeper hit. It deserves a cult following, along with the banana cream, which looks like something out of a Wayne Thiebaud painting and has the deep flavor of caramelized fruit. The lineup changes, and often, with grass-fed butter, organic wheat, and seasonal fruit as the through line. Petee's, in fact, is not the kind of place that foists its (delicious) strawberry-rhubarb on customers at the first sign of crocuses. Paredez rolls out a plain, springtime rhubarb, followed by apple-rhubarb as ingredients become available; strawberries only enter the equation in late May or early June, depending on when the best ones hit the market.
2. Salvation Burger
230 E. 51st St., nr. Third Ave.; 646-277-2900
The whipped cream offsets the yellow grapefruit curd beneath it with a lone floral note of rosewater, and the gelled, barely set raw pink grapefruit underneath that pops with juice. The pâte sucrée packs a dignified wallop of butter, along with the sesame crumb, but sugar seems to be missing, or at least scarce. That none of the many-layered pies coming from April Bloomfield and pastry chef Audrey McCleod's kitchen are clobbered with sweetness is intentional. The milk and corn flavor components of the popcorn ice cream work out their subtle differences without interference from the Crunch 'n Munch–like base of caramel. Elsewhere, a hint of Sichuan pepper helps the super-creamy Meyer-lemon curd retain its bright citrus edge in the sugar-dusted fried pie. The restaurant's well-salted namesake burger is sometimes topped with the brash flavors of ramp butter, or magmalike taleggio. Maybe you should start with dessert first?
3. Four & Twenty Blackbirds
439 Third Ave., at 8th St., Gowanus; 718-499-2917
It was just a few years ago that wunderkind baking sisters Emily and Melissa Elsen started with little more than a killer caramel-apple, and a big bag of flaky salt to sprinkle atop their honey-custard pie. Now there are multiple Four & Twenty locations and pie pop-ups in L.A.'s hippest precincts, and expansion has been fruitful: There's a sweet and faintly bitter matcha pie, green like blanched broccoli, and wilder forays such as birch-beer float and minty chocolate julep. The chocolate chess still has a winning fudgelike texture, and the down-to-earthy honey-rosemary shoofly flavor continues to hit its sticky, herbal, and sweet notes in masterful succession. Moreover, watch those rims: The Elsen sisters continue to produce the finest crimp work found anywhere in the five boroughs.
4. Butter & Scotch
818 Franklin Ave., nr. Union St., Crown Heights; 347-350-8899
It's a fair bet that no place as simultaneously demure yet calorific as this exists in all of New York. Co-owners Keavy Blueher and Allison Kave specialize in handsome pies that happen to be relentlessly festive (key lime, blueberry-cranberry), or informed by booze (negroni, bourbon ginger-pecan), or both (grasshopper, eggnog). The s'mores, a Butter & Scotch cornerstone, benefits from a housemade graham-cracker crust and a wispy marshmallow layer that's spent some quality time near an open flame. On a recent night, two tough-looking guys in hoodies sat at the bar near the yellow-and-red neon "Eat Pie" beacon and devoured slices of negroni pie in rapt silence. They started giggling when asked if they were ready for their next course, something called the Mary Ellen, which consists of a hot-fudge sundae paired with a vodka martini.
5. Perfect Pie
Brooklyn Roasting Company, 25 Jay St., at John St., Dumbo; 718-514-2874
It's been mere weeks since this new company debuted a line of savory (duck-and-collards, turmeric-tofu) and sweet (apple, pecan) mini-pies at Brooklyn Roasting Company locations throughout Manhattan and Brooklyn. Thing is, though, these individual-size pastries — blind-baked and double-crusted — have been vetted by a long list of presidents, prime ministers, and popes. They are the work of Bill Yosses, the former White House pastry chef we've been following since his humbler days of chocolate-chestnut bread-pudding ramekins at Joe's Citarella. His plastic-wrapped and oven-safe paper pie "tins" may strike purists as disconcertingly non-tin-like, but rest assured the man President Obama (awesomely) dubbed "the Crustmaster" is cutting no corners with his post–1600 Pennsylvania Avenue endeavor. The dough is rolled by hand in a Long Island City commissary; the lattice work is exceptional. The huckleberries are West Coast and wild, and Yosses himself can't stay away from the convection ovens long enough to stop working on new ideas.
6. The Blue Stove
415 Graham Ave., nr. Withers St., Williamsburg; 718-766-7419
Guava has been known to make a guest appearance, and the chocolaty Carnie, which stacks whipped cream and caramel peanuts on a mousse layer, is the closest this underrated shop gets to a Momofuku-ifed candy-bar monstrosity. Flavors are blissfully stuck in a classic mode, for the most part: Key lime is served with old-fashioned citrus slices and an ornamental crown of cream florets; rhubarb gets dispatched into a custard base, and plums are cooked down with rose hips. The paired-off ingredients have a wholesome prewar charm, which probably has something to do with the owner's cache of recipes inherited from her grandmother. The oaty pear-ginger crisp is always on point, and sugar and fruit juices combine to form a dark syrup that spouts from under the crust at the height of blackberry-apricot season. In fancy kitchens, that glazelike eruption may be considered unsightly; here it's a wonderful point of pride, as it should be.