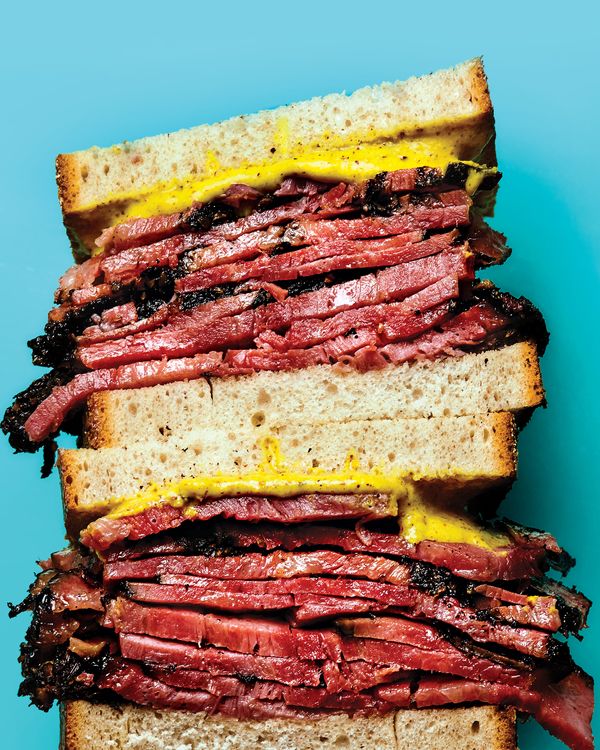 Katz's Delicatessen.
Photo: Bobby Doherty/New York Magazine
We've covered the Absolute Best Deli in New York during the course of compiling our Absolute Best database, and the Absolute Best Reuben in New York. Now, it's time to tackle what is arguably the most essential (and contentious) New York City dish of all. This ancient specialty is served not just in delis these days, but also in butcher shops and newfangled barbecues. Here are our current favorites.
1. Katz's Delicatessen
205 E. Houston St., at Ludlow St.; 212-254-2246
So what is it about this endlessly praised, perennial pastrami champion that puts it at the top of lists like this decade after decade, year after year, and —we're pretty sure if you went back and checked — century after century? Is it the beef itself, specifically the marbled belly or navel, which the line of proprietors, who've run this venerable Lower East Side institution for generations, have always favored over the tougher, more stringy cuts? Is it the time-honored, multistep, monthlong recipe itself — which has been handed down through the millennia, like some tattered family scroll — from the curing; to the steaming; to that salty, melting, dark-edged, thick-sliced pile of perfection that you see before your bleary eyes on the cutting board? Or is it the verisimilitude of the great old venue itself, with its nattering, genial countermen; its battered walls jumbled with the photos of half-forgotten sitcom stars; its rows of semi-communal tables set with pots of pickles and mustard bottles, as if for some blessed fresser gathering in the sky? The answer, of course, is that it's a little bit of all these things, which mingled together with some coleslaw, a furtive dash of Russian dressing, and a whiff of the room's ancient, weirdly intoxicating deli funk, elevates this great dish up into the great pantheon the New York classics.
2. Dickson's Farmstand Meats
Chelsea Market, 75 Ninth Ave., nr. 15th St.; 212-242-2630
Like at Katz's, the master butchers at this Chelsea Market nose-to-tail purveyor use the belly cut; and like Katz's, the pastrami is good enough to stand by itself without the usual fixings. The beef is brined, smoked, and steamed to a gentle softness, and served in refreshingly modest quarter-pound portions. But what rockets this lunchtime pastrami fix to the top of the charts is the ingenious post-modern packaging — which includes slices of Sullivan Street multigrain bread, deposits of un–kosher melted cheddar, and a schmear of apricot chutney, all flattened together in a newfangled panini press.
3. Pastrami Queen
1125 Lexington Ave., nr. 78th St.; 212-734-1500
This modest-looking Upper East Side establishment is descended from the famous old kosher institution, Pastrami King, late of Kew Gardens, and as the names indicates, the peppery, marbled, well-brined pastrami recipe remains the specialty of the house. Don't bother asking for the closely guarded family recipe ("What, you're thinking of opening your own pastrami joint?!), but if you enjoy a thicker slice for your sandwich, they'll hand-cut the meat, just like the old countermen used to do back in Queens.
4. 2nd Ave Deli
162 E. 33rd St., nr. Third Ave.; 212-689-9000
If you find yourself pining a little for the Carnegie Deli and don't feel like trekking down to Katz's, the pastrami at this Murray Hill facsimile of Abe Lebewohl's grand old East Village destination will do the trick. The pastrami is cured across the river at A to Z Kosher Meat; and although it's not as thickly sliced or as peppery as the blue-ribbon variety at Katz's, it's cut from the same fatty navel portion of beef. In old-fashioned deli tradition, it appears throughout the menu, mixed into omelettes and breakfast eggs, and even shaped into burger form.
5. Harry & Ida's Meat and Supply Co.
189 Ave. A, nr. E. 12th St.; 646-864-0967
The pleasurable, slightly chewy deckle pastrami at this quirky, post-millennial Alphabet City outpost gets extra points for smokiness and for the thick, generous hand-cut slices. It loses points for the quirky hipster vibe (more tables and pickle pots, please); and if you're a stickler for tradition, you may want to pass on the strange dill, anchovy-mustard, and caraway-bun-sandwich creation, and buy your product by the pound, to consume in the comfort of your own home.
Ben's Best
96-40 Queens Blvd., nr. 64th Rd., Queens; 718-897-1700
As with all ancient, mysterious curing and cooking processes, finding good pastrami is a matter of alchemy and timing, and the last time we dropped into this venerable Rego Park destination, the timing seemed a little off. If you're rambling through the far borders of Queens, however, there's no better place for an old-fashioned pastrami fix. For maximum fresser effect, try the vaunted and fearsome-looking "Pastrami Knishwich".
David's Brisket House
533 Nostrand Ave., nr. Herkimer St., Brooklyn; 718-789-1155
This famous Muslim-run deli in Bed-Stuy is supposedly known for its brisket, but go for the pastrami, which is brined then steamed several hours before serving. It stands up to any of the more fabled (and more expensive) deli pastramis around town. To taste the fatty, aromatic pleasures of this classic deckle cut, we suggest the regular-size sandwich on rye, although many of the regulars prefer the more commodious club roll — slathered with plenty of mustard, of course, and washed down with a can of Dr. Brown's Black Cherry on the side.
John Brown Smokehouse
10-43 44th Dr., nr. 11th St., Queens; 347-617-1120
The thick-sliced pastrami at this versatile, nouveau smoke house in Long Island City is measured out by weight (try the half-pound sandwich monster if you dare). The less fatty non-deckle cut is soft and well smoked, but also a tad stringy by local standards, so you may want to supplement your order with a pound or two of the fabulous burnt ends.
*A version of this article appears in the March 6, 2017, issue of New York Magazine.