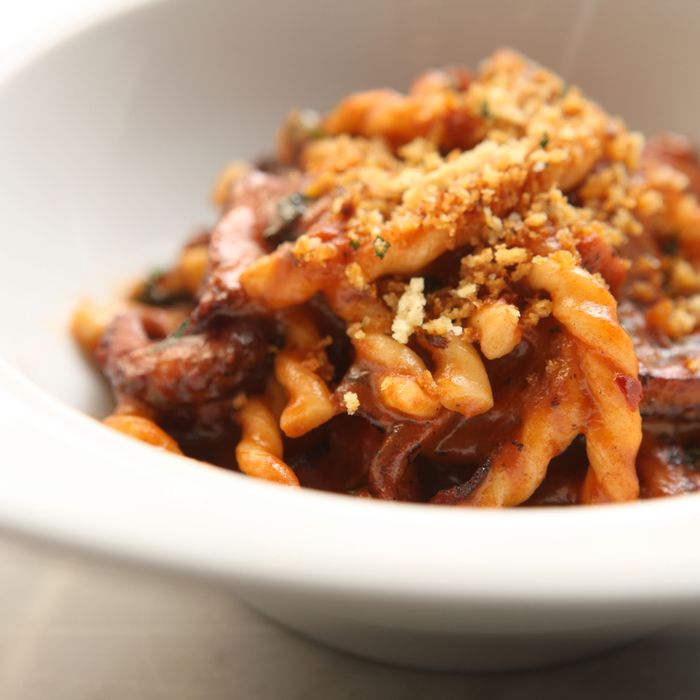 Tuck into a bowl of Marea's fusilli.
Photo: Melissa Hom
Finding the best pasta when there's so much of it everywhere isn't easy. Our methodology: Borrow Mario Batali's Babbo pasta-tasting-menu conceit and apply it DIY-style to a bunch of other restaurants' menus, which led to ordering as many as eight pasta dishes at one sitting, and elicited funny looks from fellow diners that ranged from bewilderment to revulsion to order-envy regret.
1. Marea's Fusilli With Red-Wine-Braised Octopus and Bone Marrow
240 Central Park S., nr. Broadway; 212-582-5100
Was the first person to tuck into a bowl of Marea's fusilli — like Jonathan Swift's bold oyster slurper — one badass gastronaut? Some people we know are scared to death of this dish. But when Michael White decided to perk up his ragù with purple cephalopod tentacles and the fatty tissue you'll find in the hollows of animal bones, he created an unlikely crowd-pleaser. What's so compelling about it is the juxtaposition of textures: the terrific chew of the hand-rolled fusilli distinctively shaped like little Twizzlers, the slight squish of the octopus, and the melting quality of the marrow scattered about like gelatinous croutons. And then there's the tomato-based sauce, emulsified with liquid marrow and tasting rich and earthy and briny all at once. Certain pasta shapes are forever linked in our minds with certain sauces: linguine with clam, bucatini with amatriciana, orecchiette with sausage and broccoli rabe. That wasn't the case with fusilli until Marea's red-wine-braised-octopus-and-bone-marrow ragù came along.
2. Del Posto's Bauletti
85 Tenth Ave., nr. 16th St.; 212-497-8090
The problem with a pasta list like this is that it would be pointless and incomplete, bordering on insane, without a Del Posto pasta dish on it, and the problem with this is that it's impossible to pick a single best Del Posto pasta dish. Every one of Mark Ladner's pastas is exceptional. There's not a dud or clunker or underachiever in the bunch. And if this were a ranking of the absolute best pasta menu in New York, Del Posto would be at the top. What we can do, however, is choose a current favorite, and that would be the bauletti. Bauletti, like cappellacci, are pasta ripiena, or stuffed pasta. If cappellacci translates literally as "shabby old hats," Mark Ladner's bauletti are more like jaunty Pharrell Williams chapeaux — tall, thin, supple dumplings filled to the brim with sheep's-milk ricotta, well coated with melted butter and grated black truffle. Like all of Del Posto's pastas, the bauletti are technical marvels, almost too beautiful to eat. But whatever you do, don't just sit and stare at them. Ladner has done his homework, having timed the cooking, saucing, and transport and delivery of a plate of bauletti from kitchen to dining room down to the millisecond. "If the timing is off," he says, "the bauletti will continue to absorb sauce and kill the balance." As the saying goes: Pasta waits for no one.
3. Lilia's Rigatoni Diavola
567 Union Ave., at N. 10th St.; 718-576-3095
Missy Robbins's simplest pasta is her best — housemade rigatoni fashioned from semolina and extruded in the shape of big fat commas. They're perfectly dressed — by which we mean thoroughly but sparely — and they exhibit the extra-firm but yielding texture one associates with the work of elite Italian grandmas. No wonder this pasta dish is Robbins's own favorite. "It's the one I want to eat every night," she says. Us too.
4. Porsena's Anelloni
21 E. 7th St., nr. Third Ave.; 212- 228-4923
Sara Jenkins could spoon her signature spicy lamb sausage and mustard greens over a plate of Ronzoni wagon wheels and the result would probably be good enough to find a place on this list. Instead, she uses an obscure pasta she smuggles in from Italy called anelloni — fat tubes of ridged pasta that wear their grooves on the inside, not the outside, and, as such, grip sauce in wonderful ways physicists once believed weren't possible. Rigatoni, penne rigate, and radiatori have nothing on anelloni.
5. Babbo's Garganelli
110 Waverly Pl., nr. Sixth Ave.; 212-777-0303
As is the case at Del Posto, singling out a pasta at Babbo that rises above the rest of the primi piatti is a fool's errand. But we'll go ahead and declare as the winner the garganelli with funghi trifolati — fresh egg-pasta squares folded into little, ribbed, Trump-size fingers and tossed with thinly sliced black trumpet mushrooms sautéed with garlic and parsley. If you don't believe us, try Mario Batali's great gift to pastavores, Babbo's five-pasta-strong pasta tasting menu, and see for yourself.
6. Osteria Morini's Spallina
218 Lafayette St., nr. Kenmare St.; 212-965-8777
Spallina ("epaulette" in Italian) is what Osteria Morini calls its double ravioli — two separate rectangular pockets of handmade egg pasta fused together so that one side houses a gamey mince of rabbit meat, the other the soft white cheese from Emilia-Romagna called squacquerone. Why they don't just mix the meat and cheese together into a single raviolo pouch, we don't know. Maybe there's an Italian cooking rule forbidding it. Or maybe the inventor of this pasta didn't like different foodstuffs touching each other on the plate. Origin notwithstanding, the pasta finds delectable expression at Morini, whose kitchen drizzles it with a veal reduction and showers it with fresh favas. When it comes to spallina fillings, never the twain shall meet — and we're okay with that.
7. Esca's Gnocchi
402 W. 43rd St., at Ninth Ave.; 212-564-7272
We've eaten our fair share of gnocchi in our time: the delicate morsels Marco Canora makes from Idaho potatoes and drowns in sage-infused butter at Hearth, the Franks' denser but equally delicious gnocchi alla marinara at Frankies Spuntino, the ricotta puffballs Ignacio Mattos serves with mushrooms at Estela, and Jody Williams and Rita Sodi's Gorgonzola-sauced flavor bombs at Via Carota. And let's not forget April Bloomfield's fiendishly good gnudi at the Spotted Pig, which are technically not gnocchi but in the same family. These are all Italian dumplings of the highest order and delicious things to eat. But if we were forced to pick one plate of gnocchi, our desert-island gnocchi, if you will, it would be the gnocchi di ricotta Dave Pasternack makes at his Italian seafood restaurant Esca — little lumps of dough shaped like wine corks in a bright tomato sauce mingled with cubes of buffalo mozzarella and garnished with fresh basil. Pasternack credits the sheep's-milk ricotta he gets from Old Chatham Sheepherding Creamery, but there's something to be said for technique, too, not to mention a trace of irony. Who'd have thought the best pasta at a piscine shrine would be the only one without seafood?
8. Ribalta's Spaghettoni al Pomodoro
48 E. 12th St., nr. Broadway; 212-777-7781
"Don't drive or operate heavy machinery when you're angry" is a given. Cooking may be another matter. When native Neapolitans Rosario Procino and Pasquale Cozzolino discovered that the version of spaghetti pomodoro that Scott Conant popularized at L'Impero and later Scarpetta contained the heretical addition of butter, and, insult to injury, was widely perceived by the local yokels to be the last word on the subject, they were pissed. Butter and tomatoes go together, Procino and Cozzolino say, like Yoo-hoo and 18-year-old Scotch. So what did they do? They issued an official rebuttal in the form of a finely tuned purist rendition of their own: a sauce-gripping spaghettoni from dried-pasta mecca Gragnano, tossed with basil and a rare variety of preserved cherry tomato of such spectacular Mt. Vesuvius–grown flavor that San Marzanos cower in its presence. One bite changes everything you thought you knew about spaghetti and tomato sauce.
9. Sandro's Spaghettini al Limone
306 E. 81st St., nr. Second Ave.; 212-288-7374
No one cooks classic Roman like that master of the pasta pot Sandro Fioriti. It's to his plainspoken Upper East Side dining room that connoisseurs repair for bona fide bucatini all'amatriciana and spaghetti cacio e pepe. But his signature pasta, oddly enough, is said to derive from more southern precincts (unless you ask Sandro, who says he invented the dish himself). He tosses the skinny spaghetti called spaghettini with a sunshine-bright mix of lemon juice and zest emulsified with cream, and blitzes it with a furious grating of Parmigiano-Reggiano. It's sweet; it's salty; it's rich; it's clean. To the eye and palate, it's shockingly simple, but no less stunning for it.
10. Bar Primi's Linguine, Four Cloves of Garlic, Bread Crumbs
325 Bowery, at 2nd St.; 212-220-9100
Despite the boasty, gauntlet-throwing menuspeak (four cloves of garlic!), this is a classic aglio, olio e peperoncino — perhaps the simplest pasta dishes in the history of pasta dishes. The reason it's on this list? It's the best aglio, olio, e peperoncino we've ever had.