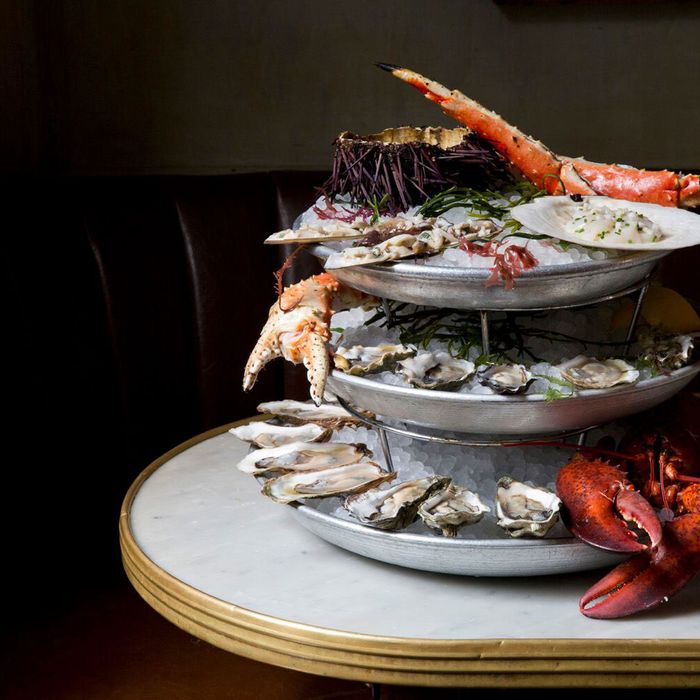 Attention to detail is the name of the game.
Photo: Courtesy of Maison Premiere
When it comes to raw bar, the city is awash in various crudos and fluke carpaccios, plenty of lobster-claw cocktail, and, of course, a mess of clams and oysters. The best of the bunch, however, are either high-volume operations like Grand Central Oyster Bar, or venues like Greenpoint Fish & Lobster Co., which uses a smaller scale and commitment to sustainability to its advantage.
1. Maison Premiere
298 Bedford Ave., nr. Grand St., Williamsburg; 347-335-0446
Fresh fish is essential, but equally important in finding a great raw bar is how well the restaurant handles the product. (You want a place where oysters are always kept cup side down, for example, not sticking up like tombstones through the ice.) At Maison Premiere — known for its popular absinthe and shellfish happy hour, and a comprehensive oyster selection — Lisa Giffen's kitchen does a bang-up job with shucking, so oyster hinges are snapped cleanly. Grit is minimal, adductor muscles are neatly lopped, and bellies are intact. There's attention to detail, in other words. Giffen spent time at Adour, Alain Ducasse's plush and defunct midtown dining room, which might explain her love of composed add-on dishes, not to mention condiments that go beyond basic cocktail and tartar sauces. Chilled half-lobster, for example, is served with aioli that smacks of tarragon and pulverized lobster roe.
2. Aquagrill
210 Spring St., at Sixth Ave., 212-274-0505
Perhaps because of its perpetual high marks in guidebooks, Jennifer and Jeremy Marshall's corner seafood spot, which turned 20 this year, is often pegged as a restaurant for tourists, but it's also a familiar sight for locals: While the surrounding Soho neighborhood is in constant flux, Aquagrill's menu has changed very little. Most important for the purposes of this list, the raw bar, where plenty of shucking takes place in plain sight, is as well-kept as ever. West and East Coast oysters tend to get equal representation, with profiles that run the gamut from tangy, briny, creamy, buttery, and beyond. Dayboat striped bass is diced and served raw, and local periwinkles and whelks make guest menu appearances, just to keep regulars on their toes.
3. Grand Central Oyster Bar
89 E. 42nd St., at Vanderbilt Ave., 212-490-6650
The iconic space has no equal, and the vaulted Guastavino tiles are still stunning. Visit this urban miracle of a subterranean dining room during rush hour, when commuters move in streams, and slurp great shellfish amid the hustle. There's a massive variety of oysters, but don't overlook the clams: Littlenecks from Long Island Sound are small and sweet, and cherrystones are the genuine thing, big and briny.
4. The NoMad
1170 Broadway, at 28th St.; 212-796-1500
Daniel Humm's "Grand Plateau" bears little resemblance to any other shellfish tower in town. It is, in fact, a handful of dressed-up seafood options presented on ice. There's always a half-shell oyster, such as a Beau Soleil, with a frozen mignonette; and the bay-scallop ceviche always teeters between nutty pistachio and yuzu. Other one- or two-bite dishes might include a small mound of lobster meat, dressed with spicy mayonnaise and served in a canoe of hollow lobster shell. Cubes of raw hamachi get a bracing shave of horseradish and a splash of bitter green olive oil. Sea urchin usually appears in the form of a creamy royale, with green-apple gelée and a top-off of caviar. Or, other nights, it might appear as a little lobe on its own.
5. Cull & Pistol
75 Ninth Ave., nr. 15th St., 646-568-1223
It may not look it, but the forebears of this unflashy Chelsea Market restaurant are old public-market stalls and ancient oyster houses. Its connection to the Lobster Place, literal and otherwise, is a guarantee that product moves quickly (essential for freshness), and the half-shell selections are solid: Littlenecks from Long Island, topnecks from Maine, and oysters from all over. Milky sweet sea scallops are shucked to order, then dressed with yuzu and black salt and served in a blanched-white scallop shell that's as wide as a saucer. Gulf shrimp cocktail and Jonah crab claws are also in abundance. Order a side of sourdough, baked by Amy's Bread just across the hall, and add on a side of uni butter.
6. Grand Army
336 State St., at Hoyt St., Boerum Hill; 718-422-7867
Perhaps in a nod to co-owner and bartender Damon Boelte's bottles of cocktail bitters, oyster platters at this Boerum Hill bar arrive with condiments in tiny bottles topped with eye-droppers, for those times when you want your mignonette dispensed with extreme precision. The popular neighborhood spot also serves a $70 Bloody Mary that's actually a blockbuster package, with two cocktails and two "sidekicks" of pilsner, but, more important, it also comes with deviled eggs, oysters, clams, shrimp cocktail, and some peekytoe crab. Truly, the deal is the best melding of shellfish and tomato juice since the advent of Clamato.
7. Greenpoint Fish & Lobster Co.
114 Nassau Ave., at Eckford St., Greenpoint; 718-349-0400
The sustainable fish market and galleylike restaurant excels with smoked mussels on toast points and a daily crudo, which often takes the form of wispy thin slices of flatfish covered with a spare dressing of olive oil, salt, and citrus. The bivalve selection skews East Coast, as it should, and includes Plymouth Bays, Montauk Pearls, and Noank oysters, which are from Fishers Island Sound. Spiky urchin, which in general has a very short window for freshness, is sometimes offered as a special that's scooped to order. And the dollar-oyster happy hour is as good a deal as you'll find, with the addition of clams, plus $5 beer and cider.