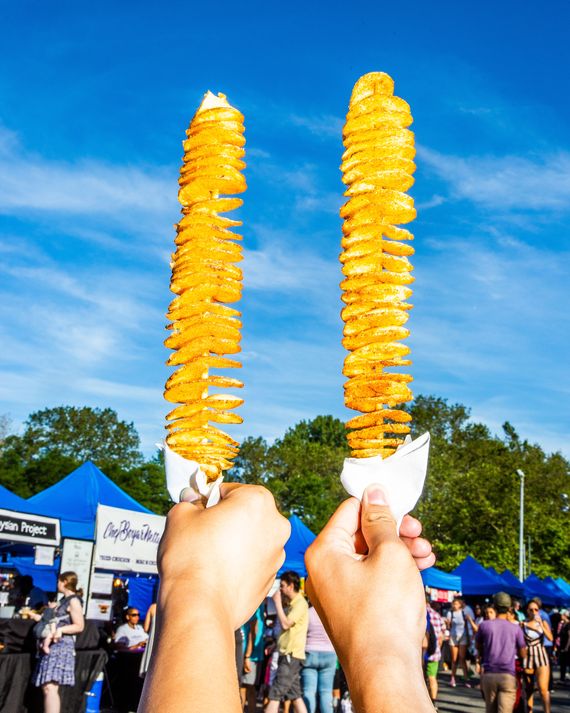 A little bit of everything at Queens Night Market.
Photo: David Williams for New York Magazine
Food tastes better outdoors. No one really knows why. Something to do with happy childhood memories of summer vacations, camping trips, and Mister Softee? Or maybe heightened organoleptic senses, and the ecstatic effect of ozone molecules on neural colonies, as an article we once read in a food journal suggested? Whatever it is, everything tastes pretty great when seasoned with sunshine, fresh air, and blue skies. New York, however, is not exactly known as a mecca for outdoor dining. We have sidewalk garbage mountains, after all, plus strutting pigeons, pizza-eating rats, chronic horn honkers, and ambulance sirens competing on a regular basis with sunshine and blue skies for the attention of our neural colonies.
Which is not to say that outdoor dining in New York, especially during the high season, isn't a worthwhile pursuit. Sometimes you just have to adapt to the situation at hand, as we did the other day while eating lunch at one of Greenwich Village's most popular sidewalk cafés. When a Cat 277D multiterrain loader began doing donuts in the construction site ten feet from our table, and generally behaving as if it were auditioning for a monster truck rally, we simply tightened the straps of the hard hats and goggles provided to us by the maître d', adjusted our Bose noise-canceling headphones, and ate our burrata.
But dining alfresco in New York is no joke. Where else, for instance, can you nosh a hot dog at the place (the Coney Island boardwalk) where hot dogs originated? Or slurp an Italian ice from a 75-year-old ices outfit while watching a serious bocce match in an outdoor public space called Spaghetti Park? Or tuck into some West African fufu by a body of water known as a meer, which means "little sea" in Dutch? In the list that follows, we've ranked alfresco eating experiences, both new and old, factoring in not only the deliciousness of the food but also the summery excellence (or at least distinctiveness) of the environment in which you eat it. Because when it comes to dining outside in New York, context is like umami: a major flavor enhancer.
1. A Little Bit of Everything at Queens Night Market
47-01 111th St., Corona; queensnightmarket.com
Five years in, this Saturday-night food fair has established itself as a bona fide rite of summer in the city, like the Coney Island Mermaid Parade or Shakespeare in the Park. Thanks to the vision of founder John Wang, who wanted to conjure the excitement and abundance of Taiwanese night markets in New York's most diverse borough, there is now not only a Queens Night Market but copycats in Jersey City and the Bronx. Queens is still the one to beat, though, on account of the serene setting (behind the Hall of Science in Flushing Meadows–Corona Park), the crowd (diverse in age and ethnicity), and especially the food — a belt-loosening lineup that ranges from favorites Burmese Bites and Joon Persian rice cups to hopeful newcomers like Berg's Pastrami, which smokes its own meat and slings first-rate half-sandwiches on Tom Cat Bakery rye. While it's true that many vendors display a street-fair-ish predilection for frying (Puerto Rican rellenos de papa, Czech langosh, Taiwanese popcorn chicken, Twisted Potato's spiralized spuds), everything tastes great. And the market's distinctive atmosphere derives as much from the magical transition from day to night — enhanced by live music, beer and wine, and actual grassy hills seemingly devised by nature for lounging — as from the juxtaposition of Moldovan cheese doughnuts, Syrian kibbeh, and Filipino halo-halo.
2. Fried Calamari at a Coastal Clam Bar
Randazzo's Clam Bar, 2017 Emmons Ave., at E. 21st St., Sheepshead Bay; 718-615-0010
Randazzo's speaks Italian with a Brooklyn accent, so calamari is "galamah," as the servers' T-shirts proclaim. And though some may say the special sauce at this venerable clam bar is, indeed, its special sauce — a high-octane tomato gravy that comes in hot or medium and vastly improves everything it comes in contact with, galamah included — we'd argue that a meal here derives as much flavor from the proximity of Sheepshead Bay across Emmons Avenue. You can catch a glimpse of the waterway from the picnic tables that flank the building, but for the full effect, take a stroll down Pier 10 or a walk across the Ocean Avenue footbridge to Manhattan Beach to work off some calories and observe the flocks of southern Brooklyn geese, swans, ducks, and pigeons stake their respective aquatic turf.
3. Pie on a Stick on a Pier
Steve's Authentic Key Lime Pie, 185 Van Dyke St., nr. Van Brunt St., Red Hook; 718-858-5333
Before there was cake and cookies on top of milkshakes, there was pie on sticks. Not just any old pie but Steve's Authentic Key-lime pie — a carefully calibrated mix of egg yolks, condensed milk, and freshly squeezed lime juice on a graham-cracker crust that plays out on your palate like a sweet-tart Ping-Pong match. One day, the brains behind Steve's, a visionary named Steve Tarpin, got the notion to skewer a mini-pie with a Popsicle stick, dip it in chocolate, and put it in the freezer, thereby creating something so delightfully weird and absurdly delicious it should be declared a national treasure. Tarpin called it a Swingle after Walter Tennyson Swingle, a not-so-famous citrus-obsessed American botanist. You can find Steve's pies in a number of stores and restaurants, but you can score a Swingle only at Steve's headquarters in a former warehouse on the Red Hook waterfront. Getting there from the subway is a serious stroll but part of the fun (taking a ferry's great, too). So is eating your Swingle outside the bakeshop at the adjacent Louis Valentino Jr. Park and Pier with the breeze blowing up off the water, the waves gently lapping the shore, and, as you squint your eyes upward, the sun looking not unlike a giant Steve's Key-lime pie in the sky.
4. Cevapi With a View of the Chrysler Building
Anable Basin Sailing Bar and Grill, 4-40 44th Dr., Long Island City; 646-327-1058
Fried clams and raw oysters. Lobster rolls and fish burgers. Maybe a nice zuppa di pesce. That's the stuff you're supposed to eat when dining alfresco along the waterfront, as if the seafood you're swallowing had been only moments ago splashing happily about in the very water you're gawping at. But Anable Basin Sailing Bar and Grill, a laid-back, picnic-tabled, under-the-radar Shangri-la named for its location at the mouth of the Long Island City industrial inlet, is a red-meat kind of place. The things you eat here are grilled kielbasa, skirt steak, chorizo, and especially cevapi — rustic Bosnian beef-and-lamb sausages the size of cocktail franks shoved into pita pockets with raw onion and the red-pepper relish ajvar on the side. Pair them with a dry white Zilavka or a medium-bodied Blatina, both from Bosnia and Herzegovina, to keep the Balkan theme going.
5. Tacos al Pastor From an Elusive No-Name Food Cart
Junction Blvd. at Roosevelt Ave., Corona, after 10:30 p.m.
The stretch of Roosevelt Avenue — or as Spanish speakers often call it, La Roosie — that runs through Jackson Heights and Corona below the elevated 7 train has its own late-night economy of Latin American food trucks and carts, many of them clustered around the Junction Boulevard stop. There, on the northwest corner of Junction and Roosevelt, in front of PL$ Check Cashing, lurks greatness: an unnamed cart where Mexican-food maestros carve ruddy morsels of crispy achiote-stained pork onto tiny tortillas from a gigantic cone of stacked pork-shoulder slices that spits and sizzles as it rotates. You will know it by its heat source — a flaming inferno that crisps the outer surface of the meat so effectively there's no need to finish the slivers on the griddle, as neighboring vendors are wont to do. It's the reason that roving food nerds, homesick post-shift line cooks, local families, and late-night revelers all flock to Mario Cruz's cart for the best al pastor outside Mexico City. "Cuatro por cinco, cuatro por cinco," Cruz calls out, as his wife, Antonia, presses fresh-masa tortillas and their son Omar slices the pork off the trompo. The finishing touch on each single-tortilla taco is a small piece of pineapple expertly flicked from the top of the cone, a bit of street theater that plays out to a lively audience until 2 a.m. weekdays and even later on Friday and Saturday nights. —Joe DiStefano
6. Peanut Butter Ice and a Bocce Match
The Lemon Ice King of Corona, 52-02 108th St., Corona; 718-699-5133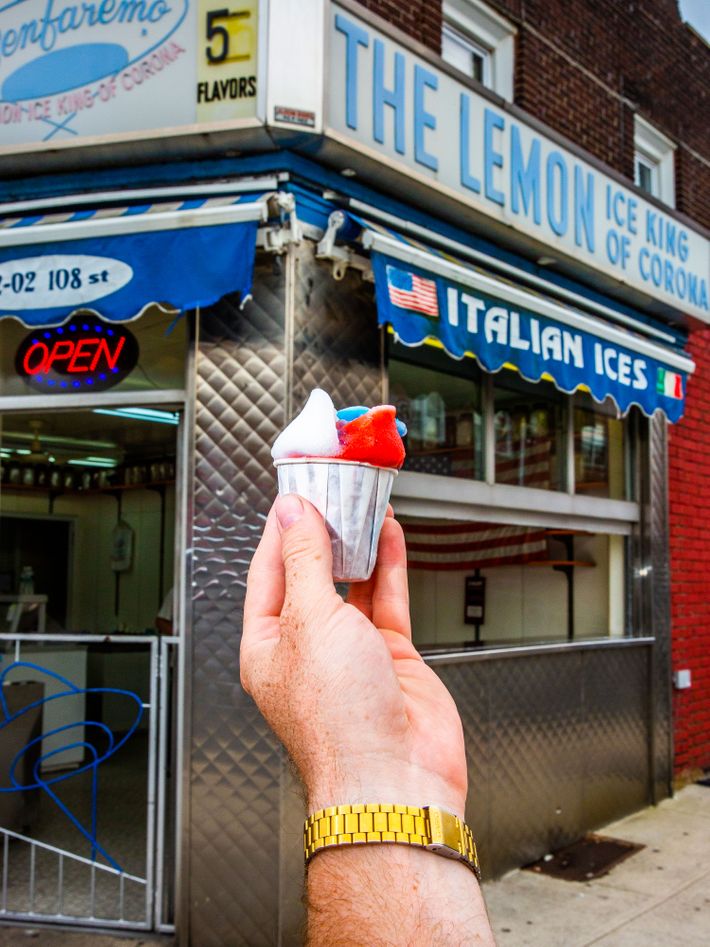 A summer-in-the-city ritual like no other: You step up to the blue-and-white-awninged stand, an incongruously beachy year-round setup. You read the old sign behind the counter, "We do not mix or exchange ices," and wonder who would try to return a $2 half-licked Italian ice? Then you choose from a handwritten menu of 50 flavors. If you're a traditionalist, you pick lemon, if you're in the know, you go for peanut butter. If you're an old-school Sinatra fan, you get Frank's favorite, fruit cocktail. And if you really know what you're doing, you wave away the offer of a plastic spoon because spoons are for amateurs, and Peter Benfaremo, the late Lemon Ice King who started the business in 1944, did not do spoons. When all this is settled, you cross the street to watch the bocce players at the leafy William F. Moore pocket park, a.k.a. Spaghetti Park, which at night is about as romantically lit as a Keith McNally brasserie. The crack of a bocce ball connecting with its target, the collective slurp of ice slurpers slurping — this is the sweet, syncopated sound of summer in Corona.
7. Special Pondicherry Dosa Next to the Mounds of Washington Square Park
NY Dosas, Washington Square Park S., at Sullivan St.; 917-710-2092
You need a certain level of dedication to land a dosa from Thiru Kumar's vegetarian food cart. The line is long and slow, made more so by Kumar's celebrity status and the Sri Lankan native's willingness to interrupt the steady griddling, stuffing, and rolling of his lentil-and-rice crêpes to pose for pictures with his giddy fans. Savvy regulars have been known to bring a snack to stave off hunger. Once within breeze-wafting distance of the scent of his masala spice mix, potential customers become focused on the task at hand, maybe too focused. On a recent afternoon, an escaped poodle from one of the dog runs threatened to meet its doom by running in erratic circles while yipping hysterically near the heavily trafficked street right by the cart. None of the dosa addicts in line — however conflicted by their duty as good Samaritans versus their desire to get their dosas — dared break formation to help the poor pooch. (We're happy to be able to report that, after a tense minute or two, Fifi was rescued by its owner, narrowly averting the French poodle version of the Kitty Genovese story.) So yes, Kumar's cooking is good enough to corrupt one's moral standards, and also cheap — everything under $10, in deference to the NYU students who make up much of his clientele. The Pondicherry dosa is the best seller: a crisp but tender crêpe encasing soft, highly seasoned potatoes, a crunchy heap of vegetables, and dried-coconut flakes, served with small cups of coconut chutney and lentil soup. Add a samosa if you're really hungry, and if the park's too crowded, sneak into the leafy courtyard of NYU's law school across the street for a bit of serenity along with the spice.
8. Nine Pain-Free Picnics in Manhattan's Glorious Backyard
A lazy picnicker's guide to the best takeout victuals to bring to Central Park, and the most idyllic places to eat them.
Bánh Mì at the Great Hill (1)
Provisioner: Saiguette (935 Columbus Ave., at 106th St.), a bustling little Vietnamese takeout shop, makes the biggest bánh mì on the Upper West Side, maybe the city. It takes two wooden skewers to hold one together, and could give a 2nd Ave Deli triple-decker an inferiority complex. Which is not to suggest that these substantial specimens aren't meticulously crafted, well balanced, and perfect fare for a trencherman's picnic.
Provisions: You want the 39-F bánh mì ("Grilled Juicy Boneless Chicken Thigh"), or the 39-J (the classic pâté-and-pork-terrine arrangement); either way, one bánh mì is enough for two hungry picnickers. Get some ginger iced tea to wash it down.
The Spot: On a sunny summer afternoon, this open hilltop meadow almost looks like something out of The Sound of Music. It's the third-highest peak in the park, and the No. 1 place to eat an outsize bánh mì under a massive American elm tree. Enter at W. 106th St.
Rotisserie-Chicken Dinner by the Banks of the Pool (2)
Provisioner: Malecon (764 Amsterdam Ave., nr. 97th St.), the West Side chainlet and Dominican-comfort-food specialist, is known for its garlicky roast chicken and a zingy house green sauce that will knock your socks off.
Provisions: A whole roast chicken, cut into picnic-friendly pieces, comes with one side: You want the yuca (boiled or fried) or the potato salad. Also great for a Poolside picnic: octopus salad.
The Spot: Weeping willows, grassy banks, twittering birds, and rambunctious turtles — what more could you ask for in a picnic ground? The Pool is as bucolic as a man-made park gets. Enter at W. 100th St.
Cold Sesame Noodles at the Pinetum (3)
Provisioner: The Upper West Side branch of Philly-based Sichuan dynamo Han Dynasty (215 W. 85th St., nr. Broadway) has a kitchen so speedy your bag will be at the host stand almost before you put away your wallet.
Provisions: Chinese food might not seem the most obvious choice for a déjeuner sur l'herbe, but hot days were made for cold noodles, either sesame or chile-oiled … and Cold Ginger Sour String Beans, and Cold Spicy Crispy Cucumbers.
The Spot: Arthur Ross was a philanthropist with a passion for pines, and his Pinetum, just above the Great Lawn and below the Reservoir, is furnished with picnic tables; planted with evergreens of various shapes and sizes, from short and scrubby to tall and towering; and suffused with the vague but pervasive atmosphere of a sleepaway camp in Maine. Enter at W. 85th St.
Asian Lamb Gyro at the Heckscher Ballfields (4)
Provisioner: Bang Bar (10 Columbus Cr., at 58th St., third fl.), David Chang's shrine to griddled flatbreads and spit-carved meats, and an actual bargain right there in the fancy Shops at Columbus Circle.
Provisions: The U sandwich, so named for its curved shape and neatly stuffed with spicy pork, chicken, or our current favorite, marinated lamb with cabbage and pickled onions. The place is mostly takeout, so it's all eminently portable, and if you need an infusion of vegetable matter with your Changified street meat, get a side of sesame-sprinkled shishitos.
The Spot: In the bleacher seats at ballfield No. 5, which happens to be the shadiest, while watching a typically rousing softball game. Enter at W. 60th St.
Sunday Bagel Brunch at the Hallett Nature Sanctuary (5)
Provisioner: Freds of Barneys (660 Madison Ave., at 61st St.) is known for its ladies- (and gentlemen-)who-lunch salads, its first-rate french fries, and its celebrity-ridden crowd. For its bagels, not so much — though they are some of the best, thanks to chef Mark Strausman's fanatically old-school approach.
Provisions: Straussies, as Strausman calls them, are on the small side with a glossy sheen, a firm chewy crust, and great flavor, in both everything and plain varieties. Preorder a dozen by Friday for pickup Sunday morning (the only day they're available), along with house-cured lox and scallion cream cheese.
The Spot: The four-acre woodland that recently reopened to the public after an 83-year hiatus is just steps off Central Park South but feels like one of the park's (and the city's) most remote corners. It's crisscrossed with hilly trails that end in scenic overlooks with ornate wood benches, but try to find the rocky promontory perched over a waterfall trickling into the pond below; it's fed by pumps hidden in the rocks, just one of Central Park's man-made forces of nature. Enter at E. 60th St.
Chicken Over Rice at the Dene Slope (6)
Provisioner: Tony Dragon's Grille, a food truck parked at the corner of Madison and 62nd Street, smack-dab between an Hermès and a Brioni, is like a Greek diner on wheels.
Provisions: The spécialité de la truck is a groaning, $10 tinfoil platter of juicy chargrilled chicken breast served with fluffy yellow rice, a crisp romaine salad, and a good drizzle of homemade tzatziki over the whole shebang.
The Spot: The Dene Slope was recently a bit of a weed-stricken mess. Now restored to its native-meadow grandeur, it's fairly festooned with wildflowers, tall grasses, buzzing bees and fluttering butterflies, and makes an excellent spot for a picnic. Follow the wood-chip trail to a rustic bench or take a seat on a patch of ancient bedrock. Enter at E. 64th St.
Tuna Tramezzini at Cedar Hill (7)
Provisioner: Sant Ambroeus (1000 Madison Ave., nr. 77th St.), the Milanese pasticceria-confetteria-café and all-around UES social center, is a great source for tiny Italian sandwiches that, like German citizens with 32 weeks of vacation time, travel well. They also pack the sandwiches in bags that are so sturdy and fetching you may consider finally ending your unhealthy relationship with your Duane Reade shopping tote.
Provisions: Get an assortment of grade-A tramezzini (don't miss the Nostromo: tuna-and-egg salad), plus panini on superb little house-baked buns filled with everything from mortadella to vegetable frittata. For dessert, the flourless chocolate-walnut cookie is the way to go.
The Spot: With its manicured lawns, ring of red cedars, and the wafting scent of SPF-75, Cedar Hill is a pastoral picnic oasis seemingly built for unbridled panini nibbling. Enter at E. 79th St.
Dominican Pasteles at the Conservatory Garden (8)
Provisioner: East Harlem–based artist Julio Valdez opened Cafecito del Arte (181 E. 108th St., nr. Third Ave.) last fall in a building he converted to art studios, serving coffee along with Argentine-style baked empanadas and the tamaleslike pasteles en hojas of his native Dominican Republic. To lure customers to the side-street location, he scrawled a trail of inconspicuous chalk signs on sidewalks and scaffolds like so many bread crumbs.
Provisions: Pasteles made according to Valdez's family recipe combine white yautia, green plantains, and green bananas in the dough, which is studded with beef or chicken, wrapped in plantain leaves, tied with string, and boiled until set. Supplement with a spinach empanada encased in a flaky "integral" (whole wheat) crust.
The Spot: Of the Conservatory Garden's three distinctly landscaped spaces, we're partial to the English-style South Garden — not only for its lush plantings but for the tranquillity of the "garden room" in its center, and the shade of its giant Japanese crabapple tree. There may be no more blissfully serene sanctum in town. Enter at E. 105th St.
Fonio and Fufu at the Harlem Meer (9)
Provisioner: Teranga, at the Africa Center (1280 Fifth Ave., at 110th St.), gives Pan-African cuisine the fast-casual-bowl treatment and does it with such verve, panache, and skill you may look anew at that played-out genre of the modern food world.
Provisions: Everything is great, from the ginger juice to the hot sauce, but we get extra emotional about this DIY combo: jollof fonio (milletlike grain cooked with tomatoes and chiles); Moroccan-spiced roasted salmon; fufu (a spongy, supersized dumpling of sorts made from pounded plantain and red palm oil); and egusi (the best collard greens we've ever eaten).
The Spot: The beautiful meer (Dutch for "little sea"), with its abundance of park benches and inviting Dana Lawn, is so close to Teranga it virtually functions as sidewalk seating. Enter at E. 110th St.
9. Shrimp Cocktail Outside a Queens Bodega
La Esquina del Camarón Mexicano, 80-02 Roosevelt Ave., Jackson Heights; 347-885-2946
Since we last dropped by Roosevelt Deli Grocery Corp., management spruced up the joint, replacing a cramped shelf or two with spiffy new tables and chairs. These, alas, are for the benefit of customers filling out Lotto slips, not those partaking of the excellent seafood antojitos that emerge from La Esquina del Camarón Mexicano, the independently run hidden kitchen that Pedro Rodriguez rents in the back of the bodega. But don't despair: The best place to satisfy a craving for his handiwork is outside anyway, at the sidewalk stand he mans on weekends. That's where he can be found communing with fans while dispensing plastic cups brimming with chewy octopus and firm shrimp submerged in a sweet and briny tomato-based sauce enhanced with clam juice and orange. Crumble some saltines on top, as tradition dictates, and stake out a spot on the single bench along the wall. You may not be transported directly to the coast of Veracruz, but you're unlikely to find a more invigorating bite on a hot summer afternoon anywhere in the vicinity of the Corner of the Mexican Shrimp.
10. Pizza en Plein Air
In praise of the outdoor pie.
Technically speaking, the act of wolfing a slice of pizza while tottering along city sidewalks trying to prevent dribbles of hot orange grease from splattering your Birkenstocks could be classified as a form of outdoor dining. But alfresco pizza eating during the sunny season should be a more leisurely pursuit, preferably one that involves comfortable seats and shady trees or umbrellas. Happily, there are a few excellent places to practice this fleeting pastime. One is Adrienne's in Fidi (54 Stone St.), where the thing to get is the "old-fashioned" pan pizza (a.k.a. grandma pizza), and the place to get it is outside the restaurant in the middle of the street, which is quaint, cobblestoned, communal-tabled, and closed to traffic.
Another is Saraghina in Bed-Stuy (435 Halsey St.), where the crust on the Neapolitan pizza exhibits a range of appealing textures, from crisp and chewy to light and airy, and the tranquil garden out back successfully mingles the barnyard with the junkyard. And then there's Roberta's (261 Moore St., East Williamsburg). The last time we dined alfresco here, it took about 12 conversations with ten eccentrically costumed servers before our margherita arrived at our picnic table, by which time we had grown a full beard and seemingly aged five years. Now this place runs like a Swiss watch: You place your order at the assembly-line takeout annex down the street and return at the appointed time. Then you toddle over with your pizza in tow to the adjacent and spacious tiki-bar patio, where you can wash down your pie with an Aperol spritz in a plastic cup. If you want the ultimate pizza-en-plein-air experience, though, you've got to travel farther south and also back in time, to the holy grail of the Sicilian square, to L&B Spumoni Gardens in Gravesend (2725 86th St.), where the scene on a recent Saturday night was like American Graffiti meets GoodFellas with a little Fellini thrown in for good measure. The square pie is probably as good as it was when Ludovico Barbati debuted it some 80 years ago. But what's great and amazing about L&B Spumoni Gardens, besides the name and the pizza and the ritual and the fact that it's essentially a slice joint with a parking lot, is the very idea of L&B Spumoni Gardens. How could such a wonderfully weird place ever exist? Imagine if it never did, and some budding young gastropreneur were giving a Shark Tank–like group of investors the elevator pitch today: "Just picture it: Sicilian pizza but—get this—with the cheese under the sauce, sold by the slice or whole pie from separate takeout windows, and eaten in what looks like a beer garden with the feel of a '50s-era drive-thru burger joint, named after an Italian immigrant and the horse that pulled his food wagon. Plus, of course, spumoni."
11. A Spanish Flautas Picnic on the Upper High Line
Mercado Little Spain, 10 Hudson Yards, Tenth Ave. at 30th St.; 646-495-1242
Is it possible to find a bit of peace and quiet at the intersection of two of New York's most overrun tourist attractions? Yes, at least for the moment, until the hordes eventually make their way to the High Line's final section, the Spur, which, quite conveniently for picnic purposes, extends above Hudson Yards' sprawling new Spanish market, Mercado Little Spain. Foodwise, there may be no more inherently portable a sandwich than the 18-inch-long flautas at the market's Jamón & Queso kiosk, each compact, baton-shaped loaf rubbed with tomato pulp and tidily filled with a different venerated form of Spanish pork product (or Manchego cheese). Grab two and a couple of juice containers of smooth and tangy gazpacho from Frutas & Verduras across the hall, then head up to the Spur, which is part public piazza (with bleachers and benches) and part art gallery. Or if you feel like a stroll, convey your bagged lunch west and then north on the elevated park's most remote and undiscovered stretch (relatively speaking, of course), under the multicolor pennants of The Garlands, an exhibit fluttering in the breeze. The view east affords a rare perspective of Hudson Yards — both the before (the still-exposed rail yard that will be built over in stage two) and the looming, glittering after.
12. Broccoli-Rabe-and-Ricotta Sandwiches on the Lower High Line
Hearth, The High Line, Tenth Ave. nr. 15th St.
And if crowds don't faze you, there's much to like about Hearth's new High Line outpost — formerly Terroir's High Line outpost — a slightly sunken patio a few steps removed from the main walkway with Hudson River views, tight-squeeze communal tables, and not quite enough umbrellas. The biggest clue that the concession has changed operators this year is the presence of a solitary Riesling on the wine list, versus the usual profusion when the place was a satellite of the Summer of Riesling world headquarters. Now there's more of an emphasis on rosé — sparkling, still, on tap, and even frosé. But the menu and the vibe remain virtually unchanged — casual, bustling, and big on better-than-the-setting-requires sustenance like a bun-dwarfing grass-fed-beef hot dog and a crusty sandwich stuffed with creamy ricotta and garlicky broccoli rabe.
13. A Hot Dog Where Hot Dogs Got Their Start
Nathan's Famous, 1310 Surf Ave., at Stillwell Ave., Coney Island; 718-333-2202
It's true: The line is murder and the high-season mob extra-mobby. And old-timers will tell you the orangeade ain't what it used to be. Why you go anyway: because nothing enhances the flavor of a snappy, all-beef, natural-casing frankfurter like salt air and the clickety-clack suspense-ascent of a vintage roller coaster. (Ditto the crinkle-cut cheese fries.) And because no serious student of tube steaks has not been to the corner of Surf and Stillwell Avenues, where a Polish immigrant from the shtetl named Nathan Handwerker began his Nickel Empire in 1916. (The Nathan's outpost located right on the boardwalk not far from the mother ship is also a bucket-lister.) What author Reginald Wright Kauffman said about the strange, seedy oasis that was Coney Island at the turn of the last century applies to Nathan's itself today, especially when you factor in that annual Fourth of July hot-dog orgy: "It is blatant, it is cheap, it is the apotheosis of the ridiculous. But it is something more … and not to have seen it is not to have seen your own country."
14. A Cheeseburger on the Rockaway Boardwalk
Rippers, 8601 Shore Front Pkwy., Rockaway Beach; no phone
If any of the relatively young concessions on the Rockaway boardwalk have achieved icon status, it's the nine-year-old Rippers, the burger stand originally run by some folks from Roberta's and the Meat Hook. Much as one shouldn't go to Coney Island without a pit stop at Nathan's, a day at Rockaway Beach wouldn't be complete without a Hard Body burger at Rippers: two juicy, crumbly, American-cheesed smash patties on a Martin's potato bun, as God and Danny Meyer intended them to be. Excellent Meat Hook hot dogs, too.
15. A Cuban Sandwich Out of a Ventanita
My Cuban Spot, 488 Carroll St., nr. Third Ave., Gowanus; 718-855-1941
Cuban sandwiches taste better when they're served out of a ventanita, or little coffee window, as venerable a form of outdoor dining as rooftop bars and sidewalk cafés. That's how they do it in Miami and, as of August 2017, at Gowanus's My Cuban Spot, a single-espresso-size operation run by two Miami expats. They take their Cuban-sandwich-making seriously here: Pork butt is marinated in sour-orange-flavored mojo before it's slow-roasted to a tender tee and layered with the usual ham, Swiss, pickles, and mustard on good Cuban bread (theirs comes from a secret Connecticut source) before it hits the sandwich press. It's great fun to eat one seated on a metal stool at a narrow ledge the size of an ironing board and eavesdrop on regulars kibbitzing over cafecitos and cortaditos. But if it's a full house, carry your Cubano down the block to the Gil Hodges Community Garden, a beautiful little pocket park rehabbed by Bette Midler's New York Restoration Project into a model of stormwater management masquerading as a dreamy pastoral refuge lousy with yellow roses, fragrant herbs, shady trees, and a planter vegetable garden.
16. Thai Fried Chicken in a Chinatown Backyard
Wayla, 100 Forsyth St., nr. Grand St.; 212-206-2500
Take a seat on a vintage bamboo chair at a communal table beneath a festive string of lights, with the breeze ruffling the leaves of a tropical palm and the moon in concert with some candlelit lanterns providing extra atmosphere, and you may begin to think you've stumbled into some tastefully appointed Southeast Asian wedding party. And no wonder: A co-owner of this new Thai restaurant on a gritty Chinatown street has a day job designing nuptials and other highly stylized events. It's all so unexpectedly idyllic you'd be happy with Cheez-Its and Gatorade, but chef Tom Naumsuwan's street-food-inspired cooking is as transporting as the setting. Get the Isan-style pork sausages, the invigorating green-papaya salad, some tiny meatballs wrapped in noodles like rubber-band balls, and especially the fried chicken redolent of garlic and coriander. You may never leave.
17. A Lobster Roll on a Parked Schooner
Grand Banks, Pier 25, West Side Hwy. at N. Moore St.; 212-660-6312
There have been urban lobster shacks, and there have been floating restaurants. It was brothers Alex and Miles Pincus's special genius to unite these two concepts, transforming a painstakingly restored wooden schooner into a permanently docked oyster bar and cocktail lounge. And it was their chef Kerry Heffernan's brainstorm to line the insides of his lobster roll's top-loading butter-griddled bun with pickled cucumbers as a defensive measure against the salad's kelp aïoli. The best time to go is for a late lunch just before the booze-cruise crowd pirates the ship. To reach the 1942-era Sherman Zwicker, you stroll to the end of the Tribeca pier, past the mini-golf and the surprisingly professional beach volleyball, where the only thing between you, the Statue of Liberty, and the crimson sunset is the Hudson River itself.
18. Hot Pastrami Behind Left Field
Hot Pastrami on Rye Stand, Citi Field, field level, section 126
Ballparks are bastions of open-air eating, and the options have come a long way from peanuts and Cracker Jack. But with all the recent excitement in stadium food being generated by big names and brand expansions — Danny Meyer pizza, Nicoletta chicken parm, Josh Capon grilled cheese — it's easy to overlook the no-name, house-run stands. Still, one humble concession has surmounted its corporate-food-service anonymity to capture the hearts and stomachs of sports fans and food geeks alike: Pastrami on Rye, a sort of catchall counter for nachos, pretzels, popcorn, and hot dogs, also dispenses a cultishly popular pastrami that holds its own against New York's finest (with the added bonus of its fresh-air environs, something the old-school deli genre isn't exactly known for). Notably moist and tender, with almost a Texas-level-BBQ bark, the brisket is braised and smoked in-house (make that, in-stadium), then hand-sliced right at the counter while you watch. If you're lucky enough to be there while Larry E. of the Bronx is manning the station, you might even get offered a burnt end to nibble, Katz's style, while he studiously slathers the Jewish rye with Gulden's and piles on the ruby-red layers of meat. It's a captivating show, frankly, and could make you temporarily forget whatever drama is playing out on the field.
19. A Pint of Pilsner at a Gowanus Oasis
Threes Brewing, 333 Douglass St., nr. Fourth Ave., Gowanus; 718-522-2110
One of the supreme pleasures of summer is crushing cold beer on a hot day, preferably surrounded by plenty of green scenery. Our preferred perch is Threes Brewing's the Yard, a 3,200-square-foot backyard sanctuary rife with leafy apple trees and a 16-foot steel trellis where wisteria and English ivy climb skyward alongside hops. Their fragrant flowers are core ingredients in beer, the real reason you're here. In a snug room behind the indoor bar, Threes brews superb fruity, hazy IPAs such as Logical Conclusion, plus easy-sippers like the lemony Table Beer and snappy Vliet pilsner, its moderate bitterness and alcohol tailored for day-drinking sessions. The Yard fills up fast when the sky is clear and blue, so come early to claim a communal picnic table, a burger from house restaurant the Meat Hook, and several fresh Vliet pints, the beer as bright and welcoming as the sun beaming above. —Joshua M. Bernstein
20. Blueberry Pie in a Brooklyn Backyard
Petee's Café, 505 Myrtle Ave., nr. Ryerson St., Clinton Hill; 646-494-3630
Let the others eat pie inside with the A/C cranked. Over in Clinton Hill, at Petee's, there is an alternative: a secret garden for pie aficionados. The look is lived-in, not fancy, like something out of the French Quarter, with green wooden benches, Russel Wright plates and bowls on wrought-iron tables, garden hoses strewn about the slate floor, one enormous shady tree, a bunch of hopeful planters—everything but a string of laundry hanging on a clothesline. And then there's the pie: old-fashioned, flaky, butter-crusted, looking better than a Wayne Thiebaud painting, and easily the freshest, tastiest thing you've eaten in a Brooklyn backyard since the original Franny's hung up its pizza peel. The cherry with tart sour cherries from Michigan is a seasonal star, and so is the blueberry with the tiny wild blueberries that grow on bushes upstate and all over Maine. Get them both à la mode and with the housemade maple whipped cream.
21. A Mango-Lassi Sundae in the Middle of Times Square
Ice & Vice iScream! Kiosk, Broadway at 43rd St.; no phone
It's been ten years since former mayor Bloomberg closed Times Square to vehicular traffic, but it takes more than pedestrian plazas and "designated activity zones" to lure any sane New Yorker to the O.K. Corral of costumed hustler vs. unwitting tourist. It takes something like the "Know Your Rights," a sweet-tart sundae that does a boffo impersonation of a mango lassi and is available only at this seasonal, politically minded satellite of the Lower East Side ice-cream parlor Ice & Vice. The soft serve is flavored with Mexican vanilla and black-lava sea salt. Mango takes the delectable forms of both liquid yogurt and fruit purée. And the icing on the cake (or, in this case, the dusting of cardamom sugar on the sundae): Five percent of the stand's sales benefits the New York Civil Liberties Union.
*A version of this article appears in the July 8, 2019, issue of New York Magazine. Subscribe Now!