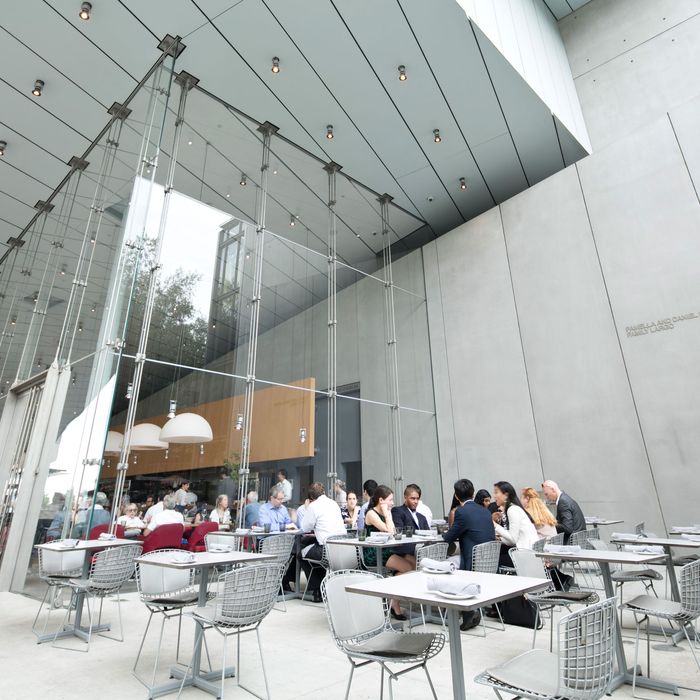 You should be having dinner outside at Untitled.
Photo: Melissa Hom
New York might not boast the year-round outdoor-seating general excellence of warmer-weather cities like Miami or Austin. But that doesn't mean you don't have plenty of alfresco options — in fact, there's an overwhelming number. Just peek at an East Village street on a balmy summer weekend, and you'll see hundreds of people voluntarily eating their food at cramped tables next to honking, angry cars, on narrow sidewalks filled with garbage bags. (And somehow, a few restaurants are still able to make this a pleasurable experience!) Most of New York's best outdoor-dining experiences are not on the sidewalk, though, but set back in secret-feeling gardens, on spacious patios, and atop the High Line (not to mention rooftops, which merit their own list). Until Mother Nature dictates otherwise, here are the best places to eat and drink outdoors in New York.
1. Untitled
At the Whitney
99 Gansevoort St., nr. Washington St.; 212-570-3670
Is it any surprise that Danny Meyer and his team operate the city's most fantastic outdoor dining and largely eliminate the problems that tend to go along with it?
Like almost everywhere in town, you can't reserve specifically for the patio (what if it rains?), but we've found the staff to be super amenable to reservation requests. Part of the appeal is that the outdoor space, which wraps around the building, feels like a continuation of the restaurant itself, rather than a forgotten-about, thrown-together jumble of patio furniture purchased at Ikea; this feeling is aided by the indoor dining room's glass walls and poured-concrete floors. The service, too, is just as on point as you'll find inside (with the glass walls, there's no risk of out-of-sight, out-of-mind syndrome); there are heat lamps for chilly, breezy nights; and the cushioned wire dining chairs are comfortable enough for lingering over your chocolate-chip cookie with milk. Before that dessert, don't skip the fried-fish lettuce wraps and pork-sausage cavatelli from Suzanne Cupps, who recently took on the role of executive chef. West Side Highway traffic might whoosh by in the distance, but the foot traffic, separated from tables by a mini-garden that's more wildflowerlike art installation than mere planter, is just distracting enough. There's particularly great people-watching on Friday and Saturday nights, when the museum stays open till 10 p.m.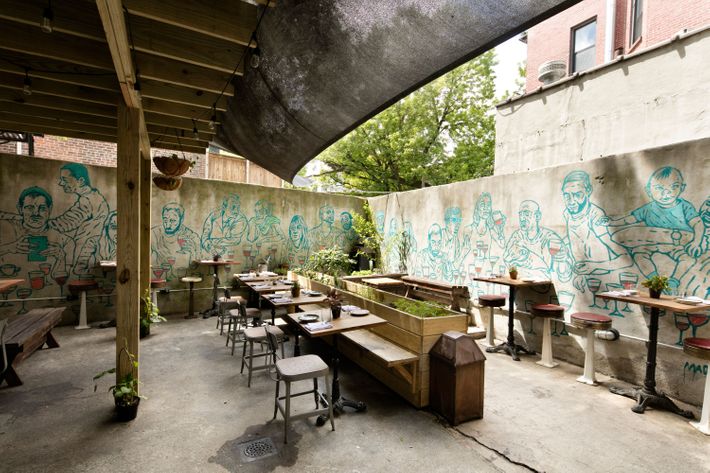 2. Miss Ada
184 Dekalb Ave., nr. Carlton Ave.; 917-909-1023
This new restaurant's dining room is small, so the 30-seat backyard is especially useful. We like the corner table against the wooden banquette (but with comfy cushions), but the options are all nice — raised bar tables with red stools, light-wood two-tops against a garden bed planted by the chef-owner, Tomer Blechman. (Speaking of gardens: The pastry chef, Rebecca Eichenbaum, sourced rose petals from her own recently for a light, tart kombucha. Pray for it to return to the menu.) The food is outstanding: We loved the smooth labne with radishes and the lamb-shawarma hummus. And order two of the whipped ricotta, flavored with brown butter, honey, and sage. It's astonishingly good — the kind you almost wish you'd never eaten because it's going to ruin all other ricotta dishes for you. (Except, maybe, the Spotted Pig's ricotta gnudi with brown butter and sage; Miss Ada's dish feels like a salty-sweet cousin to that one.) The backyard walls' mural is by Brooklyn artist Abel Macias and depicts merry drinkers, so merrily drink you should, either that kombucha, expert cocktails, or a bottle of wine from a list put together by super-somm Chad Walsh.
3. John Brown Smokehouse
10-43 44th Dr., Long Island City; 347-617-1120
Our favorite barbecue restaurant in New York is owned by a guy, Josh Bowen, who displays a quiet, remarkable commitment to his community. You can see an example of this on display in the backyard: Artists from 5 Pointz painted a mural here depicting the restaurant's abolitionist namesake (in the hopes of raising awareness before that nearby aerosol-art haven was destroyed by condo developers). The mural surrounds red-checkered-tablecloth-covered picnic tables and a little stage; there's sometimes live music out back. Recently, the restaurant hosted Cameron Kimbrough (grandson of Junior), a blues musician — which feels like a good fit for a barbecue dinner. Get the burnt ends, brisket, corn bread, and, of course, a cold drink: There's plenty of Boulevard beer. (PS: Keep your eyes peeled for Bowen's new, nearby Mothership Meat Company, which will also have plenty of outdoor space.)
4. Narcissa
At the Standard
21 Cooper Sq., nr. 5th St.; 212-228-3344
Blankets and heat lamps for cold nights? Check. Plenty of shade for hot ones? Check. Complete isolation by brick wall from the noisy sidewalk? Pretty hanging tree lanterns, mirrored walls, and colorful wired chairs for décor? All checks. After this, plus thoughtful service (if you look chilly, the blankets might appear without an ask), you hardly even need the food to be good, but it is. And the heavy vegetable focus seems especially appropriate in the gardenlike, wonderland-ish space. Make sure to get the much-discussed beets with horseradish cream. When your server tells you the spiel — they come from André Balazs's own farm upstate; they've been cooked rotisserie-style for five hours until they're black on the outside — you'll be in such a dreamy state that you will want to listen instead of tune out. (If veggies aren't your thing, the crackly skinned chicken, with broth and fennel salt on the side, is top-notch.)
5. Terroir on the Porch
On the High Line, at W. 15th St.; 212-625-9463
The outdoor outpost of Paul Grieco's irreverent wine temple can be hectic, especially on 75-degree sunny weekend days, but it's worth it. Make a meal out of snacks like olives, and radishes with butter; also, we've found it easy and satisfying to just order all six of the charcuterie options (soppressata, Valdeón cheese, etc.). Try to avoid super-windy days, or your plate will be flying into your neighbor's face.
Honorable Mentions
The Bonnie
29-12 23rd Ave., Astoria; 718-274-2105
Locals like this spot, where you can come for events like crawfish boils on the spacious patio's many picnic tables, or just a drink and a casual dinner from the fun menu, with apps like a good chile-cheese dip with Cotija cheese and a chorizo corn dog with avocado crema.
Bricolage
162 Fifth Ave., nr. Degraw St., Park Slope; 718-230-1835
The garden out back is full of knickknacks like vintage televisions with dials, and the furniture is all mismatched. It creates a feeling that you're at a friend's home for a backyard dinner. The food will remind you that you're at not a friend's home but an ace Vietnamese restaurant. When we came for dessert recently, we especially liked the five-spice-flavored coconut-tapioca pudding.
Charlie Bird
5 King St., nr. Sixth Ave.; 212-235-7133
A very good place to drink a bottle of wine with the kitchen's chile-spiked, limey fluke or a plate of pea shoots with mint. This restaurant is an exception to the sidewalk-seating-sucks rule. And sometimes you want to people-watch on the street, and the scene at Bar Pitti up the block feels somehow less magical since Da Silvano closed. Charlie Bird's sidewalk space is large enough for 40 people to eat on the pretty red chairs outside, and you can even do it during a rainstorm or under a blazing sun, thanks to great coverage from the large patio umbrellas.
Calvin's Royal Rib House at Bed-Vyne Cocktail
303 Halsey St., nr. Throop Ave., Bedford-Stuyvesant; 718-453-9284
Bed-Vyne, 305 Halsey St.; 347-787-4860
A stretch that requires planning, but stick with us. This terrific rib-takeout joint is open only Thursday, Friday, and Saturday; Bed-Vyne sometimes hosts dance nights that can get crowded. But go in the early evening, settle in the cocktail bar's casual backyard, and then go place an order at the restaurant next door. Then come back, finish your frozen drink, and go pick your food up. This eliminates the impatience and yearning you'll feel sitting in the torturously deliciously scented waiting area. If you're lucky and arrive before they sell out of ribs, get more than you think you'll need, and add a large side of candied yams. One time, we ordered late, and the staff brought post-closing leftovers to the backyard to share with us. Bed-Vyne and Calvin's are the kinds of places people are talking about when they say "neighborhood gem." (PS: Get extra napkins and try to be tidy in the bar.)
Flora Bar
At the Met Breuer
945 Madison Ave., at 75th St.; 646-558-5383
The brutalist surroundings and restrained design give Flora Bar's patio a fashionable-feeling sense of calm. We stopped by recently to satisfy a dessert craving when Nougatine's terrace was closed (despite predicted rain not actually happening), and we were quickly offered seats and a small side table in the patio's uncrowded casual side in front of Flora Bar's café space. We liked the mandarin sorbet with a crunchy cookie on bottom, plus an amaro to follow — there are eight on the drinks list.
Hudson Garden Grill
At the New York Botanical Garden
2900 Southern Blvd., nr. Bronx Park Rd., the Bronx; 646-627-7711
On the patio at this elegant full-service Stephen Starr restaurant, you'll espy guests sipping Badoit and rosé and looking confusingly chic for people who've been presumably wandering the gardens in sticky New York midsummer heat. That doesn't mean you, too, need to have a light meal — it would be a shame to not order the pull-apart, rosemary-and-basil-flavored monkey bread, which arrives in a hot cast-iron pan with a side of whipped honey butter. There are six rolls to an order; we recommend one order per person.
Ivan Ramen
25 Clinton St., nr. Stanton St.; 646-678-3859
The little, partially covered back patio at Ivan Ramen is not the city's most verdant, beautiful garden, but it's compelling, thanks to its location, which is not super well-served by outdoor options; its pretty tiled squid mural behind the upscale-picnic-style tables; and cold, refreshing menu items like the unstoppable pickled daikon XO.
L&B Spumoni Gardens
2725 86th St., nr. 10th St., Bensonhurst; 718-449-1230
A New York rite of passage familiar to most any Brooklyn-born kid would be a couple of slices on the molded-plastic patio tables followed by a paper cup of spumoni. Even if you're not Kings County born, you should do this at least once.
Midnights
149 N. 6th St., nr. Bedford Ave., Williamsburg; 718-384-6961
A fun, prettily decorated spot off Bedford Avenue that's well-managed and thus usually not crazy-crowded, like so many spots in the area can be. The backyard's strung with globe lights, and the walls covered in ivy-and-black-painted wood paneling. Make reservations on Resy and request the patio in the notes.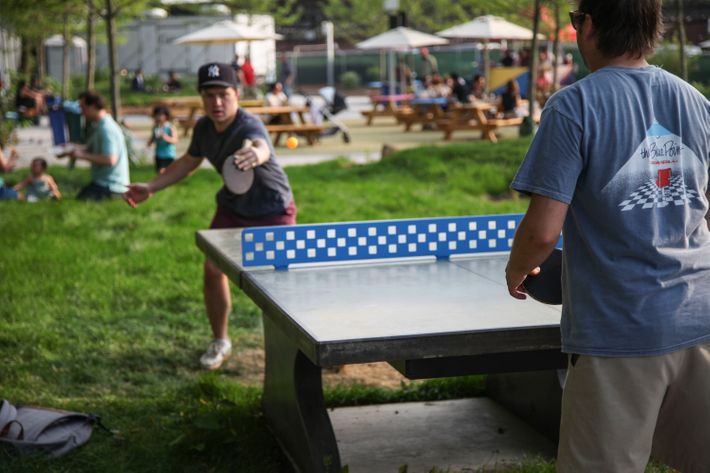 Nowadays
56-06 Cooper Ave., nr. Wyckoff Ave., Ridgewood; 718-386-0111
This place is great: Allows dogs and kids. Loans games like boccie and backgammon for free. Good about updating its website with information about its Mister Saturday Night/Mister Sunday parties and weather closures (the 16,000-square-foot Nowadays is currently entirely outside, though a 5,000-square-foot adjacent indoor space is coming soon). And has pretty great food, from chef Henry Rich. Get the grilled Caesar and the corn-tortilla chicken tacos with addictive "green magic sauce" and pickled shallots.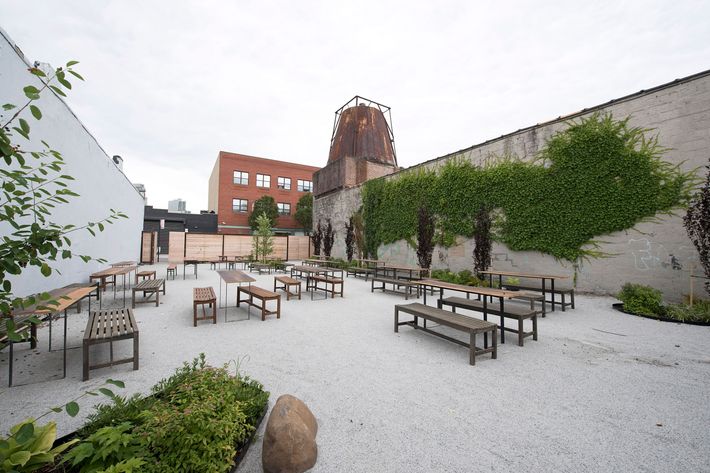 Parklife
636 Degraw St., nr. Fourth Ave., Gowanus; no phone
The 4,000-square-foot gravel-floored outdoor space opened in late June and already has plenty of crowds ordering the kitchen's French-fry nachos. If that's a top food Instagram of summer (and a good one!), the tacos are a top food to simply devour this summer. The carne asada, the grilled shrimp, the purslane-and-mushroom taco — all incredible. The guacamole, with crunchy chips substantial enough to not crumble under the weight of a big bite of dip, is also great. Pair dinner with the spicy, mezcal-based Summer Friends cocktail.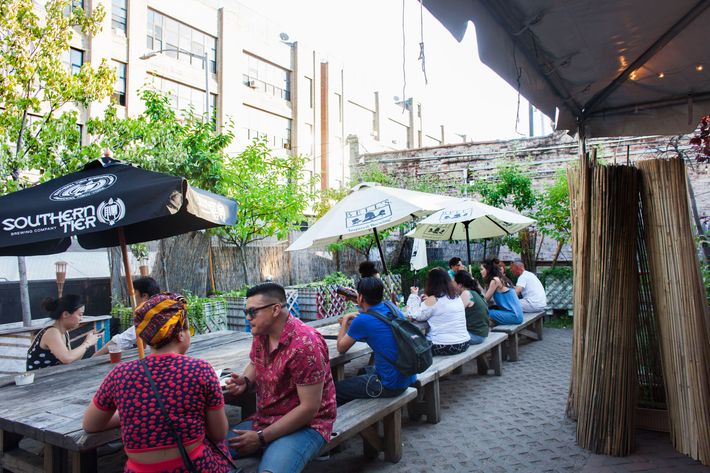 Roberta's
261 Moore St., nr. Bogart St., Williamsburg; 718-417-1118
We don't need to tell you that Roberta's is cool, and fun, and delicious, and has a good-size, picnic-tabled tiki bar/outdoor patio. But we will mention that the last couple of times we've been, the famously spacey service has been more attentive.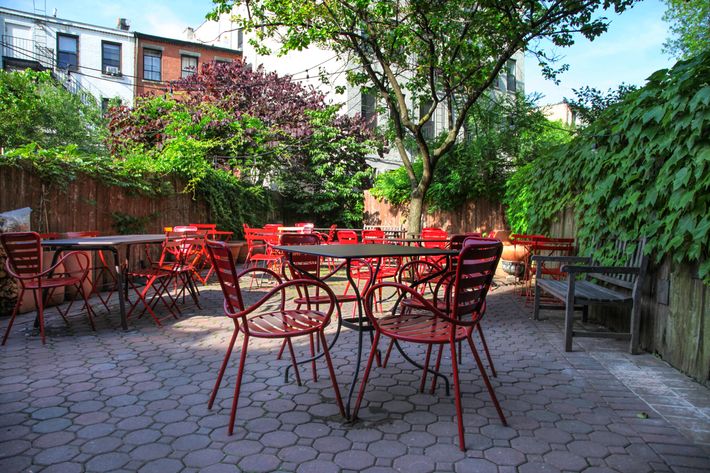 Rose's
295 Flatbush Ave., nr. Prospect Pl., Park Slope; 718-230-0427
The best place to eat this restaurant's great burger and Vidalia-onion dip is in its leafy, tree-shaded patio on the red metal chairs. Plus, for summer: dishes like strawberry salad and fried soft-shell crab with corn succotash.
Sally Roots
195 Wyckoff Ave., nr. Harman St., Bushwick; 347-425-0888
This restaurant is great, and great fun, the kind of place where the staff seems to be actually enjoying their jobs. The food is "Caribbean American Barbeque" (expect such satisfying dishes as ackee and saltfish, jerk chicken wings, and curried-vegetable bowls). Notable: The restaurant and its patio are open for lunch, in addition to dinner and brunch.
VHH Foods
At Empire Stores
55 Water St., nr. Main St., Dumbo; 718-243-1569
If you want a glass of wine, order at the counter, and then find a table outside — preferably one that looks out through Empire Stores' brick archways directly on the Manhattan Bridge and East River. You could also get a takeout picnic and head up to the communal roof garden, with astounding river views. We really like the griddled-bun Meat Hook hot dog with purple cabbage, cilantro, and crispy shallots.