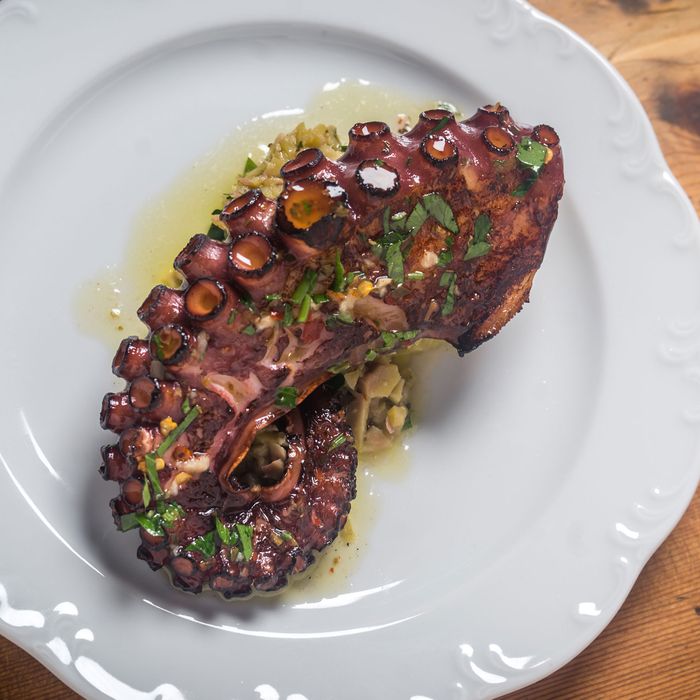 There's green-olive pesto tucked underneath.
Photo: Paul Wagtouicz
Octopus is ubiquitous in New York; you'll find it at Italian, French, Spanish, Portuguese, Greek, and Japanese restaurants, and then some. If you can set aside your feelings about the fact that this animal is — in a lot of ways — an intelligent alien, octopus is a healthy, hearty seafood option that pops up on menus all over town. Much of that octopus, though, is prepared in a similar fashion, so what does it take for a dish to truly stand out from the pack? Read on to see who makes the very best octopus in New York.
1. Via Carota's Polipo
51 Grove St., nr. Bleecker St.; 212-255-1962
The first thing you'll notice about the octopus at Jody Williams and Rita Sodi's Italian restaurant is that it's plump. It's so thick and meaty that on some nights it has a one-inch diameter, and the $20 price tag is more than fair. The octopus is prepared very simply: cooked in unsalted water until it's tender, seasoned with olive oil and salt, and grilled for a satisfying char. Williams and Sodi smartly serve it on top of a briny, herby green-olive pesto, with lemon zest and basil. In the end, it's that supporting actress (hidden and crushed by the weight of the flashy octopus) that makes the dish so memorable.
2. Lupulo's Wood-Grilled Octopus
835 Sixth Ave., at 29th St.; 212-290-7600
Portuguese-American chef George Mendes is so confident in his octopus that he serves it as a main course, charging $31 for three long, lean arms. The meat is seriously pampered: First, it's simmered in olive oil with herbs for six to eight hours, and charred over a wood-fire grill. This result is octopus that's tender, but especially crispy at the tips, a texture that plays well against charred fingerling potatoes (also grilled over that wood fire). It's all dressed in two sauces — a classic Spanish romesco under the octopus, and a bright cilantro-and-parsley-based "molho verde" on top — which enhance the smoky flavor, and make the dish hearty enough to earn its designation as an entrée.
3. Hanoi House's Kho Bach Tuoc
119 St. Marks Place. nr. Ave. A; 212-995-5010
Grub considers this new restaurant home to the city's absolute best Vietnamese food, and chef John Nguyen's $16 coconut-heavy octopus dish deserves recognition of its own. It's a twist on a classic Vietnamese stewing technique called kho, which is traditionally done with fish sauce, coconut juice, and sugar. Nguyen braises the octopus in coconut cream, onions, and garlic, and then lightly chars it on the grill — creating meat that's softer and saturated with flavor, especially because it arrives chopped up and immersed in a broth of kho liquid, plus ginger, shallots, and lemongrass. The slightly sweet octopus is then finished with quail eggs and grilled onions.
4. 15 East's Slow-Poached Octopus
15 E. 15th St., nr. Union Square; 212-647-0015
15 East remains one of the city's great Japanese seafood destinations: The service is exemplary; there's great thought and care put into the food; and you can often score a last-minute seat. The slow-poached octopus, or tako yawarakani, is worth the trip alone — you can order it for $15 à la carte at the sushi bar or in the dining room — and 15 East massages octopus sourced from Spain with salt (500 times, to be precise), and then slowly simmers it in sake, rice vinegar, and dark soy sauce. If you sit at the sushi bar, a chef might even give you a peek of the whole octopus before slicing it into small pieces and plating it with nothing more than sea salt. The flavor is mild; it's the texture that's incredible — more tender than any other octopus on this list.
5. Taverna Kyclades's Charcoal-Grilled Octopus
Various locations
In terms of Greek-style octopus — simply grilled, with olive oil, French vinegar, and fresh oregano — the platonic ideal can be found at Taverna Kyclades, which has outposts in Astoria and the East Village. The $23 portion is large enough to feed two, and the arms are presented whole before being dramatically cut into coins. Die-hard octopus lovers will no doubt appreciate the purity.