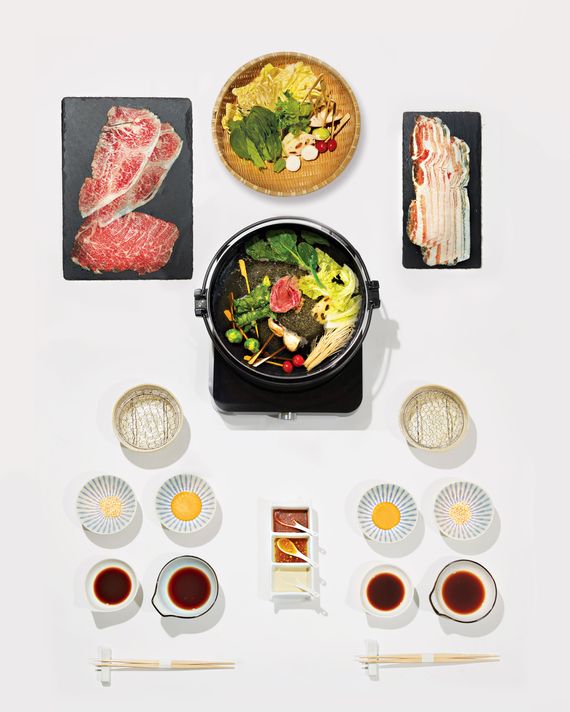 Shabushabu Macoron.
Photo: Marvin Orellana/New York Magazine
This year's list of all the best new things to eat in New York is for fressers and noshers alike. We've discovered a burger not only swimming in melted Mexican cheese and caramelized onions but drowning in salsa macha. We've found a vegan sandwich that could feed a small vegan army. And we've spilled the beans on a bowl of red beans and rice as good as the stuff you get in New Orleans. On the slightly lighter side, there's eggs any way you like: ethereal French omelette-style garnished with uni, sunny-side up atop a bowl of biscuits and gravy, even scrambled with scallions and shoved into a Taiwanese flatbread with peanut butter and Spam. (If you're looking for leopard-print coats in the Seaport or fresh-pressed sake in Industry City — and who isn't these days? — you'll find those and more in the other sections of our annual best-of review, rolling out this week. Read the fun and shopping lists now.)
Pizza Slice
Joe & Pat's
168 First Ave., nr. 10th St.; 212-677-4992
Getting a slice of pizza used to be a breeze. With the exception of Di Fara, where the waits were epic (and still are), you got your grease fix with a minimal amount of effort and hardly any wear and tear on your feet and your psyche. That's changed. Now the trend in pizza slices is toward pain and suffering. If you want to tuck into a slab from Prince Street or Paulie Gee's or Upside or Mama's Too!, you've got to get in line like a Black Tap–milkshake addict, then fight for a sliver of space in which to eat it. Sure, the quality has improved, but what price pepperoni slice? The antidote to this masochistic movement can be found not at a slice joint but at the East Village pizza-restaurant spinoff of Staten Island's Joe & Pat's, where excellent under-the-radar slices are served on paper plates at the copper-topped bar from noon to 6 p.m. on weekdays. The crust is crisp, the sauce sweet, the cheese creamy, and the mood civilized. You'll never miss the mob scene.
Burger
Oxomoco
128 Greenpoint Ave., nr. Manhattan Ave., Greenpoint; 646-688-4180
Every year, all sorts of random new burgers pop up around town, but how many of these are named Hamburguesa Pambazo, after the giant, famously filling sandwiches sold on the streets of Mexico City? How many are constructed with eight-ounce patties of prime dry-aged beef (flame-broiled over a legitimate wood-fire grill) and a soft, sesame-speckled brioche bun? And how many are dressed not with ketchup, or a pickle or two, but with smoked onions, melted queso asado, and salsa macha, all of which manage, through some strange alchemy, to combine the creativity and brightness of Mexican cuisine with the messy, familiar pleasures of an old-fashioned cheeseburger?
Fried Chicken
The Beatrice Inn
285 W. 12th St., nr. W. 4th St.; 212-675-2808
In a city flocked with fried chicken both fancy and cheap, Angie Mar's version has all the hallmarks of an "It" dish: off menu, available only at the bar, born of the late-night family meal. But even without those inducements, the three-piece portion, served in an ornamental silver bowl, is a paragon of the form. A salt cure yields notably flavorful meat, and the hot-honey glaze provides sweet heat. Who are we kidding, though? If we're talking fried chicken, we're talking crust, and the one at the Beatrice Inn is all crag and crackle, a golden-brown meditation on the mystical transmutation of buttermilk, flour, and neutral-flavored oil.
Lamb Chops
Adda
31-31 Thomson Ave., Long Island City; 718-433-3888
There are many potential Best of New York nominees on the menu at Chintan Pandya's boisterous Long Island City canteen, including, to name just a few, the gently simmered goats' brains on toast (for the offal lover), the mango lassi (for the sugar lover), and even the lunchtime-only fried chicken. But for all-around crowd-pleasing pleasure, we'll go with the double-cut Chacha's lamb chops, which are softened with yogurt in the tandoori style; covered in clouds of Pandya's signature spicy red garam masala; charred to tender, crunchy perfection in the clay oven; and served at a reasonable outer-borough price ($17) that is hard to beat.
Vegetables
Misi
329 Kent Ave., nr. S. 4th St., Williamsburg 347-566-3262
For her second solo project, Missy Robbins took a chef's knife to the vast realm of Italian cuisine and chopped it down into three easy-to-digest categories: pasta, gelato, and vegetables. The first two sell themselves; vegetables, on the other hand, need a little help — and a lot of good olive oil. Robbins supplies both, unlocking the essence of each vegetable by cooking method (roasting eggplant and romanesco, charring sweet peppers), pairing it with contrasting or complementary seasonings, and enriching it with nuts, cheese, or even a well-placed dose of animal fat. You might not taste the bone marrow in the radicchio or the bacon in the butter beans, but you'd miss them if they weren't there.
Cacio e Pepe
10 Corso Como
200 Front St., at Beekman St.; 212-265-9500
Boil water, cook the spaghetti, grate some cheese, crack some pepper, combine. That's about all there is to pasta cacio e pepe. It's one of those remarkably simple dishes you think you should be able to make blindfolded while standing on one foot with your right arm tied behind your back. The funny thing is it's also a dish that's an absolute cinch to screw up. Chef Jordan Frosolone at 10 Corso Como never suffers that fate. His is the Goldilocks of CEP sauces: not too loose and not too dry, creamy without cream. It coats but never clumps. In a word, it's just right. What seals the deal is the housemade bigoli pasta, which clings to the sauce like Saran wrap and boasts the kind of extra-firm but yielding bite you associate with the work of elite Italian grandmas.
Onion Soup
Bistro Pierre Lapin
99 Bank St., at Greenwich St.; 212-858-6600
To make French onion soup, first you have to burn an onion. So says Harold Moore, who uses that plancha-blackened onion brûlée to add color to his beef stock of long-simmered marrow bones. Patience is also required to slowly caramelize the additional onions that lend the soup its characteristic sweetness. But since it isn't French onion soup unless there are crisped bits of cheese to peel off the outside of the crock, Moore drops in baguette croutons and enough grated Gruyère to make a sufficient mess. Food historians may tell you the gooey gratinéed version is a latter-day elaboration, an antidote to a night of drinking, and not the traditional, more refined restaurant recipe. "I'm 45," says Moore, "and I've only ever seen cheese on it." If the finicky French offered any initial resistance to this souped-up soup, he says, "They've yielded to it the way they've yielded to the cheeseburger."
Crêpes
La Mercerie
53 Howard St., at Mercer St.; 212-852-9097
The crêpes that dot the breakfast and "all day" menus at Marie-Aude Rose's Soho boutique restaurant would be called "galettes" in their native Breton. They're made with darker buckwheat flour instead of the usual lighter kind. And although the crêpes themselves are first-rate, what launches this upmarket version of the traditional street snack into the stratosphere of deliciousness are the savory fillings, which include a whole fried egg with ham and aged Comté cheese for breakfast and a range of other enticing combinations — threads of salmon with fennel salad; creamed chicken with tarragon; mushrooms and Swiss chard — later in the day.
Vegan Sandwich
Zyara
57 Clinton St., nr. Rivington St. 646-586-3317
Supercolossal overstuffed sandwiches, the kind that feed families of four, are usually the exclusive domain of Jewish delis and Italian hero shops and are all about massive amounts of meat. But Zyara's Khaleel Salman is an equal-opportunity sandwich-stuffer. As it is with '50s-era undergrads and telephone booths, Salman's motto regarding cramming pita pockets with meat-and-dairy-free foodstuffs is "the more the merrier." Thus we have Zyara's Vegan Arabic Sandwich — a lavish assemblage of deep-fried eggplant, cauliflower, and zucchini, plus falafel, tomato, hummus, red cabbage, and assorted pickled things, all packed into housemade bread, then doused with tahini and hot sauce. It's not the best new vegan sandwich in town; it's one of the best new sandwiches, period.
Eggs
Frenchette
241 W. Broadway, nr. N. Moore St. 212-334-3883
We've been obsessed with the egg dishes at Riad Nasr and Lee Hanson's excellent Tribeca bistro since it opened, and as soon as we finish obsessing about one dish — the cool, loose tortilla española topped with trout roe, say, or the famous scrambled-egg brouillade crowned with escargot — the kitchen invents another one. Our latest infatuation is a delectable creation that the cooks whip to a feathery lightness like a soufflé, fold in the pan like an omelet, and garnish, for extra pleasure, with deposits of fresh uni from Maine. Is it better than the others? The only way to find out for sure is to order all three and taste them for yourself.
Offal
Hunan Slurp
112 First Ave., nr. 7th St.; 646-585-9585
You'll find all sorts of artful examples of what cooks and other offal connoisseurs like to call "the nasty bits" served up at this elegant little East Village homage to the rice-noodle-based street cuisine of Hunan Province, including braised chicken feet doused in chile oil and frogs' legs tossed in piles of chile peppers. But the dish that keeps us coming back for our fix of forbidden viscera is chef-owner Chao Wang's Hunan charcuterie, a veritable dissertation on the pleasures of ancient Chinese offal specialties, like chopped pigs' ears and curls of smoky, soy-marinated tripe.
Yogurt
Sofreh
75 Saint Marks Ave., nr. Flatbush Ave., Prospect Heights; 646-340-0322
For traditional Persian cooks like Nasim Alikhani, yogurt is, of course, more than just a healthful breakfast item; it's a lustrous condiment, a crucial binder, a foundation for all kinds of lavishly rich desserts. Alikhani and her staff produce a fresh-strained batch of the stuff usually every other day at her excellent establishment, and the delectable result — which you'll find swirled into dips, used as a marinade for savory roasts, and served as a garnish for a variety of dishes, including the great oval wheels of house-baked bread — is about as different from the usual store-bought variety as processed American butter is from the kind produced by merry French farmers (and cows) on the distant shores of Normandy.
Breakfast Sandwich
886
26 St. Marks Pl., nr. Second Ave.; 646-882-0231
Modernist-chef labs and restaurant incubators are okay, and international institutes of culinary arts are well and good, but some of the finest dishes that end up on restaurant menus today originate in college-dorm rooms. The theory is that, necessity being the mother of invention, good things happen when undergrads — presumably stoned out of their minds — look into their mini-fridges at three in the morning, whip out their contraband toaster ovens, and get to work. Take, for instance, the Stef, a brunch-only scrambled-egg sandwich built like a Chevy Silverado on flaky Chinese flatbread, named after Stefani Kung, the general manager of this Taiwanese restaurant. The Stef comes with two slabs of griddled Spam, three slices of American cheese, gobs of Skippy peanut butter, and a healthy dose of the chile-forward Indonesian condiment sambal. The prototype of the sandwich, says Stef, was developed at Purdue one night when she was "loopy with hunger and out of instant noodles." And the amazing thing is that, despite its sounding like a textbook stunt sandwich, there's a strange perfection to be found in the Stef's unexpected balance of flavors and textures. You don't even have to be stoned out of your mind or loopy with hunger to appreciate it.
Brunch
Madcap Café
387 Court St., at 1st Pl., Carroll Gardens 929-337-6117
Madcap has a fine-dining pedigree and the soul of a diner, which makes it perfect for brunch: It's a low-key, roll-in place to bring finicky kids, catch up with friends, or refuel after the gym with better versions of iconic dishes that are done elsewhere but nowhere near as well. The blueberry pancake rises soufflélike from its cast-iron skillet; the bodega-style, foil-wrapped presentation of the BEC belies the creaminess of the eggs and the squishy tenderness of the housemade flatbread; shrimp and grits evokes chef-owner Heather Fuller's southern upbringing while deriving extra zip from pico de gallo and pulpy tomato "gravy." From breakfast tacos to patty melts to congee, the multilingual menu is most fluent in comfort.
Duck
Benno
7 E. 27th St., nr. Fifth Ave.; 212-451-9557
This most elegant of barnyard delicacies has been featured on prominent menus for a while now, served with frites (Frenchette), in flames (the Beatrice Inn), in pies (Momofuku Ko), or whole-roasted for two (a whole bunch of places). But if you're looking for all the storied pleasures of this great dish in one crunchy, tender, opulent bite, our current favorite is the version that old-world traditionalist Jonathan Benno constructs with slices of perfectly crisped Rohan duck breast, a soft wheel of turnip for texture, a dash of dense duck jus, and a finishing taste of what is arguably that most opulent duck product of all, seared foie gras.
Hummus
Sunshine
59 E. 8th St., nr. Broadway; 212-420-5999
When Neapolitans glimpse their first New York slice, their response tends to be "You call that pizza?" Israelis have a similarly horrified reaction to our homegrown hummus. Rather than a fridge-cold, preservative-filled vehicle for making crudités palatable, Israeli hummus is by definition fresh, warm, and meant to be set upon immediately with nothing more than a scrap of puffy pita or raw onion petal. At Sunshine (previously known as Vish), this tradition is proudly upheld: The smooth, warm spread is fresh from the food processor, enriched with tahini, swirled with oil, and presented with all the proper accoutrements, from pickles to zhoug. For extra verve, try the chunkier mashausha, which folds whole chickpeas and tangy seasonings into the mix.
Prawns
Yummy Tummy Asian Bistro
161-16 Northern Blvd., Flushing; 718-888-0220
Not only is Yummy Tummy the sole Singaporean restaurant in Queens, it's the only place to score Singapore chile prawns. Just like that country's signature dish, chile crab, which the restaurant also serves, they're presented in a complex sauce made from a pantry's worth of ingredients — turmeric, galangal, and dried shrimp among them — that's packed with crab flavor and finished with egg, giving it a deep richness. Half the fun of getting the jumbo prawn version is sucking the reddish brains out of the heads. Use the fried mantou bread that rings the platter to sop up the seafood-enhanced sweet-and-spicy gravy. —Joe DiStefano
Beans
Lowerline
794 Washington Ave., nr. Sterling Pl., Prospect Heights; 347-533-7110
If you're undecided about what to order at John Verlander's tribute to the gastronomic treasures of his native Louisiana, just take a look at the not-so-subliminal message of a sign hanging on the dining-room wall. It's hand-painted by the folk artist Simon of New Orleans, and it reads MY DREAMS OF RED BEANS, signaling the deep-rooted southern attachment to a peasant food that up north has yet to achieve the celebrity status of other New Orleans gems like gumbo, po'boys, and jambalaya. This oversight will seem practically criminal after a taste of Lowerline's red beans. Long simmered, seasoned with a ham bone, and served with andouille sausage and a puck of steamed rice, they walk the precarious line between firm and soft, exuding creamy comfort in every bite. Unlike the dish's New Orleans birthplace, New York may never have an annual Red Beans parade, or a March Madness–style bracket contest to crown the city's best. But this is a very good start.
Hot Pot
Shabu Shabu Macoron
61 Delancey St., nr. Allen St.; 212-925-5220
These days, the city is filled with billions of warming hot-pot options designed to stave off the winter blues. But if we had to choose just one, it would be Mako Okano's homage to the wonders of traditional Japanese shabu-shabu. Sure, it's more pricey than your average shabu-shabu ($128 for eight courses), and since Okano serves each of her eight "guests" individually around the tiny bar, it's slightly less communal. But the range of subtly boiled delicacies (fresh vegetables, tofu, yuba, and marbled slivers of pork) and the chef's expert technique combine to elevate this far above your typical, everyday, humdrum hot-pot experience up into the rarefied realm of gourmet cooking.
Cookie
Lost Bread Co.
Union Square Greenmarket; Wednesdays.
No pretzel-hybrid concoction can ever outdo Maury Rubin's City Bakery masterpiece, the pretzel-croissant, but this pretzel-shortbread cookie comes close. Old pretzels are repurposed as pretzel bread crumbs, folded into buttery shortbread dough, rolled out, cut into rectangles about half the size of an iPhone, put in the freezer for a spell, dipped in lye to make them shine, sprinkled with coarse salt, then baked. The cookies are made in Philadelphia by a guy who worked at Sullivan Street Bakery, then ran the bread-and-pastry program for the High Street Hospitality restaurant group, and they're available in New York at Union Square Greenmarket on Wednesdays. What's so special about them is their uncanny ability — as if by some secret, possibly illicit gastro-molecular breakthrough — to taste exactly like what the name promises: a perfect fifty-fifty pretzel-shortbread-DNA divide. Spackled with chocolate Häagen-Dazs, they'd probably make good pretzel-shortbread ice-cream sandwiches, too.
*A version of this article appears in the March 4, 2019, issue of New York Magazine. Subscribe Now!