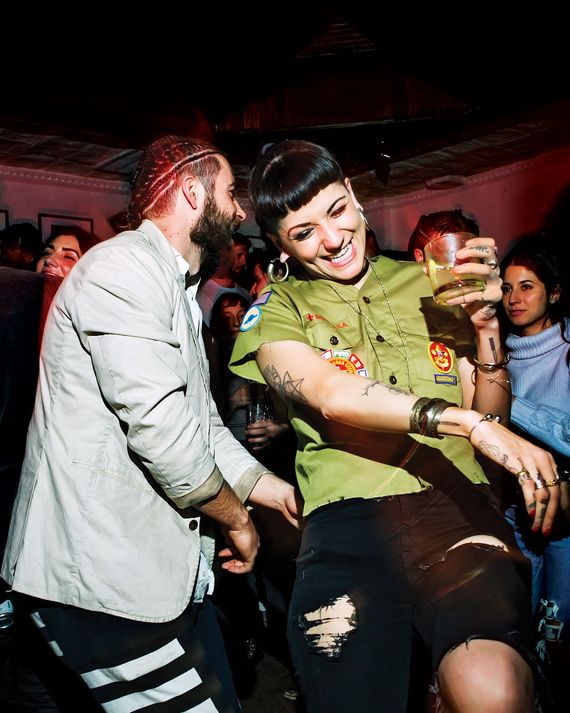 Ponyboy.
Photo: Dina Litovsky
Whether we're ordering copper pots from Amazon Prime, pho on Caviar, or grenache from any one of those subway-advertised wine-delivery start-ups, New Yorkers are really just a couple of apps away from being complete shut-ins. And yet there's still so much to do in this town — like sampling garam-masala-spiked lamb chops in Long Island City, trying on leopard-print Alaïa coats in the Seaport, sipping fresh-pressed sake in Industry City, and scrambling up the city's tallest rock-climbing walls in Bushwick. (You'll find those and more in our yearly best-of review, rolling out this week.) This year's best-of list in the fun and nightlife category includes a brewery in a baseball stadium, indoor soccer, a bar specializing in non-boozy cocktails, and more.
Roving Wine-and-Dance Party
Santé Motherf*ckers
Follow @santemf for dates and locations
At this juncture in New York nightlife, there's plenty of natural wine to drink and plenty of electrodisco to dance to, but rarely can you do both at once — unless you find yourself at a Santé Motherf*ckers pop-up party. Jules Dressner of Louis/Dressner wine importers, who is close to the Four Horsemen–DFA Records crew, throws the party every two months or so at rotating venues like Chinatown lounge Mr. Fong's or Easy Lover in Williamsburg. He usually mans the turn­tables, while co-host and wine rep Tess Drumheller bartends from tubs of funky pét-nat, orange, or glou-glou red wines, fueling a dancing-in-your-friend's-living-room feeling that you don't get with a Budweiser-and-shots crowd.
Indoor Soccer
Socceroof
14B 53rd St., nr. First Ave., Sunset Park 917-909-0114
For starters, this place is vast: At 70,000 square feet, set on the roof of a former torpedo factory, it's the biggest indoor soccer facility in the city, housing ten pristine fields named for Brooklyn neighborhoods. Soccer parents who are used to waiting out tournaments in a grim, airless room can spread out in the spacious bar-café, which serves seasonal plates, decent espresso and wine, and pizza from Table 87. The design is unusually high-end, but the prices are egalitarian and there's no membership fee, so you can pop in and play a pickup game for $15. The hours are more expansive than those of other facilities: On weekends, Socceroof is open from 7 a.m. to 2 a.m. An innovative FIFA-style app lets kids and adults track their performance, join a league ($850 per team for ten weeks), or rent a field (starting at $110 an hour off-peak, which works out to $11 apiece for a ten-person game). Private coaching sessions are available with former and current pros.
Manhattan Painting Classes for Kids
The Craft Studio
174 Duane St., nr. Greenwich St. 646-922-8823
It's called "art island": a floor mat covered in craft paper, crayon rocks, and ice-cream stickers. This is where your fidgety toddler (as young as 18 months; most art classes don't start until age 2) can retreat from class at any time. This oasis captures the ethos of the Craft Studio, an Upper East Side institution that opened its first outpost in a Tribeca loft last March. The warm staff are masters of redirection: Each 45-minute session ($28) moves through stations of floam balls, pizza-cutting tools, and washable paint. The realistic goal is that kids get their hands in at some stage of the process, even if it's just to play with the different colors in a rainbow-sand-art bottle. Yes, most parents or nannies end up completing many of these projects, which children take home in little shopping bags — but not before basking in their contributions with an end-of-class dance party featuring strobe lights, bubbles, Justin Timberlake, and sometimes even group karaoke.
Brooklyn Puppet Classes for Kids
MAPS
233 Smith St., nr. Butler St., Carroll Gardens
Former Saint Ann's teachers Rachel Sherk and Aaron Rourk developed a following for the after-school ukulele classes they ran in parents' living rooms, so in August, they quit their day jobs and opened MAPS (Music Art Puppets Sound). A former Uncle Louie G's ice-cream shop is now a magically messy space that hosts what Sherk playfully calls the "anti-after-school." No turkey doodles here: The extraordinary course catalogue features sessions that meet regularly (from $100) and one-offs (from $30) including workshops in abstract art, love-song writing, and animal puppet-making. Wander in and you might find small groups of children, preschool to fourth grade, hard at work fashioning yarn and tinfoil into hummingbird nests or designing wallpaper inspired by Kehinde Wiley portraits. The school is closed on Thursdays, when the couple travels to Pennsylvania to teach art to refugee children.
Nightclub in a Japanese Restaurant
Ponyboy
632 Manhattan Ave., nr. Nassau Ave., Greenpoint; 631-319-4641
When the weekend rolls around, this small Japanese-inspired restaurant serving uni-speckled pasta forgoes the high-end dinner service in favor of a dance party with DJs spinning everything from Sharon Jones belters to synth-heavy Holy Ghost jams. The vibe at Ponyboy is refreshingly democratic: You're apt to find velvet-jumpsuit-clad North Brooklyn girls and their Kith-wearing dates sipping mezcal cocktails in the plush olive-green banquettes, as well as more buttoned-up groups of friends who took the L in from Manhattan. All this is thanks to co-owners Michael Stember and James Dorje, who take the food and beverages seriously (Stember got his start hosting omakase sushi pop-ups in L.A. and New York, while Dorje comes from 169 Bar) and their partying less so. On any given night, an employee might be running around shirtless while another roams the room with a stick of palo santo to help set the mood.
Brewery
Mikkeller NYC
123-01 Roosevelt Ave., at 126th St., Flushing; 718-766-2717
Whether the Mets are winning or mired in a losing streak, fans can cheer for the locally brewed beer at Mikkeller. Housed behind the right-field gates and accessible to non-ticket-holders, too, this bright branch of the cult Danish beer-maker features 30-foot ceilings, illustrator Keith Shore's colorful murals, and sight lines to the shiny brewing equipment, which is used to make many of the 60 super-fresh drafts served on-site, including the crisp Say Hey Sally pilsner and tropical Henry Hops IPA. These are accompanied by other Mikkeller selections along with beers from esteemed breweries like Hill Farmstead. Sit at one of the picnic tables stationed across the spacious taproom, and if you spring for another round, you won't miss a pitch: TVs are tuned to the game.
Pre-BAM Drinks
The Rockwell Place
31 Rockwell Pl., nr. Fulton St., Fort Greene 917-909-1093
Apparently, it's still possible for one of the city's most watched bartenders to quietly open a new place, as long as it's on a strip sorely lacking in pedestrians, behind a door marked only with a hanging tuba. This could be a recipe for disaster. In the hands of the Long Island Bar's Toby Cecchini and Joel Tompkins, however, it's a stellar sequel. Part of the Rockwell Place's appeal is that it feels like a retreat — a long, narrow space with nothing much around it (a large empty lot sits across the street). But it's also only a five-minute walk from BAM and is a great place to gear up for, say, DanceAfrica with a cocktail as inventive and playful (all $13) as the ones served at its sister bar. There's the Rare Citrus Margarita, a margarita-and­gimlet mash-up made with a hard-to-find cordial, and the delicately aromatic Grapefruit Shiso Fix. But the star drink is the Japonaise, a refreshing riff on the mai tai with hints of Creamsicle. The food menu rotates, but if you can, be sure to try the spicy franks and beans.
Ceramics Studio
BKLYN CLAY
535 Carlton Ave., at Pacific St., Prospect Heights; 845-481-3842
There were simply too many ceramists in Brooklyn for Bklyn Clay's original location, a 2,500-square-foot storefront in South Slope, which opened in 2016 before half the borough developed strong opinions on using, say, wet versus dry glaze. So owner Jennifer Waverek closed up shop and signed a ten-year lease for a Prospect Heights spot that's more than double the size (it's the largest of its kind in Brooklyn) with triple the amenities. The new location — a sort of co-working space for ­potters — allows budding ceramists 24/7/365 access to 44 wheels, a vertical slab roller, an extruder, a ceramic 3-D printer, a full-size color decal printer, spray booths, glazes, shelves, and six types of clay (from $275 a month). Nonmembers can use the plant-and-light-filled facilities by signing up for private lessons (from $200) or semester-long workshops ($650) with a slate of local gallery-­represented artists.
Non-Boozy Cocktails
Existing Conditions
35 W. 8th St., at Macdougal St. 212-203-8935
This supergroup of a bar unites Cocktail Kingdom's Greg Boehm with Don Lee and Dave Arnold, two intrepid tinkerers who've pushed New York cocktails into the future. While they precarbonate bubblies and perfectly calibrate a bottled cocktail's ideal temperature, their greatest innovation may be their nonalcoholic drinks. Here, the absence of booze does not translate to a single drop less forethought, technique, or quality; in fact, the drinks taste as adult as their boozy counterparts. The team employs the same advanced processes of clarification and carbonation to fruit and vegetable juices, striving to simulate the mouthfeel of an old-fashioned, say, or a spritz's tongue-tickling level of fizz. They even reserve the bar's rarest ingredient for a drink called the Stingless, starring the slightly sour honey of the Melipona bee, an endangered Mexican species that pollinates vanilla orchids. It's enough to make you get on the wagon.
Roof Bar
Ophelia
3 Mitchell Pl., at First Ave.; 212-980-4796
On the 26th floor of the U.N.-adjacent Beekman Tower, Ophelia offers elegance rarely found in the arteries of Midtown East. With indoor and terrace seating, wraparound windows, and panoramic views of Manhattan, the East River, and Long Island City, the former Top of the Tower restaurant (a favorite of Frank Sinatra and his cohort) fits in with the circa-1928 building's Art Deco style. Elevators open to a long pewter bar dramatically framed by arched, 13-foot-tall iron windows, and the plentiful plush perimeter seating is accentuated by deep-blue walls and black-and-white-tile flooring, occupied on recently launched DJ nights by low-key head-bobbers. Then there are the drinks: updated classics like the Far East Side, which combines gin and shiso-infused shochu, and the heady, photogenic Ophelia's Ascension, lacing pepper-infused mezcal with cedar smoke.
Sake Taproom
Brooklyn Kura
68 34th St., nr. Third Ave., Sunset Park 347-766-1601
Even if you fancy yourself a sake aficionado, chances are you've never sampled moromi, a still-­fermenting, low-alcohol not-quite-yet-sake served in a small teacup with rice bits submerged like glutinous treasures beneath the opaque liquid. It's one of the compelling taproom-only specialties available at Brooklyn Kura, the city's sole sake brewery. In a sleek, concrete-floored space tucked behind blue doors inside Industry City, brewer Brandon Doughan transforms Arkansas- and California-grown rice into a range of unpasteurized, unfiltered sakes, including the fizzy frizzante and fresh-pressed, unaged shiboritate. As one of the East Coast's few sake producers, Brooklyn Kura draws crowds of Japanese expats and inquisitive drinkers to its taproom, where the house ferments are served in stemware — no sake bombs here — and large-volume science-lab beakers suitable for sharing. It's a distinctly local take on sake appreciation, right down to the snacks. The charcuterie is sourced from Industry City salumeria Ends Meat.
Dog Park
Domino Park Dog Run
15 River St., nr. S. 5th St., Williamsburg
Standing around at the dog run, typically some kind of mulch-sand-and-gravel-filled situation, is not one of the more scenic things to do in New York. But then Domino Park's dog run — an extension of the lush waterfront green space — opened in June. Nestled near the Williamsburg Bridge and overlooking the East River, the 1,750-square-foot run for dogs of all sizes is outfitted with nontoxic turf (so no post-park bath is needed), water fountains, and landscaped trees. Playing fetch is a lot more fun with the water and miles of Manhattan in the background, and steel fences do a great job of keeping balls from going overboard. After-work hours get busy, but you can usually grab a seat on one of the custom benches, made of wood salvaged from the former Domino Sugar Refinery, or pick up a mushroom-elote taco ($4) at the Tacocina stand nearby.
Gamer Gathering
Super Smash Bros. Game Play at Stuart Cinema & Café
79 West St., nr. Greenpoint Ave., Greenpoint; 347-721-3777
Once a week at Stuart Cinema — an indie movie house that opened in a former warehouse in Greenpoint last fall and tends to cater to the neighborhood's herds of 20-somethings — the entire 70-seat theater is given over to a Super Smash Bros. Ultimate tournament. Eight players (ages 17 and under, including some 5-year-old gamer savants) pay $12 to sit in front of the 160-inch screen and compete against one another for an hour and a half. Friends or parents can pay $5 to sit in the audience and cheer the kids on with $3 boxes of popcorn in hand. There tends to be a lot of screaming—when else can kids take over an entire movie theater and make as much noise as they want? — plus trading of gaming codes and tricks on how to make it to the next level. There are adults-only nights, too; for $20, grown-up gamers get unlimited beer, wine, and popcorn while they play.
*This article appears in the March 4, 2019, issue of New York Magazine. Subscribe Now!