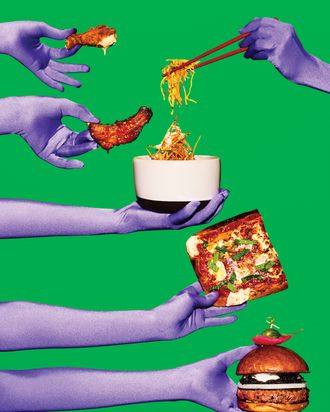 The Lobster Club's chicken wing, Vini e Fritti's rib, Bar Moga's ramen, Loring Place's pizza, and Café Altro Paradiso's burger. Gloves by We Love Colors.
Photo: Bobby Doherty/New York Magazine
This year's list of all the best new things to eat in New York includes a hippie-grandma pizza, sous-vide Roman ribs, and an inexplicably delicious whole head of cauliflower. Of course, if it's just chicken wings, burgers, and the best new Brooklyn brunch you're interested in, we've got those too.
Pizza
Loring Place
21 W. 8th St., nr. Fifth Ave.; 212-388-1831
We know. An entire Loring Place grandma pizza served in a mini sheet pan is about the size of a Di Fara Sicilian slice. And it costs $17. Yet Dan Kluger's foray into the world of the square has resulted in something unique and wonderful. Yes, it's topped with the customary tomatoes, fresh mozz, garlic, basil, dried chiles, and a sprinkle of Parmesan. But it's the crust, made from a blend of house-milled flours including heirloom emmer and whole wheat, that sets the thing apart from your local slice joint. The edges are crisp, the crumb is springy, and most impressive of all, the flavor is unusually pronounced — toasty, tangy, wheaty, fresh. It's a grandma pie that reminds you that pizza is first and foremost about the bread.
Ribs
Vini e Fritti
30 E. 30th St., nr. Madison Ave.; no phone
Of all the snacks you expect to find in a Roman wine bar (or Danny Meyer's fantasy of one), pork ribs do not spring to mind. But what distinguishes these baby backs from the ones at Meyer's nearby BBQ joint, Blue Smoke, is seasoning as much as setting. "Very few things are more Roman than porchetta," says chef Joe Tarasco, who applies a rub of fennel fronds, rosemary, and garlic. Then, he bypasses the southern smoker ritual for an overnight sous-vide followed by a quick deep-fry. After a toss in a sticky mix of Calabrian chiles, honey, vinegar, and the Italian fish sauce colatura, they emerge tender with just enough bite, sweet and sour, and as elegant a plate of finger food as you'll encounter in the Eternal City or a Nomad hotel.
Burger
Café Altro Paradiso and Flora Bar
234 Spring St., at Sixth Ave.; 646-952-0828
945 Madison Ave., at 75th St..; 646-558-5383
No chef of Ignacio Mattos's caliber wants to be known for his burger, but judging by his first professional attempt, served in slightly different guises at Flora Bar and Café Altro Paradiso, that could be his fate. Though they share basic DNA (Wagyu blend, fish-sauce-and-chile lacquer, raw onion, compressible milk bun), the fully accessorized burgers vary in cheese and condiment (Gorgonzola and radicchio mostarda downtown, Taleggio cream and pepper marmalade uptown) and are as painstakingly conceived as anything in his repertoire. Altro's fat fries have the edge, but Flora Bar's kitchen hides housemade potato chips under the bun for extra crunch. And don't overlook the uptown plate's palate-cleansing ramp-vinegar-dressed lettuce wedge. Anywhere else it would be a throwaway; here, says detail-oriented Mattos, "it might be the best part."
Chicken Wings
The Lobster Club
98 E. 53rd St., nr. Park Ave.; 212-375-9001
How do you take a tired, populist recipe and update it with a sense of style and panache without losing the qualities that make it popular in the first place? For Tasuku Murakami, who runs the kitchen at the Major Food Group's competent new midtown fusion joint, the answer is to take seven kinds of curry powders and spices, dust them over a batch of chicken wings, and sizzle the results to a perfect crisp. But the key, we could respectfully argue, is the dipping sauce, which has a lighter, more confectionary quality than what you get with Buffalo wings, thanks to Kewpie mayo with a dash of mirin.
Ramen
Bar Moga
128 W. Houston St., at Sullivan St.; 929-399-5853
New York's ramen scene has diversified since the heady tonkotsu era, but there still aren't a ton of vegetarian options. With few exceptions, meatless broths are afterthoughts. That isn't the case at this downtown cocktail bar, where the sole bowl contains nary a drop of pork juice. The rich soup gets its snow-white color from soy milk, atop which floats a bramblebush of delicately fried vegetables. They resemble veggie chips, only they're tastier, crunchier, snappier, and cut into strands that run parallel to (and are a great companion for) the chewy noodles. Who needs pork fat?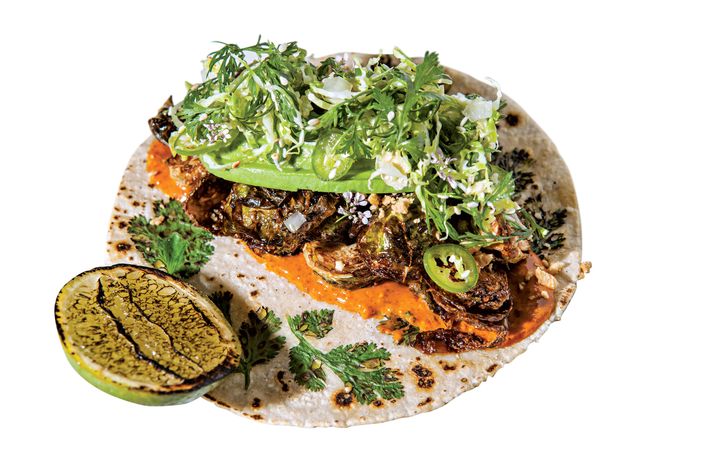 Taco
Atla
371 Lafayette St., at Great Jones St.; no phone
Brussels sprouts, fish sauce, and peanut butter: These ingredients are not the contents of a Chopped mystery box but the makings of a fantastic new taco recently launched at Enrique Olvera's Atla. Why it took the Mexican super-chef so long to put a taco on one of his New York restaurant menus, we don't know, but it was worth the wait. Cilantro leaves get pressed into the fresh tortilla, which makes an earthy, supple foundation for a double dose of sprouts (deep-fried and dressed in caramelized fish sauce; shaved raw and mingled with cilantro, avocado, and serrano chiles). There are pops of texture in the form of toasted sesame seeds and crushed peanuts. The clincher, though, is the swipe of Aleppo-pepper-peanut-­butter salsa that, as it turns out, goes with fish-sauced Brussels sprouts the way that bacon goes with eggs.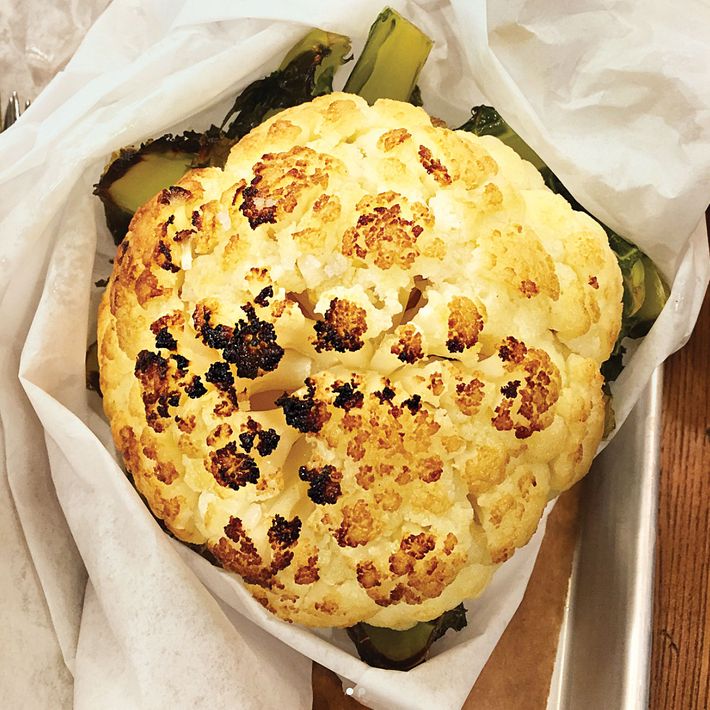 Vegetable
Miznon
435 W. 15th St., nr. Tenth Ave.; 646-490-5871
Just when you thought cauli­flower's steakification had rendered the humble vegetable a cruciferous cliché, this Israeli pita-pocket outlet rides into town on the strength of its inscrutable signature dish, an entire head that's boiled in Dead Sea salty water, assiduously massaged with olive oil, then roasted to a golden brown. Though the recipe's origins are murky — showman chef-owner Eyal Shani does a YouTube shtick reluctantly crediting his business partner, Shahar Segal, who credits his own mother — the result is inexplicably great: charred on the outside, almost custardy within, packed with unadulterated cauliflower flavor and tender enough to be devoured by hand. No steak knife required.
Crab Cake
The Grill
99 E. 52nd St., nr. Park Ave.; 212-375-9001
Why do we choose to celebrate Mario Carbone's perhaps overly celebrated (and, at $38, also possibly overpriced) crab cake? Because of the mix of Dungeness and peekytoe crab, first of all, which, unlike its famous predecessor at the old Four Seasons Grill Room, is conspicuous for its freshness, proportion, and general lack of bread crumbs. Because of the old-school artistry (the mustard aïoli, the pommes-Anna top). And because sometimes, in the crowded annals of food fandom, a highly touted, endlessly publicized "It" dish actually lives up to the bloviating cloud of hype that precedes it.
Uni
The Pool
99 E. 52nd St., nr. Park Ave.; 212-375-9001
Given the status of sushi in the city's power-dining circles, it was only a matter of time before this classic Japanese delicacy was given the kind of gilded, plutocrat service reserved for the finest caviar. At this seafood palace in the Seagram Building, a small mountain of the finest sea-urchin roe is tastefully arranged on the bottom of a pearly shell and presented on a bed of crushed ice. There's fresh lemon to go with it, although the glory is in the flotilla of carefully arranged caviar-style trimmings like warm blini, neatly sliced boiled eggs, triangles of toast, and, if you wish, just a touch of sour cream.
Comfort Food
Don Angie
103 Greenwich Ave., at 12th St.; 212-889-8884
If you grew up in an Italian-American household and during that time suffered an upset stomach, low spirits, heartbreak, a rough day at school, or a case of the sniffles, you probably know pastina. If not, pastina are the tiniest specks of pasta imaginable and, when served in chicken broth or with gobs of butter and loads of grated Parmigiano-Reggiano, considered by mammas and nonnas to be the ultimate cure-all. The only problem with this Italian penicillin is that it's hard to find in grocery stores, let alone restaurants. Which is why we're indebted to Don Angie's Scott Tacinelli and Angie Rito for putting pastina on their menu as a side dish. Unlike Mamma's, their version (mascarpone and Pecorino, black pepper, and sautéed garlic chives) eats like an upscale Italian mac-and-cheese or cacio e pepe, but it's just as good at alleviating whatever it is that ails you.
New York–Chinese Nostalgia
Hwa Yuan Szechuan
42 E. Broadway, nr. Catherine St.; 212-966-6002
The iconic sesame noodles get all the press at the Shorty Tang clan's cavernous new Chinatown venture, but the dish we can't stop thinking about is this retro confection, which you'll find listed on the menu as "Dry Sauteed Tangy Crispy Beef." Like the sesame noodles, the recipe here (cornstarch, sugar, threads of delicately crunchy beef tossed with a sprinkling of sesame seeds) is reproduced with a kind of scholarly care, and it packs the same magical, revelatory punch, especially if you've been subsisting for decades, like we have, on the soggy carryout version.
Congee
abcV
38 E. 19th St., nr. Broadway; 212-475-5829
Lord knows there are more economical bowls of this ancient, suddenly trendy breakfast staple on the market, and if you're a connoisseur of the more radical non-vegetarian garnishes favored by downtown traditionalists (pig intestines, frog legs, etc.), you'll want to give Jean-Georges's clean, all-veggie version a wide berth. But for those of us who are willing to stretch our congee horizons, this ingenious recipe, which uses a soothing blend of millet and black rice as the base for numerous umami-forward condiments (fermented-chile paste, strips of nori, a poached egg, if you wish), is a happy revelation.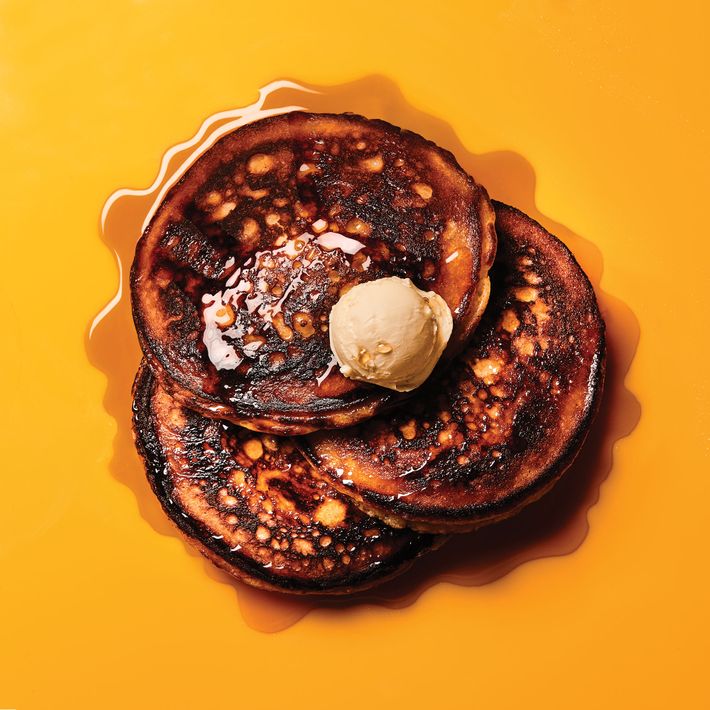 Brunch
Chez Ma Tante
90 Calyer St., at Franklin St., Greenpoint; 718-389-3606
You can't talk about brunch at Chez Ma Tante without talking about the nearly burnt, meltingly rich destination pancakes. But you can try: There's the perfect Caesar, springy-leafed and somehow refreshing under its mantle of shaved Piave cheese and oil-roasted croutons; the creamy, curry-laced Anglo-Indian kedgeree; the fluffy tortilla española with its jaunty guindilla-pepper garnish; the lavish sausage-egg-and-cheese. Factor in the lovely afternoon light, daytime cocktails like a dandelion-wine martini, and the laid-back, civilized vibe, and what more do you need? Nothing. But get the pancakes anyway.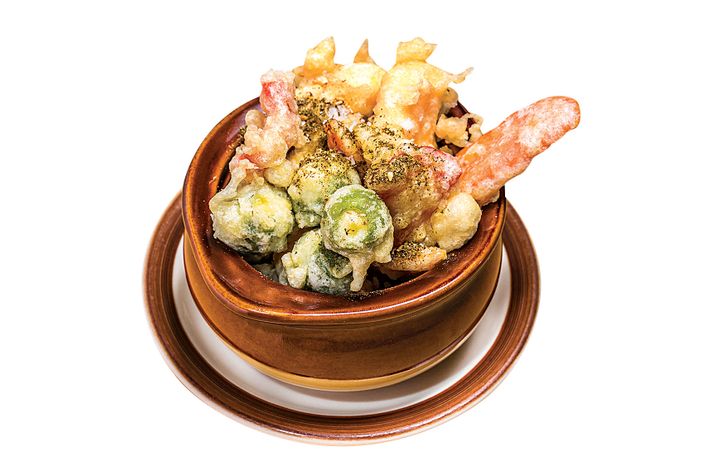 Pickle Plate
MeMe's Diner
657 Washington Ave., nr. St. Marks Ave., Prospect Heights
718-636-2900
It's a cliché because it's true: Pickles are big in Brooklyn. People who have grown weary of standard pickle plates should head to MeMe's Diner in Prospect Heights, where the idea of crisp-fried pickled vegetables is reinvigorated with a decidedly Italian sense of sprezzatura. Co-owners Libby Willis and Bill Clark quick-pickle peppers, cauliflower, carrots, and olives in a garlicky rice-vinegar brine, dredge them in a light tempura batter, drop them in hot oil, and send them out for a very reasonable $9. They are lightly acidic, delicately fried, and impossible not to enjoy — preferably with one of Clark's no-nonsense Negronis.
Tamales
Factory Tamal
34 Ludlow St., nr. Hester St.; 917-691-5524
Delicious, soulful tamales can be procured throughout New York, from makeshift street carts and secret subway vendors and the massive menus of multitasking Mexican restaurants. But Fernando Lopez has carved out a unique niche for his tamale operation, a tiny Lower East Side kitchen where he goes to the considerable but worthwhile trouble of nixtamalizing corn on-site. The ensuing masa (corn dough) makes fluffy, crumbly, fragrant insulation for zesty fillings like mole poblano and bacon-and-cheese. They're $2.50 a pop, and you'll want one of each.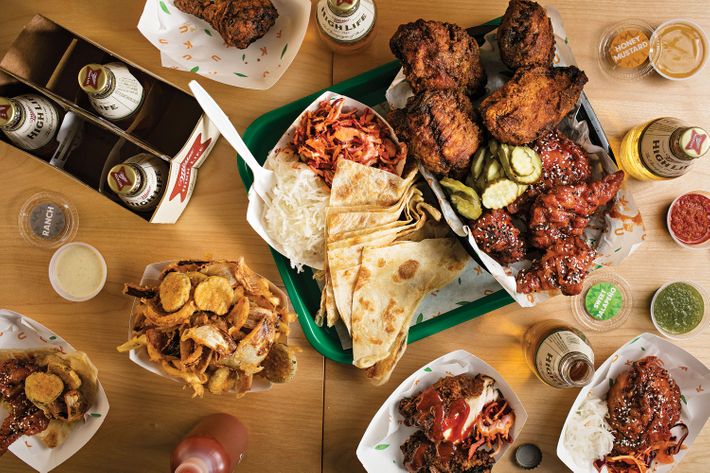 Fast-Casual Feast
Fuku Wall Street
110 Wall St., entrance on Front St.; no phone
Dave Chang's quick-service democratization of the large-format feast is like a $42 Happy Meal for two to four. He calls it a "chimek" (a portmanteau for chicken and the Korean word for beer), and it consists of a whole bird fried two ways: habanero-buttermilk-battered and spicy-sweet Korean style. The accompanying North African flatbread called m'smen (think paratha crossed with croissant) comes from Hot Bread Kitchen uptown, and the rest of the fixings come from the Momofuku man's fervid imagination. These include kimchee, daikon, cottage fries, pickle chips and fried pickle chips, onion petals, and a slew of dipping sauces. The idea is to taco it all together in the flaky flatbread, and once you do, you may never want to eat fried chicken any other way.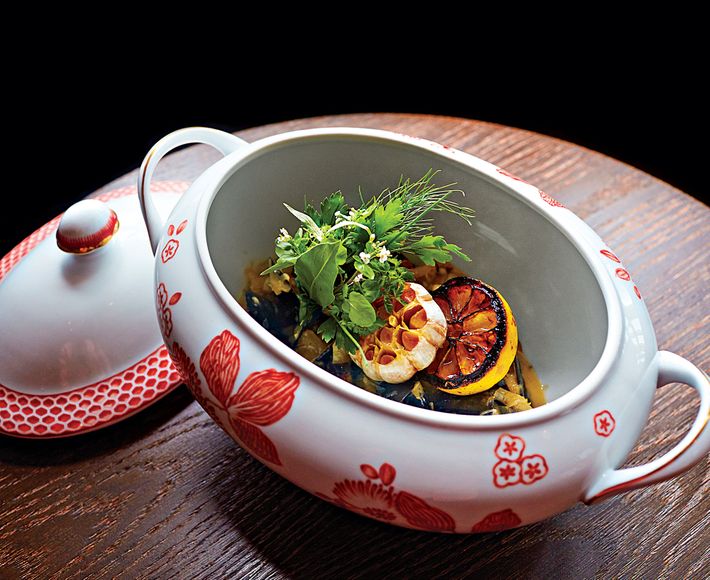 Mussels
The Office
80 Columbus Cir., at 60th St.; 212-805-8800
Leave it to the great Chicago maestro Grant Achatz to take a dish like steamed mussels, which jaded New Yorkers exiled to the trash heap of tired dining trends long ago, and imbue it with a new sense of grandeur and style. The mussels are fresh and bountifully sized, they're flavored with a satisfying combination of aromatics (fennel, leeks, garlic) and old-fashioned fatso goodness (bacon, butter), and although the $35 luxury-hotel sticker price isn't cheap, they're served in an elegant porcelain tureen big enough for a jolly-size drinking party of four.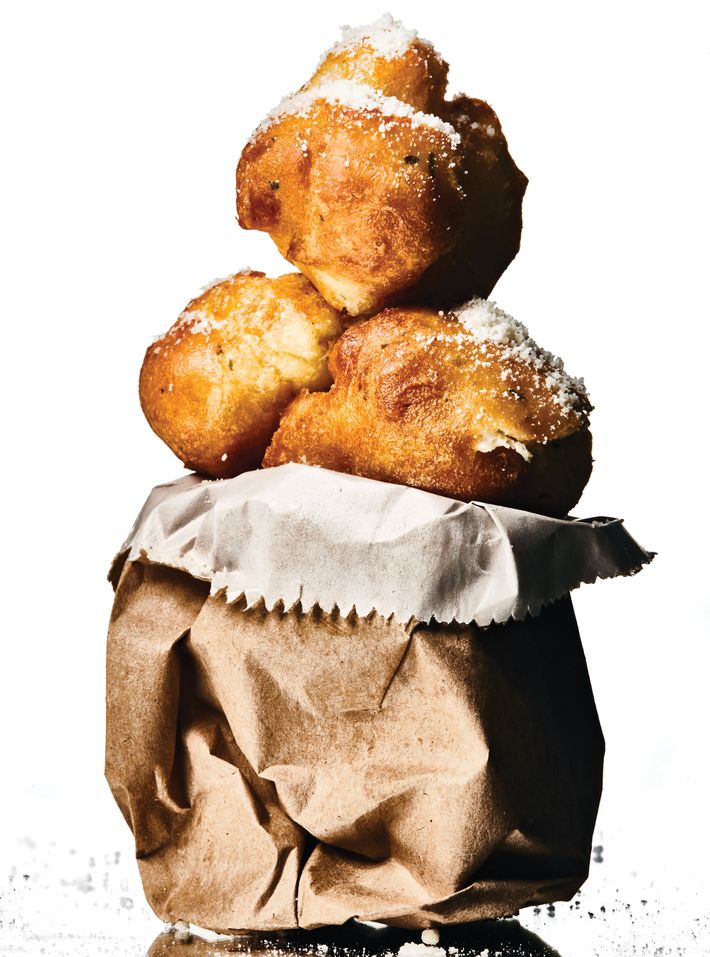 Garlic Bread
Pasta Flyer
510 Sixth Ave., nr. 13th St.; no phone
Mark Ladner's fast-food-pasta-joint version of a bread course: Little lumps of eggy choux pastry the chef calls "dots" are flash-frozen, tossed in the deep fryer, then left to cool on a baking rack. Next, they're coated in garlic butter, popped in the oven for a minute, and finished with a dusting of well-aged Parmigiano-Reggiano. They come three to a $2 order in a wax-paper bag not unlike the ones into which street-food vendors shovel sugar-roasted peanuts, and taste like a slice-joint garlic knot crossed with a Feast of San Gennaro zeppole and a French gougère.
Sausage
Ferris
44 W. 29th St., nr. Sixth Ave.; 212-213-4420
The talented bistro chef Greg Proechel has a way of taking slightly challenging nose-to-tail parts and making them presentable for polite company in all sorts of inventive and unexpected ways. Several of these fresser specialties dot the menu at this fine new Flower District gastropub (we're still thinking about the whipped chicken livers with chicharrón chips), but the blue ribbon goes to this dainty version of blood sausage, which is deconstructed on the plate in little bite-size nuggets and scattered with a mix of grilled dates and bits of puffed rice for a sweet candy crunch.
Flushing-Food-Court Find
Joe's Steam Rice Roll
136-21 Roosevelt Ave., nr. Main St., Flushing; 646-203-7380
In this Instagram age of over-the-top novelty foods, the dim-sum staple Guangzhou-style rice rolls aren't splashy. They're pale, pearly white, and steamed. Joe Rong mills his rice flour daily and steams his rolls to order, which might account for their subtly sweet flavor and smooth, springy texture. You can opt for fillings like pork liver and fish balls, but these slippery snacks are also worth savoring on their own, spiked only with seasoned soy sauce. The simplicity tastes twice as good these days.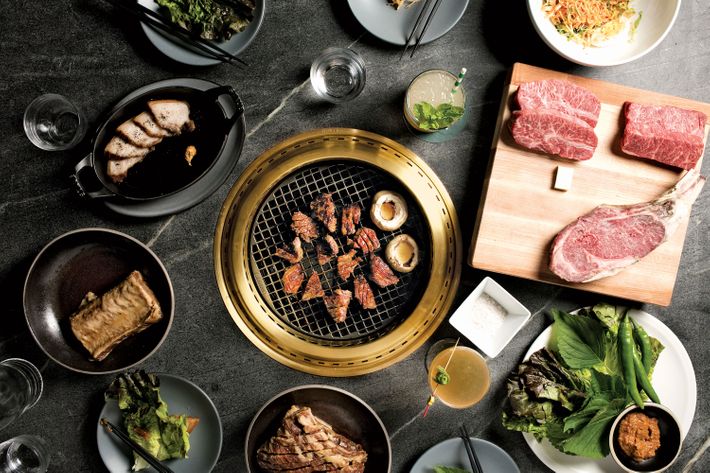 Korean BBQ
Cote
16 W. 22nd St., nr. Fifth Ave.; 212-401-7986
Sure, the wines are fancy and expensive and the prime beef is top drawer, but the dirty little secret about Simon Kim's hit fusion "steakhouse" is that it's the best classic Korean barbecue in town. We're thinking of the tender, sizzled short rib galbi (in addition to soy sauce and ginger, it's soaked in a mix of fruit juices), the traditional condiments and fixings (housemade or foraged from Greenmarket stands), and the fluffy, delicately rendered gyeran-jjim egg dish, which is about as different from the gyeran-jjim you'll find in the old warhorse establishments along 32nd Street as '70s-era frozen quiche is from a perfectly raised Parisian soufflé.
Fish
Guan Fu Sichuan
39-16 Prince St.; G-01 Flushing; 347-610-6999
There's an aquarium's worth of unusual sea creatures to eat at this Flushing restaurant, but one of the best dishes uses more common catch. The Sichuan classic boiled fish with pickled cabbage and chile sounds ho-hum, but it's a case study in underpromising and overdelivering. Tender sliced tilapia (or, for a recommended upgrade, the fish of the day, like striped bass) swims in a sea of bobbing chiles, both dried red and fresh green, lending vibrancy and a double dose of heat. The spunky pickled cabbage is electrically acidic, and the broth more flavorful from fish bones. When a wiser friend starts drinking it, you might be surprised, but you'll want to slurp it yourself—and then wonder when they're opening a fish-bone-broth window out front.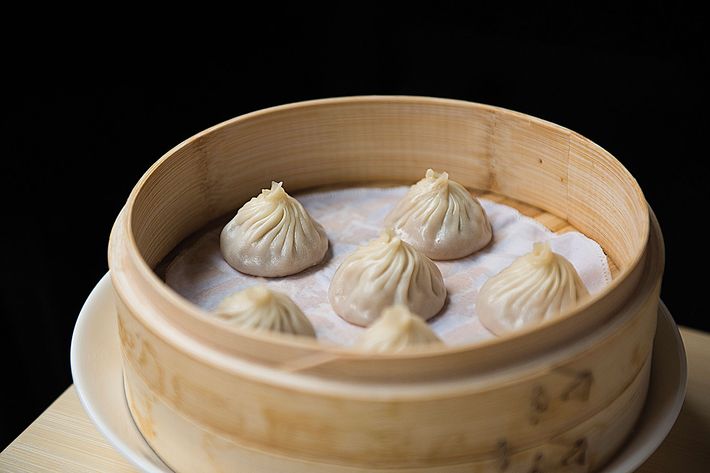 Soup Dumplings
Pinch Chinese
177 Prince St., nr. Thompson St.; 212-328-7880
In the annual cutthroat competition for the city's finest xiao long bao, it helps to have a certain amount of street cred, and no one has more of it than the head chef of this Soho restaurant, Charlie Chen, who can trace his lineage all the way back to the seminal Taiwanese soup-dumpling mecca Din Tai Fung. Just like at the mother ship back home, the dumplings here are handmade and thin-skinned and timed to arrive in their bamboo steamers when they're perfectly done. Their modest size means the soup doesn't overwhelm the other finely tuned components, and makes it more or less impossible to eat just one.
Club Sandwich
Studio
23 Lexington Ave., at 24th St.; 212-475-1924
Hotels must have club sandwiches; the new Freehand hotel has a game-changer. The 23 Lex Chicken Club starts with three slices of baker Zoe Kanan's Pullman loaf, as soft as you'd hope and sweetened with a touch of orange-blossom honey. Spice-rubbed rotisserie-chicken breasts are next, along with crisp "bacon" made from the chicken's skin. Lettuce and tomato are joined by a carrot-raisin slaw, bound by a lemon-poppy-seed mayonnaise. Yes, there is a toothpick — a nonnegotiable accessory, frankly — and yes, the sandwich will soon be available for room service. In the meantime, find it at the hotel's restaurant, Studio.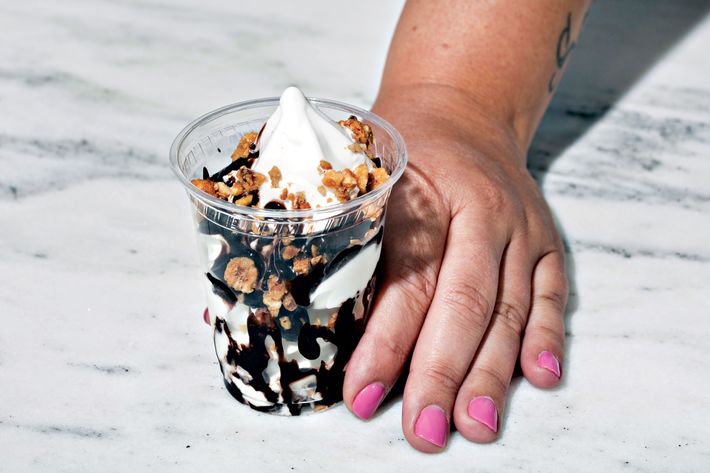 Sundae
Martina
198 E. 11th St., nr. Third Ave.; 646-747-6635
Just as Nick Anderer has interpreted Rome's round, thin, crackly-crusted pizza tonda for New York's fast-casual market, he's converted chewy, dense gelato into a soft-serve sundae that's somewhere between a serious Carvel upgrade and Shake Shack custard on a Roman holiday. It's no coincidence that the only flavor is fior di latte, or "flower of the milk" — the same name as the creamy mozzarella that adorns the pies. The hazelnuts are candied; the chocolate syrup is spiked with amaro; and on top, instead of the jejune proverbial cherry, you'll find a much more sophisticated drizzle of olive oil and sprinkle of sea salt.
*A version of this article appears in the March 5, 2018, issue of New York Magazine. Subscribe Now!