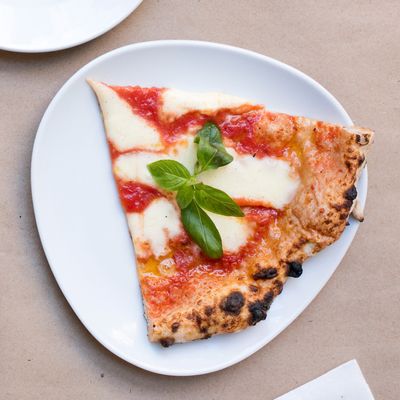 New York's most perfect margherita pie.
Photo: Melissa Hom
What do we mean by Neapolitan or Naples-style pizza? We aren't just talking about "la vera napoletana," that sanctified, highly regulated marriage of corporate-sponsored 00 flour, volcanic tomatoes, and mozzarella that weeps its moisture into the center of a damp, doughy pie. We're also talking about neo-Neapolitan or Neapolitan-esque pies, those hybrid masterworks that aspire to the flavor and texture of the Italian original, while becoming crisper, drier, more daringly topped, and less puritanical. During the Great Neapolitan Pizza Invasion of the middle aughts, many New Yorkers felt they had to choose a side. But in the end, the lines blurred: Naples-style pizza seeped into our hometown pizza consciousness, influencing our best pizza chefs, while New York's tastes and appetites subtly transformed by-the-book Neapolitan pizza, creating something arguably better than both.
1. Ribalta
48 E. 12th St., nr. Broadway; 212-777-7781

Ribalta has always felt more Neapolitan than New York, with its European clientele, its raucous soccer broadcasts, and especially its pizza margherita, which tastes as classic as can be: the tender-chewy naturally leavened dough, with its faint and fleeting crackle; the sauce, a burst of pure tomato flavor; and the milky melt of cheese. But, recently, partners (and Neapolitan paesani) Rosario Procino and chef Pasquale Cozzolino upped the ante with yet a second margherita pizza — the STG — dappled with a fior di latte (cow's-milk mozzarella) instead of the margherita DOC's buffalo mozzarella. This might seem an insignificant thing, a marketing ruse for gullible American pizza geeks. And yes, those abbreviation-loving Italians always have something to prove (DOC means denominazione di origine controllata; STG stands for specialita traditionale garantita). And yes, even the fior di latte has a backstory: Made from the raw milk of a specific breed of cow that grazes in open fields at high altitudes in the Agerola municipality of Naples, it's soured naturally over half a day, and the curd is pulled, for mysterious reasons, only very late at night, presumably at the time of the full moon. These measures, absurd as they may sound, make for a slightly tangy, nicely chewy cheese that proves to be the perfect topping for New York's most perfect margherita pie.
2. L'Amico
849 Sixth Ave., at 30th St.; 212-201-4065
The biggest beef New Yorkers have with ­authentic Naples-style pizza is that it's excessively doughy and also wet and floppy in the middle, a condition that encourages ­otherwise upstanding citizens to abandon all propriety and eat their pizza with a knife and fork. Laurent Tourondel's solution: Just use less dough per pie. Twenty percent less dough to be precise. This makes for a wood-fired pizza that ­exemplifies all the winning ­attributes of the ­Neapolitan model — light and airy with just the right amount of tender chew and an aggressively charred cornicione (outer rim) that yields to none in the big-and-tall department — but without the droopy slices. Tourondel's toppings strike a nice balance between classic and creative, too, and his clam pie, a recent addition to the lineup, is the best you'll find this side of New Haven.
3. Kesté Pizza & Vino
271 Bleecker St, nr. Morton St.; 212-243-1500
It wasn't that long ago that we picked Kesté's pizza as New York's numero uno. But don't regard the pizzeria's third-place ranking on this listicle as a sign that quality on Bleecker Street has slipped, or that Roberto Caporuscio has lost his touch. No, the pizza at Kesté is as good as ever — soft and tender, charred and chewy, and about as well balanced as Sting and Trudie Styler in the yab-yum pose. No, what's happened is that the craze for Neapolitan pizza Kesté helped ignite has created a lot of competition, which is not a bad thing for Neapolitan pizza fans.
4. Paulie Gee's
60 Greenpoint Ave., nr. West St.; Greenpoint; 347-987-3747
Backyard hobbyist turned professional pizzaiolo Paul Giannone's pies are light and airy with a deep char and a micro-layer of crispness, and in the same pristine class as the ones he once idolized at Kesté, Motorino, and the late, great Una Pizza Napoletana. The former software-quality-assurance engineer also has a healthy, no-holds-barred approach to toppings (and local collaborations), most apparent, perhaps, in the Hometown Brisket pie: fresh mozzarella, brisket from Red Hook's Hometown Bar-B-Que, pickled red onion, and a judicious drizzle of Hometown Bar-B-Que sauce.
5. PN Wood Fired Pizza
2 W. 28th St., nr. Broadway; 646-964-4834
In an unusual twist, this new Nomad pizzeria first asks you to choose your crust, which can be made from stone-ground organic Italian wheat, say, or Canadian wheat mingled with farro and rye. (It's no coincidence that the place is owned by a flour company.) And while that may seem like the promotional gimmick to end all promotional gimmicks, the pizzas are beyond tender and deeply flavored, and come with well-articulated pockets of air that aficionados associate with long fermentation, not to mention some world-class blistering around the cornicione. The topping combos are great, too, especially the salamino (tomato, cheese, spicy salame) and the bianche, swabbed with artichoke-and-black-truffle purée, fresh mozz, pancetta, and Pecorino.