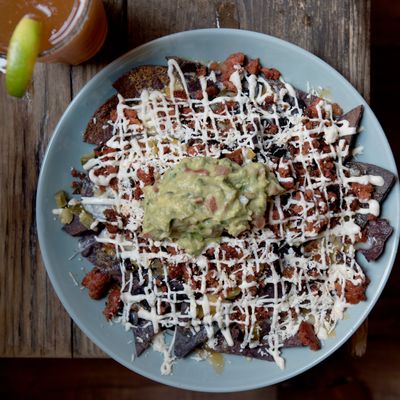 Absolute perfection.
Photo: Liz Clayman
The city, perhaps surprisingly, is experiencing something of a nacho renaissance. This is good. The places below, however, make versions that are somehow crispier, cheesier, more loaded with toppings, and just plain better than everyone else in town.
1. El Atoradero
708 Washington Ave., nr. Prospect Pl., Prospect Heights; 718-399-8226
Blue corn is Denisse Lina Chavez's calling card. At the relatively new Brooklyn location of her storied Cheap Eats favorite, that corn is nixtamalized in house and pressed out each day into floppy tortillas. Leftovers are fried to make chips, which then go on to serve as the base of the restaurant's glorious nachos. Get them with meat, preferably chorizo, which Chavez make Atlixco-style, which means it's a nod to her hometown in Puebla. It is soft and salty and has the vivid red shine of pepperoni on a pizza slice. Beyond its helping of citrusy Mexican oregano, the ingredients are secret, Chavez says. That's fine. There are other things on these nachos worth considering, like pickled jalapeños, crumbled cotija, and the odd briny carrot slice. Crema is applied in a weblike squiggle; Monterey Jack and Cheddar melt together in a blanket of cheese. Jagged edges of chips poke through a huge dollop of avocado in the center of the plate, and the black beans are simmered with garlic, epazote, and chiles. No one raves about beans, but these are big and imported, like much of Atoradero's larder, and should inspire sonnets.
2. Empellón al Pastor
132 St. Marks Pl., at Ave. A.; 646-833-7039
The words cerebral and queso aren't usually uttered in the same breath. Both come to mind, though, at Alex Stupak's East Village bar and tortilleria, where a line from Nietzsche turns up as wall graffiti. The paper tray of loaded house nachos — just $10 — feels hefty, but the housemade tortilla chips are light. The calibrated dose of Tex-Mex-inspired queso sits on just the right side of gut-bomb territory and allows the other flavors to assert themselves. The salsa verde is on a serrano kick, and there's a garlicky undercurrent to the guajillos and smoky chipotles in the salsa roja. Crema and cilantro help cool the dish while giving it some color, and the proteins stand out: Black beans are braised in beer with al pastor scraps. Stupak's chorizo, meanwhile, is made with pasilla Oaxaquena and actual beef bouillon, which may as well be a secret weapon.
3. El Cortez
17 Ingraham St., nr. Bogart St., Bushwick; 347-599-2976
White American cheese, rendered volcanically gooey, informs the base layer of these nachos, which at first don't seem too different from the famed "Cadillac" version served at sister spot the Commodore. But these chips are spruced up with snappy green-onion slices and radish rounds and other greenery, as if these nachos are working on their beach body. A comparison to salad seems apt, but the chile de árbol salsa, as red and saturated as fake blood, reins in the breeziness with an undercurrent of pleasantly numbing heat. Like their precedent at the Commodore, though, the nachos at Stephen Tanner and Chris Young's Bushwick spot are the ideal way to cap off four or more hours of day-drinking. Plates of these should follow multiple rounds of the restaurant's Orange Julios in the same way pots of gold tend to show up at the ends of rainbows.