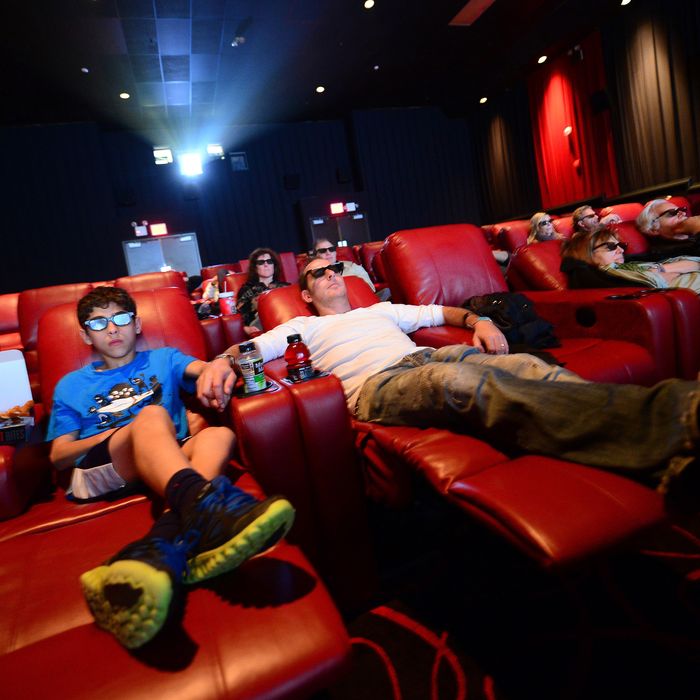 Recliners, anyone?
Photo: Emmanuel Dunand/AFP/Getty Images
Here are the best movie theaters in New York, including blockbuster big screens, indie art houses, and the best place to get a (surprisingly good) cocktail delivered to your seat.
1. AMC 84th Street
2310 Broadway, nr. 84th St.; 212-721-6023
It's the opening night of some sought-after blockbuster movie and you want a guaranteed ace seat. AMC on Broadway and West 84th is your spot. Here, you're not only able to reserve your seat ahead of time, but the chair itself is a gloriously roomy recliner with room for you to spread out. (This is also the case at AMC in Fresh Meadows, Queens.) In 2013, the theater underwent a massive renovation and emerged a consistently clean, gleaming, and popular movie destination just two blocks away from the subway and near plenty of after-show food options like Jacob's Pickles. A few tips: If you're flying solo, just be aware that every pair of seats can convert to a loveseat (though you're no closer to the person next to you in a regular theater), and bring a blanket. As in most theaters, it tends to get a little cold. Here, though, you'll have the room to curl up and get cozy.
2. IFC Center
323 Sixth Ave., at 3rd St.; 212-924-7771
How do you pick an indie theater when New York is packed with them? There's the Film Society of Lincoln Center for the New York Film Festival, Landmark Sunshine for cult midnight movies, the Angelika for its café and lounge, the Museum of the Moving Image for 70mm and digital revivals, Anthology Film Archives for deep cuts, and the nonprofit and iconic Film Forum. But the three-story IFC theater in Greenwich Village stands out, with five cinemas showing high-def digital and 35mm films and an eclectic repertoire including the British National Theatre Live series; "Stranger Than Fiction," focusing on documentaries and shorts; and the monthly Queer Art Films, picked by queer artists in NYC. You'll also often find host talk-backs and discussions, like this month's events for the fantastic Kitty Genovese doc The Witness, with some screenings followed by Q&As with the film's director, James Solomon, and Kitty's brother Bill Genovese.
3. Nitehawk Cinema
136 Metropolitan Ave., nr. Berry St., Williamsburg; 718-782-8370

We're currently in the heyday of dinner-and-a-movie spots, and with Alamo Drafthouse coming to Brooklyn this summer, the streak isn't close to ending. This spring, the sleek and retro Metrograph opened in the Lower East Side, but food options like steak tartare and burrata are served only in the restaurant. Syndicated in Bushwick sends its upgraded snacks like fried chicken and lamb ribs to the seats in its roomy theater, but movies, though only $3, are older. Which leaves one man standing: Nitehawk in Williamsburg, which offers both first runs and classic hits. Food and cocktails are delivered to your seat, and more often than not the offerings are themed. Sea urchin ceviche paired with a screening of American Psycho? Don't mind if we do.
4. BAM Rose Cinemas
30 Lafayette Ave., at Ashland Pl., Fort Greene; 718-636-4100
This former music hall in the Brooklyn Academy of Music compound was converted to theaters in 1998 but kept the tiered seating in some of the theaters, making for excellent stadium views and an ornate proscenium-framed vantage point. The screens are on the small side, but the cinema's selection makes up for that: Movies skew toward indies and documentaries, with occasional talk-backs and film series like the annual favorite BAMcinemaFest. The gorgeous Bam Cafe also serves as a great spot to grab a drink before or after, or take in a free music show on select Friday and Saturday nights.
5. Paris Theatre
4 W. 58th St., nr. Fifth Ave.; 212-593-4872
Classic theaters are all but gone, with the Ziegfeld closing earlier this year, but the Paris Theatre still stands, posh as ever. The postwar jewel-box space — which had its ribbon cut in 1948 by none other than Marlene Dietrich — hosts just one art-house or foreign film for a stretch, in a space that holds 586 seats, including the balcony. Have a drink beforehand at the Plaza across the street for a glamorous only–in–New York date night.
6. Regal Battery Park
102 North End Ave., at Vesey St.; 212-945-4370
This gem tucked away in downtown Manhattan's Conrad hotel is your best bet for finding a last-minute ticket on a weekend night. Sure, you could also try AMC Loews Kips Bay, but Regal Battery Park leaps ahead for its proximity to a surprisingly uncrowded Shake Shack.