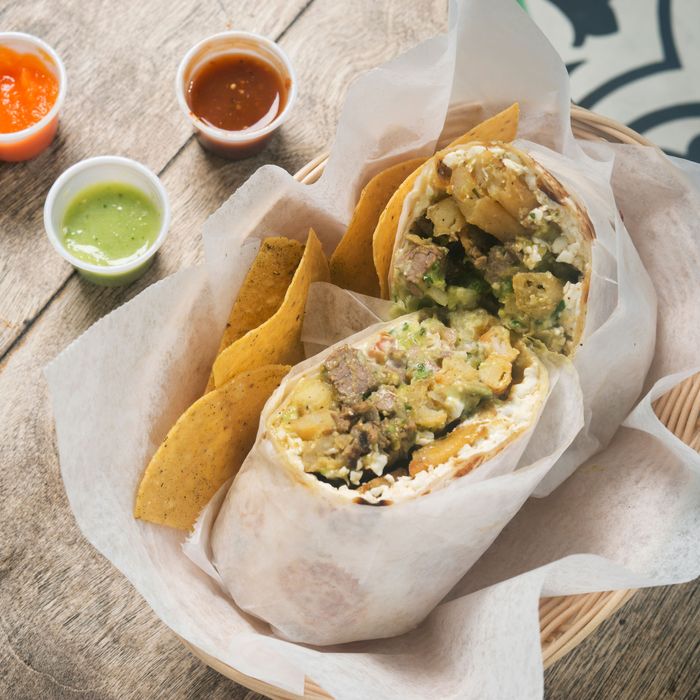 French fries might just be the best burrito filling you've never had.
Photo: Paul Wagtouicz
In 1988, a scrappy kid from the Upper East Side named Bobby Flay introduced delicious shrimp-and-black-bean burritos at Miracle Grill. Things may have looked up for Cal-Mex in Manhattan at that moment, but after that, New York's burrito scene never quite took off, and Californians have still been able to claim superior burritos. Some contenders have popped up over the years — Mission Cantina's tortilla-wrapped beauties flew too close to the sun; Best Buds, a strong contender, folded when its owners got "too blazed" — but now, there are a handful of spots with a renewed focus on making great burritos. The best offerings in New York, it turns out, have technical specs imported directly from the Golden State.
1. Lucha Lucha
283 Nostrand Ave., nr. Clifton Pl., Bedford-Stuyvesant; 718-399-3696
Burrito scholars make compelling cases that stoners and San Diego's carbo-loading surfers have made the idea of stuffing French fries inside a burrito a distinct point of local pride, and it's honestly pretty easy to see why: The fries may not stay incredibly crisp, but their golden exterior works like an up-to-11 flavor amplifier throughout the entire burrito. The team behind Bed-Stuy's Lucha Lucha knows this, and the other ingredients round out the whole experience. Chicken thighs add a bit of char, as does a luminous habanero-carrot salsa. Medium-thick slices of carne asada, recommended by purists, are loaded with flavor. Lucha Lucha keeps rice and beans on hand for its Tex-Mex burrito, and the "Giant" involves a bonanza of chorizo, carne asada, and chicken, plus two 14-inch tortillas pulled tight around an exhaustive deployment of fillings.
2. B'klyn Burro
922 Fulton St., nr. Washington Ave., Clinton Hill; 718-622-8776
The city's best iteration of genuine San Francisco Mission District–style burritos is more about flavor than size. The versions here — stuffed with chipotle chicken, garlic shrimp, or carnitas — are punching well above their weight. Each burrito deftly carries a payload of well-seasoned components, with citrusy pico de gallo and large planks of avocado in each. Fresh salsas, crucial but often overlooked elsewhere, span the full spectrum of brash earthiness and creeping heat. Rojo pork is an off-menu option, and while the pinto beans are nicely plump and organic, B'klyn Burro also makes refried beans simmered down with chorizo, which are probably what you want.
3. Frijolito's
3446 Broadway, nr. 140 St.; 646-682-9033
This miniscule Hamilton Heights storefront, which debuted last summer, is an intensely personal project from a husband-wife duo who paid their dues in kitchens around town. There are maybe ten seats in the house, and the menu at first scans as resolutely inauthentic (the house "al pastor," for example, involves flaky, white tilapia, instead of a marbled hunk of pork). Thing is, no frills and authenticity do not matter when the fried hard-shell tacos puff up like pommes soufflées, and the incredibly endearing proprietor deals in behemoth burritos. Carnitas have the sour zing of citrus, and the radiating sting of Mexican chiles. Epazote and sweet oregano come through in the mixiote, which goes nicely with a side of zippy serrano aguacate and an additional side of soothing tomato-arbol salsa.
4. Varrio 408
412 Fifth Ave., nr. 7th St., Park Slope; 718-398-4300
With its flashy spinning trompo and uniformed workers pressing tortillas to order up front, what at first appears to be a trendy clone of Los Tacos No. 1 is instead something a bit wonderful. Grab a seat beneath the cluster of Dora the Explorer piñatas, and it becomes clear that this place is the antidote to the lackluster beans and under-seasoned meat available elsewhere in the neighborhood. Ultraporky carnitas, slow-simmered in a cauldron, and al pastor basted in adobada come in generous portions, while the nopalito-and-corn-burrito option handily rivals its meaty counterparts.
5. Taqueria Diana
129 Second Ave., nr. St. Marks Pl.; 646-422-7871
The compact East Village operation opened four years ago, and has since spawned a bustling and roomy Hell's Kitchen outpost. While owner Matthew La Rue took inspirational cues from the "countless taco trucks and burrito outposts of California," it's the impressively towering trompo straight out of a Mexican-heartland fever dream that commands repeated late-night visits. Ample-portioned al-pastor burritos are excellent when cooks mix in the fatty, aromatic juices that render during roasting with the shaved bits of browned pork, and even better when they are fully loaded with add-on crema, guacamole, and cheese.
Amaranto
887 Hart St., at Irving Ave., Bushwick; 718-576-6001
A few blocks away from Lucha Lucha, you'll find a looser-wrapped specimen with plenty of charm. Amaranto's father-and-son owners specialize in a vibrant, forward-looking take on Pueblan cuisine that's maybe at odds with less high-concept burritos. Filled with refried beans, corn, and deeply flavored braised pork, though, there's still every reason to order it.
Dos Toros
Multiple locations
The celebratory opening-day blowout of $1 burritos offered by owners Leo and Oliver Kremer at each new Dos Toros outpost has become something of a rite of passage for cheap-eats thrill-seekers. The chain's general speediness and commendable declarations of sustainability have made it a bona fide challenger to Chipotle's mantle, and its 13-strong locations in formerly pollo asado–starved retail footprints are a case of expansion done right. Burritos are descendants of foil-wrapped Mission specimens, and what they lack in finesse, they make up for in mass and all-around sturdiness.
Downtown Bakery
69 First Ave., nr. 4th St.; 212-254-1757
One of the East Village's longest-running burrito havens specializes in fantastically lumpy and misshapen beauties that are slicked with tomatillo purée, lacquered with faintly smoky guajillo salsa, or doused with sour cream. It's a special place that doesn't try to tip the scales of record-setting enormity, but it's still possible to take a messy burrito filled with inky refried black beans and a hefty spoonful of crisp shredded steak, and make it into two meals. (Downtown Bakery's breakfast-burrito lineup, it should be noted, does wonders with a humble mix of fried potatoes, eggs, and Jack cheese.)
El Atoradero
708 Washington Ave., nr. Prospect Pl., Prospect Heights; 718-399-8226
Denisse Lina Chavez's wonderfully spicy and crumbly chorizo-topped nachos are a paragon of the form, and her mole poblano has been known to reverse the ill effects of a very bad week. El Atoradero's burritos come in ten varieties, including achiote-rubbed cochinita pibil, and a very good (vegan) mushroom variety, but they're also an ideal vehicle for Chavez's famed Michoacán carnitas, a deftly spiced mix of crisp pork shoulder brimming with tiny, half-rendered cubes of fatty pork belly.
El Cortez
17 Ingraham St., nr. Bogart St., Bushwick; 347-599-2976
Drink a few of this spot's kitschy cocktails — slushy drinks made with Bénédictine and Falernum, weighed down with plump cherries and wedged pineapple — and you're going to need some ballast. Luckily, the burritos served at Stephen Tanner's Sonoran Gothic bar are crammed with nourishing beans, crema, and a base coat of mashed avocado, plus your choice of meat.
El Vez Burrito
259 Vesey St., nr. North End Ave.; 212-233-2500
A Tex-Mex renaissance may be in full swing, but it's still all a bit self-serious, and there aren't a lot of burritos swaddled up in kitsch. But Stephen Starr's festive El Vez offshoot happily transposes Frito pies into tortillas, and offers add-ons like kimchee and fried quinoa that even make the endeavor seem remotely healthful.