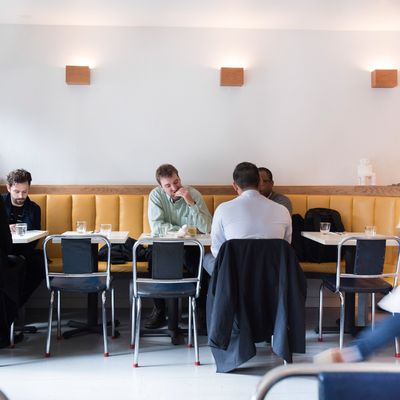 Lalito.
Photo: Liz Clayman
The question of where to have lunch when you're summoned to jury duty is of grave importance: It may very well be the brightest spot in your day. Luckily, the courthouses in Manhattan happen to be in stone's-throw proximity to some of the very best — not to mention most comforting — restaurants in the borough, smack dab on the border of Chinatown and Tribeca. Here are the very best spots to break for sustenance while fulfilling your civic duty.
1. Lalito
104 Bayard St., nr. Baxter St.; 646-998-3408

It was a much-lamented bummer when beloved Bayard Street karaoke bar Winnie's went out of business last year, but a huge relief when it was replaced by beloved chef Gerardo Gonzalez's new restaurant, Lalito (formerly called Lalo). You couldn't get any closer, physically, to the criminal courthouse if you tried, nor further away, psychically: In daytime, the southern-facing space — designed in reference to a 1970s Mexican diner — gets flooded with light, and Gonzalez's Southern California–inspired food is super sunny, too. There are vibrantly colored agua frescas (fennel limeade, hibiscus orange ginger); appetizers as beautiful as they are delicious, including a retro-inspired composition of bibb lettuce topped with wedges of hard-boiled egg and a Waldorf-ish scoop of a celery, and bacon salad, flecked with fennel seeds; and an absolutely killer "Mexican döner" sandwich, featuring tender shredded goat and chicken — plus, hot sauce, white sauce, pineapple, and pickles — on slabs of crisp-edged, Turkish-style pide bread, served with a side of crunchy giardiniera. Jury duty? What jury duty?
2. Forlini's
93 Baxter St., nr. Walker St.; 212-349-6779
If escapism isn't your thing and you'd prefer to simply double down on the jury-duty experience, you can do no better than Forlini's, a red-sauce joint so platonically old-school that it looks like a movie set — indeed, Law & Order: SVU has shot scenes there on more than one occasion. The food is really quite good, provided you're in the mood for copious amounts of tomatoes and cheese: The house recommends the panserotti piacentina, fat short noodles stuffed with ricotta in the same creamy Bolognese in which the chicken parm comes smothered. (There's a generously sized tricolore salad, too — if you must — and delicious battered zucchini, if you want to straddle the line of judiciousness.) But the atmosphere and the fellow clientele are the biggest draws, and what make lunch feel like a rite of passage: charmingly ancient dusty-rose leather banquettes and wood-paneled walls with oil paintings in gilded frames; an owner so warm and friendly he might come over and shake your hand to introduce himself, then urge, "Mangia, mangia!"; quiet murmurs of "Hi, Judge," "Hello, your honor," as loyal civil servants file in from across the street.
3. Xi'an Famous Foods
67 Bayard St., nr. Mott St.; 212-786-2068
In a sea of aging Cantonese restaurants, the relatively young Chinatown outpost of the local chain stands out, with its bright, clean, modern design and inviting communal tables, and its reliable menu of transporting northwestern-Chinese standards. Everything is filling and satisfying — from hand-torn noodles in bracingly "spicy tingly" beef soup, to the fragrant and thrilling cumin-lamb burger, to the bright tangle of greens and chile peppers that comprise the tiger salad — and nothing costs much more than $10.
4. Arcade Bakery
220 Church St., nr. Worth St.; 212-227-7895
It's a bit more of a walk, but lunch is speedy at the utterly charming Arcade Bakery, which is named for its location in the arcade of a turn-of-the-last-century office building. The premade, classic French-style ham, cheese, and salted-butter sandwich — on an almost obscenely crusty baguette — is the standard all others should be held against, and beautiful, little personal-size pizzas can be ordered in advance. There's a rotating selection of other sandwiches, too, plus gorgeous loaves of bread and pastries. If the weather is nice, you might want to take your haul to the nearest park bench; but if it's not, even the seating situation is a delight: glass display cases along the hall have been converted into little nooks you can climb into, with tables that fold down from the wall like Murphy beds.
5. Bánh Mì Saigon Bakery
198 Grand St., nr. Mott St.; 212-941-1541
Another walk, in the opposite direction, will bring you to another deeply satisfying, extremely affordable, grab-and-go sandwich: a perfect bánh mì (one of the best in the city) layered with sweet barbecued pork, Vietnamese ham, pickled vegetables, and fresh cilantro on a squishy, toasted baguette from the counter-at-the-back-of-the-jewelry-store that is Bánh Mì Saigon Bakery. There's limited seating, plus a park with benches just a few blocks east.
Blaue Gans
139 Duane St., nr. West Broadway; 212-571-8880
There's something charmingly Old World and elegant about this outpost of Kurt Gutenbrunner's Austro-German mini-empire, and at lunchtime, it tends to be especially quiet and peaceful. A meal here is not cheap — the excellent Wiener schnitzel with potato-cucumber salad will set you back a cool $26 — but it seriously hits the spot.
Nha Trang Centre
148 Centre St., at Walker St.; 212-941-9292
This longtime courthouse go-to is a bit hit or miss (skip the summer rolls, for example) but what's good (pho, vermicelli with fried spring rolls, many of the dirt-cheap, generously portioned sautéed dishes served "over rice") is very good, and the dining room is surprisingly spacious and sunny.
Shanghai Asian Manor
21 Mott St., nr. Mosco St.; 212-766-6311
There aren't many restaurants in Chinatown that quote you a wait time for a table, but in the evenings, Shanghai Asian Manor often has a line snaking out the door. During the day, though, it's considerably emptier, making lunch a good time to try the soup dumplings, which some argue are among the city's best, and a host of other better-than-average Cantonese classics.