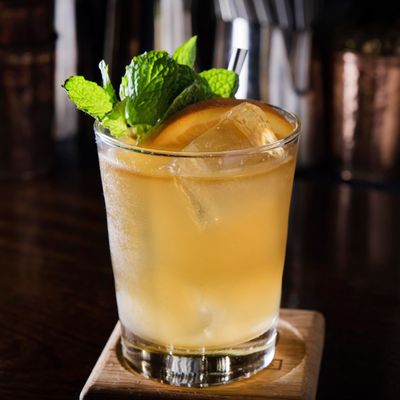 The mai tai at Suffolk Arms is cranked up as hard as tiki can go.
Photo: Liz Clayman
The tiki trend never quite exploded the way people thought it would, but its influence is nevertheless all over New York's bars. To wit: It is now relatively simple to find a first-rate mai tai — classically a combination of multiple rums, orange curaçao, lime, the almond syrup known as orgeat, and mint … and the ultimate expression of tiki-ness — even in bars that aren't decorated with torches and palm thatches. At a time when everyone's taking a more laid-back approach to cocktails, it's a drink worth knowing — these are where it's at its best.
1. Suffolk Arms
269 E. Houston St., at Suffolk St.; 212-475-0400
The influences at Giuseppe González's Lower East Side tavern is devoid of any tiki touches, but the mai tais turned out by his bar staff are impeccable. Served in a sturdy rocks glass with a couple of huge ice cubes, the drink is dynamic enough to inspire fantasies of cruise ships, even on dark winter nights. The mai tai here is sweet, and fruity enough to recall a gourmet Hawaiian punch, but an aggressive sour kick from the citrus keeps it in check. In a lot of ways, this is a mai tai where all the attributes are cranked as hard as they can go, including the extra-potent floater of Bacardi 151 (mai tais are supposed to be fun, guys) and base of Hamilton Navy Strength, and an overproof blend of Guyanese Demerara rum and spicy Jamaican rum, which lends the drink its coup de grâce of sugar-cane funk.
2. Donna
27 Broadway, at Dunham Pl., Williamsburg; 646-568-6622
The bartenders at Donna, the tiki-ish bar that feels like it was imported from a subtropical beach town, usually play fast and loose with their tiki recipes. (One piña-colada variation is spiked with Fernet Branca Menta.) But the mai tai is more or less classic, and also very strong. Karen Fu and Collin Lawson's version uses a foursome of distinct rums — El Dorado 12 Year, Santa Theresa 1796, La Favorite Blanc Agricole, and Hamilton Jamaican Rum Pot Still Black — giving it depth that holds your attention. There's also Clement Créole Shrubb, made by macerating white and agricole rhums with spices and sun-dried, bitter orange peels, and the orgeat comes from mai tai scholar Beachbum Berry's Latitude 29 brand. It's vivacious, zesty, and the sort of thing you want to drink all night, even though you know you'll regret it the next day.
3. Karasu
Karasu, 166 DeKalb Ave., nr. Cumberland St., Fort Greene; 347-223-4811
Thomas Waugh is no stranger to tropical drinks, and the so-called Nettai he created for this sleek Japanese restaurant is nontraditional, without veering too far into uncharted waters. Given the setting, it's fitting that it nods to Japan: the rum is El Dorado 12 Year, there's fragrant yuzu and plum eau de vie, and in place of curaçao, Mandarine Napoléon, a liqueur of mandarin oranges and aged cognac that mellows the whole thing out. (You can also order a regular old mai tai, nuttier than most and pleasantly tart, so get one of each.)
4. The NoMad Bar
10 W. 28th St., nr. Broadway; 347-472-5660
Punch-crazy bartender Leo Robitschek turned the tropical libation into something of a signature when this busy hotel bar opened. It's no longer on the menu, but nobody will refuse your order, either. Served in a tall, bulbous glass with a bouquet of mint and a paper parasol, it's made with all the rums: Rhum JM Blanc, Jamaican Appleton VX, and Guyanese El Dorado 15 Year. The mix has clearly been tweaked and honed to an exact ratio, so the rums blend seamlessly; and, as at Donna, it's made with Clement Créole Shrubb. The genius touch is that, along with the requisite lime juice, Robitschek's bartenders shake the drink with a rind-on lime wedge — imparting a touch of bitterness that keeps the sweet-and-sour flavor in check.
5. Clover Club
210 Smith St., nr. Butler St., Carroll Gardens; 718-855-7939
Julie Reiner's bar might not be the first place you think to go for a mai tai, given its craft-cocktail bona fides. But the version here is further proof that the drink need not be relegated to the succulent shaded corners of the tiki world. The rum blend emphasizes Jamaican varieties, which results in an earthier, muskier flavor. (And at the nearby Leyenda, run by Reiner with Ivy Mix, there's a spin in the Tia Mia, made with toasted orgeat and mezcal, for those with smokier inclinations.)
6. Boilermaker
13 First Ave., nr. Houston St.; 212-995-5400
Here's the thing about the mai tai served at this Lower East Side spot: During the city's Best Happy Hour, you can get it for a mere $8. In this city of ever-escalating cocktail prices and $14 spritzes, there's something to be said for a good drink at such a reasonable price. There's even more to be said for one that's this good: more balanced, sufficiently boozy, less sugary, and more pleasantly sour than many versions that cost twice as much. Yet here, the bartenders cut no corners: The drink is served in a festive, oversize glass, stuffed with pebble ice and garnished with an orange slice and bushel of mint. Even post–happy hour, it's one you'll want to seek out.