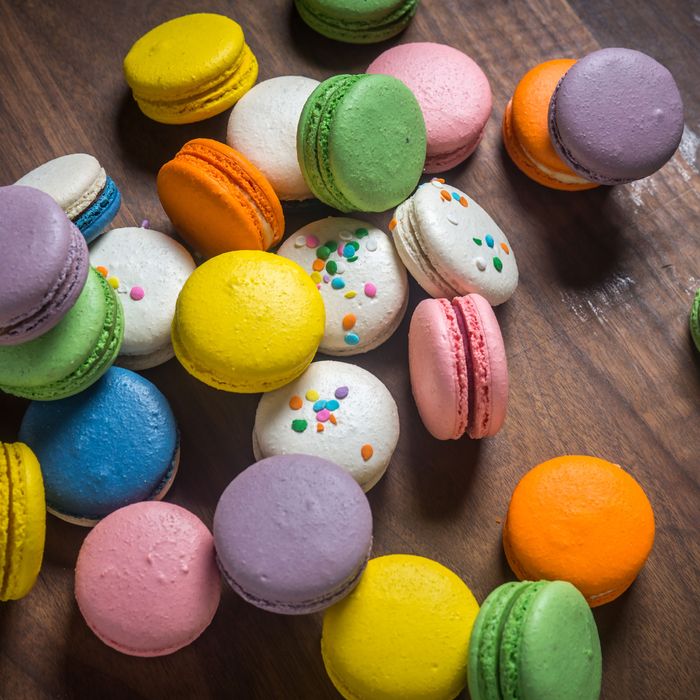 Flavors that are unique, but not gimmicky, at Lafayette.
Photo: Paul Wagtouicz
Macarons — the colorful, little, almond meringue dome sandwiches — may be most closely associated with Paris, but New York is a city that nevertheless loves its tiny, rainbow-colored pastries. Macarons were the thing long before baroque milkshakes and mermaid lattes arrived, and they still have a foothold in Manhattan. Two-dozen venues were visited for this list, and the level of quality varied wildly (points were deducted for too sweet or too sticky fillings, not to mention dry or gummy meringue shells). There are still plenty to adore — here are the best French macarons in New York.
1. Lafayette
380 Lafayette St., nr. E. 4th. St.; 212-533-3000
The Noho brasserie and bakery's pastry department is now in the hands of Tyler Atwell, who previously worked couverture for Jean-Georges Vongerichten and Daniel Boulud. The macarons are uniformly sized and textbook perfect, with sturdy-yet-yielding meringue and satisfyingly delicate fillings. Flavors including the rainbow-sprinkled birthday cake, a longtime fan favorite, and the blue-and-white house macaron, which packs a sly curveball of bergamot flavoring. Other options tend not to cross over into avant-garde or gimmicky territory, which makes their inherent simplicity extra nice: Lemon-lime, for example, comes sandwiched with ganache made from lemon juice, plus lemon and lime zest; there's little need for much else. Pistachio and violet, added for spring, taste very much like their namesakes; and a recent run of cookies-and-cream, or a corn-blueberry flavor planned for the summer, are about as envelope-pushing as it gets.
2. Ladurée
864 Madison Ave., nr. 71st St.; 646-558-3157
The Ladurée brand has never shied away from telegraphing luxury, which is why the famed French company's macarons are best sampled at its jewel-box storefront on the upper reaches of Madison Avenue, perhaps after you've visited the neighboring Chloé, Christofle, Chocheng, and Cartier showrooms. The brand's recipe-tested and well-established global presence mean you're getting a highly engineered pastry, one that achieves an elusive one-to-one-to-one sandwich ratio of meringue to filling to meringue. The citrusy tea, robin's-egg blue Marie Antoinette beguiles, and delicate, creamy flavors like orange-blossom and lime-coconut stand out among its mind-boggling catalog.
3. Kreuther Handcrafted Chocolate
43 W. 42nd St., nr. Sixth Ave.; 212-201-1985
Getting a stellar macaron at a place known for exceptional chocolate truffles is a bit like discovering a delicate doughnut at a bagel shop, but here we are. Pastry chef Marc Aumont smuggles his beloved Philadelphia-brand cream cheese into one of the high-concept conceptual desserts at the ultra-high-end Gabriel Kreuther next door, and he extends the cheesecake fantasia into the half-dozen macarons offered at this next-door boutique. Chocolate macarons sport a layer of the housemade hazelnut spread, but the rest of the flavors — two-toned in color, with some a sporting, glittery iridescent finish — are spread with what Aumont calls the "original cheesecake" filling, plus a secondary flavor that creates a sort of octane-boosting ganache-buttercream hybrid. The meringues are big and beefy, and the carefully calibrated flavors include mandarin orange and yuzu-matcha.
4. Bisous Ciao
235 Bleecker St., nr. Leroy St.; 212-675-6366
The bounty of beautiful macarons includes double chocolate dusted with cocoa, and a green-tea variety speckled with jasmine petals. The wonderfully mellow caramel perks up with a fine sea-salting, and there are flecks of dried wildflowers atop the lavender-and-honey flavor. Chef and owner Tanya Ngangan has been known to make conceptual leaps with flavors like Thai tea, or makrut lime with lime-infused chocolate ganache, but the real feat is making them taste like new classics. Ngangan's fruit-, flower-, and spice-themed varieties all qualify in that regard.
5. Épicerie Boulud
1900 Broadway, at 64th St.; 212-595-9606
Daniel Boulud's Frenchified larder chainlet boasts a spectacular bakery division, but as far as the macarons go, they tend to only play the hits: caramel, vanilla, pistachio, and the like. That said, pastry chef Jayce Baudry is fond of modest surprises, like a wisp of ginger with raspberry, and a strong caffè-crema undercurrent that accompanies each coffee macaron. Épicerie Boulud's macarons have the ruffly edges and pastel colors you'd expect, while the meringues also have the optimal balance of fragility to their outer shell, and substantial almond flavor within.
Bosie Tea Parlor
10 Morton St., nr. Bleecker St.; 212-352-9900
Tea service is downright charming at this West Village café, and it's matched by an ambitious macaron program, which of course includes matcha and Darjeeling varieties. Yuzu-raspberry and lemon-praline are standout flavors, and the meringues have a handsome eggshell sheen that collapses in delicate, crisp bites.
Bouchon Bakery
Multiple locations
The oversize saucerlike macarons that Thomas Keller dispenses at his bakery offshoots are resoundingly sweet, but stop a respectable distance from cloying. Most tend to involve a surprise: The cassis flavor has a sharp jammy core, for example, while the yellow-battered birthday-cake variety involves the requisite overload of sprinkles, and a buoyant, Twinkie-like puff of cream in the center.
Confectionery
440 E. 9th St., nr. Ave. A; 646-869-0133
The collaborative East Village headquarters of "antipreneur" chocolatier Lagusta Yearwood and renegade baker Maresa Volante stocks a lineup of sometimes oddball, usually stunning macarons that also happen to be vegan. A recent "help wanted" sign sought freelance witches looking to hex the NRA, and so it goes that in addition to tropical flavors like mango-cashew, seasonal options like the "Impeach" are suitably topical.
Dominique Ansel Kitchen
137 Seventh Ave. S., nr. Charles St.; 212-242-5111
Celebrity pastry wizard Dominique Ansel's macarons seem to be imbued with the same infallible enthusiasm and rejiggered engineering as his other trademark baked goods. The rhubarb macaron is sandwiched with a one-two punch of mascarpone ganache and rhubarb jam, adding a layered cajetalike richness and tart flavors, while crushed pink peppercorns secreted into a ganache bring a citrusy tweak to the nutty pistachio variety.
Macaron Parlour
111 St. Marks Pl., nr. Ave. A; 212-387-9169
Showboaty flavors like Cheetos tend to draw the most attention, but the best flavors here, like plain-Jane lemon and salted caramel, tend to go nice and heavy on the buttercream filling.
Mille-Feuille
552 LaGuardia Pl., nr. 3rd St.; 212-533-4698
Work your way past the throngs of people waiting for Dō across the street, and you'll find flavors like praline, rose, matcha, and espresso flavors. The shop also sells its take on dollhouse-pink Ispahans, which are mega-macarons made with raspberries, litchis, and rose cream that were originally invented by Pierre Hermé.
Patisserie Tomoko
568 Union Ave., at Frost St., Williamsburg; 718-388-7121
Tomoko Kato's dessert bar takes equal cues from French and Japanese traditions, which means there's a payload of molten matcha ganache in the center of the green-tea macaron, and the demure-seeming yuzu variety packs a potent citrus kick.