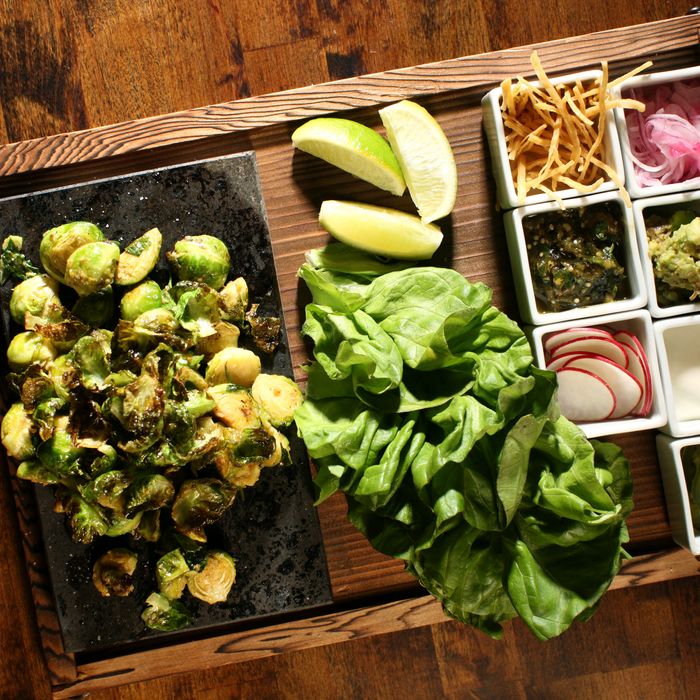 Dirt Candy's DIY Brussels-sprouts tacos.
Photo: Melissa Hom
The Lower East Side's ever-changing amalgamation of cultures and history as a home for migrant populations mean the dining options are as varied as most anywhere in the city, with space for both restaurants that speak to past lives of the neighborhood, like Katz's and El Castillo de Jagua, and new fine-dining innovators (Wylie Dufresne at the late great wd~50; Amanda Cohen at Dirt Candy today). In evaluating the many, many options, we followed the boundaries of the area's Zip Code, 10002, including for consideration restaurants roughly east of the Bowery and south of Houston, with East Broadway and the FDR as the southern and eastern borders. Here, the absolute best restaurants in the Lower East Side.
1. Dirt Candy
86 Allen St., nr. Broome St.; 212-228-7732
How refreshing to be in a restaurant where the chef is declining to scream openly at employees; where the staff are paid fairly; where no meat is served and the vegetable-focused dishes are careful, complex, and delicious, but not overly science-y (e.g., Korean fried broccoli with garlic-sesame sauce); where the service is friendly and practiced; where the black-, red-, and white-accented room is bright and airy, with flowers painted on the white brick walls; and where the prices are relatively affordable — a dinnertime five-course tasting with wine pairings is $102, inclusive of tip. If you don't want to do a set-course meal, go at brunch, when reservations are easier and the à la carte menu includes stunners like jam-filled red-pepper fritters and zucchini pancakes with squash-blossom butter. You don't need to designate this the best vegetarian restaurant in the Lower East Side; it's the neighborhood's best place, full stop, to eat a meal right now.
2. Wildair
142 Orchard St., nr. Rivington St.; 646-964-5624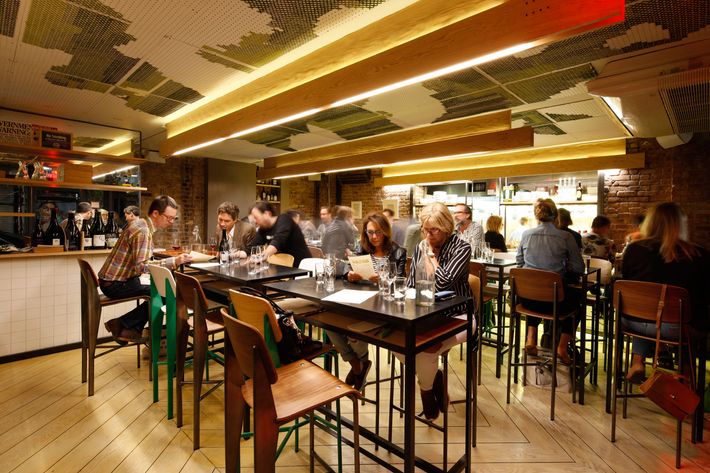 Everything we've tried has been aces: Be sure to order the rich tête de cochon and the grain bowl (with a mix of grains, some fried to add texture, and topped by arugula, a tarragon emulsion, and creamy hearts of palm and feta, it's among the best in the genre). The place itself is decidedly cool — e.g., for décor, skull planters sit next to decanters — but nothing is intimidating or feels exclusive. Service is intuitive, graceful, and educational without being snobbish. Wildair's good sister restaurant, Contra, serves similarly inventive food with laid-back, smart service, but we prefer Wildair for its more intimate, confident feel (and for its much lower price tag). This is the kind of restaurant people meant when they said they were rejecting fine-dining stodginess but still wanted to dine well.
3. Gaia Italian Café
251 E. Houston St., nr. Suffolk St.; 646-350-3977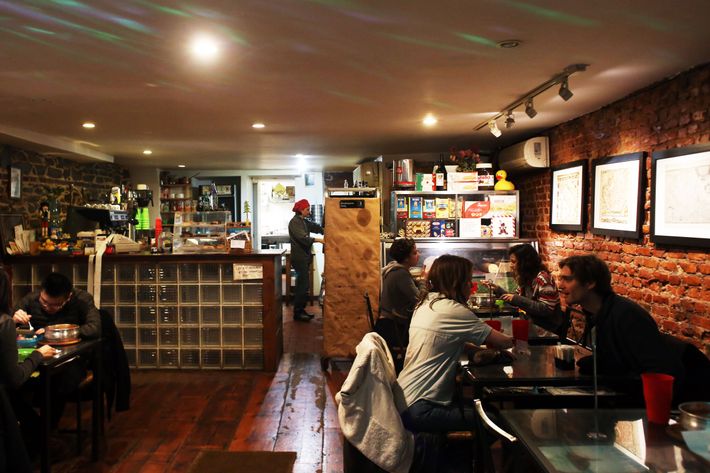 Ramshackle, for sure, but this little restaurant serves up excellent steaming bowls of Italian dishes like potatoes and polpette, ricotta gnocchi, pesto lasagna, etc. Everything is housemade by a small staff, so sometimes items are sold out. This is all part of the laid-back, noncommercialized charm of the place. (Also part of that charm: It's BYOB.) Lovely at lunch and brunch, when you can walk right in and order at the counter; at dinner, you'll need reservations, and the kitchen stays open past 7 p.m. only on Fridays and Saturdays.
4. Eastwood
221 E. Broadway, at Clinton St.; 212-233-0124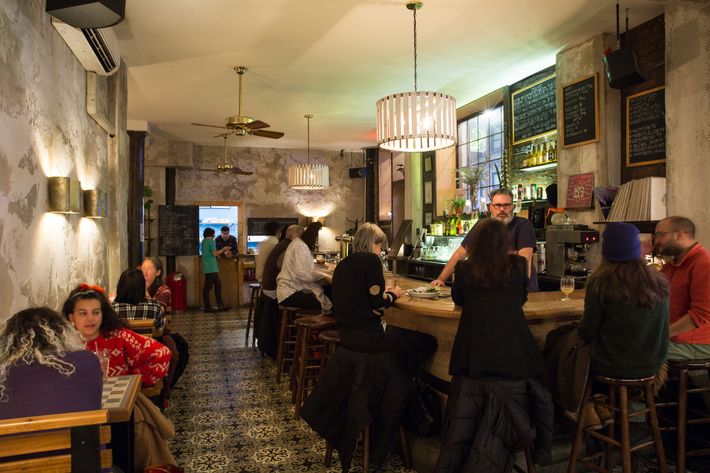 With family in town recently, we went to Eastwood three times on their four-day trip. What kept us coming was the reliably wonderful food — the crispy fries (and order a side of housemade tangy-creamy tartar sauce), the Israeli Scotch egg, the hearty schnitzel in the fluffy pita, and my family's personal favorite, the warmed pressed pita spread with Israeli chocolate. Come during the day, when you can sit in the tables lining a wall of windows and read as the sun streams in; come at night, when the place is occupied by locals with fries and a beer (two-for-one at happy hour).
5. Pig and Khao
68 Clinton St., nr. Rivington St.; 212-920-4485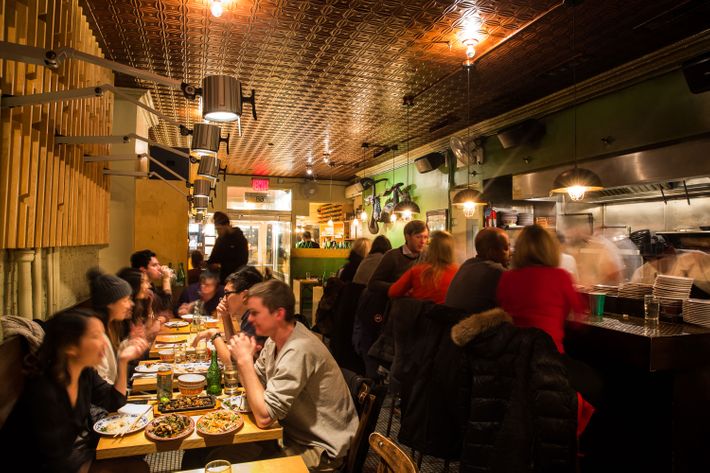 This boisterous (there's a self-serve bottomless-Narragansett menu option; music plays at a Momofuku-like level) Southeast Asian restaurant led by the talented chef Leah Cohen is an excellent pick for a lively meal with friends. Be sure to order the pork-belly adobo: slices of rich fried pork belly coated in a vinegar-tart but slightly sweet coconut-milk sauce and kicked up with Sichuan peppercorn and crispy garlic. And finish with the traditional Filipino dessert halo-halo.
Honorable Mentions
Cheeky Sandwiches
35 Orchard St., nr. Hester St.; 646-504-8132
This little one-block stretch of Orchard is home to seven restaurants, bars, or ice-cream shops; Cheeky is the elder statesman of the group. And with good reason: It's equally perfect for stopping by for a dollar Chinese-takeout box of fresh-fried, powder-sugar-bombed beignets as it is for hanging out with a glass of beer and a transportive fried-chicken sandwich drenched in rich white gravy.
Classic Coffee Shop
56 Hester St., nr. Ludlow St.; 917-685-3306
This teensy lunch counter is noteworthy for its decades-long endurance in the face of nearby hemp bowls, cactus shops, cat cafés, and macaron specialists — not to mention its friendly service and simple, affordable, very good menu (get an egg sandwich and an egg cream).
El Castillo de Jagua
113 Rivington St., nr. Essex St.; 212-982-6412
521 Grand St., nr. Columbia St.; 212-995-0244
This Caribbean-and-Spanish diner (named for the fortress in Cuba) has been open since the '80s; LES old-timers pray it'll be open for decades to come, so they can order five-dollar bowls of hot sancocho; breakfasts like mangú with pickled red onion, smoky triangles of fried Dominican cheese, and hangover-curing circles of salty salami; and cups of cafe con leche. It's one of the last places in the area where you can sit down for a meal and spend less than ten bucks. Leave the money you'll save in the tip jar.
Factory Tamal
34 Ludlow St., nr. Hester St.; 917-691-5524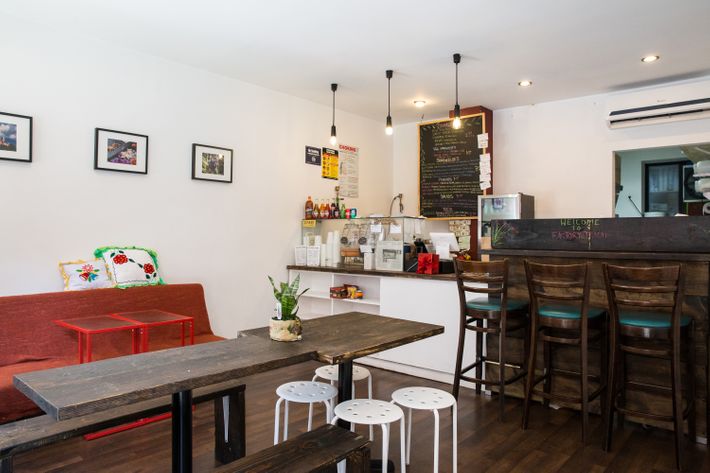 The menu is limited — mostly just, yes, tamales, plus a handful of other dishes like soups and an egg sandwich — but the star items are out of this world and worth a trip on their own. That's owing to masa that's nixtamalized in-house, plus delectable fillings like the lightly spicy rajas con queso, with a long slice of jalapeño chile enrobed with cheese and the herb epazote.
Ivan Ramen 
25 Clinton St., nr. Stanton St.; 646-678-3859 
There are few meals we crave more on a hangover than the perfect one at Ivan Ramen: the pickled daikon radish starter, followed by the triple-pork, triple-garlic mazemen. Eating at the restaurant is nice (sit outside if the weather cooperates), but if that hangover is other-level, you can get your noodle fix delivered.
Jia NYC
23 Essex St., nr. Hester St.; 646-861-2541
An unassuming restaurant whose friendly proprietor serves "international comfort food," meaning there's oxtail stew and pernil alongside meatloaf and Thai beef salad. That last is particularly good: The cucumber-and-greens base is topped with charred slices of rich beef and seasoned with garlic, chile, and an abundance of shallots, both fried and fresh.
Katz's
205 E. Houston St., at Ludlow St.; 212-254-2246
Everyone should queue up for a gigantic pastrami sandwich at this icon at least once. But keep in mind a few things for your next craving: Don't try to go on holidays or touristy weekends, when the line to get in the restaurant can stretch the length of the block. (Late on weeknights is usually a better option in our experience.) If you're just looking for a hot dog and an egg cream, head to the first counter by the window and skip the meat-slicer lines. And if you don't care about the experience and just need the sandwich — well, the 1888-opened deli delivers via Seamless.
Kiki's
130 Division St., at Orchard St.; 646-882-7052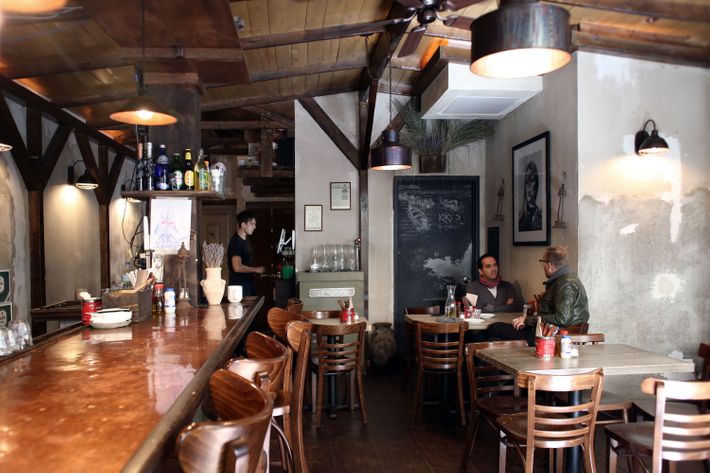 Kiki's, the sister to Forgtmenot next door (but with better food options) and takeout café Sherman's across the street (but with a more buzzy, restaurantlike vibe), offers Greek fare in a comfortable, low-lit setting. The menu is almost across the board great, and it's possible to make a simple meal out of the classic dips and oregano-topped fries alone. But you'd be missing out if you didn't also try the beet-and-yogurt salad and the creamy, nutmeg-y moussaka. (And a couple of glasses of the great house red; it's made from the Greek grape agioritiko.)
Kuma Inn
113 Ludlow St., nr. Delancey St., second fl.; 212-353-8866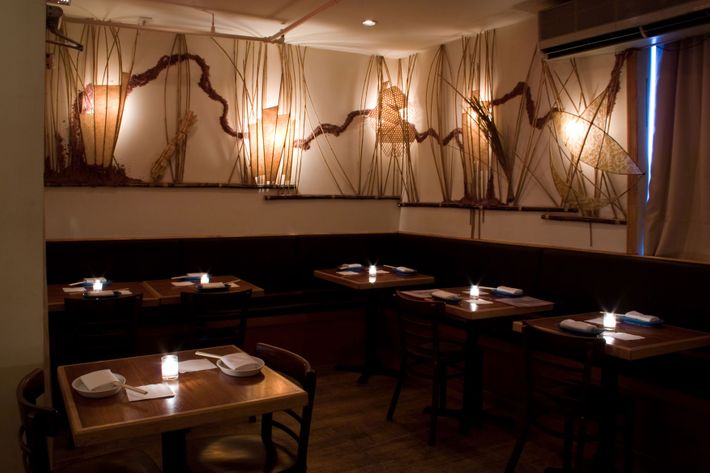 In a quiet second-floor location, this homey restaurant — from an American-born, Filipino-Thai chef whose menu pulls influences from those cuisines and more — is a respite from Hell Square downstairs. The food is satisfyingly and aggressively seasoned and often excellent, like a bolognese atop spongy fried rolled rice crêpes (order an extra side of pungent garlic rice to cool the fire on your tongue if you're sensitive to spice) and seared ahi tuna in a tangy vinaigrette.
Lil' Gem
29A Clinton St., nr. Houston St.; 646-368-1392
We'd keep coming back to this pretty Lebanese-focused restaurant even if it ceased to serve anything but the tart, olive-oil-slicked, pistachio-crumb-topped labneh. (Really.) Happily, the menu is slightly more expansive: You should also try the lamb shawarma, the babaganoush, and the fried cauliflower with tahini and sumac.
The MasalaWala
179 Essex St., nr. Houston St.; 212-358-9300
Excellent Desi food: We love the spicy Kolkata gobi Manchurian, the roll-walas made from paranthas rolled around fillings like chaat-masala-spiced chicken and paneer with cumin, the chewy butter naan — there's also garlic and a good chili-and-cheese-flavored option — dipped in tangy mango chutney. Also: There's a $20 wine-bottle special.
Mission Chinese Food
171 E. Broadway, nr. Rutgers St.; no phone
Our favorites are still all the hits from the old Orchard Street location (like the thrice-cooked bacon, which will ruin you for most any other dish in the city), but that's not to say we're not grateful for the items from the wood-fired stove (like the confoundingly good sourdough with kefir butter, chives, and buttermilk).
Mughlai Grill
6 Clinton St., nr. Houston St.; 212-533-2828
Some of the best Indian we've tried in the Lower East Side, from the crispy papadum served when you sit down with spicy red-turmeric and mint chutneys to the lassi (both mango and a plain with a pleasant light saltiness) to the tandoor-cooked vegetables, brought to the table still sizzling (and cooled nicely with a heaping side of raita), to the refreshing, slightly creamy and sweet kheer dessert.
Nom Wah Tu
22 Orchard St., nr. Canal St.; 212-219-8785
A terrific reboot of what was the less casual, pricier Fung Tu. Dishes once served in finely decorated ceramic bowls are now brought to booths and barlike high-top tables on multicolored playful melamine plates. And the food itself is more laid-back, too: crispy "chicken nuggets" with a sweet-and-sour-like, Sichuan-peppercorn-emboldened dipping sauce; flaky roti pancakes with coconut curry; a knockout Rice Krispie topped by crushed pistachios, slices of kumquat, and lychee-rose syrup.
Ramen Ishida
122 Ludlow St., nr. Delancey St.; 646-590-3276
At this itsy-bitsy ramen counter specializing in vegetable-based broths (if you choose the Vegetable Ramen, the soup will be pink and earthy from beets), each bowl is made to order. Select your ramen, grab a beer, then peep the chef's prep as he spoons in various spices and noodles (try the springy, turmeric-flavored ones), then puts a small pot to the stove to warm your broth individually, finishing with a few little slicks of oil and vegetables like basil and fried lotus root.
Russ & Daughters Cafe
127 Orchard St., nr. Delancey St.; 212-475-4881
Although we usually still prefer to get our sandwiches up the block at the Houston Street original, we're often grateful for this beautifully designed sit-down cafe. No time is that more true than on a lazy weekday morning — this activity is worth calling out sick for — with close friends who'll share a platter of pastrami-cured salmon and a bread basket with you.
Shopsin's
120 Essex St., nr. Rivington St.; no phone
There are few cooler things you could do as a New Yorker than be a regular at this iconic lunch counter; it's best if you're the regular who knows her order without a glance at the pages-long menu. The astounding breadth of that menu is a huge part of what makes Shopsin's so incredible — when's the last time you ate somewhere else that made Senegalese chicken curry soup as expertly as it made mac-and-cheese pancakes?
Speedy Romeo
63 Clinton St., nr. Rivington St.; 212-529-6300
The restaurant's quest is to educate its dining public about St. Louis pizza (haven't you heard of Provel cheese?!); whether you take the lessons or not, it serves some delicious pies, like the creamy béchamel-and-speck-topped Dick Dale, enlivened with pops of pineapple; and the simple thin margherita, which shows off the great wood-fired crust. The non-pizza items (like the highly shareable shredded kale-apple salad with a goat-cheese vinaigrette) and the drinks (try the knockout Bloody Mary at brunch) are way better than they need to be — it's pizza, everyone's already happy — as is the quick service.
Trapizzino
144 Orchard St., nr. Rivington St.; 212-475-2555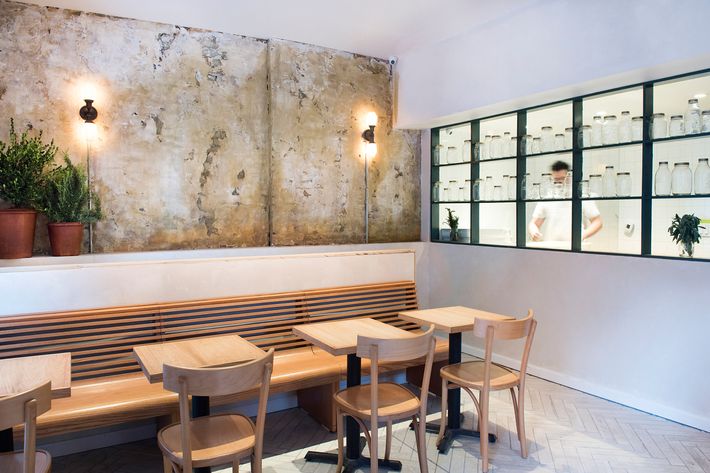 Go for this Roman import's namesake dish: fresh, chewy pizza bianca sliced open and stuffed with rich, saucy fillings like the excellent, rosemary-heavy pollo alla cacciatora (garlicky and acidic from white wine) and the Parmigiana di melanzane (eggplant with a healthy dose of Parm-Regg and basil). And then hang out: Even if it's counter-service-only, this is an excellent, casual venue to while away an afternoon thanks to a small menu of wines by the glass for around $10.