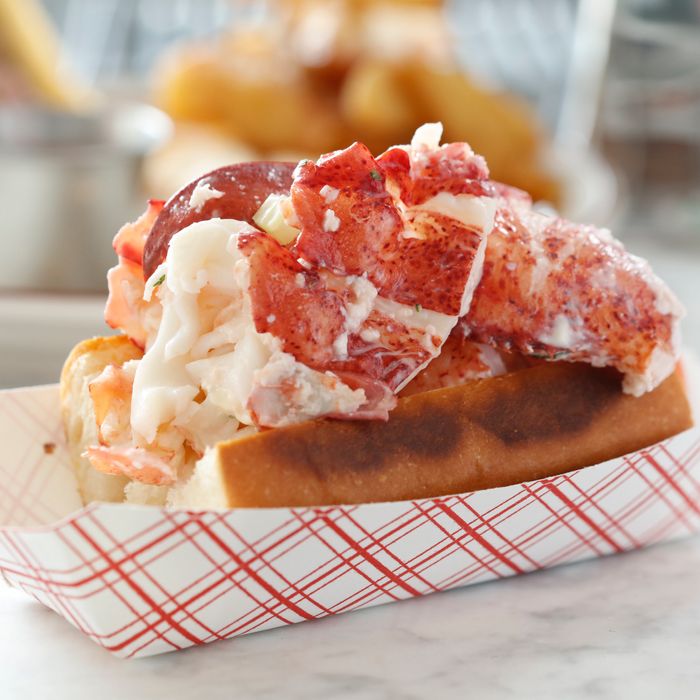 Huge chunks of meat, perfectly dressed.
Photo: Melissa Hom
It's time to declare the best lobster roll in New York (admittedly no small task). The city's options come in a variety of styles, and tastes inevitably vary, but excellence is hard to argue with. These places serve the very best versions in town.
1. Greenpoint Fish & Lobster Co.
114 Nassau Ave., at Eckford St., Greenpoint; 718-349-0400
Enormous hunks of lobster — including an entire claw draped on top during a recent visit because it didn't even fit inside — are tossed with a bare minimum of mayo, some celery, and flecks of tarragon, then tucked into a grilled, split-top Balthazar Bakery bun that comes off as a cross between pain de mie and a supermarket hot-dog roll. (And because of the restaurant's Monterey Bay Aquarium Seafood Watch partnership, all of that meat is traceable to the original source.) Finally, a scattering of sea salt and a shot of lemon juice are the finishing touches that push this already-impressive roll into best-in-the-five-boroughs territory
2. Grand Banks
Docked at Pier 25; 212-960-3390
Kerry Heffernan is the fine-dining chef turned "Summer Ops" honcho at this Instagram-ready schooner and bar, which docks at Pier 25 during warmer months. For his pickle-lined roll, Heffernan uses white wine and dulse, an umami-boosting seaweed, as the base of the mayonnaise-like dressing for his mix of tail, claw, and knuckle meat. Along with the burst of flavor provided by diced fennel, the seasonings lend a mineral tang and a tidal zip. The occasional breeze whipping up off the Hudson on choppier days only adds to the appeal.
3. Pearl Oyster Bar
18 Cornelia St., nr. Bleecker St.; 212-691-8211
Pearl owner Rebecca Charles is New York's most recognizable and most sainted lobster-roll ambassador. She still doles out Goliath portions of meat gleaned from whole steamed lobsters that are covered in mayo. For bread, it's still all about "top loader" Pepperidge Farm rolls. Lastly, there are chives, some melted butter, and a lot of mayonnaise. It's one of the city's most iconic sandwiches. (And it should be noted that the version at Mary's Fish Camp, five blocks uptown and founded by one of Charles's former lieutenants, is nearly identical, but each West Village spot retains its die-hard fans.)
4. Maison Premiere
298 Bedford Ave., nr. Grand St., Williamsburg; 347-335-0446
The absinthe-rinsed Williamsburg bar is best-known for its (excellent) much-loved oyster happy hour, but Lisa Giffen's lobster roll, which combines a heap of fire-engine-red meat and a minimum of mayonnaise, should be more of a draw. It's scattered with lightly pickled shallots and just enough herbs to cut the richness of the big chunks of lobster.
5. The John Dory Oyster Bar
1196 Broadway, at 29th St.; 212-792-9000
The bun is pretzel brown and has a soft crumb and an impressively crunchy crust, and it's been burnished with a liberal brushing of melted butter. April Bloomfield's lobster roll is certainly not the most loaded in the city, but it's perhaps the best-built. A spoonful of mayonnaise, some lemon juice, a polite dice of celery, and minced herbs don't take anything away from the sweetness of the meat. The conspicuous red onion in the mix may anger your friend who grew up near Maine's fish shacks, but Bloomfield nevertheless makes it work.
6. Extra Fancy
302 Metropolitan Ave., nr. Roebling St., Williamsburg; 347-422-0939
Mark Rancourt, a partner at this ever-bustling Williamsburg bar and restaurant, wanted to pay homage to the buttery Connecticut-style lobster rolls he enjoyed while growing up in the Nutmeg State. The kitchen staff employs brown butter, and instead of the sprinkles of "crappy, flavorless paprika" deployed by cooks in the clam bars of Rancourt's youth, the rolls get an assist from a liberal application of smoky pimentón mayonnaise.
7. Ed's Lobster Bar
222 Lafayette St., nr. Spring St.; 212-343-3236
Though situated in Soho, where no one balks at the idea of $14 green juice, Ed McFarland's galleylike flagship nevertheless resembles New York's scrappy oyster saloons of old. Alas, even if the setting isn't Soho-like, the prices are. Yet while Ed's roll hovers near the $30 mark, there are large hunks of tail in there, and the food arrives quickly. The bread-and-butter pickles on the side are outstanding, and when it all works out right, it's the kind of city experience that is increasingly hard to find: There's a guy arranging oysters in rows on ice behind the bar, and you can feel the 6 train rumble beneath the rosé you ordered to go with your roll.
8. Red Hook Lobster Pound
Multiple Locations
When famed chef Thomas Keller disclosed the specifics of his famed butter-poached lobster technique in the French Laundry Cookbook, he unwittingly unleashed a decade of copycat dishes around the world. There's no recognizable luxury to the Connecticut roll at Red Hook Lobster Pound's Brooklyn flagship, but the kitchen turns out a lo-fi version of Keller's famous recipe as they heat the claw and knuckle meat in a pan of salted, melted butter — beurre monté, for the stevedore set. In the classic style, the finished roll is paprika-dusted, scallion-sprinkled, and full of fresh meat that's been picked by hand.
9. Luke's Lobster
Multiple Locations
Luke Holden's Maine-to-Manhattan mini empire specializes in a spartan, entry-level lobster roll that remains a big draw at nine fixed locations throughout the city. The split-top bun is toasted with butter and loaded with claw and knuckle meat seasoned with lemon butter. A dusting of dried herbs and celery salt reinforces the chainlet's endless summer vibe, even in the dregs of February. The occasional encounter with pinkish, underseasoned meat happens, but Luke's commitment to sustainability is commendable, as is the consistently low price point.