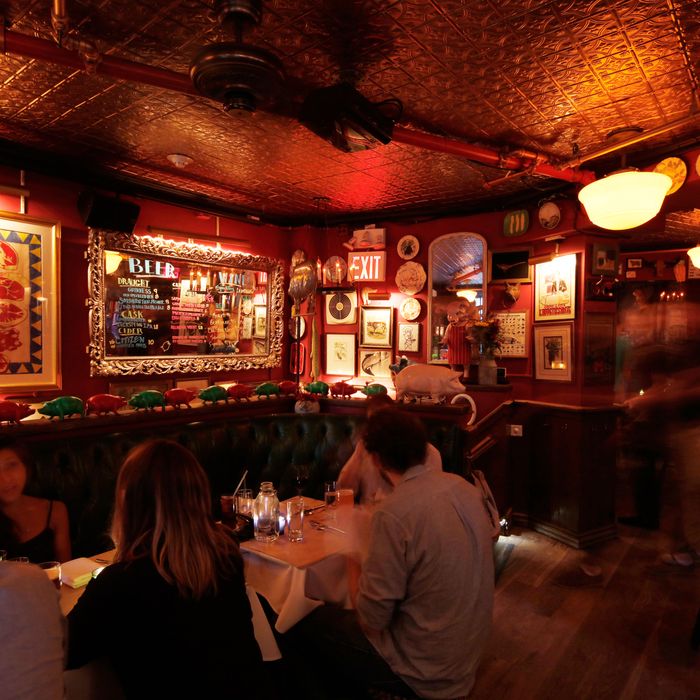 The kitchen's open till the wee hours at The Spotted Pig.
Photo: Melissa Hom
Everyone knows food tastes better after midnight, so it stands to reason that a host of excellent restaurants cater to night owls. These are the best places to grab a late-night feast. The ground rules: The kitchen must be open until at least 1 a.m., and the restaurant must serve the kind of pleasure-inducing food that tastes best in the wee hours.
1. The Spotted Pig
314 W. 11th St., at Greenwich St.; 212-620-0393
New York, its citizens like to boast, is a late-night kind of town, but it can be tough to find a restaurant where the kitchen still hums long after most people have gone to bed. No restaurant succeeds at this better than Ken Friedman and April Bloomfield's famed Spotted Pig, where food is served nightly until 2 a.m. and the bar is open until 4 a.m. As is common wisdom by this point, Bloomfield's gastropub cooking is just the kind of thing you want to eat after a evening of merriment: the famous, Roquefort-topped burger and its salty shoestring fries; the ethereal sheep's milk gnudi for something a little lighter; the crispy pig's salad; and so on. Eat up, and order another round of drinks while you're at it.
2. Kang Ho Dong Baekjeong
1 E. 32nd St., nr. Fifth Ave.; 212-966-9839
The admired South Korean chain's K-town outpost is open until 1 a.m. Sundays through Wednesdays, 2 a.m. on Thursdays, and until 6-freaking-a.m. Fridays and Saturdays. (Meanwhile, a Flushing location, run by a different team, is open until 5 a.m. daily.) This affords ample time to work in a visit to the energetic restaurant, whether you need a pre-party meal or a post-festivities means of sopping up all of that booze so you don't wake up with a hangover that will torpedo your day. Plus, chef Deuki Hong's staff remains committed, even deep into the night, and since barbecue duties are handled by servers who know exactly how long to cook the meat, even bleary-eyed diners who might not be as sharp as they were a few hours earlier can take comfort in knowing their meal will be perfect anyway.
3. Hide-Chan
248 E. 52nd St., nr. Second Ave.; 212-813-1800
Certain nights demand a bowl of fat-slicked, brothy noodles. Meat mecca Takashi does a fine job with its late-night-only beef ramen, but it's a little too rigid (two seatings on Friday and Saturday nights, with reservations highly recommended) for an impromptu drop-in. Midtown hideaway Hide-chan, another of New York's best ramen-yas, remains open until 1 a.m. on Thursdays and 4 a.m. on Fridays and Saturdays, making it easier to get your noodle fix when you want it. The thing to get is the spicy garlic ramen: rich, velvety tonkatsu enlivened with a hit of heady, aromatic oil made from blackened garlic and chili flakes. Service is speedy and the prices have stayed relatively low, so if you've got other places to be you can get in and out, once you're seated, without a ton of hassle.
4. Veselka
144 Second Ave., at E. 9th St.; 212-228-9682
When talking about extremely late-night food in New York, the iconic Ukrainian diner is the final word and perhaps the city's most enduring institution for a 5 a.m. burger. It shouldn't be ignored or taken for granted. The downtown location is convenient for barhoppers and the affordable, accessible menu hops from borscht to burgers and back, giving it broad appeal. Where else but New York can you pair pierogies and bigos, the hearty and sauerkraut inflected stew of pork and keilbasa, with three-bean chili? Because it's open around the clock, you can even drop at, like, 6 a.m after a few boilermakers at dive-bar extraordinaire Josie's. It starts to push the boundaries of late-night food into early-morning dining, but as long as you haven't gone to bed, it still counts.
5. El Cortez
17 Ingraham St, nr. Bogart St., Bushwick; 212-599-2976
The Commodore has been a reliable weekend source of late-night fried chicken and nachos in Williamsburg for years now, yes. And it's good, but Stephen Tanner's other bar, basically a Mexican-ish version of the Commodore, gets the nod here because something about the phrase "taco salad at 12:30 a.m." is just so appealing. That salad arrives in a perfectly crisp taco shell, and there's a menu item called "All American Taco Night," which is exactly as satisfying as it sounds. Or, for a change of pace, go for the chimichanga, a deep-fried behemoth of a burrito that will definitely soak up whatever you were drinking before you got here.