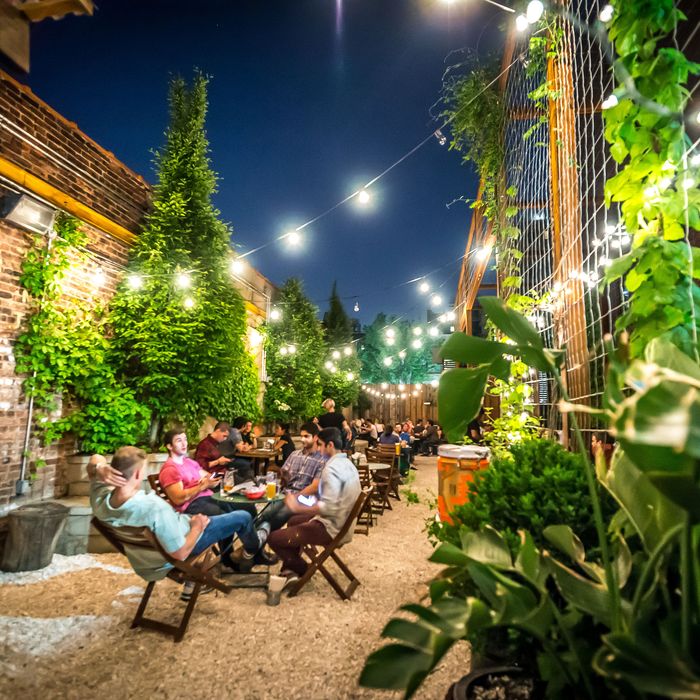 Twinkly lights and picnic tables in the backyard at Threes Brewing.
Photo: Noah Fecks
Hosting a last-minute event in New York is a daunting task, particularly if you don't have thousands to spend on a private room. Here are the best spots for spontaneous revelry.
1.Threes Brewing
333 Douglass St., nr. Fourth Ave., Gowanus; 718-522-2110
This brewery-slash-bar-slash-music-venue-slash-coffee-shop-slash-home-for-pop-up-restaurants is one of the most flexible spaces to have opened in New York in years. There's a tented, winterized outdoor area with shell-gravel flooring, picnic-style tables, landscaped ledge seating, and an outdoor bar with slushie machines. Inside, the high-ceilinged, wood-heavy space is divided into different rooms; the main bar has some 20 seats, plus marble booths for groups of up to ten. Threes takes some reservations (without a deposit or table fee) for large parties early in the week, but if you arrive in the afternoon you've got a good chance of securing a space without a reservation. The food is casual and hip — recent tenants of the pop-up kitchen have included Roberta's and Samesa — and the 20 beers on tap are varied and delicious, so everyone can be easily pleased.
2. Capri Social Club
156 Calyer St., at Lorimer St., Greenpoint; 347-392-7591
Truly last-second groups without deep pockets are blessed in New York to have the option of crashing any number of dive bars. Capri Social Club is particularly welcoming to this: It's large, it's cheap, it's out of the way enough that it's not always jam-packed but close enough to be convenient. For the ultimate 30th-birthday moment, cue up Britney Spears's "Toxic" on the CD jukebox (there's also Elvis, Johnny Cash, and Justin Timberlake) and order a round of Jell-O shots (served in a school-supply box; "What color would you like?" the bartender will ask). Take them in back, where there's a number of tables in a crepe-paper-decorated space that's great for Instagramming and/or opening presents. (Note.: It's cash-only.)
3. Moot Bar
579 Myrtle Ave., at Classon Ave., Bedford-Stuyvesant; 718-638-3982
Moot isn't nearly as spacious as Threes or Capri Social, but for a lower-key event, it's a good call (just don't go during a Packers game, when Green Bay fans come to watch the game). The bar, a sibling to Uncle Barry's, is relatively nondescript in décor: brick and corrugated-metal-siding walls, a couple of plants on the bar lining the windows, an Ikea clock — so your party would go a long way in defining the atmosphere. And Moot has a lovely beer list (both taps like Ichtegem's Grand Cru Sour, $8, and cans like Boulevard's unfiltered wheat, $6) and darts, board games, and drinking snacks including Utz crab chips and beef jerky. And if you do decide to grow your party, you can head straight across the street to Brooklyn Tap House. In short: It's a no-pressure, rarely overcrowded spot with a friendly staff and good drinks.
4. Beast of Bourbon
710 Myrtle Ave., nr. Spencer St., Bedford-Stuyvesant; 347-789-9901

This 5,500-square-foot space is ostensibly a barbecue joint, but most barbecue joints aren't this all-encompassing: With 46 draft lines at the 22-seat U-shaped bar, a stage for live music, more than a dozen picnic tables for groups of eight or so, a small outdoor space with more tables, a lofted second-floor room dedicated to a pool table, and an arcade area with Buck Hunter and basketball (among others), it's a perfect spot for spontaneous parties. And thanks to its size, it's rarely overcrowded. Plus: You don't have to leave for brisket sandwiches and chicken wings.
5. Long Island Bar
110 Atlantic Ave., at Henry St., Cobble Hill; 718-625-8908
Call ahead to reserve the Lombardi room, which can hold 30 guests for gimlets, daiquiris, and Champagne, plus bites like fried cheese curds and clams. The bar is home to one of the most solid cocktail lists in the city. This kind of party would require a bit more planning and chance (you'll have better luck getting the Lombardi Room on short notice on non-weekend nights; the room fee is from $350), but if "last minute" to you means a few days, and your guests would rather drink martinis than beer, you'd be hard-pressed to find a better option than this neon-signed cocktail den.
6. Bungalow Bar
377 Beach 92nd St., Rockaway Beach; 718-945-2100
Those who favor the Rockaway Beach last-minute-birthday plan would do well to top off their day with a shindig on Bungalow's expansive porch (completely impromptu or slightly planned — contact the bar in advance and the staff will work with you if they can to plan a last-minute party). There's a long outdoor bar in addition to the one inside, decent American grub (guests could also slip away next door for pad Thai at Thai Rock), cornhole on the deck overlooking Jamaica Bay (Broad Channel residents dock their boats right at the bar), and, as Rockaway locals call them, delicious "frozens" (like boozy pink-lemonade slushies).