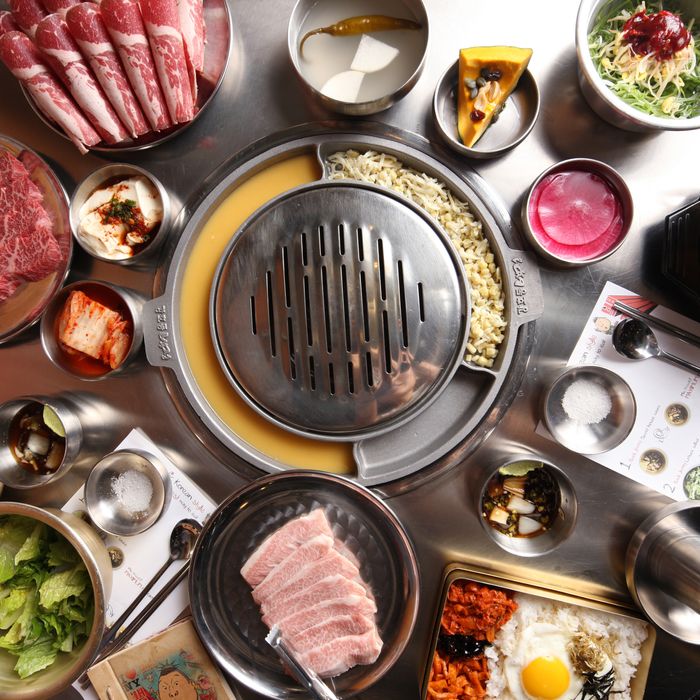 That's the kind of spread you want to see for a great night out.
Photo: Melissa Hom
One of the best ways to spend a riotous night out on the town is to grab some friends and head to a Korean barbecue joint for soju, beer, meats grilled at the table, a feeling of self-satisfied gluttony, and (ideally) songs belted out at the nearest karaoke bar. Many places fit that bill, but the four spots below serve the highest-quality meat, handle it with the most attentive care, and serve it alongside the most compelling sides (a.k.a. banchan).
1. Kang Ho Dong Baekjeong
1 E. 32nd St., nr. Fifth Ave.; 212-966-9839
152-12 Northern Blvd., nr. Murray St.; Murray Hill, Queens; 718-886-8645
Kang Ho Baekjeong is like a nightclub for meatheads. Between the sizzling meat, thumping music that somehow feels right, and servers zipping around the dining room, it's impossible not to fall under the spell. The famous South Korean chain arrived first in Flushing in 2013, followed by a Manhattan location the next year. The two franchises are operated independently, but they share a similar aesthetic: spare and clean, with stainless-steel vents, concrete floors, and thick wooden tables that wouldn't look out of place in a beer hall. Both will leave you satisfied, with banchan that's reliably on point. There are crisp greens dressed refreshingly in soy, vinegar, and garlic; the requisite kimchee; crunchy pickled radishes; jiggly soft tofu dressed with soy and chile; and so on.
What truly separates Kang Ho, though, is the superior quality of the meat and the way it's all handled both before and after it hits the grill. Thinly sliced brisket is swiftly pushed away by staffers before overcooking, and you'll be (gently) commanded to eat it as soon as it's ready. The selection is compelling, too: Along with the usual offerings of marinated short rib, brisket, and pork belly, there's beef tongue, pork jowl, and marinated pork collar. It's all good, so order a combo plate of either pork and beef and supplement it with a favorite cut because if you don't go all in, you're missing the point.
2. Jongro
22nd W. 32nd St., nr. Broadway, second fl.; 212-473-2233
In the grand tradition of great K-town spots, Jongro is hard to find on frenzied West 32nd Street. It's stowed away on the second floor of its building, and only announces itself with a tiny sign that hardly stands out. Yet it certainly deserves attention. The spacious dining room feels a world away from the street below, and the design is an homage to old Seoul, with white-brick pillars, old movie posters and a tin cigarette sign decorating the walls, and even a few tables situated under a gazebo. It's extremely popular among the younger crowd, mostly because the meat is more affordable than is typical in Koreatown and significantly better than most of the pricier stuff. Drinks are fairly priced, and every diner even gets his or her own tray with compartments for salt, sesame oil with brown sugar, and the spicy bean paste ssamjang.
3. Mapo B.B.Q.
149-24 41st Ave., Murray Hill, Queens; 718-886-8292
A hole in the wall compared to Manhattan's colossal barbecue temples, Mapo B.B.Q. is known chiefly for its fat-streaked kalbi, the classic Korean marinated short rib, which could be the single most satisfying cut of meat served at any Korean barbecue restaurant in town. The beef is cooked over charcoal, a relative rarity, lending smokiness as the meat crisps up. The marinade is forgiving and doesn't totally overwhelm the meat, adding the right amount of salty-sweetness to complement the well-marbled short rib. It helps, too, that the banchan are plentiful and notably well executed, like some of the most balanced kimchee you'll find in town, even if the particular part of "town" is Queens's Murray Hill, but non-locals can get there easily enough by taking a $5 ride on the LIRR. It's worth it.
4. Han Joo Chik Naeng Myun & BBQ
41-06 149th Pl., Murray Hill, Queens; 718-359-6888
Conveniently enough, Han Joo is located right next door to Mapo. But while short rib is Mapo's claim to fame, Han Joo specializes in a much-heralded pork belly that is barbecued — seriously — on a thick slab of crystal. Apparently this is supposed to be healthier, or at least as "healthy" as piles of pork belly can be. In any case, the star ingredient is offered in several iterations: fresh, salted, thinly cut, marinated in bean paste, green tea, garlic, and so on. Stick to the basics, ask for the thickly cut versions, and make sure to enjoy the kimchee, which is cooked alongside the pork, in the pooling fat.