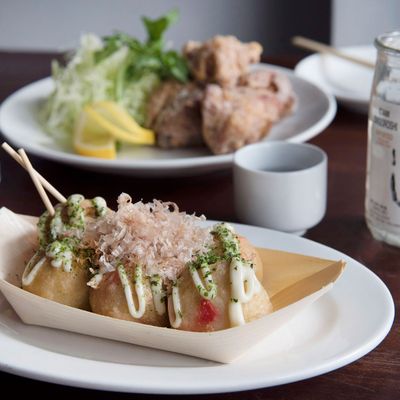 Takoyaki at Azasu.
Photo: Liz Clayman
Spending an evening at one of the city's izakayas — which are most easily defined as Japanese gastropubs, and for the purposes of this list, as super-atmospheric establishments with a clear emphasis on Japanese drinks and the Japanese food that goes best with them — is one of the most transportive things you can do in this city. Here are the very best in New York.
1. Azasu
49 Clinton St., nr. Stanton St.; 212-777-7069
On a weeknight, this unassuming spot on the Lower East Side feels like an undiscovered gem. It's laid-back and casual, but comfortable and classy, too — a perfect place to camp out (on tall stools at one of the big, high communal tables) for an entire evening, sipping "cup sake," which comes in glass jars with metal pop-off tops (or shochu highballs, or beer, or even a brand of Japanese nonalcoholic beer called Hoppy); and grazing on reasonably priced, deceptively simple, perfectly prepared bar snacks like takoyaki (octopus balls), deep-fried skewers, and excellent karaage fried chicken. Best of all, the place is vaguely sumo-themed, which means they play mesmerizing footage of matches and have a whole section of the menu devoted to chanko nabe, a variety of hot pot that tends to be part of the wrestlers' diet. It's all just unpretentious and incredibly fun.
2. Bar Goto
245 Eldridge St., nr. E. Houston St.; 212-475-4411
The cocktails here are serious and exciting enough that owner Kenta Goto, a Tokyo native late of the Pegu Club, could get away without offering food at all, but the short-but-potent menu of small plates is just as big of a draw. The miso wings are some of the city's very best, the woody burdock-root fries are strangely addicting, and each of the four varieties of Hiroshima-style layered okonomiyaki is worth a try. There's even an option that marries food and drink in one: the rum oshiruko — a warm, earthy, and sweet red-bean soup, spiked with rum and served with a side of mochi-wrapped ice cream. To top it all off, the bar's ideally intimate, dimly lit, and romantic, with a long and cozy vinyl banquette that sparkles subtly in the dark.
3. Sakagura
211 E. 43rd St., nr. Third Ave.; 212-953-7253
If Midtown East can feel drab, characterless, and empty at night, the ultimate antidote is Sakagura, a sprawling izakaya that is "hidden" only in the sense that it's in the basement of a nondescript office tower (there's a small sign for it on the building's exterior, though you might not notice it if you weren't looking). Everything about it is transportive, from the creative décor (paper lanterns that look like windows; dramatic flower arrangements and folk art; sake barrels repurposed as washroom stalls) to the huge selection of sake and the really excellent food. Standouts include a beautiful parallelogram of stewed pork belly; an ethereally custardy chawanmushi, hiding tender chunks of pork and seafood; and shumai with wrappers made of yuba, or tofu skin.
4. Yopparai
151 Rivington St., nr. Suffolk St.; 212-777-7253
Yopparai shares owners with Azasu and, fittingly, preceded it: It's very much the refined older sister, in a lovely second-floor space with a speakeasy vibe and distinctive blue-cushioned chairs and barstools. For drinks, sake is the focus, with a rotating and seasonal selection of over 50 varieties, and the food is pricier than at Azasu, but accordingly composed and presented (delicate cuts of sashimi, homemade tofu in beautiful ceramic). It's sometimes even rarefied: You can get the polarizing fermented-soybean specialty known as natto here, entitled "slimy bomb" on the menu.
5. Sake Bar Hagi
152 W. 49th St., nr. Seventh Ave.; 212-764-8549
Sake Bar Hagi (and its cousin, Sake Bar Hagi 46, just a few blocks away) is pleasingly low-key and down-to-earth — not an oasis from Times Square, exactly (it's pretty bare-bones), but a reliable refuge from the crowds of tourists and from tourist traps. This can mean long waits, vying for tables with other New Yorkers in the know, but if you can slide in at just the right time, all your needs will be met: a solid selection of sake (at a real range of prices) and loads of delicious and reasonably priced Japanese snacks for soaking it up, from yakitori to tempura to a noodle-filled omelette.
Aburiya Kinnosuke
213 E. 45th St., nr. Third Ave.; 212-867-5454
Another gem of Midtown East, quiet and peaceful and set apart, especially by its emphasis on high-end sashimi, plus meats and vegetables prepared on a charcoal, robata grill, all on the pricier end.
Shigure
277 Church St., nr. White St.; 212-965-0200
The sake menu at this modern-feeling Tribeca lounge is accompanied by a numbered map on the wall, so you can see exactly where each wine comes from — plus a satisfying range of tasty small plates, from fried lotus root to grilled black cod and grated mountain yam over rice.
Yakitori Tori Shin
362 W. 53rd St., nr. Ninth Ave.; 212-757-0108
Everything that comes off the grill at this upscale yakitori is a marvel of flavor, texture, and char — but the amount of food per skewer feels wildly disproportionate to the price, so a meal here can get very expensive, very fast. (The chicken wings, for example, are perhaps the tiniest in the city.)
Yakitori Totto
251 W. 55th St., nr. Broadway; 212-245-4555
A yakitori that shares both ownership and a commitment to sake and grilling (here, various skewered chicken parts are the thing, to be sprinkled with Himalayan pink salt) with Aburiya Kinnosuke. There is plenty else worth exploring on both the food and drink menus — don't miss the fresh-fruit shochu cocktail, a glass of the liquor served with half a citrus and a handheld squeezer. Doesn't get fresher than that.